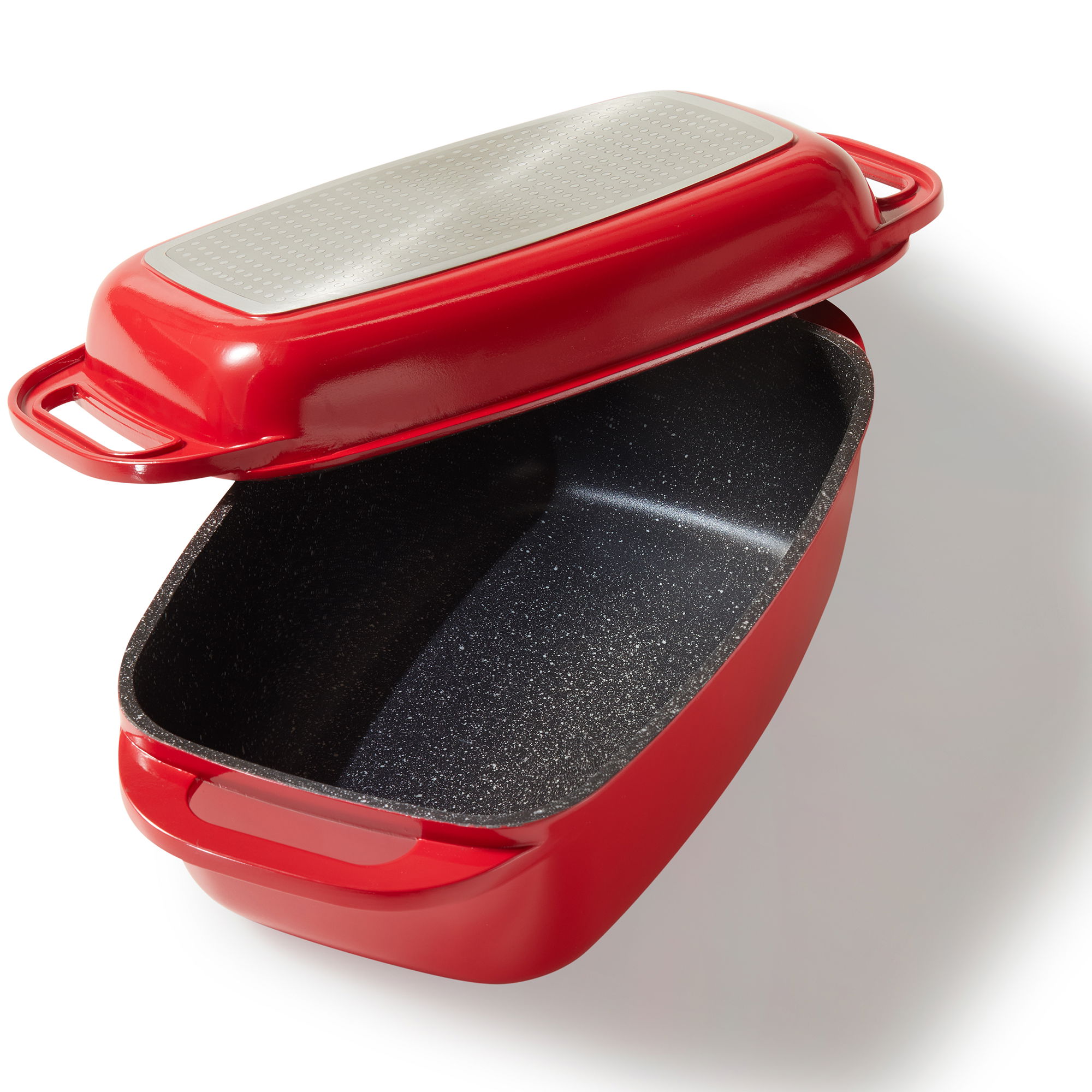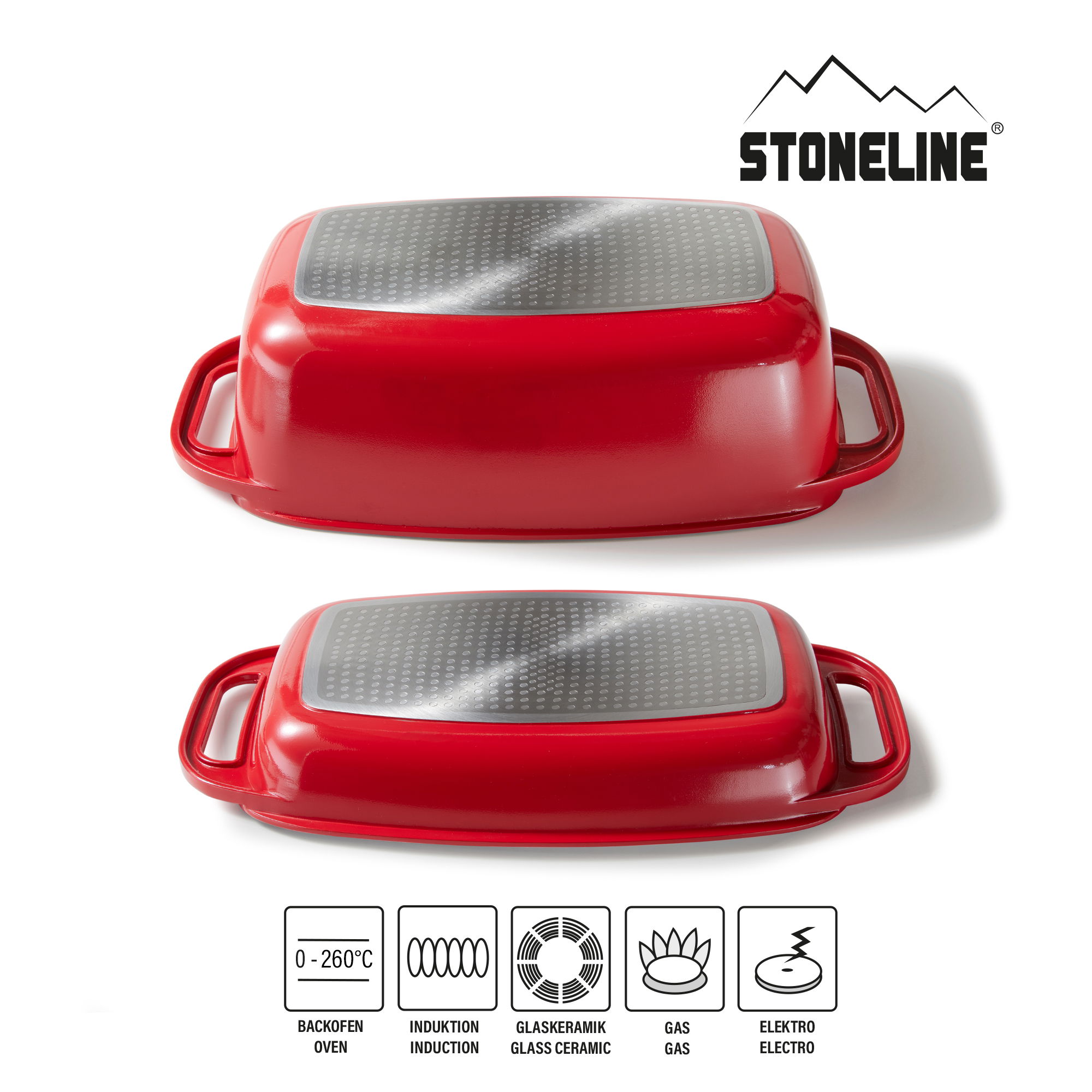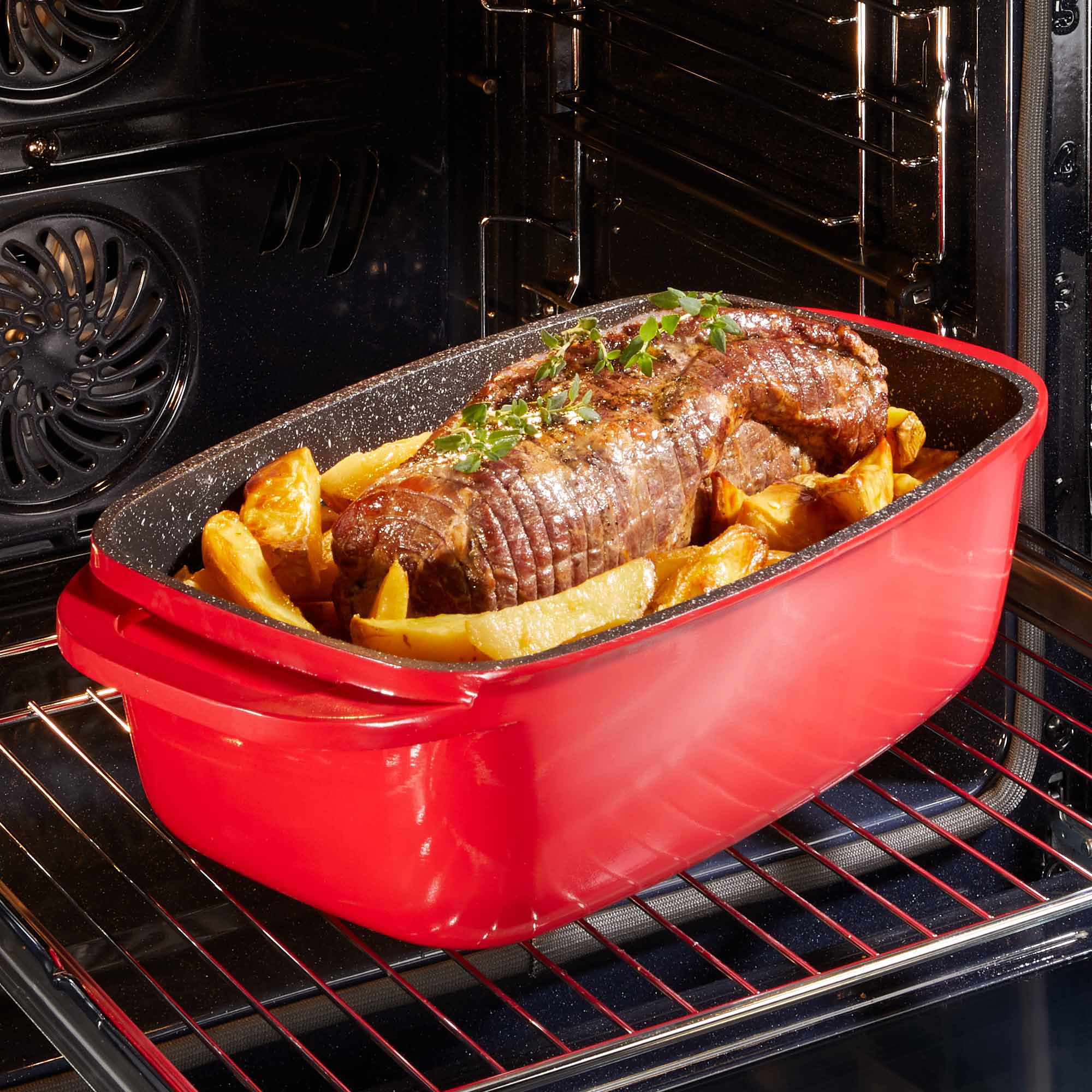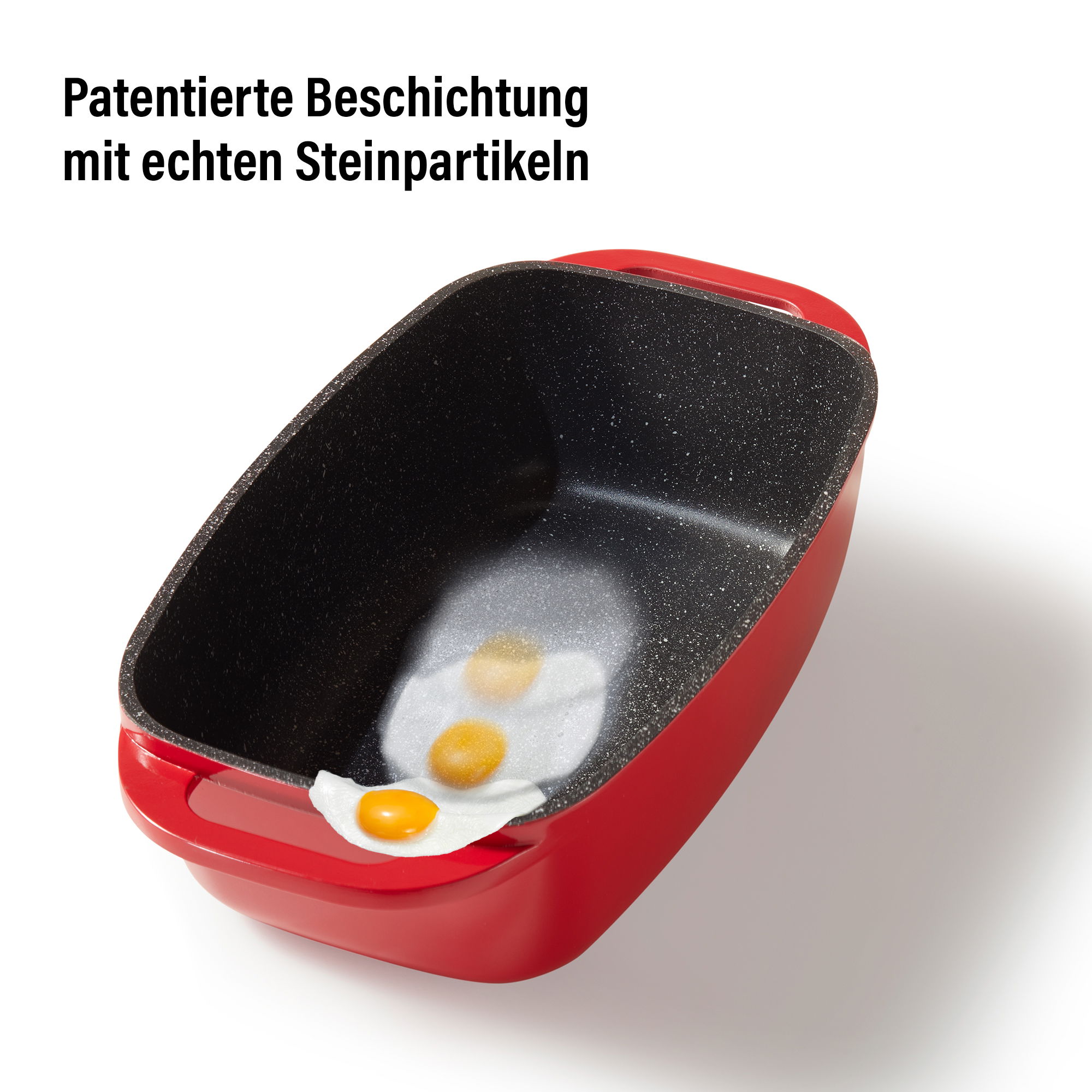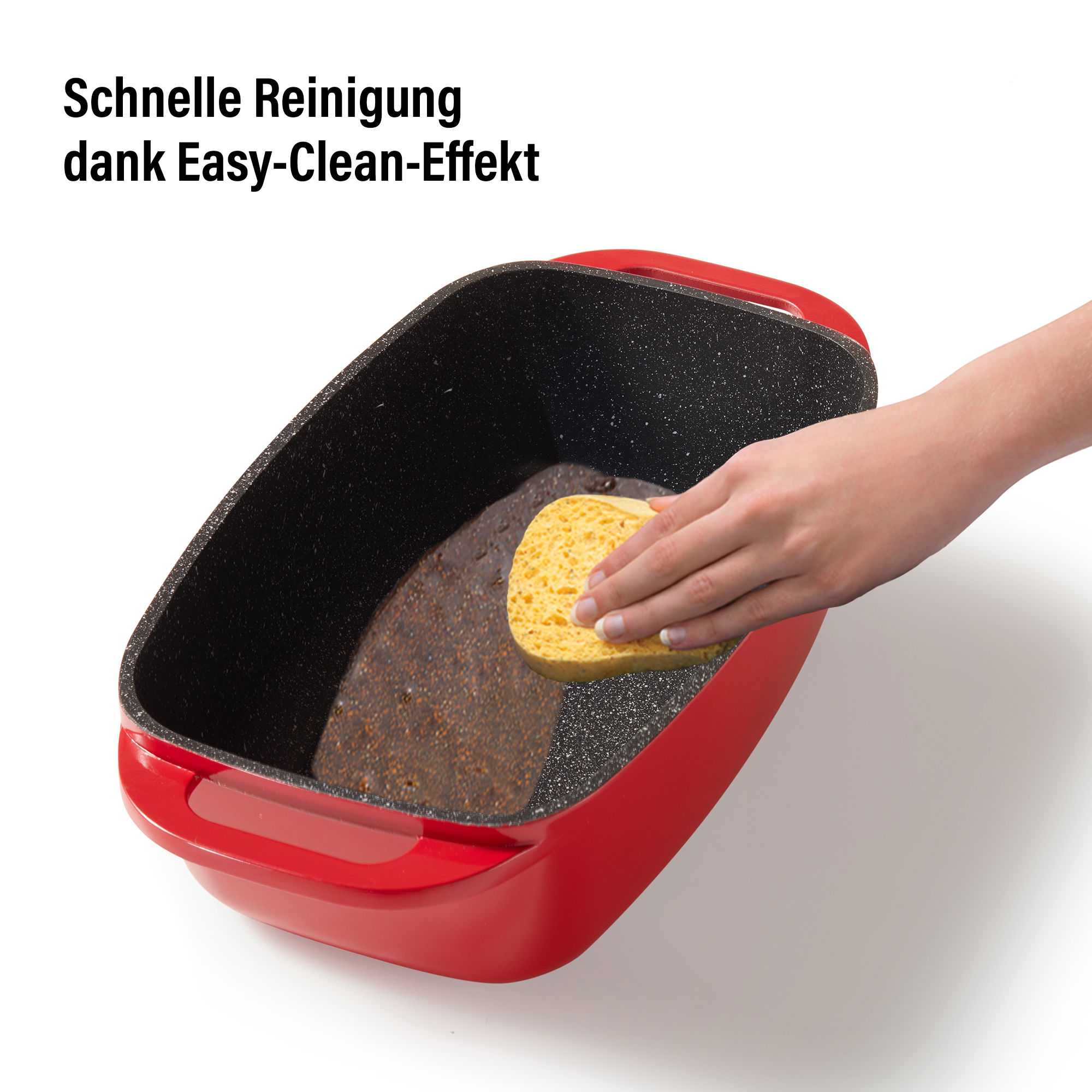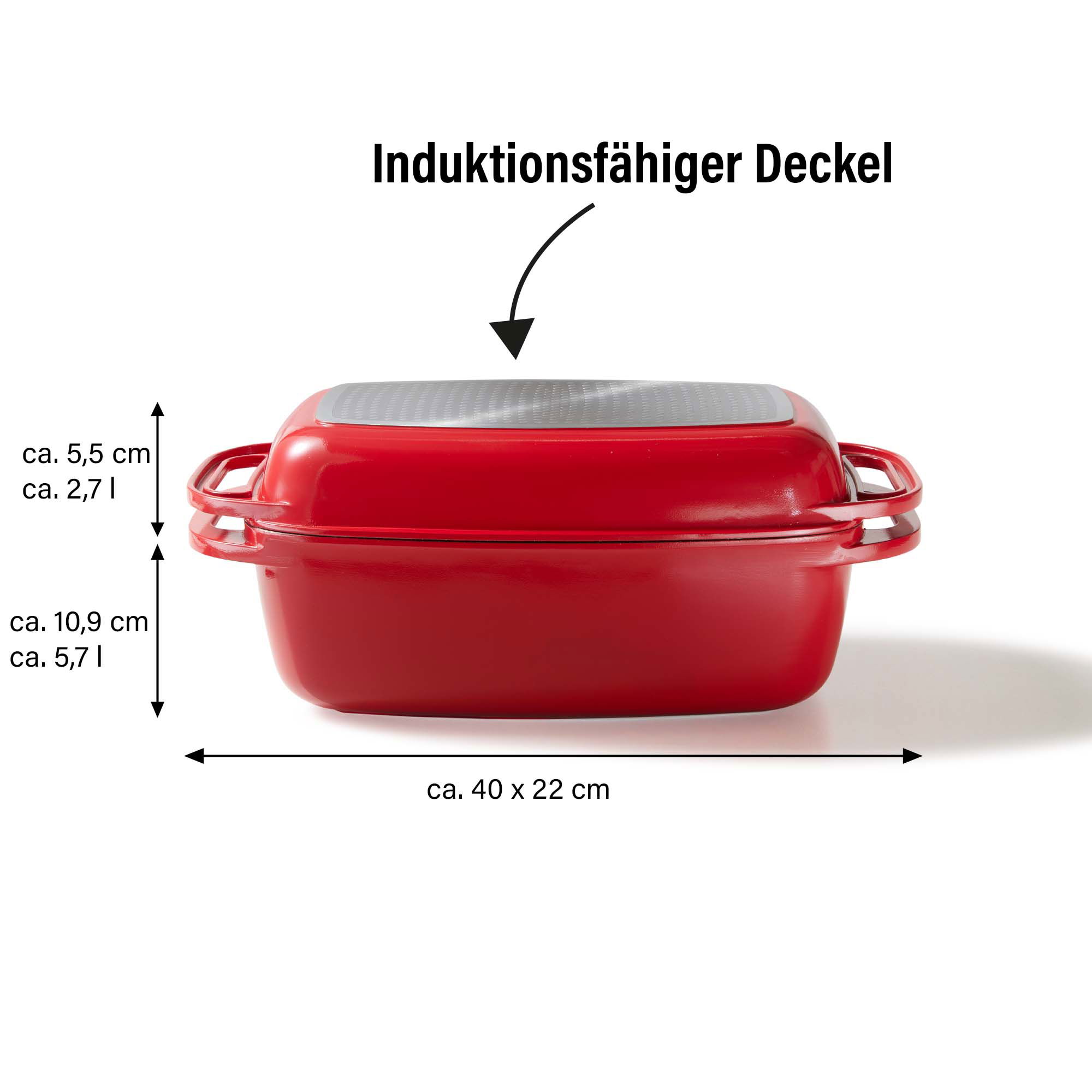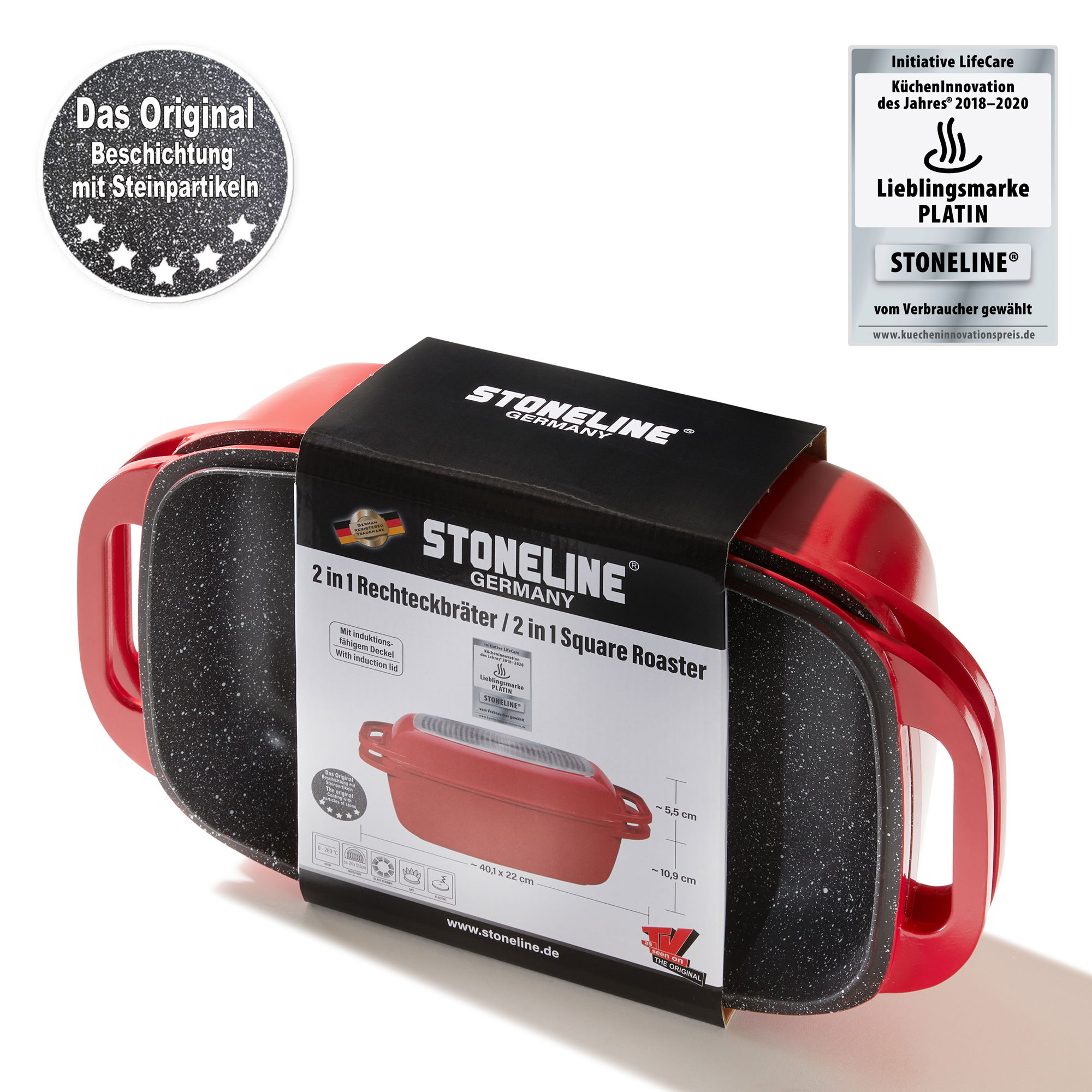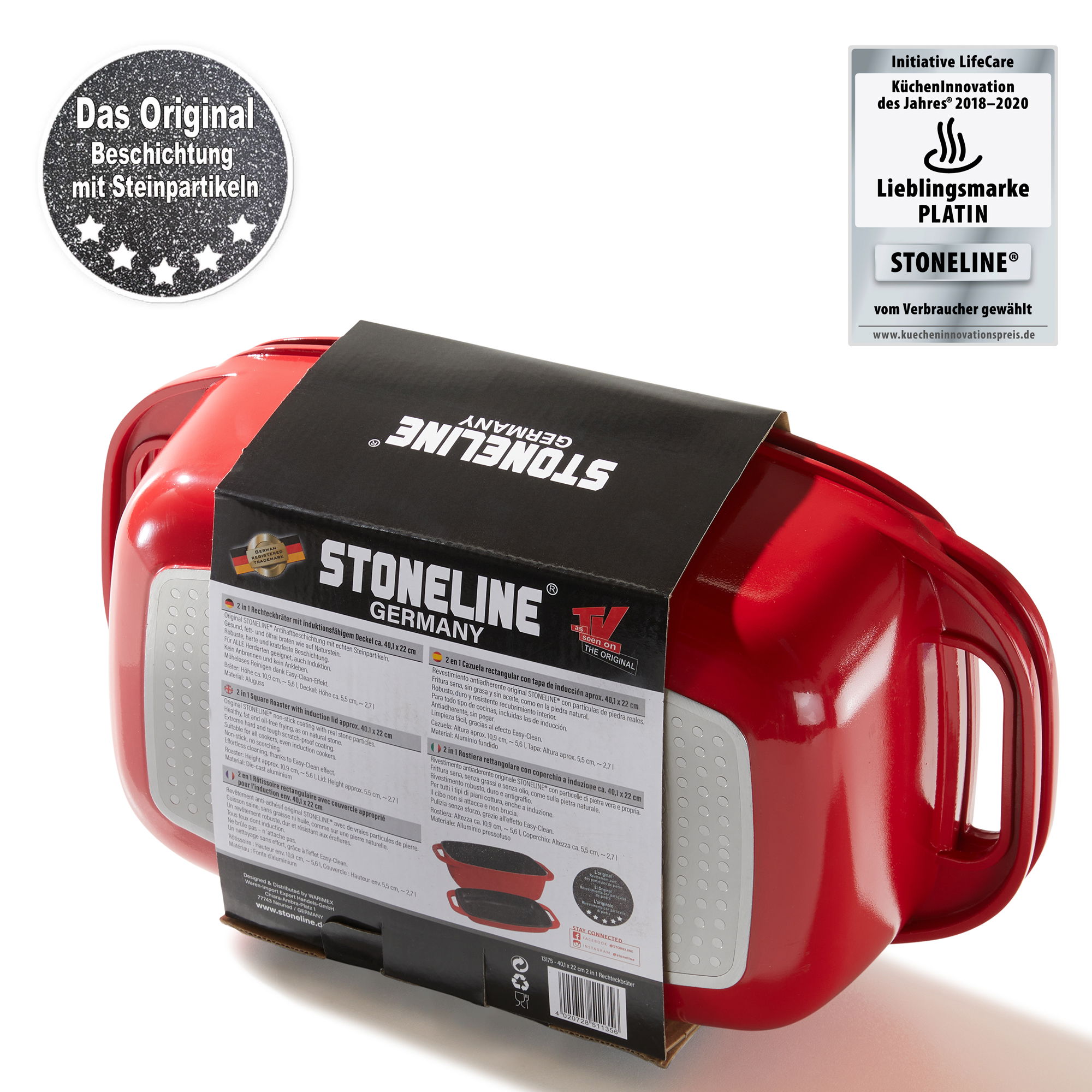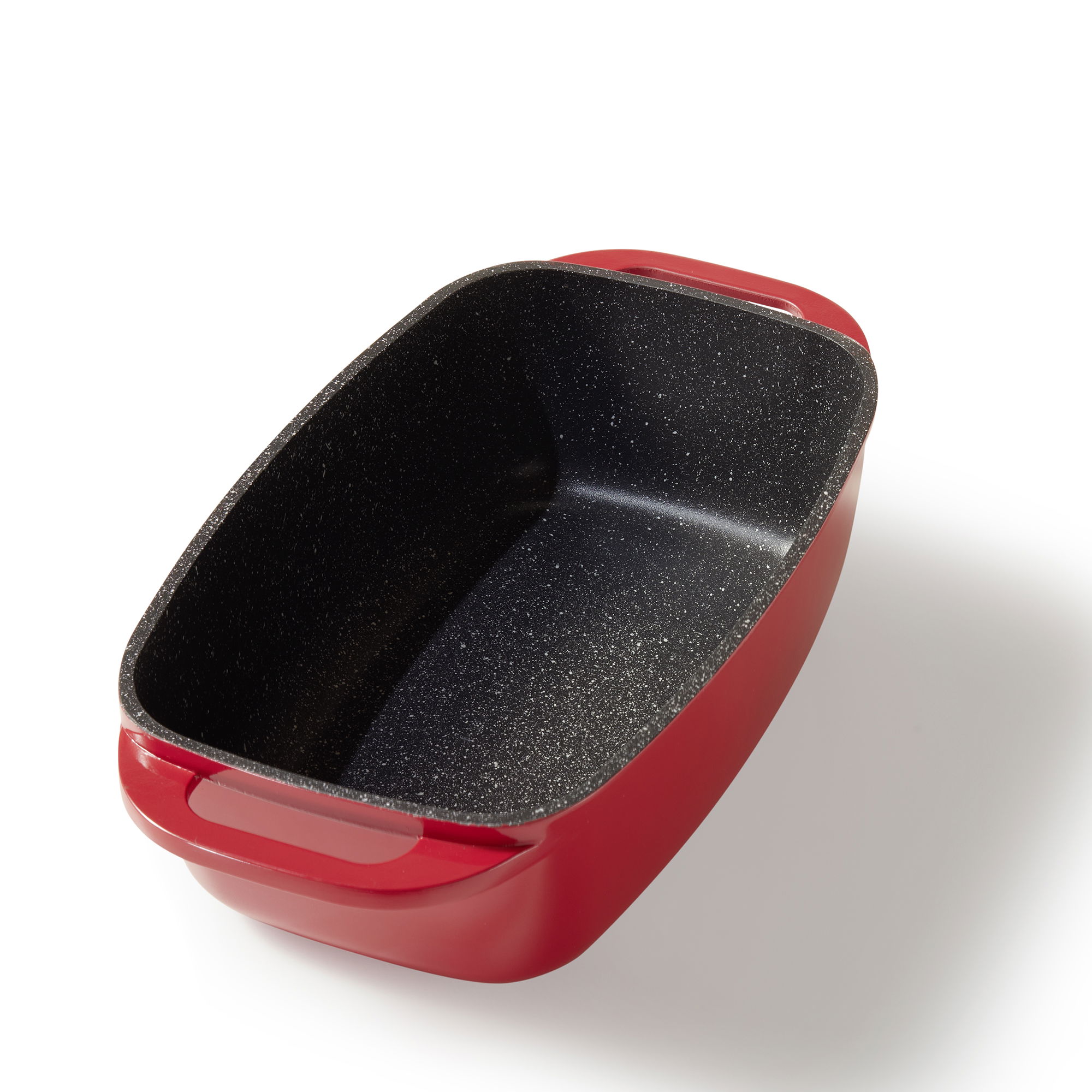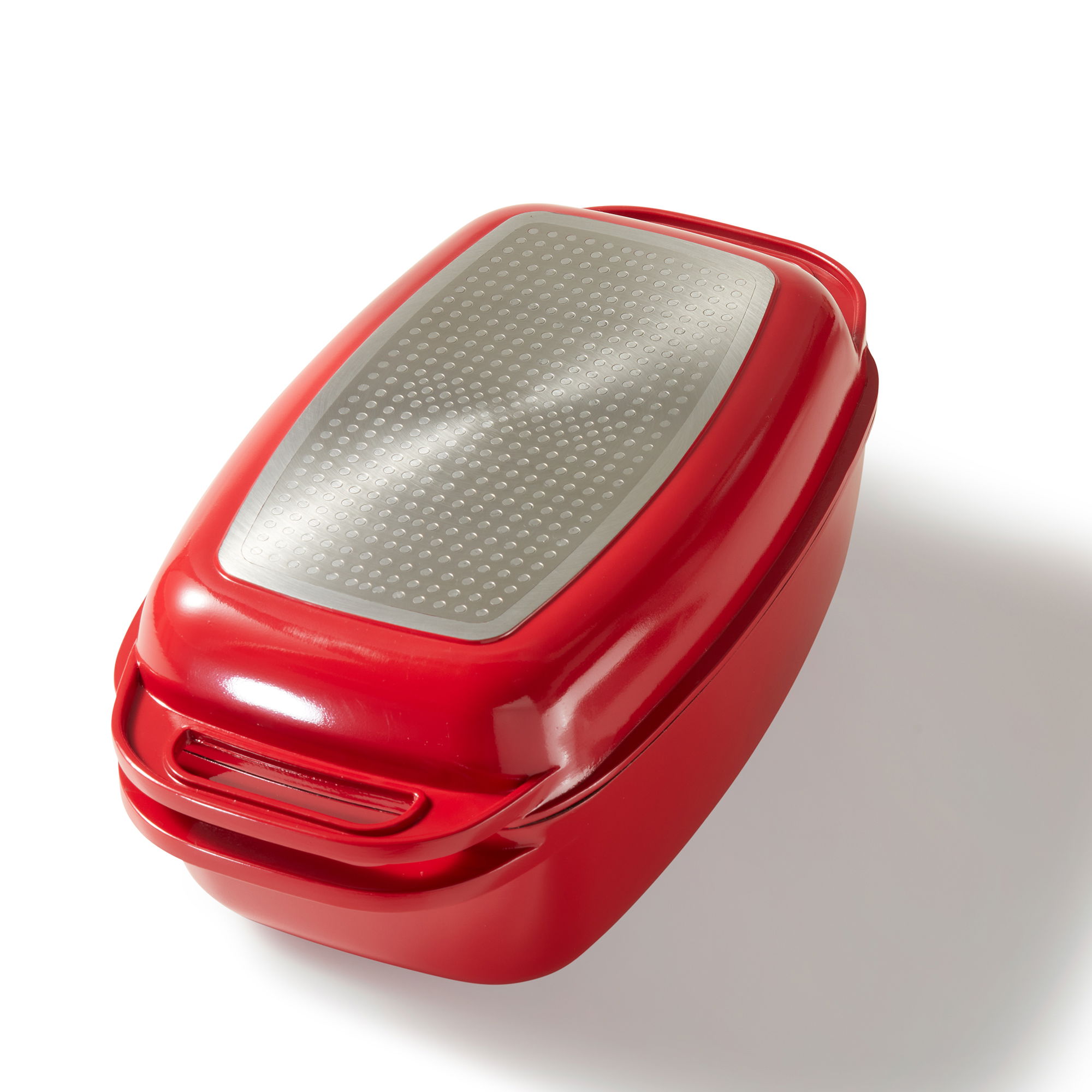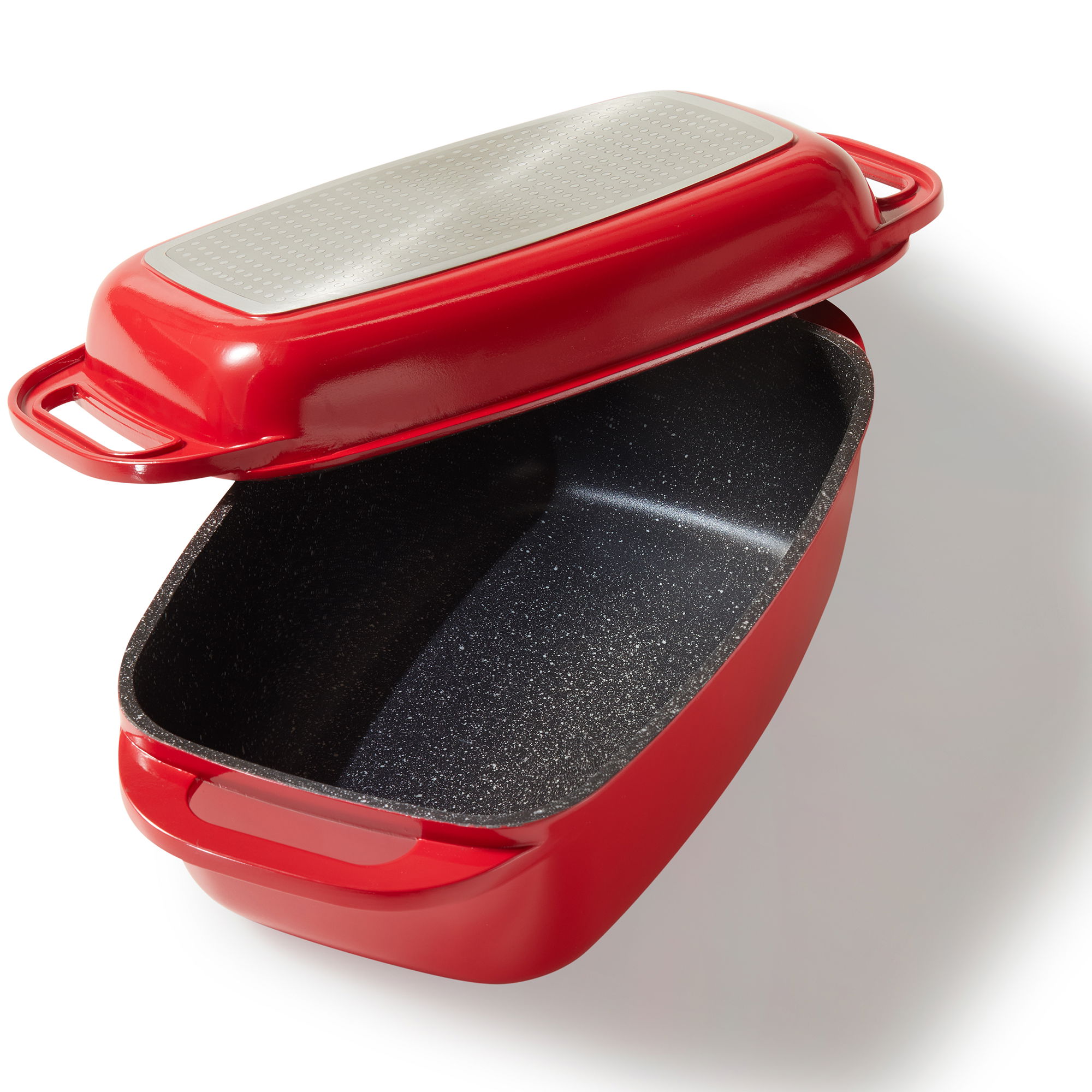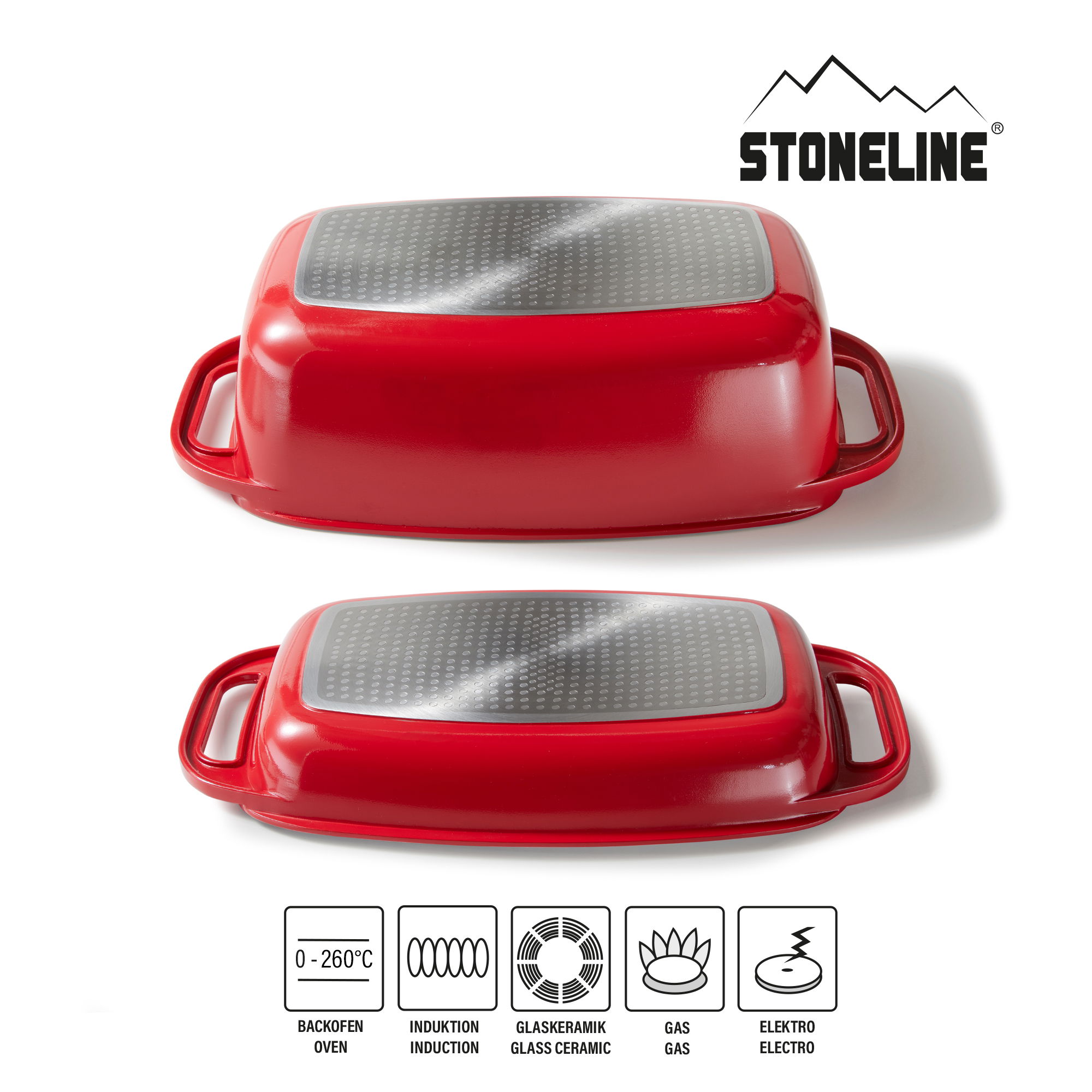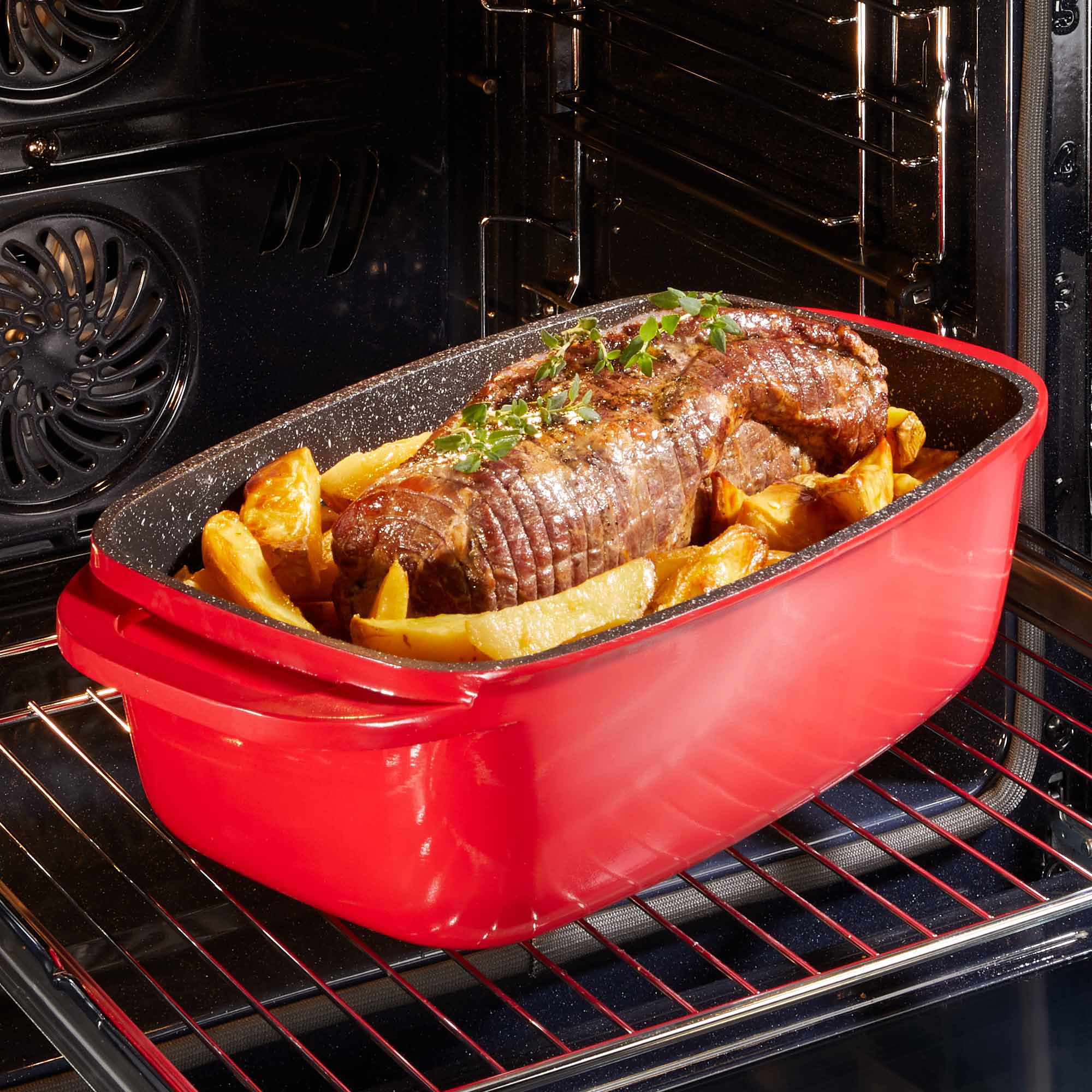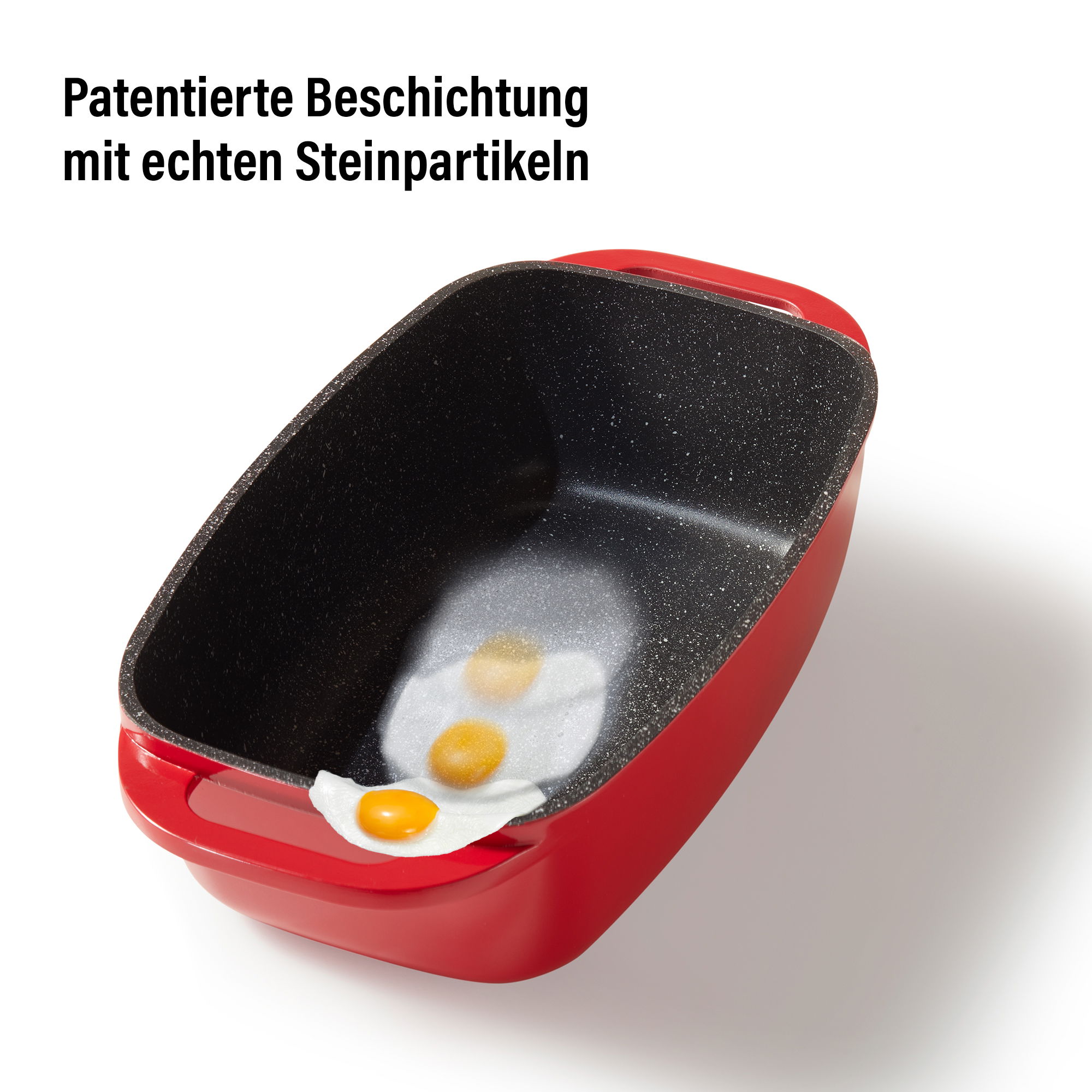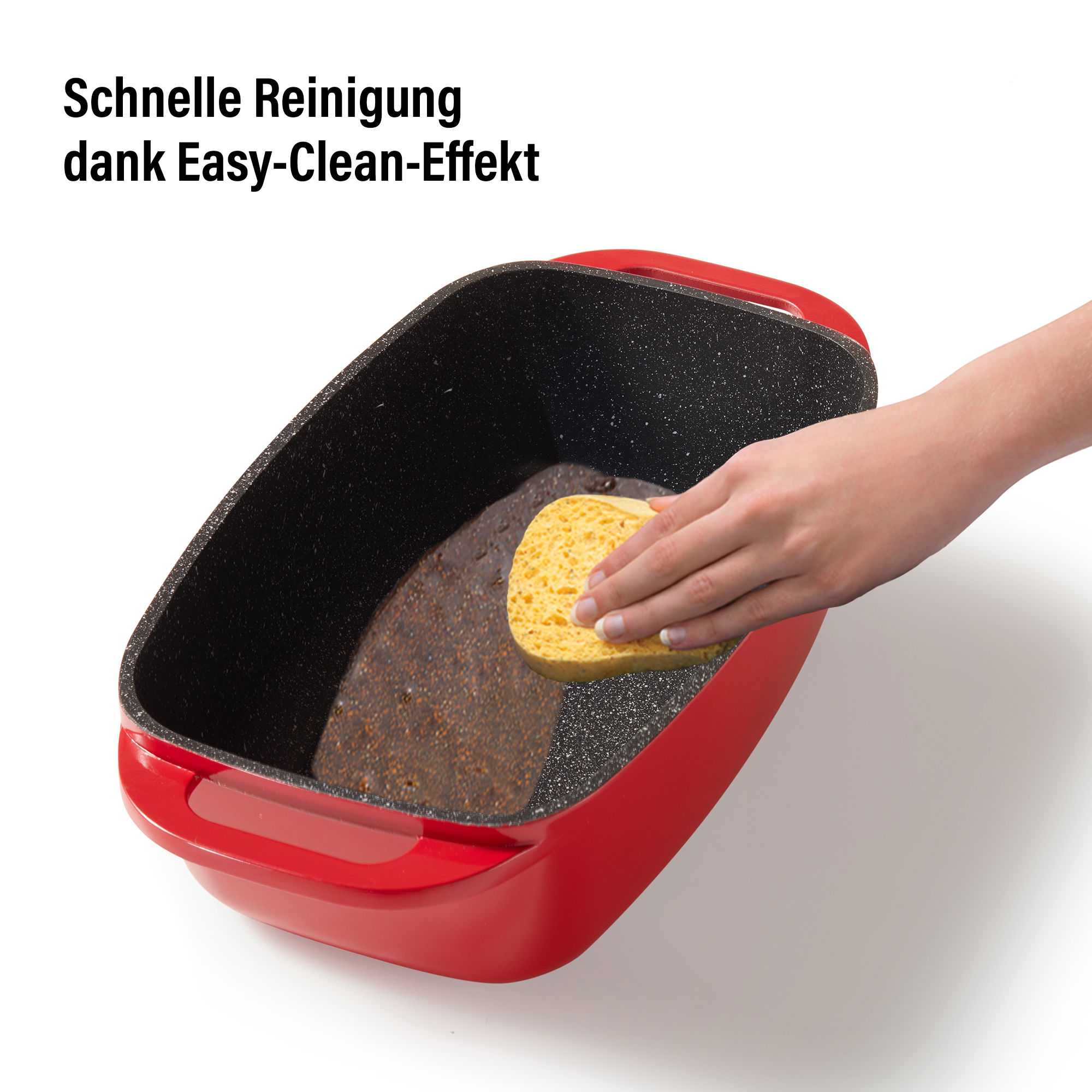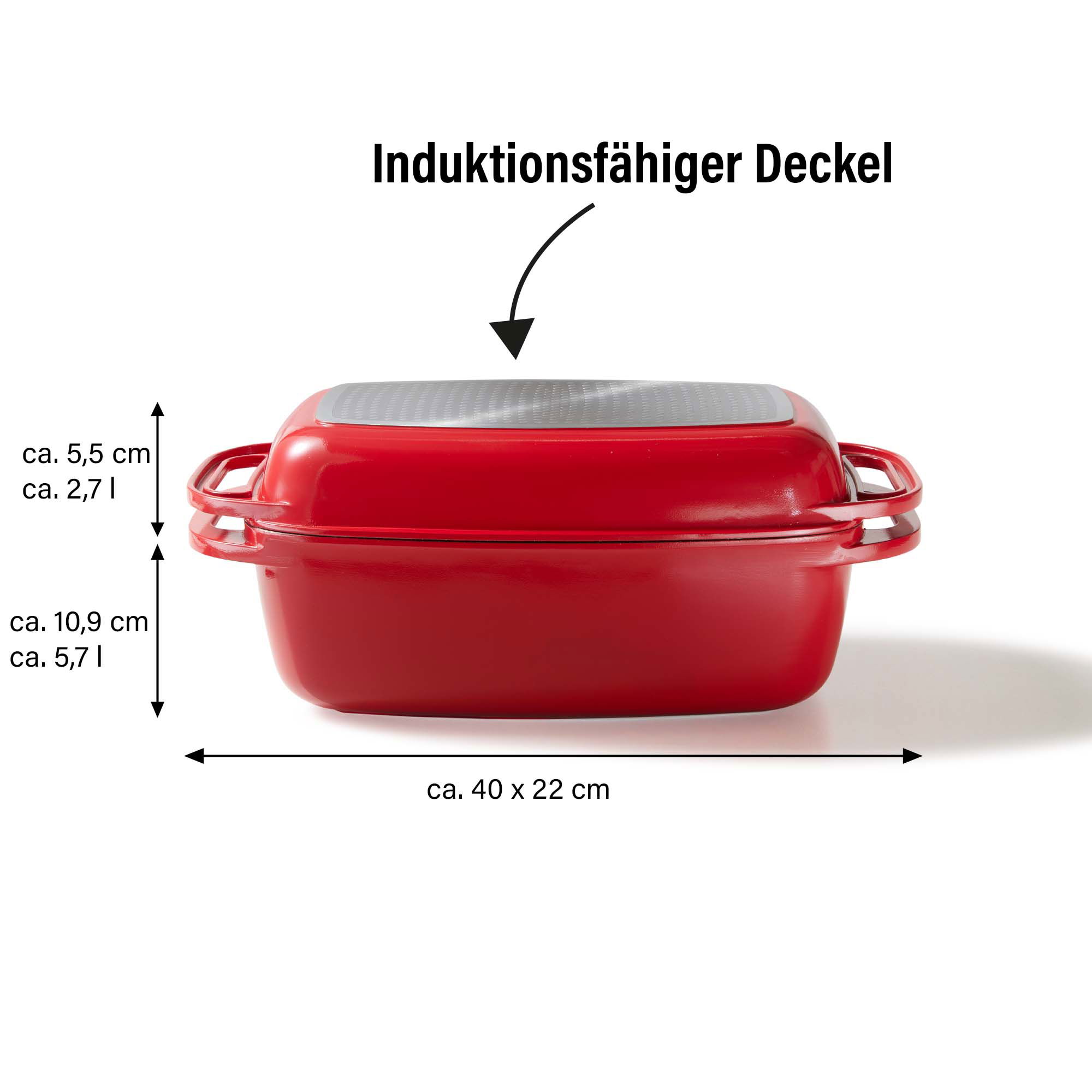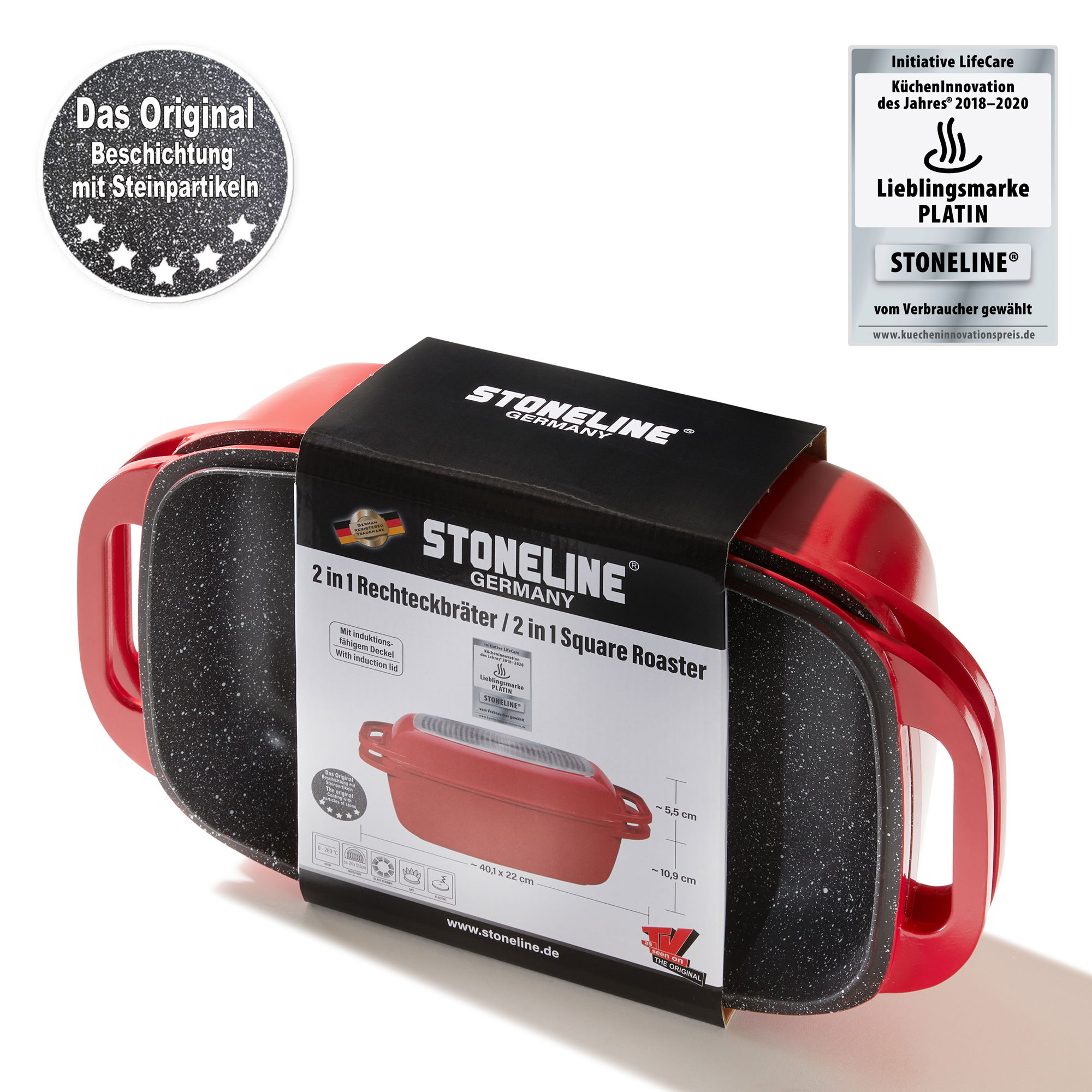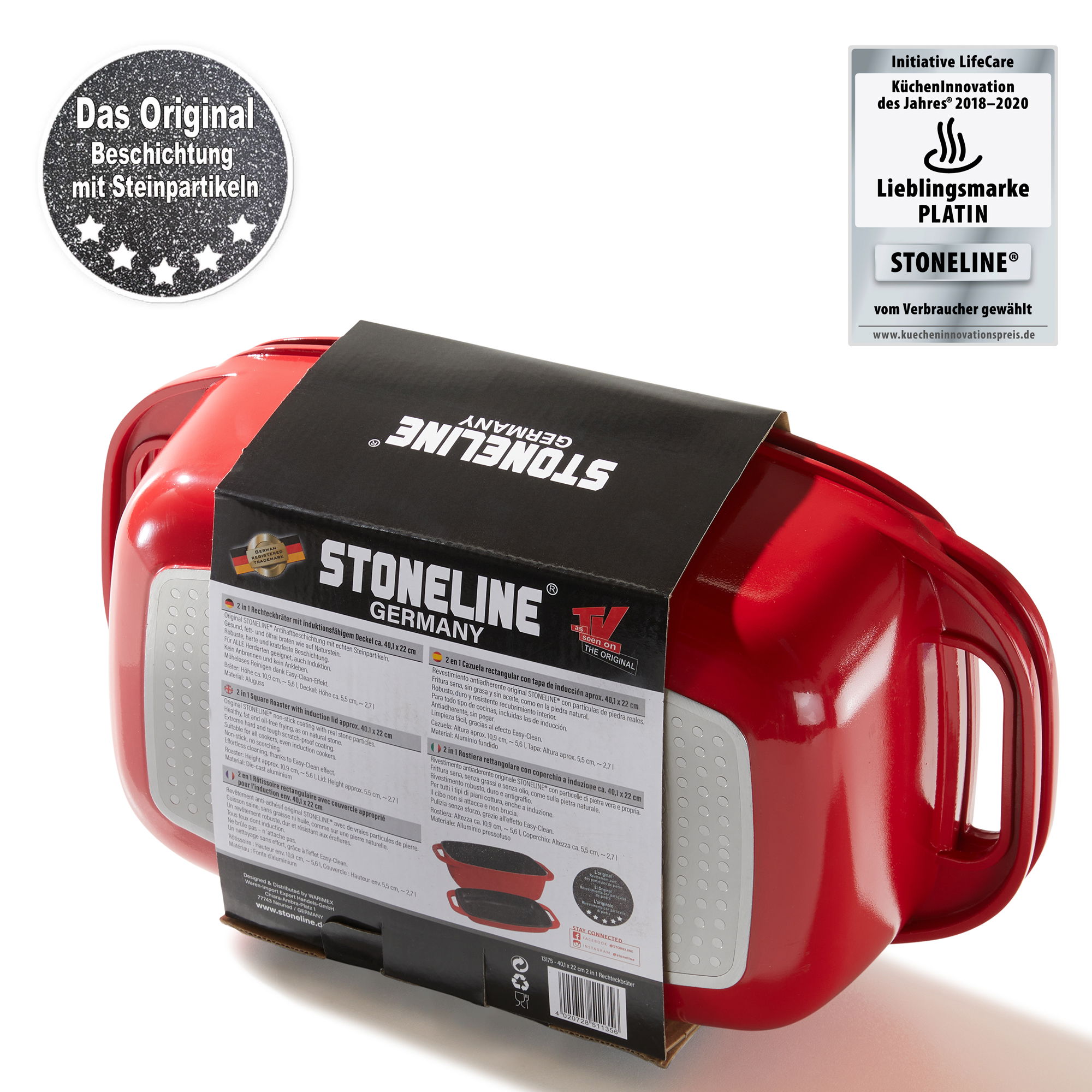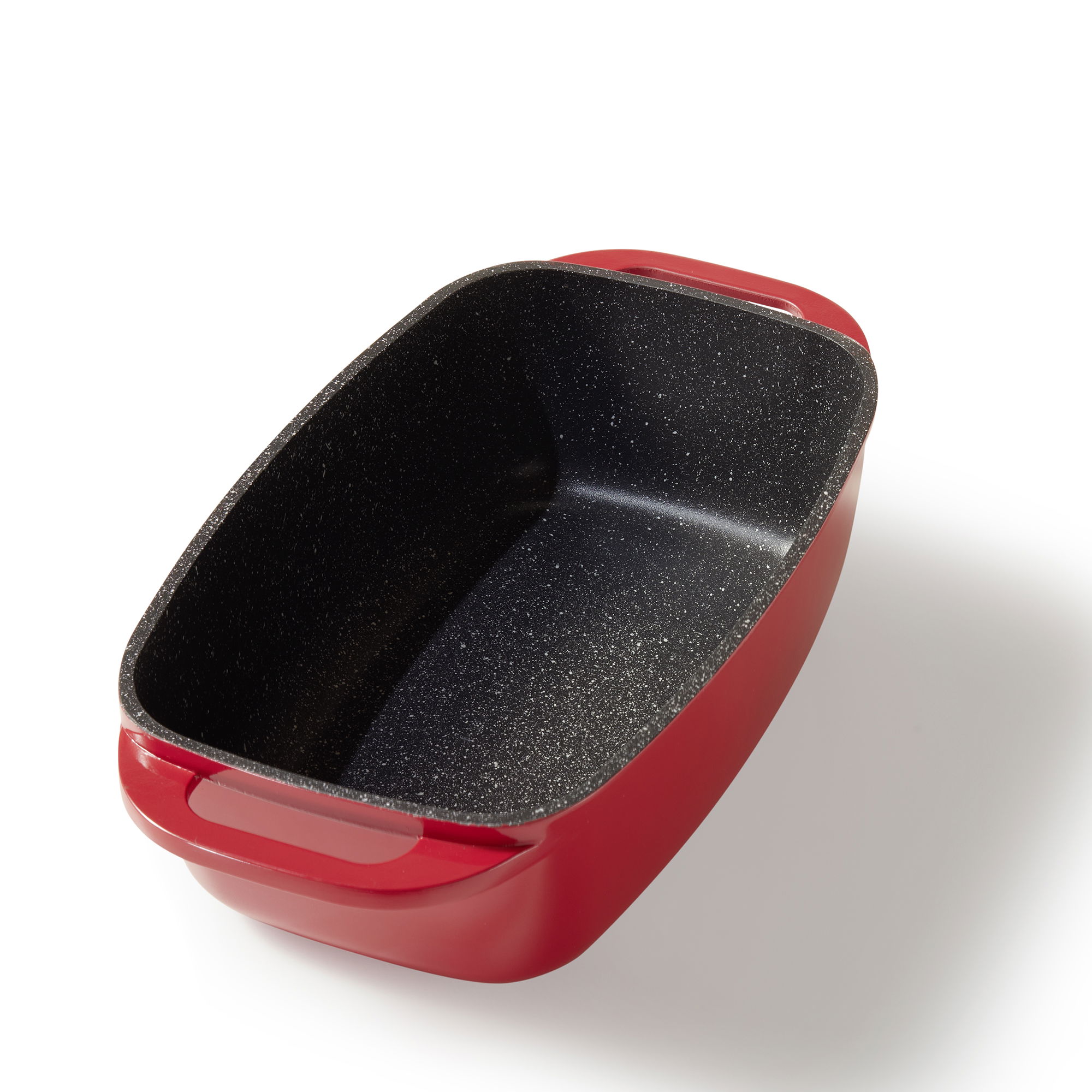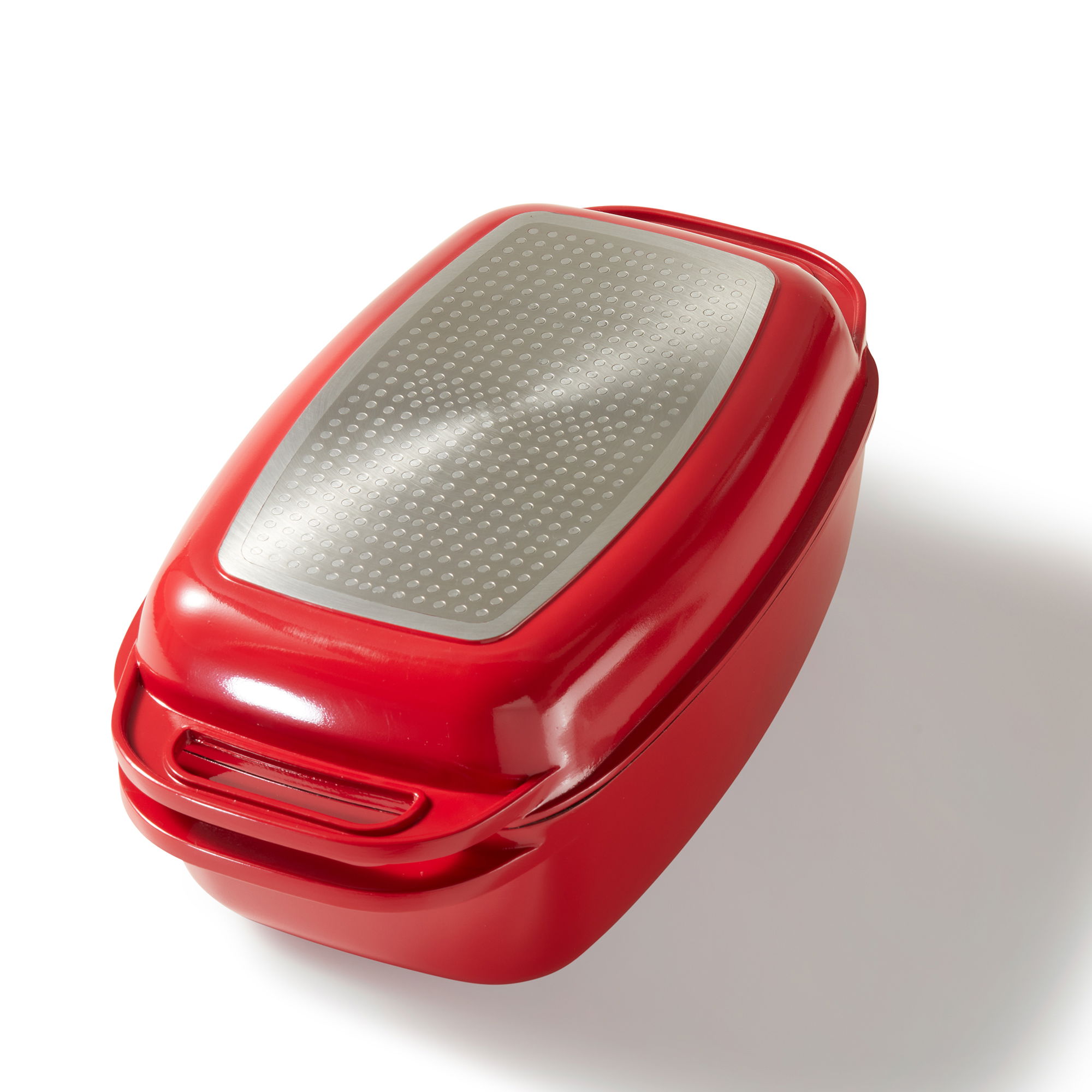 STONELINE® Induction Roaster 40x22 cm, with Induction Lid, Non-Stick Casserole Dish
€99.95*
%
Old price: €179.95*
You save 80,00 €
STONELINE® - The original!
Healthy nonfat cooking and frying
If you love roasts or casserole dishes, then this versatile roaster shouldn't be missing in your kitchen.
It is not only great for the use in the oven. Since both the roaster and the lid are induction-suitable, they can be used universally on the cooktop for frying, cooking or roasting.
There are no limits to your cooking thanks to this multitasker.
The unique die-cast aluminium lid, which is also induction-suitable can be used on all cooktops and makes it easy to prepare several dishes like lasagna, au gratins, cakes, bread..
With this versatile roaster you can save lots of storage space and have two convenient pieces of cookware in one!
1 Square roaster
External dimensions: approx. 40.1 x 22 cm, Height: approx. 10,9 cm, approx. 5.6 l
Internal dimensions: approx. 32.3 x 20.5 cm, Height: approx. 10.1 cm

1 Induction lid

External dimensions: approx. 40.1 x 22 cm, Height: approx. 5.5 cm, approx. 2,7 l

Internal dimensions: approx. 31.7 x 19.7 cm, Height: approx. 5.1 cm
The most important advantages of STONELINE® cookware at a glance:
Scratch-proof non-stick STONELINE® coating
Perfect results and crispy meat
Perfect taste
Vitamin-friendly cooking and frying without fat and oil
No burning and no sticking
Super easy to clean
Suitable for all cookers including induction cookers
Extra strong, non-distorting base
Base thickness 4.0 mm
This product is oven-proof up to 260 °C
Material: die-cast aluminium
Tips for cleaning and care:
We recommend cleaning your cookware thoroughly with water and a mild detergent before the first use.
Apply a few drops of cooking oil with a kitchen towel onto the coating before the first use.
No fat or oil is needed for further use!
Thanks to the Easy-Clean effect we recommend cleaning the cookware by hand. Wipe clean with hot water, a mild detergent and a soft sponge.
Content:

past 5 l

Form:

angular

Oven suitable until:

150 °C

, 180 °C

, 200 °C

, 220 °C

, 230 °C

, 240 °C

, 250 °C

, 260 °C

Type:

Roasters
---
Der Bräter machte beim auspacken einen guten Eindruck, die Größe ist für einen 4 Personen Haushalt absolut Ausreichend. Mittlerweile benutzen wir den Bräte seit knapp 3 Monaten und hatten noch keinerlei Probleme. Kann den Bräter nur empfehlen.
Sehr leicht, nichts brät an. Der beste Bräter, den wir je hatten, einschließlich Deckel als Pfanne. Backofenfeste Griffisolation wäre ein Verbesserungsvorschlag.
Da der Bräter ein Weihnachtsgeschenk ist, muss die Bewertung warten. Die Lieferung erfolgte promt und problemlos. Vielen Dank
Habe meinen Bräter schon länger. Braten, Auflauf, Ofengemüse - alles gelingt und der Bräter ist ruck-zuck wieder sauber. Nichts klebt an. Habe für meine Kinder diesen Bräter zu Weihnachten bestellt.
Wir haben den Bräter schon ein paar Mal benutzt, sind sehr zufrieden, nichts brennt an, lässt sich leicht reinigen
Stonline Bräter 40,1x22 cm
Der Bräter ist super, der Preis hervorragend, Lieferung sehr schnell. Es sollten die Innenmaße noch zusätzlich angegeben werden.
habe bereits 2 Pfannen und jetzt habe ich mir diesen Bräter von Stoneline gekauft. Ich bin sehr zufrieden, man kann wirklich alles ohne Fett braten und die Reinigung ist super leicht. Die Lieferung war jedes mal super schnell da. Kann ich wirklich guten Gewissens weiterempfehlen.
Super Ding. Nicht so schwer. Prima Bratergebnis. Werde wieder Artikel von Stoneline kaufen! !