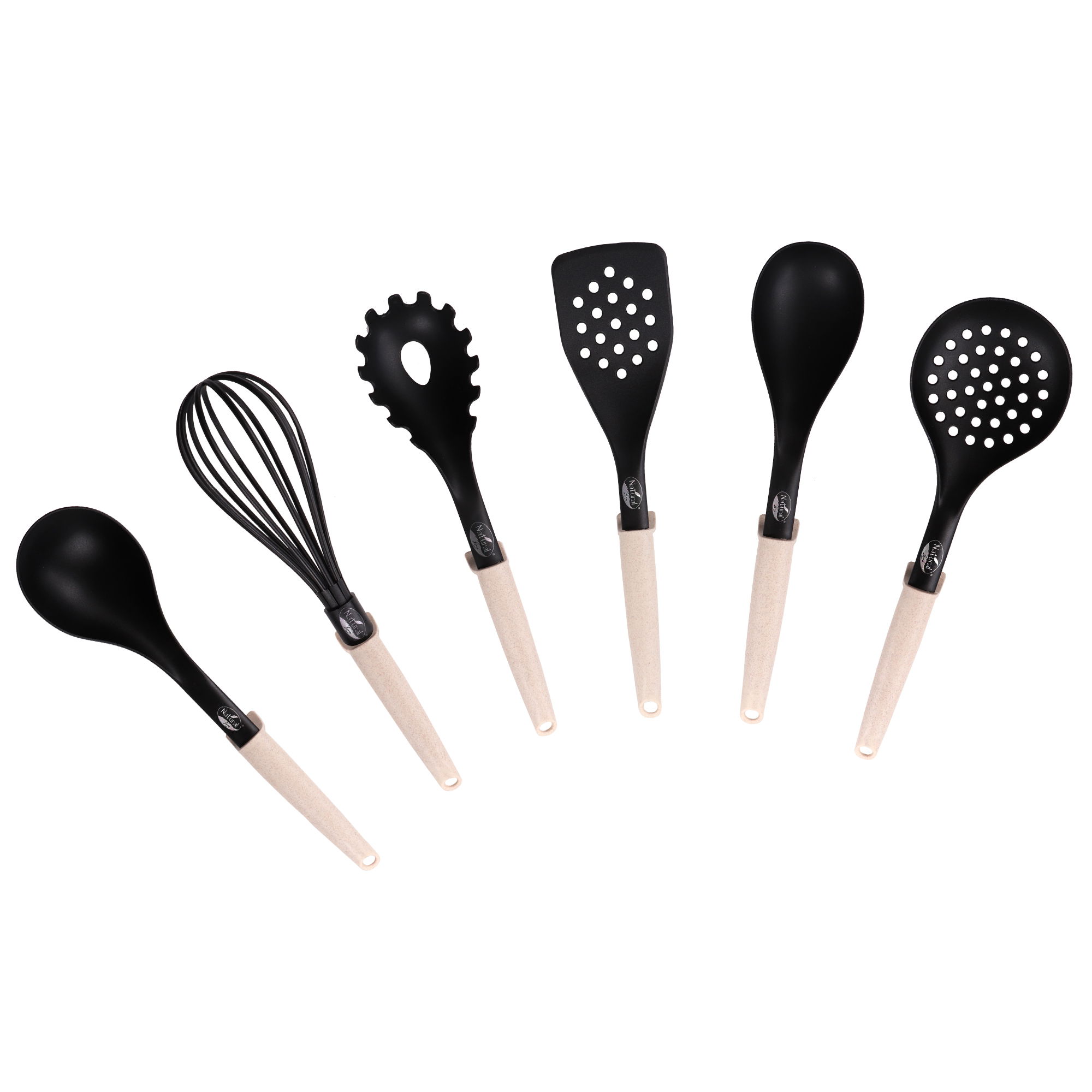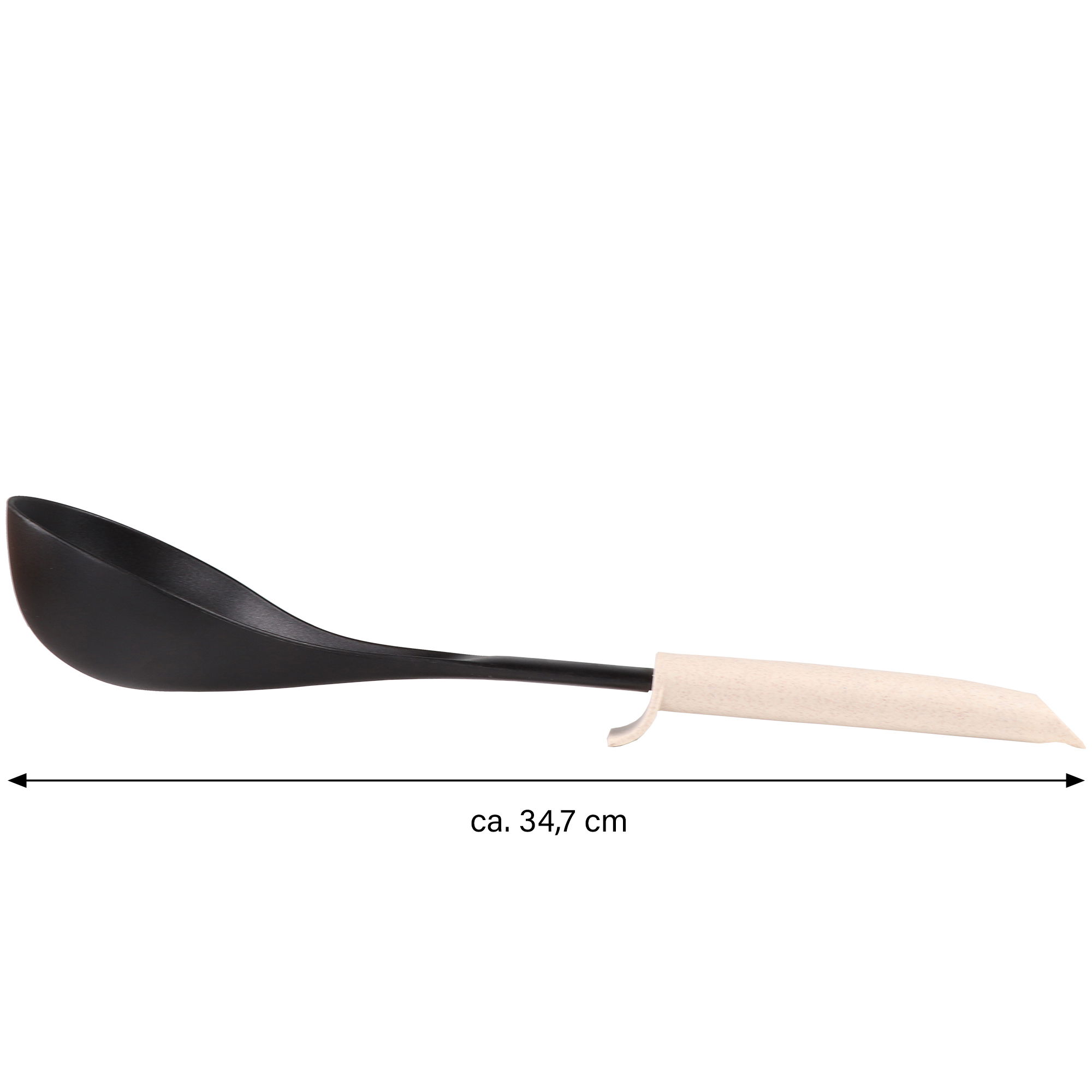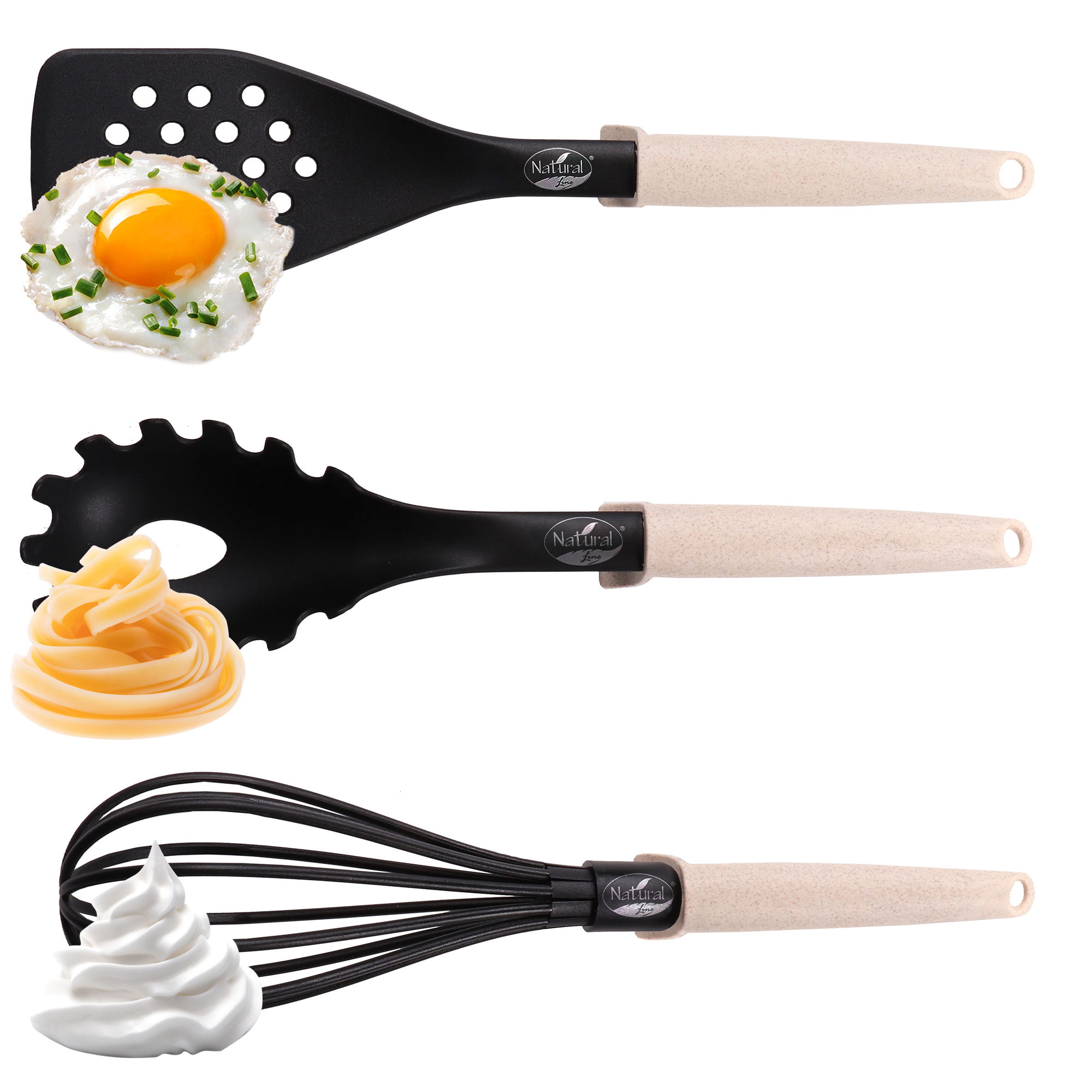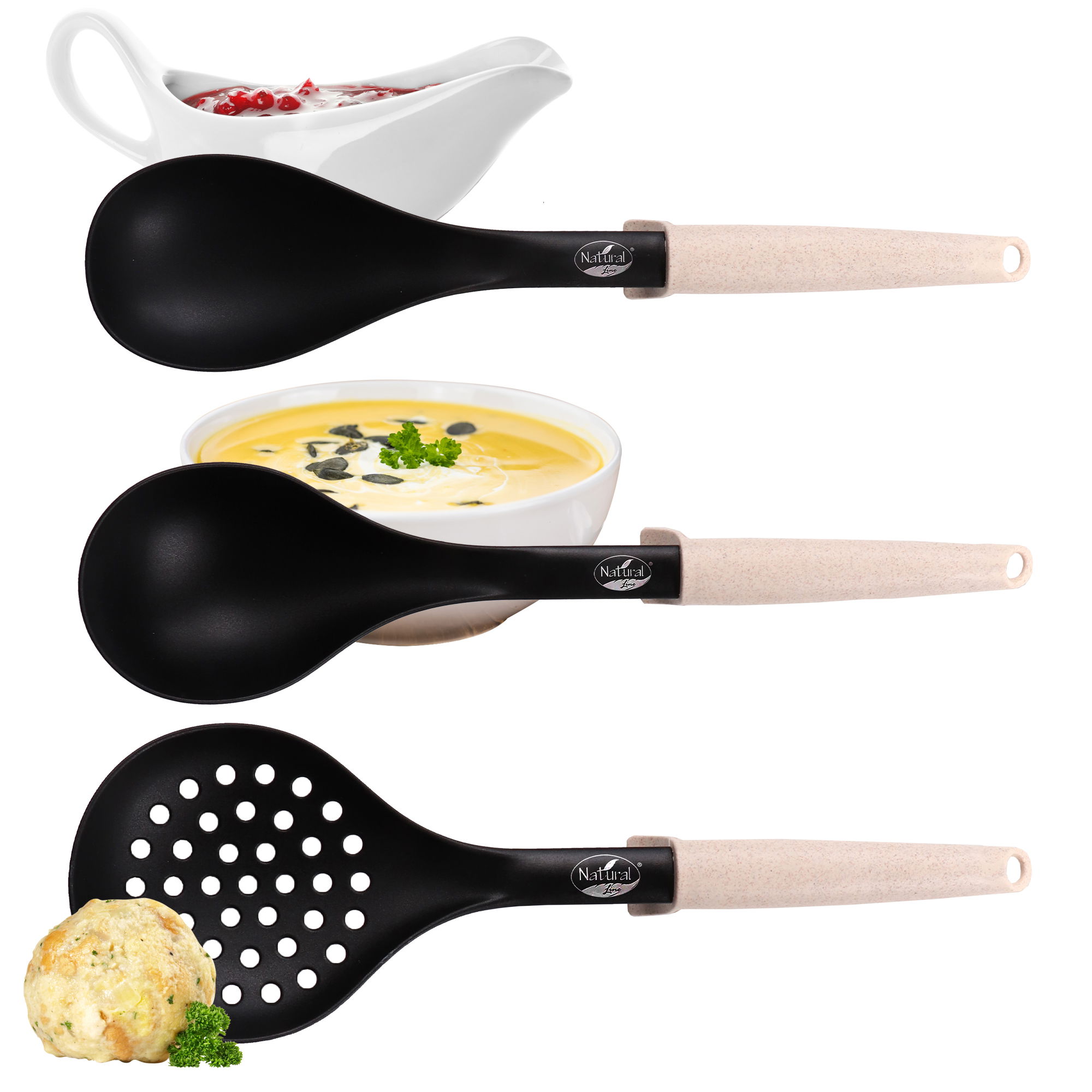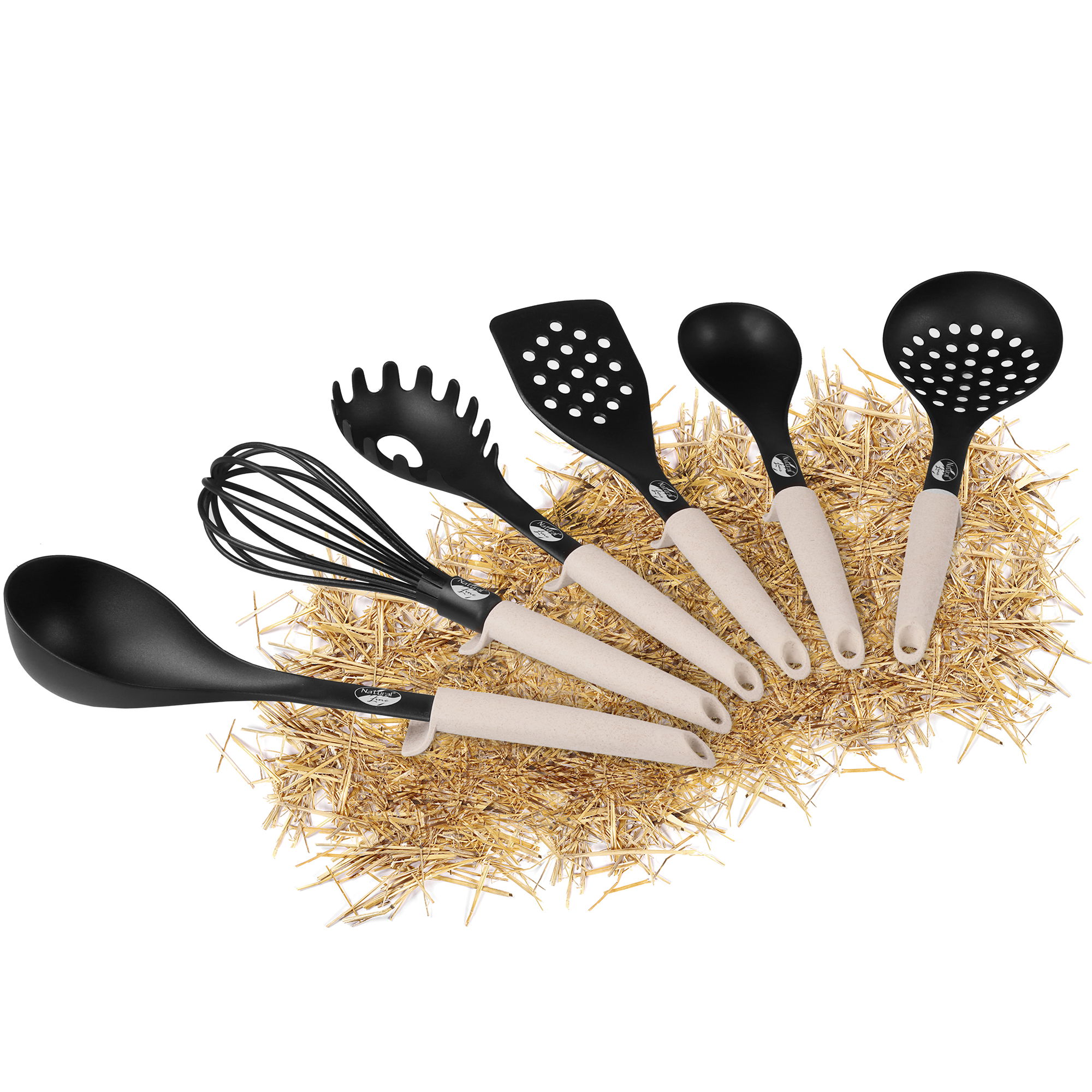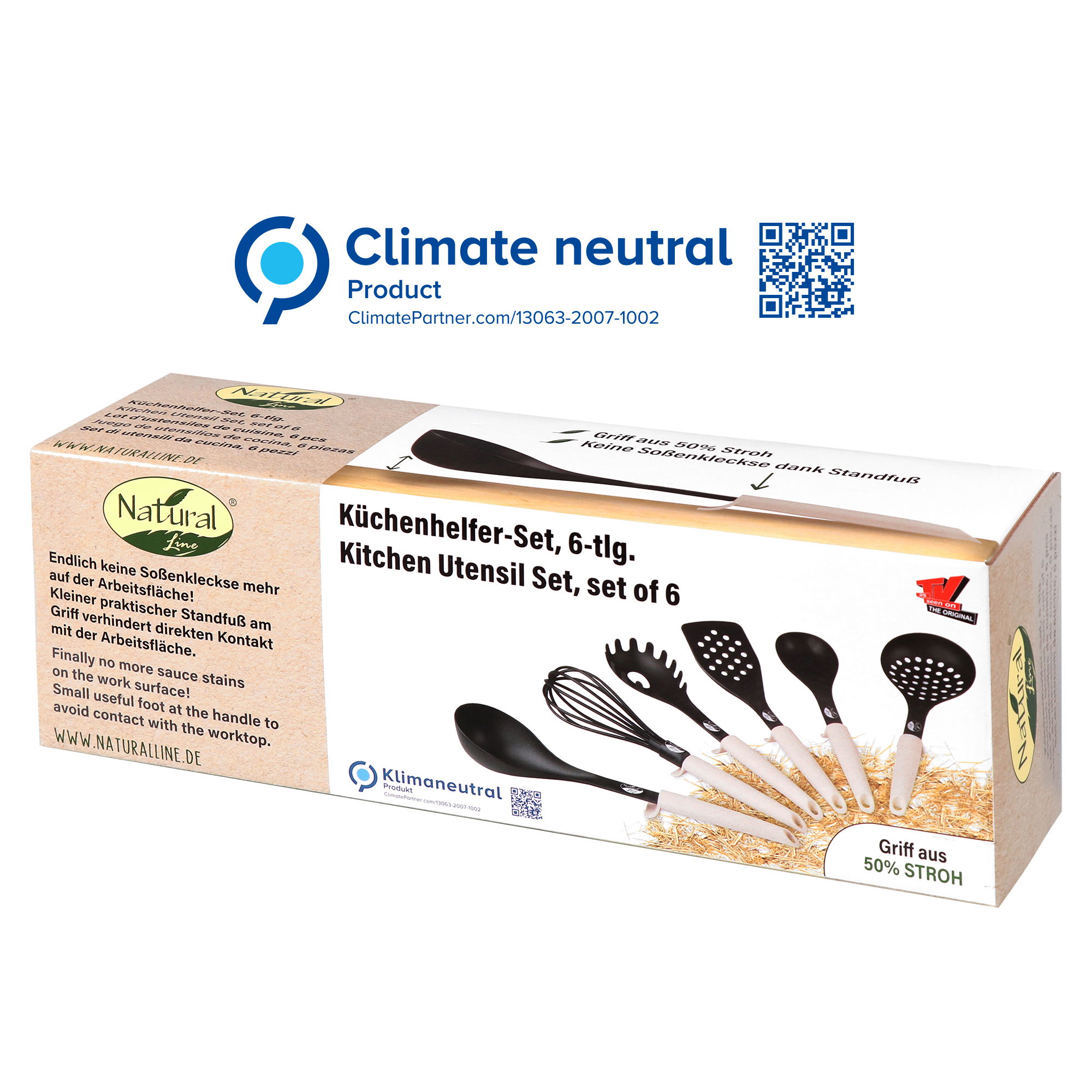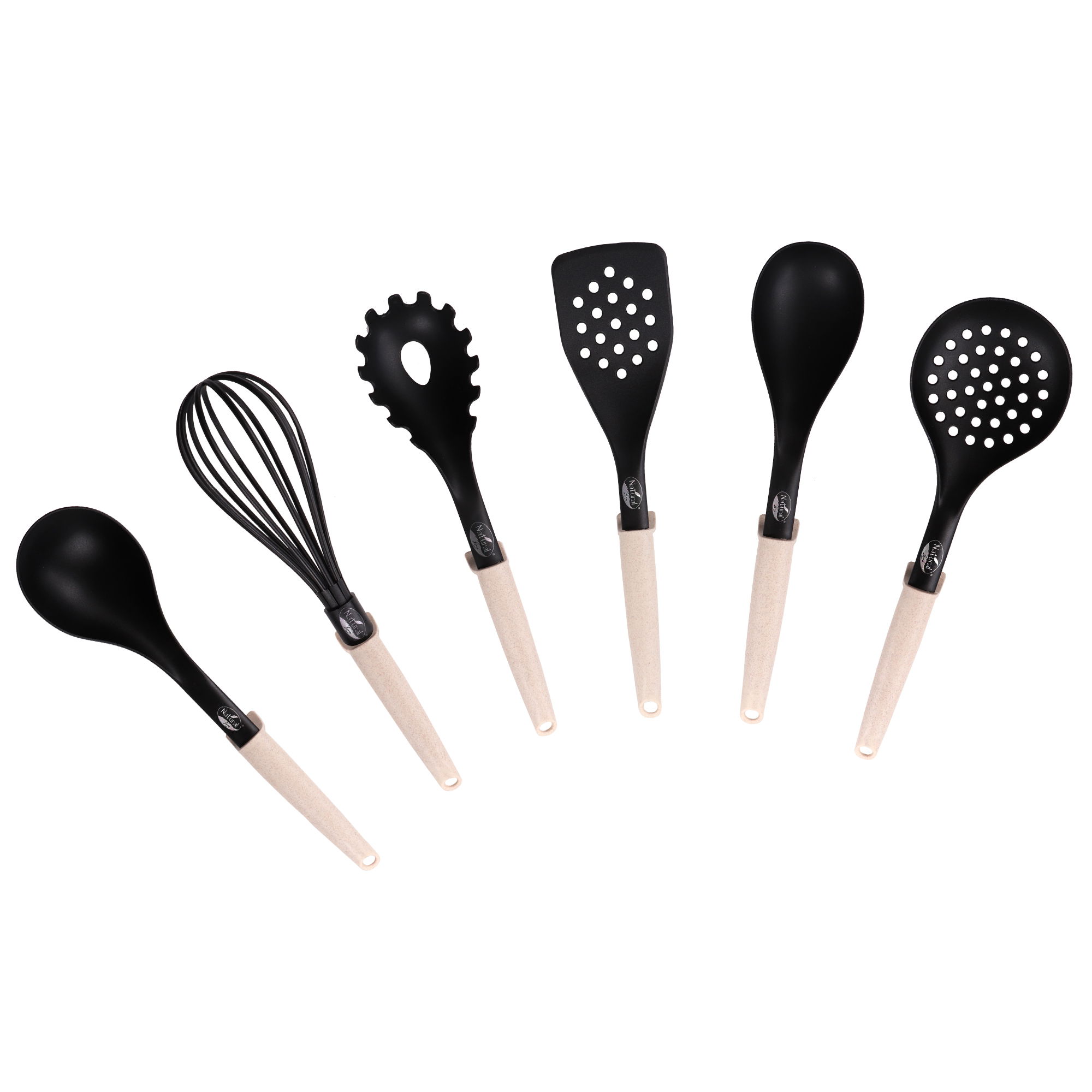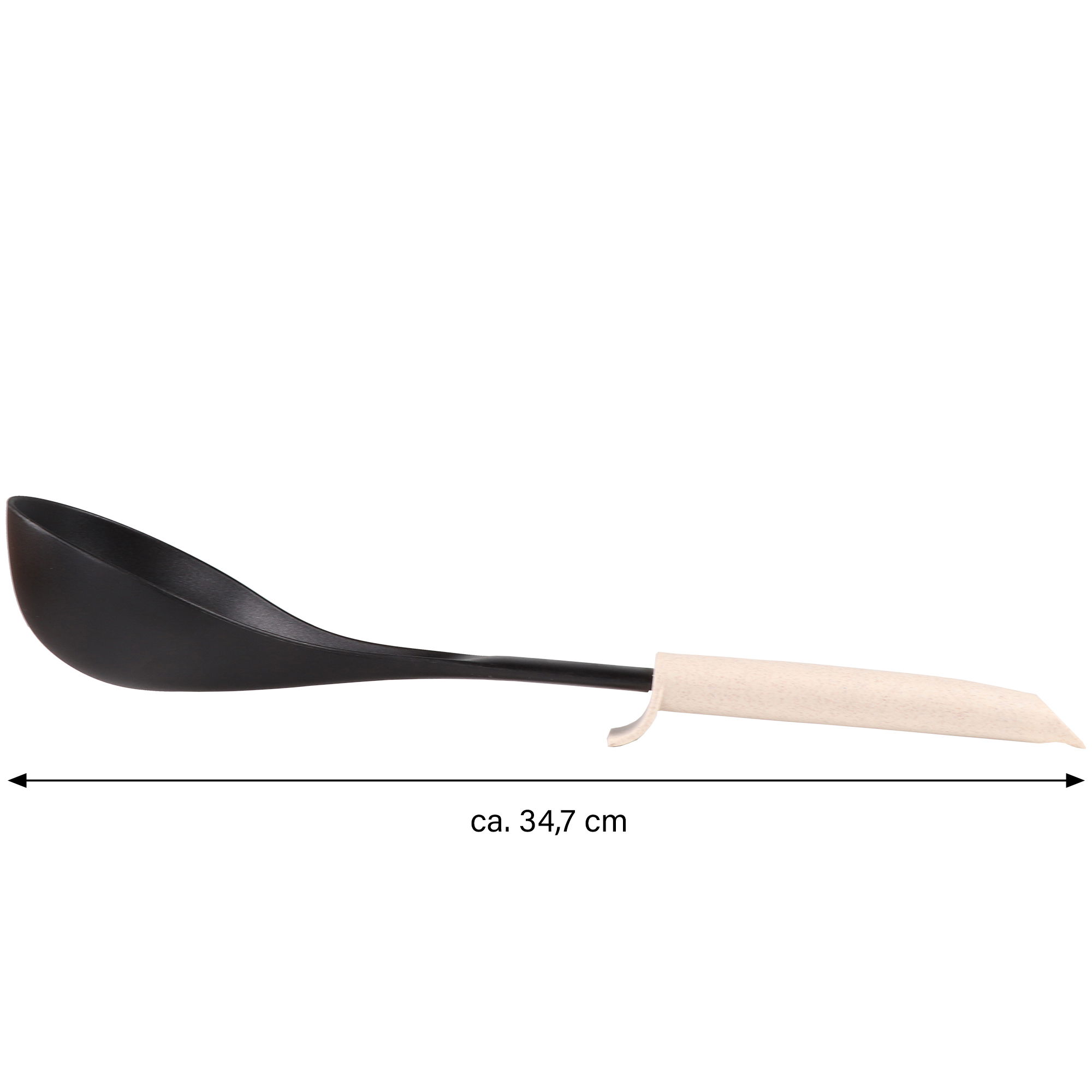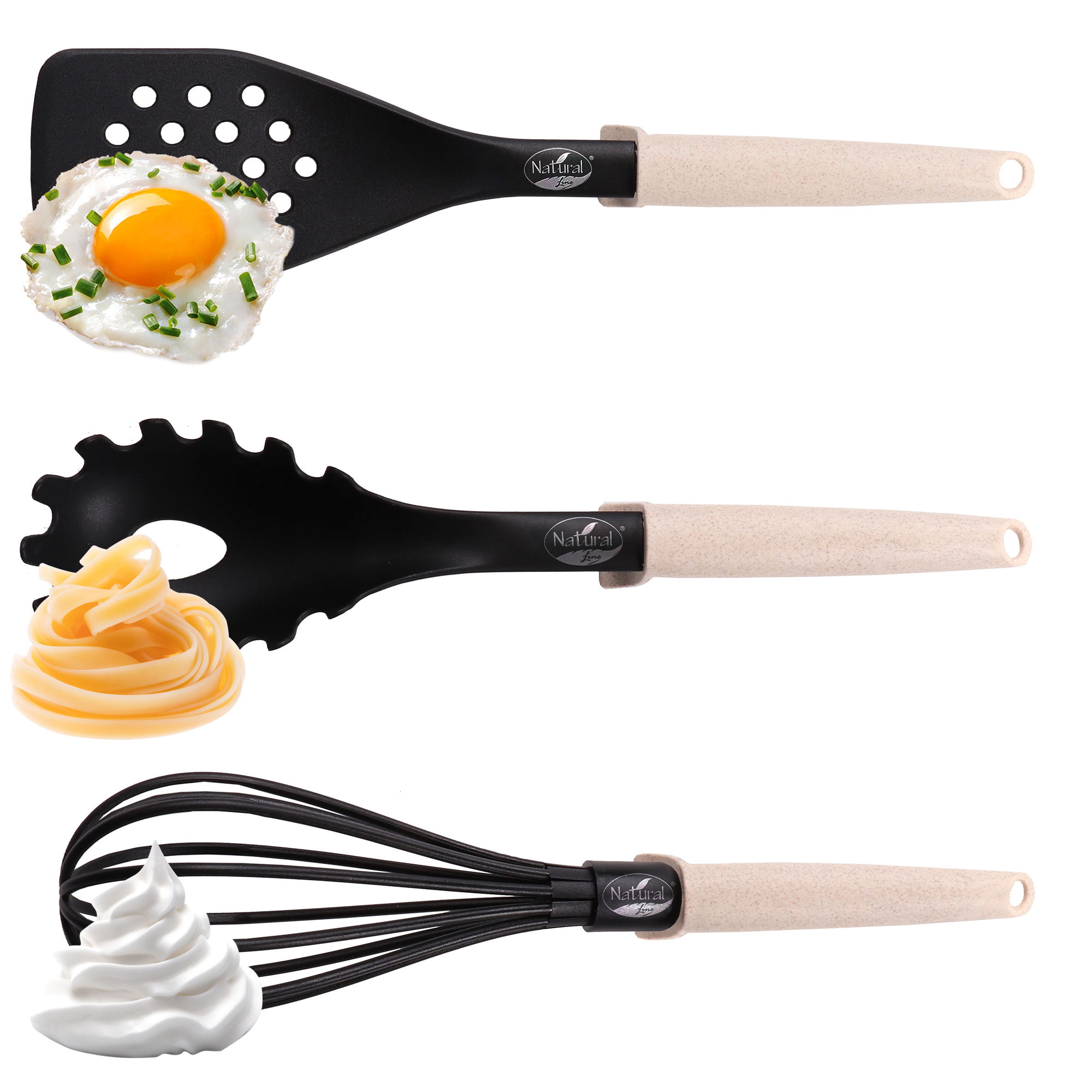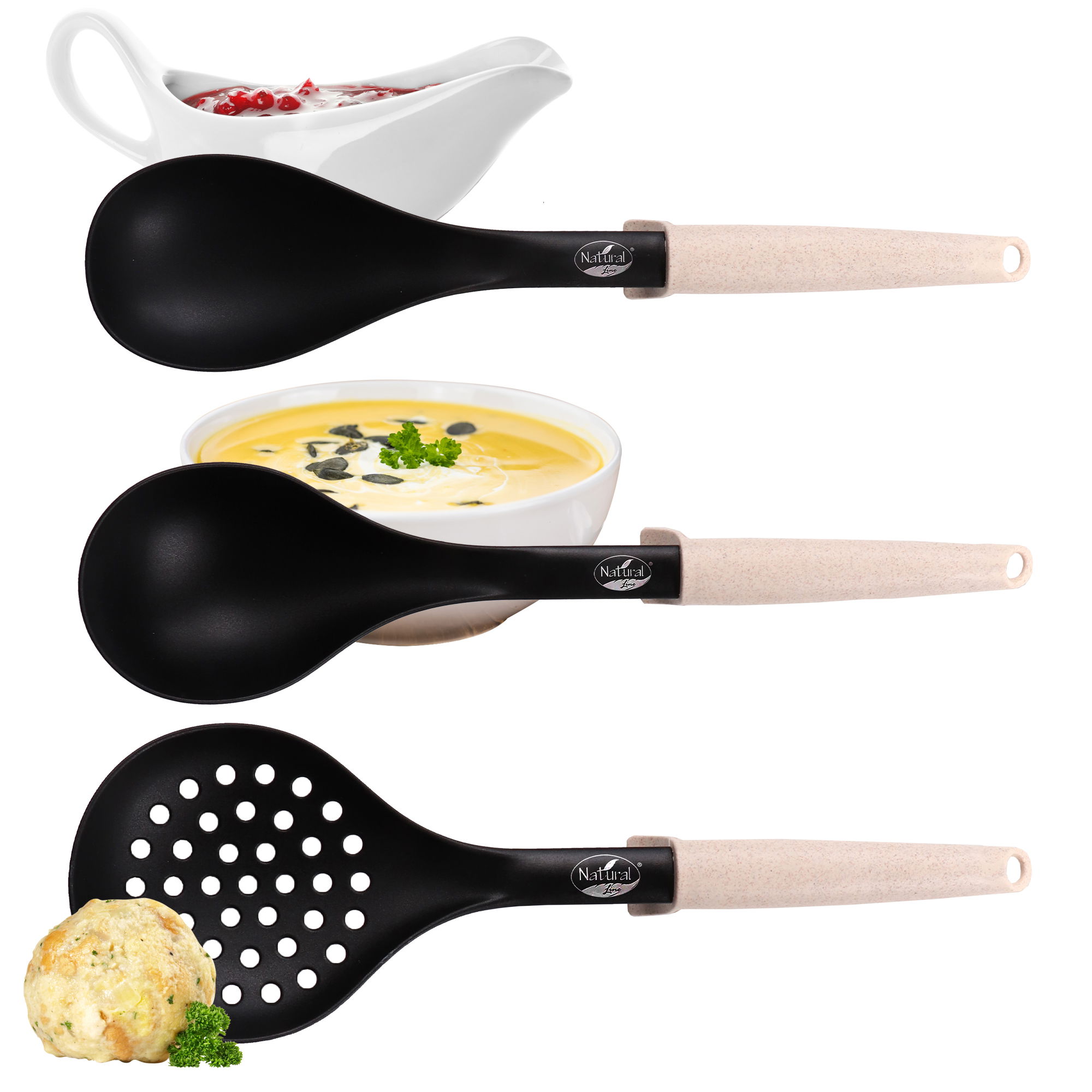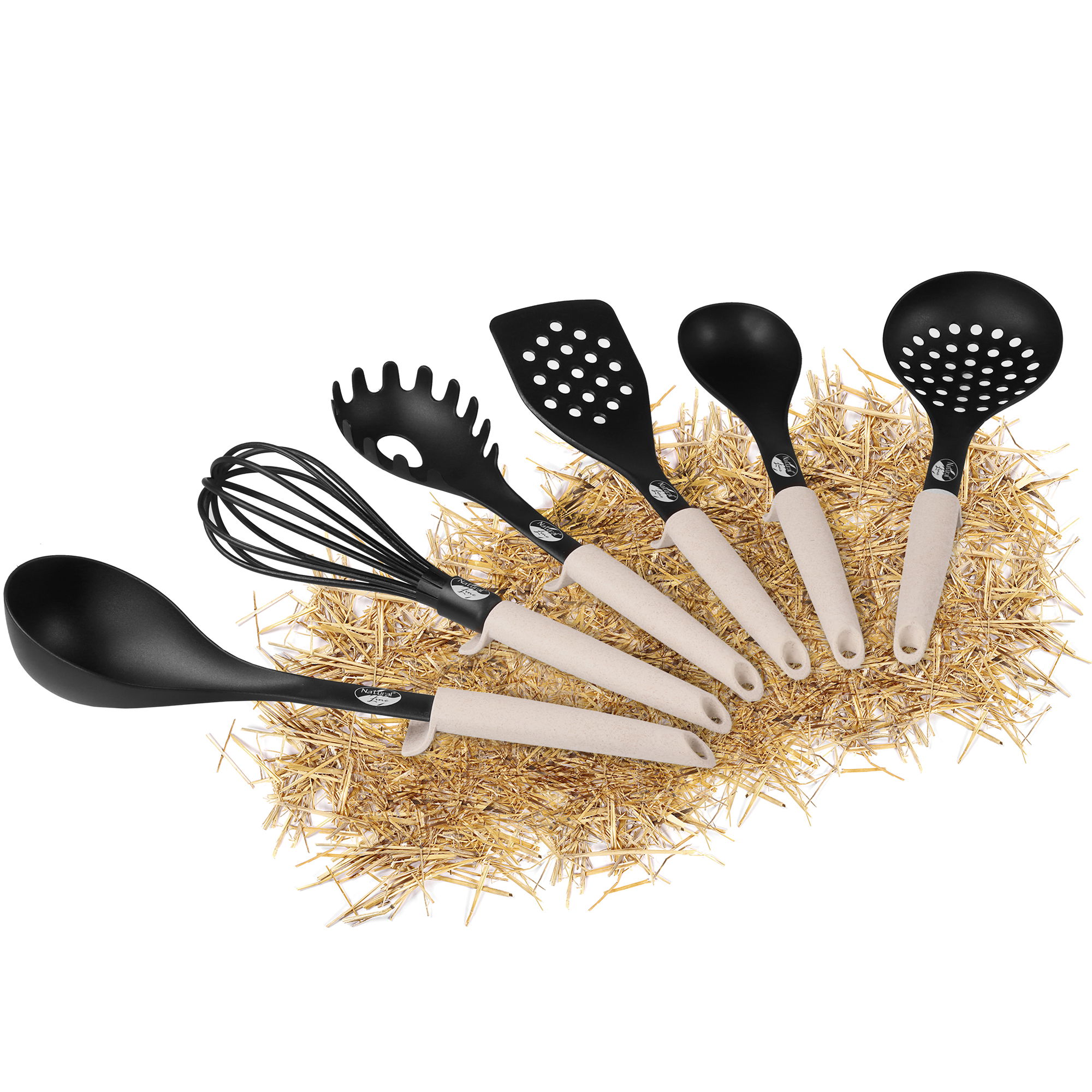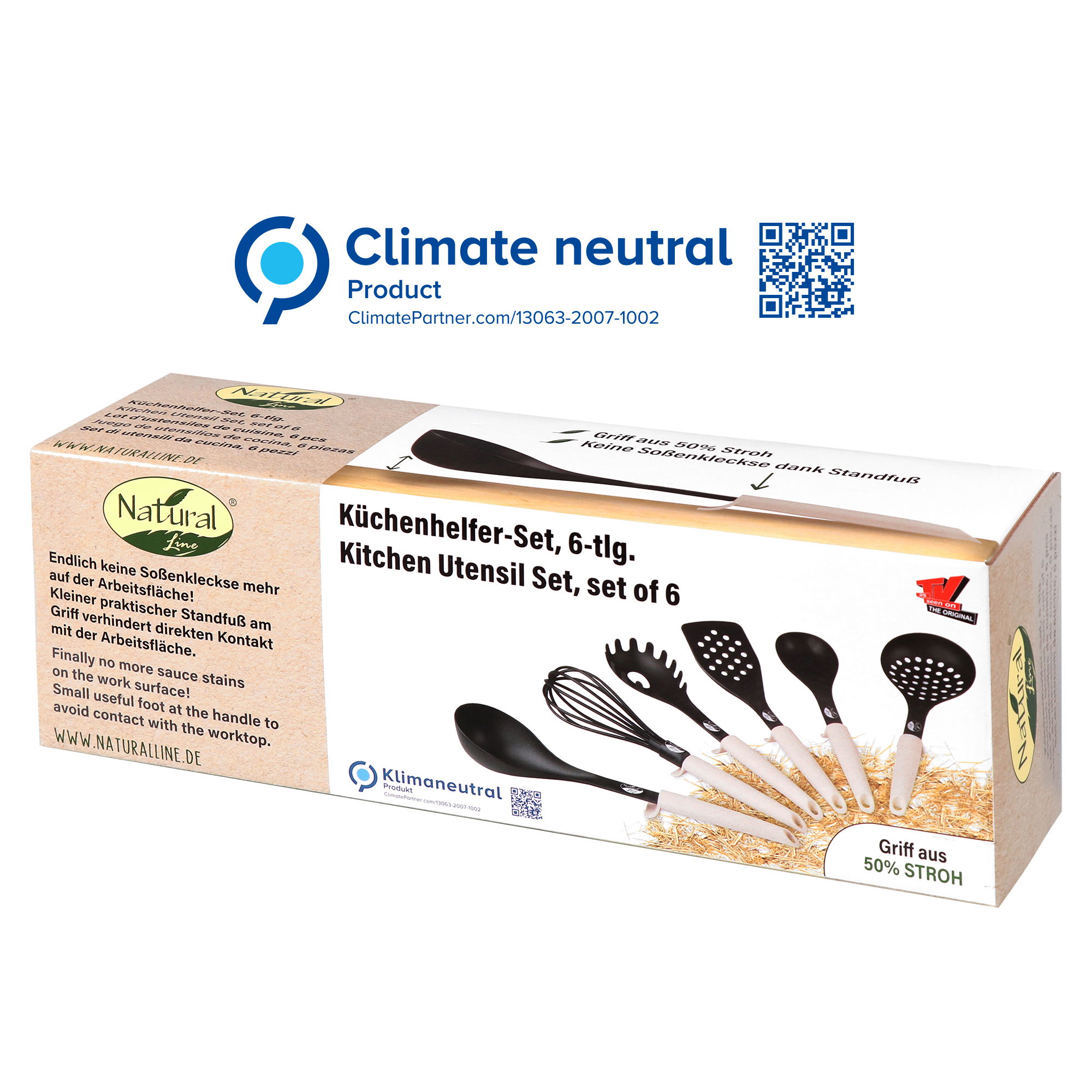 Natural Line® 6 pc Kitchen Utensils Set, Handles with Straw, for Non-Stick Cookware
€19.95*
%
Old price: €39.95*
You save 20,00 €
Natural Line®
Climate-neutral Kitchen Utensil Set. From Nature – for Nature!
For the handles of these kitchen utensils, straw is added to the plastic during production. Mainly wheat straw is used, as it remains in large quantities as waste and cannot be fully utilized for agricultural purposes.
With these practical kitchen utensils, you finally cook scratch-free – ideal for coated cooking and baking utensils.
The plastic material does not absorb odors and is easy to clean.
Due to the small, practical stand on the handle, these kitchen utensils do not rest on surfaces, preventing contact with the work area.
For a clever and clean storage of the kitchen utensils!
This set provides you with all the essential kitchen utensils in the same design.
This 6-piece set consists of:
1 soup ladle, approx. 32.5 cm x 9.8 cm
1 spatula, approx. 33 cm x 8.1 cm
1 cooking spoon, approx. 33 x 7.5 cm
1 spaghetti server, approx. 31.7 cm x 6.6 cm
1 skimmer, approx. 34 cm x 11.5 cm
1 whisk, approx. 32.2 cm x 7.0 cm

Produced in a climate-neutral manner:
The availability of natural resources on Earth is limited.
A responsible approach to these resources and a sustainable lifestyle should be the goal not only of individuals but of everyone. For this reason, our company
operates in a climate-neutral manner. This involves calculating our CO2 emissions, generated for instance during production and transportation. We offset this consumption by supporting internationally recognized climate protection projects. In this case, we support the Forest Protection project in Portel, Brazil.
The key benefits of the Natural Line® kitchen utensils at a glance:
Ideal for coated pans, pots, or baking molds
Neutral in taste: Odors don't stick
Ergonomic handle for comfortable use
Handle made with straw
Easy to clean: rinse with hot water, dry, done
Heat-resistant up to 180 °C
Material: Nylon, wheat straw, PP
---
Sehr praktisch und hilfreich in der Küche
Das Set sieht fantastisch aus und ist von solider Qualität. Würde ich wieder kaufen.
Ich habe dieses Set als Geschenk für meine Mutter gekauft und sie ist absolut begeistert. Die Kombination aus Funktionalität und Nachhaltigkeit ist einfach unschlagbar. Würde ich jedem weiterempfehlen!
Endlich ein Set, das meine beschichteten Pfannen nicht zerkratzt! Die Reinigung ist ein Kinderspiel und sie sehen auch nach Monaten noch wie neu aus. Sehr empfehlenswert!
Ich liebe dieses Küchenhelfer-Set! Die Griffe liegen super in der Hand und das Design ist einfach top. Besonders beeindruckt bin ich von der umweltfreundlichen Idee, Stroh in den Griffen zu verwenden. Ein großartiges Produkt!