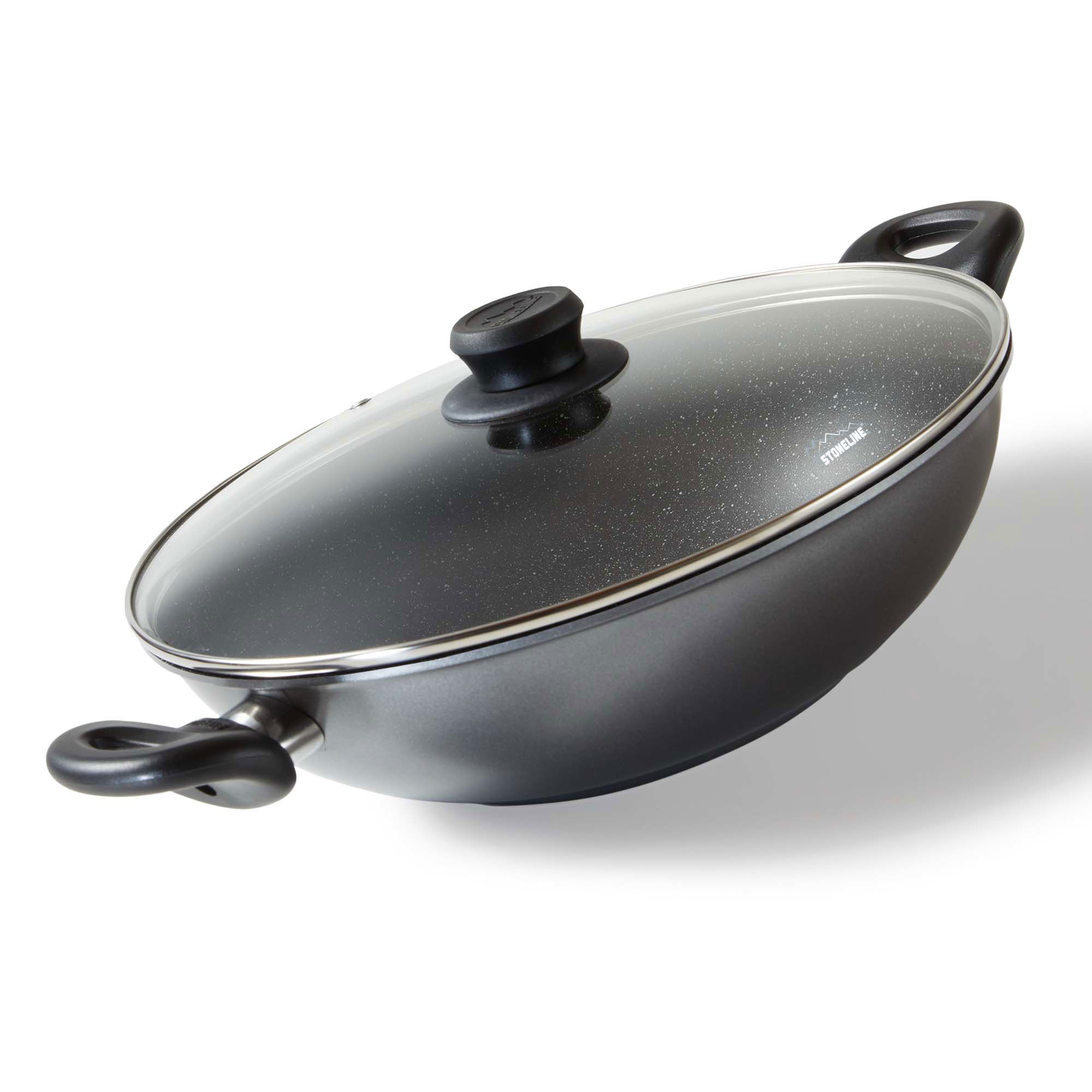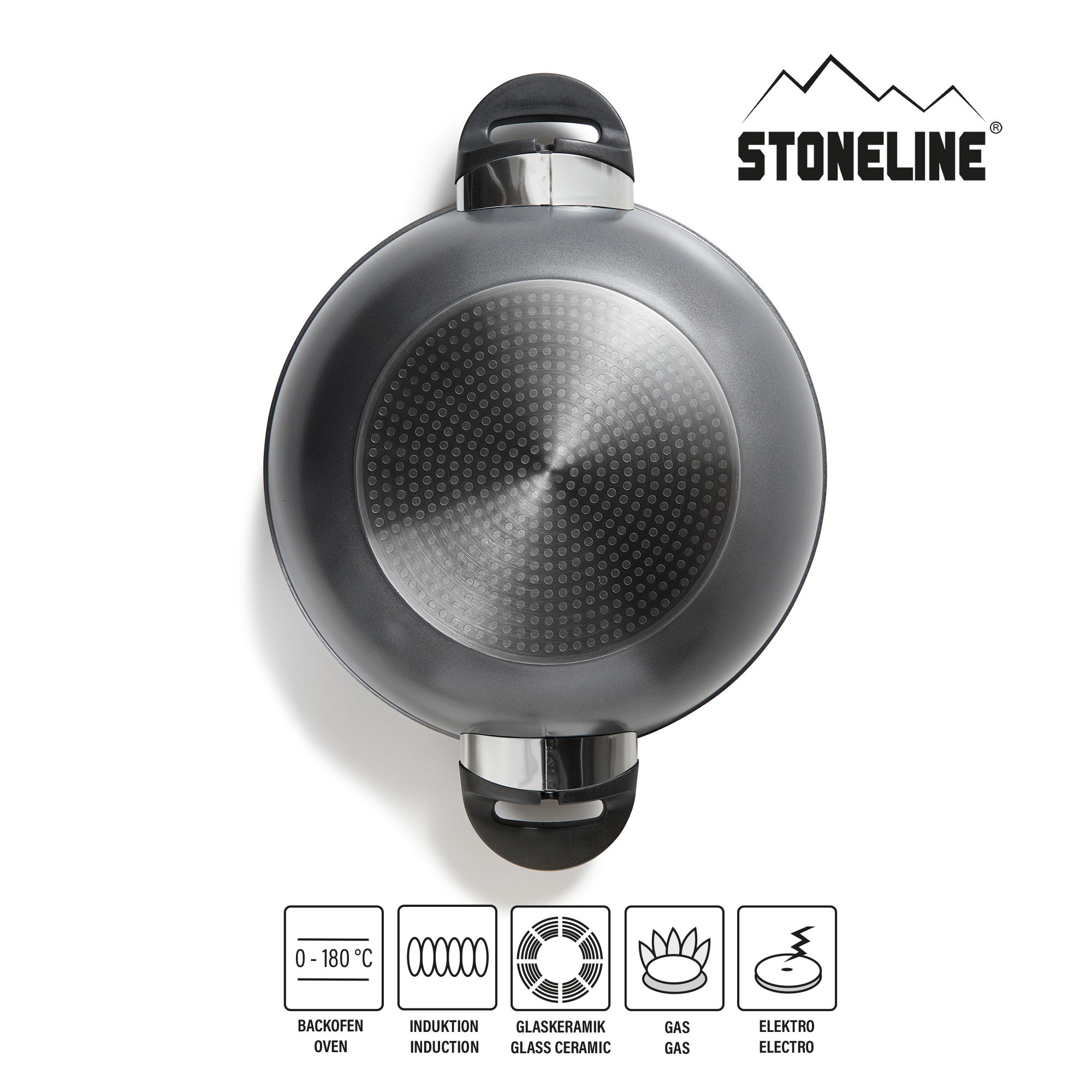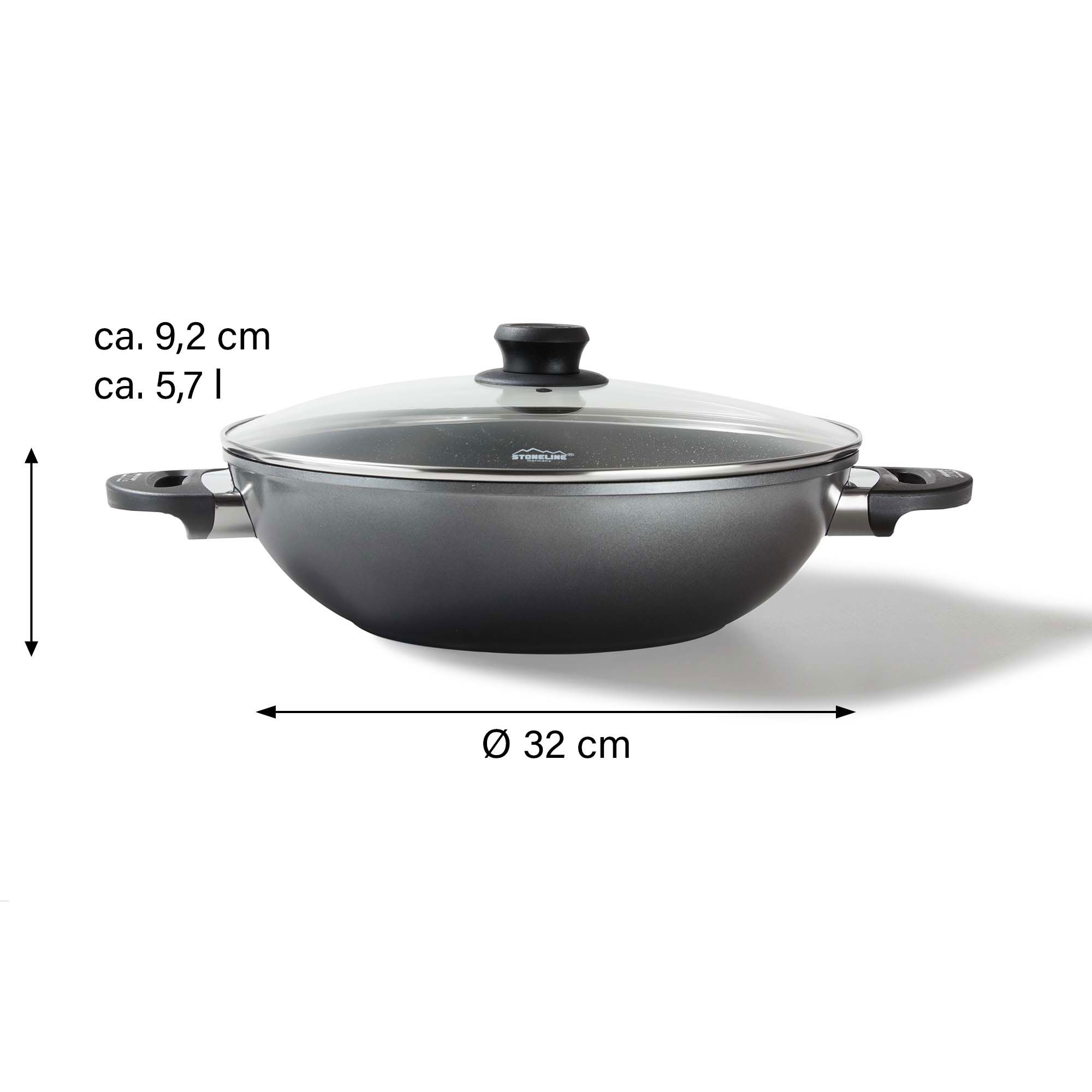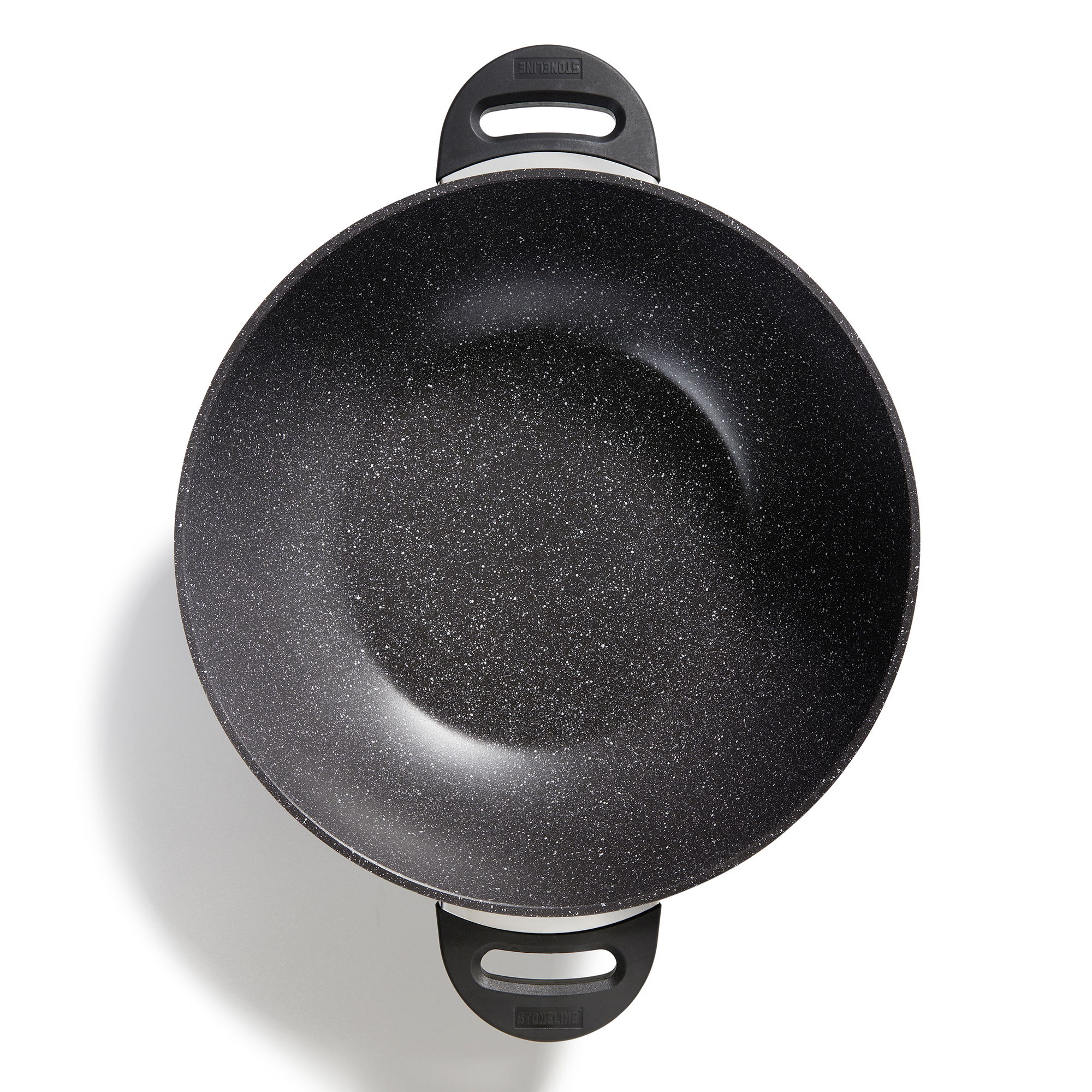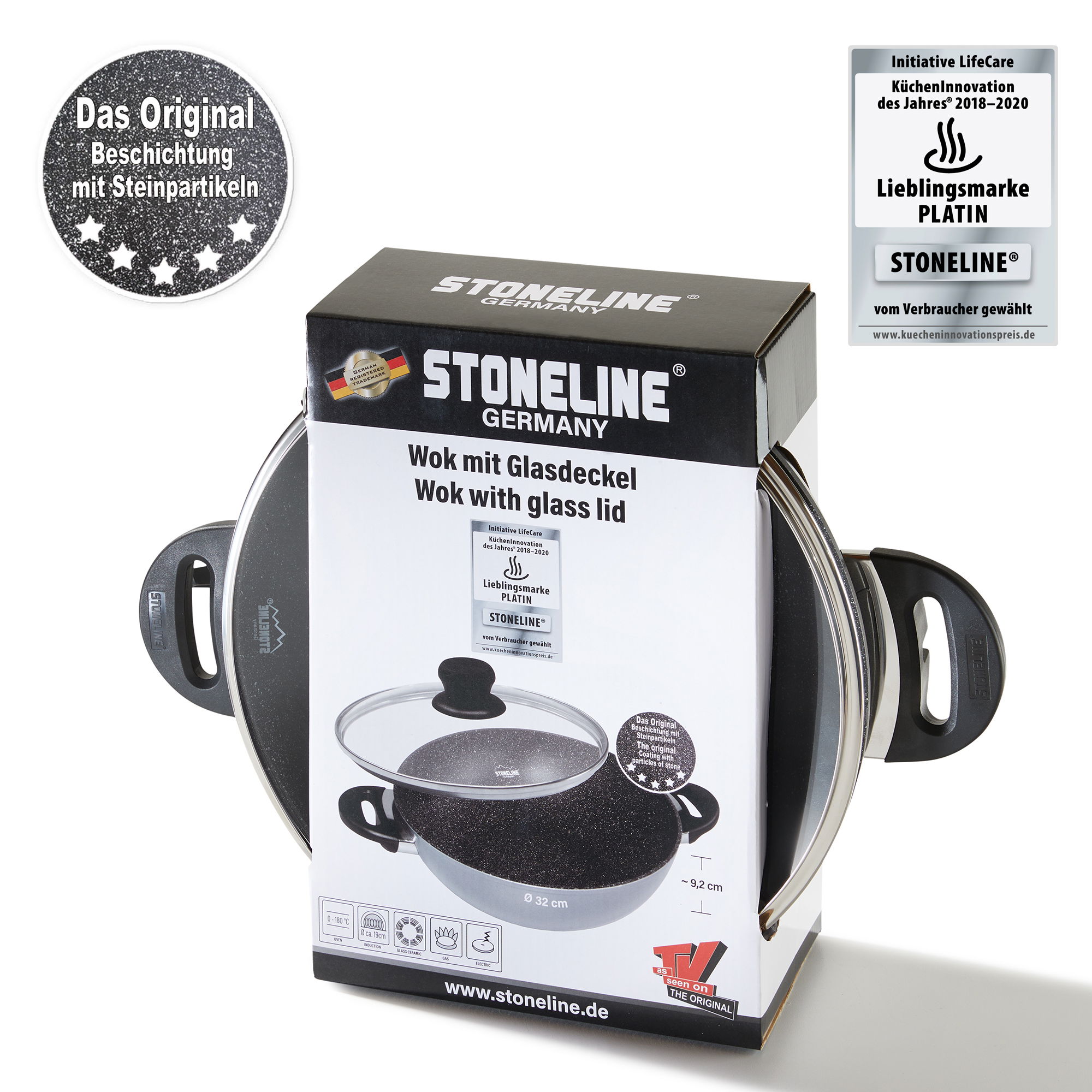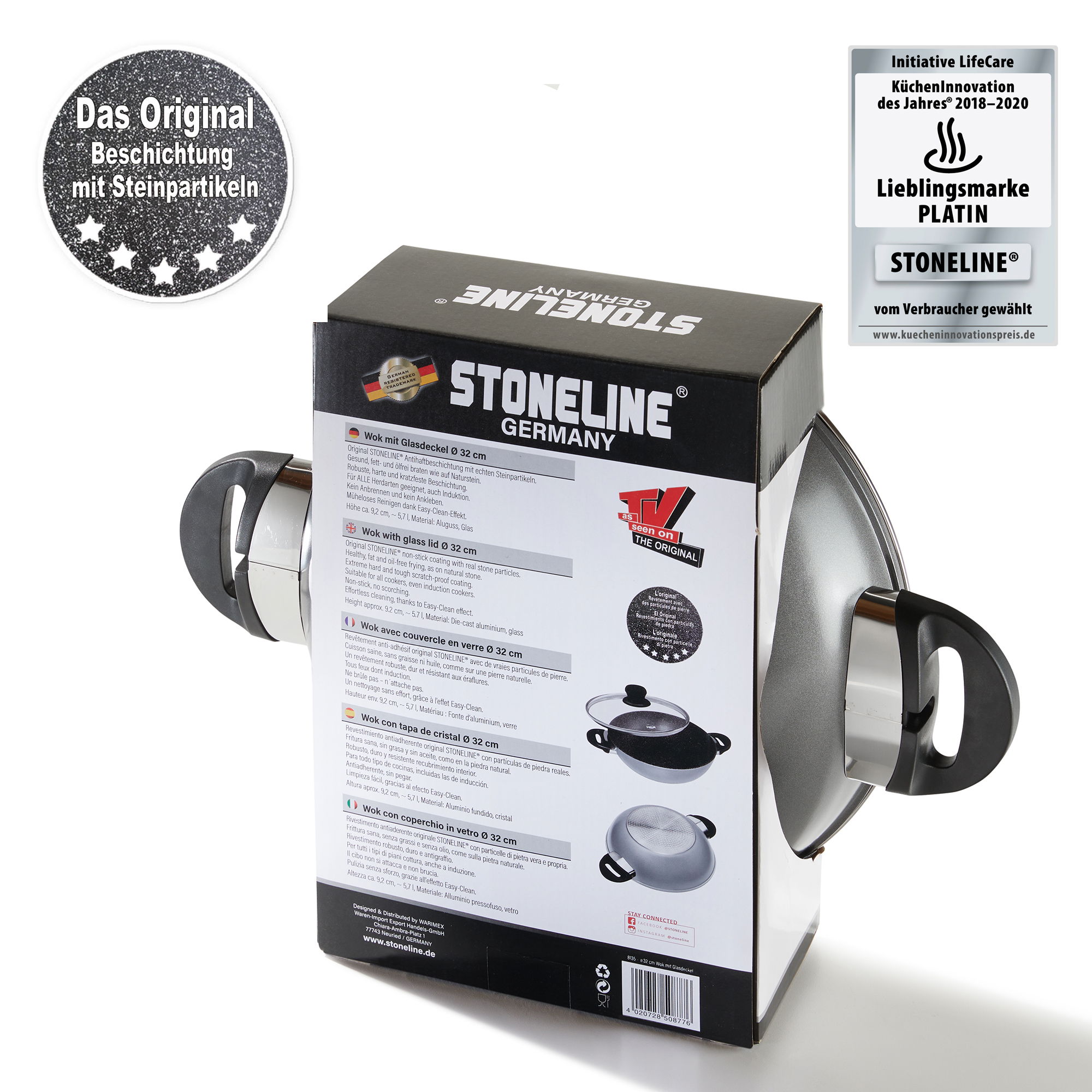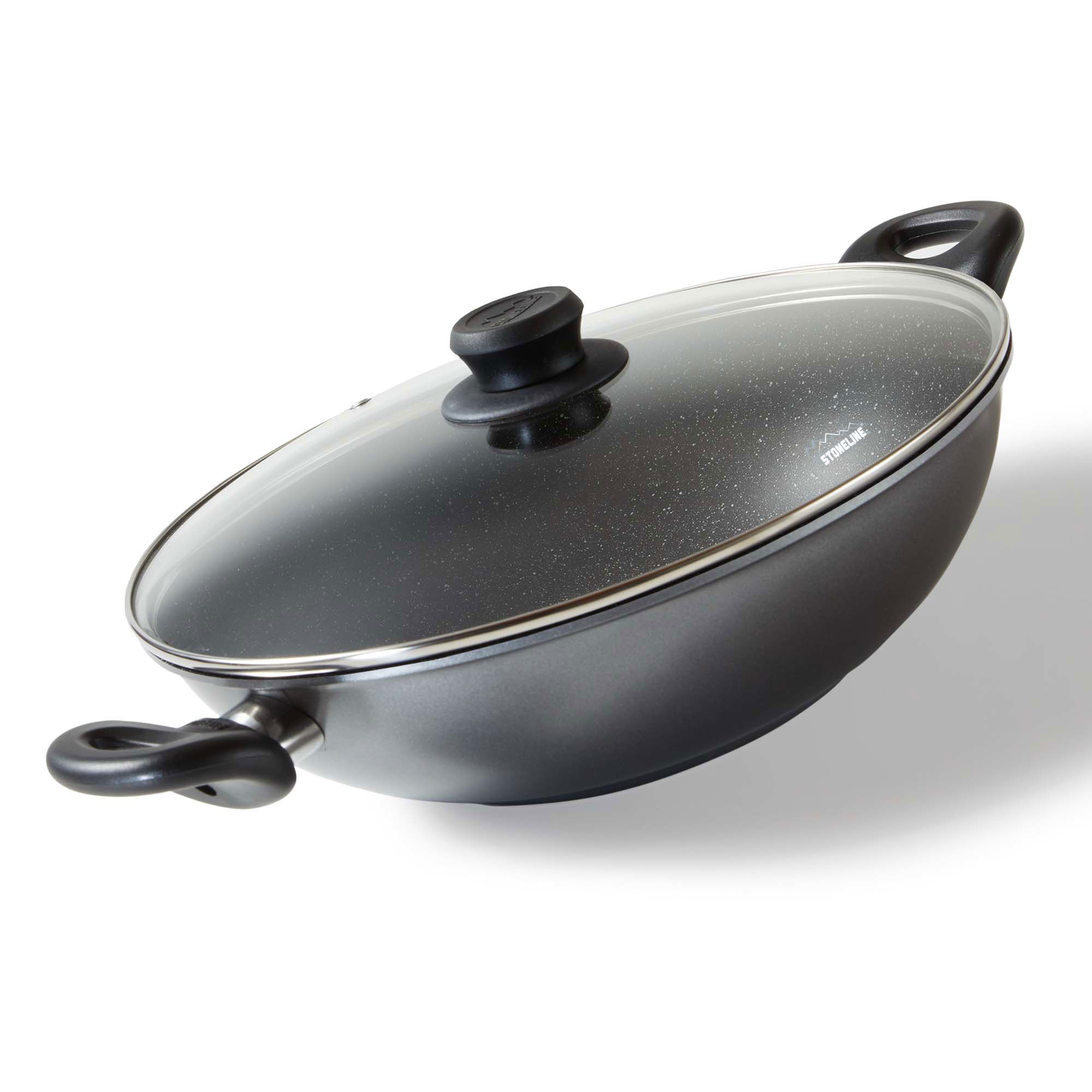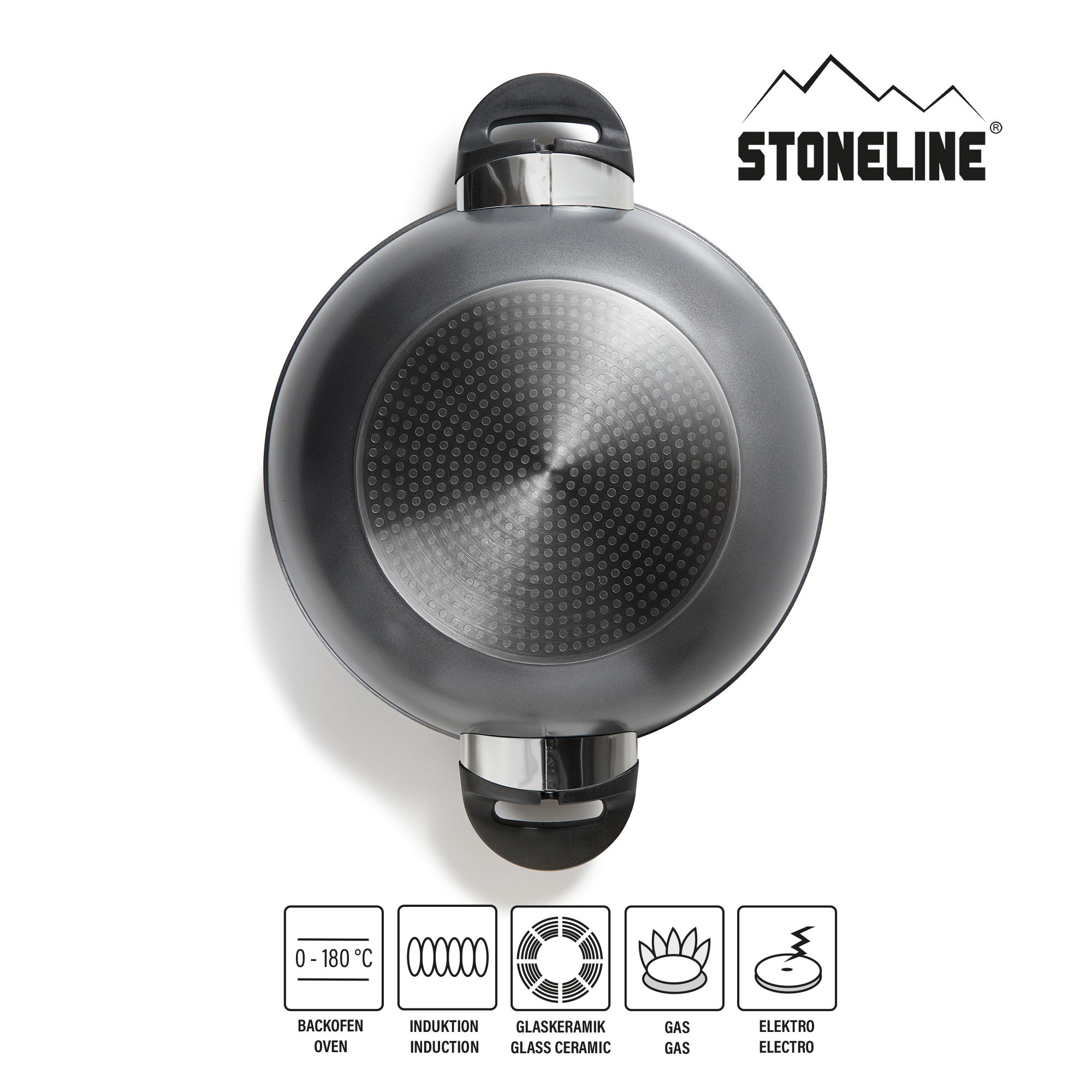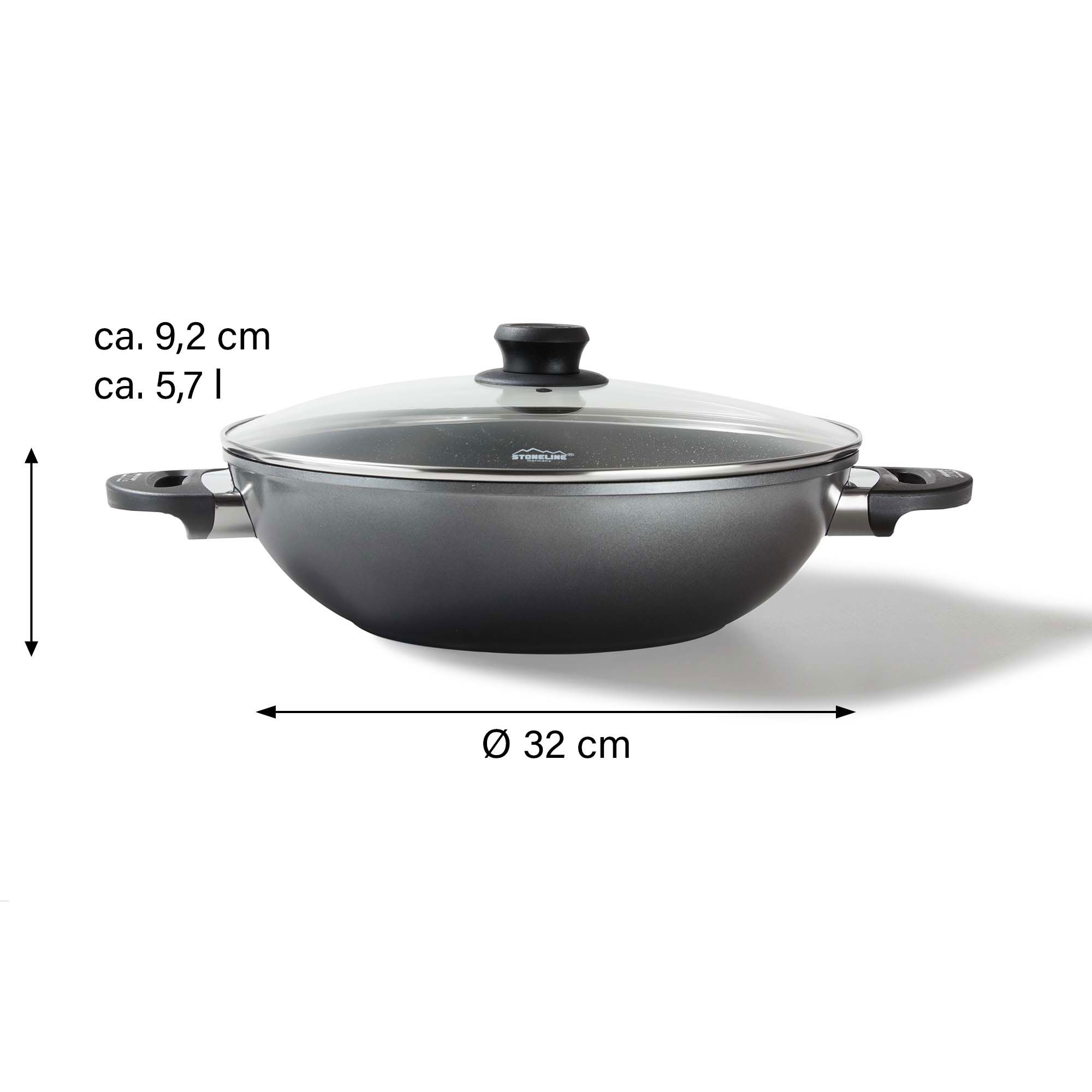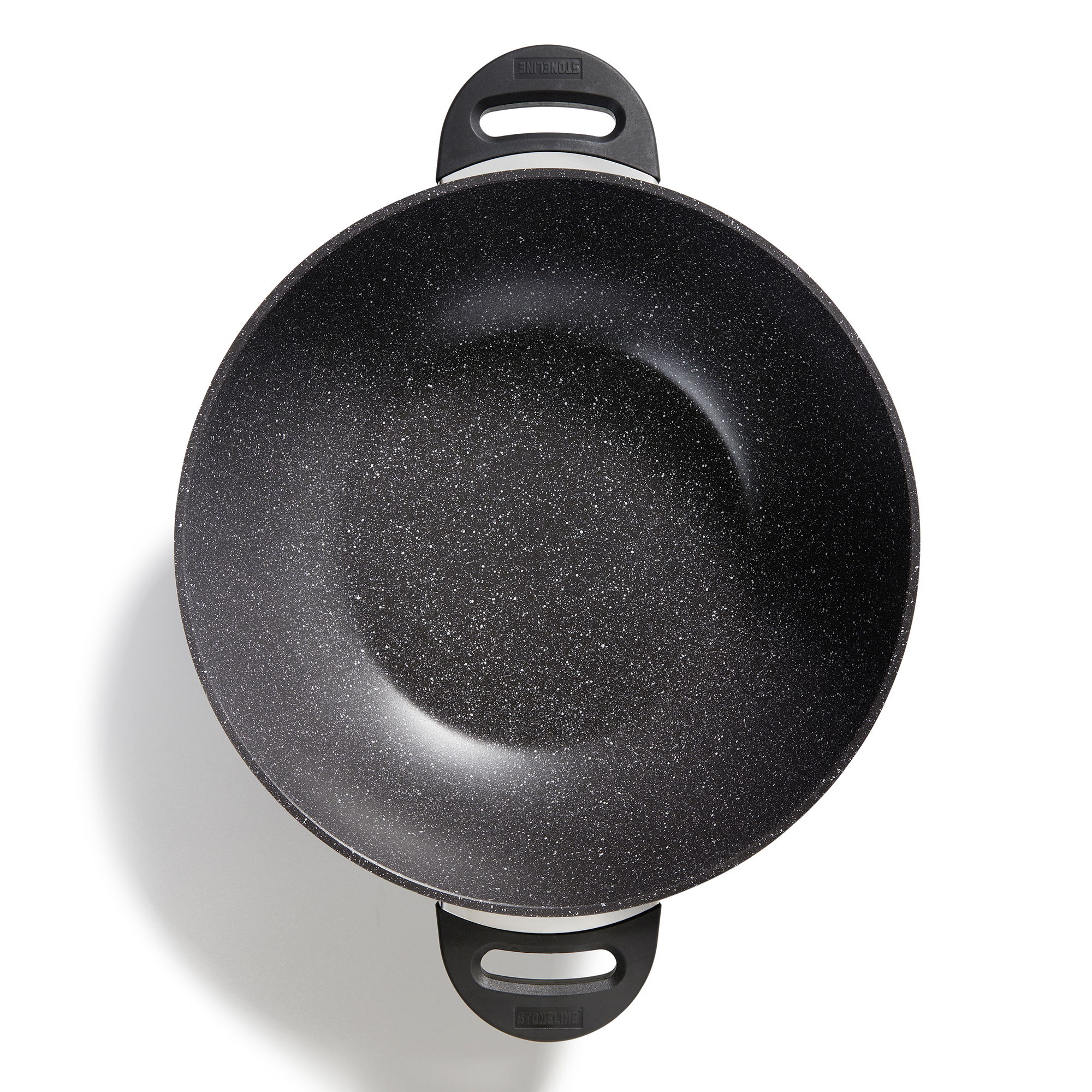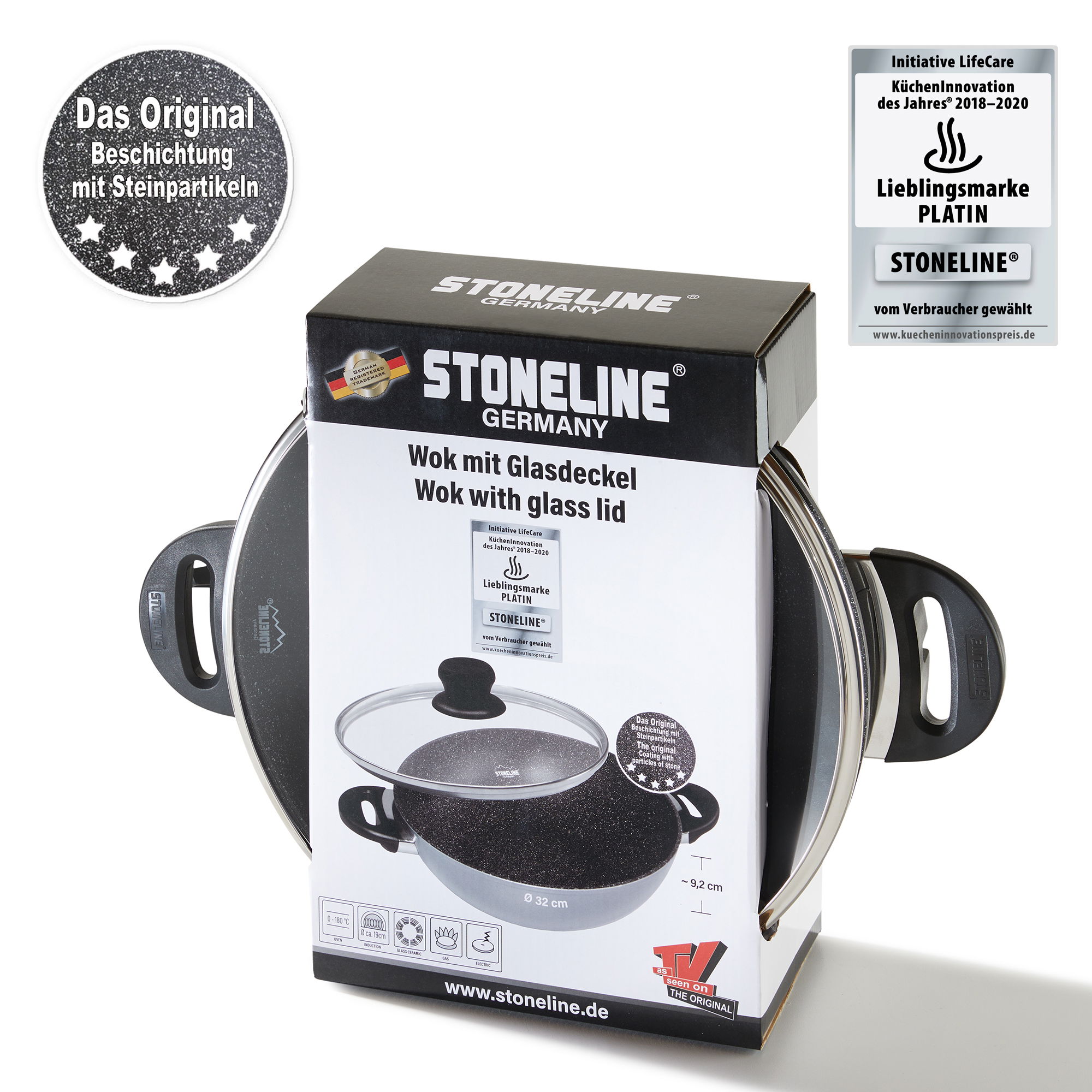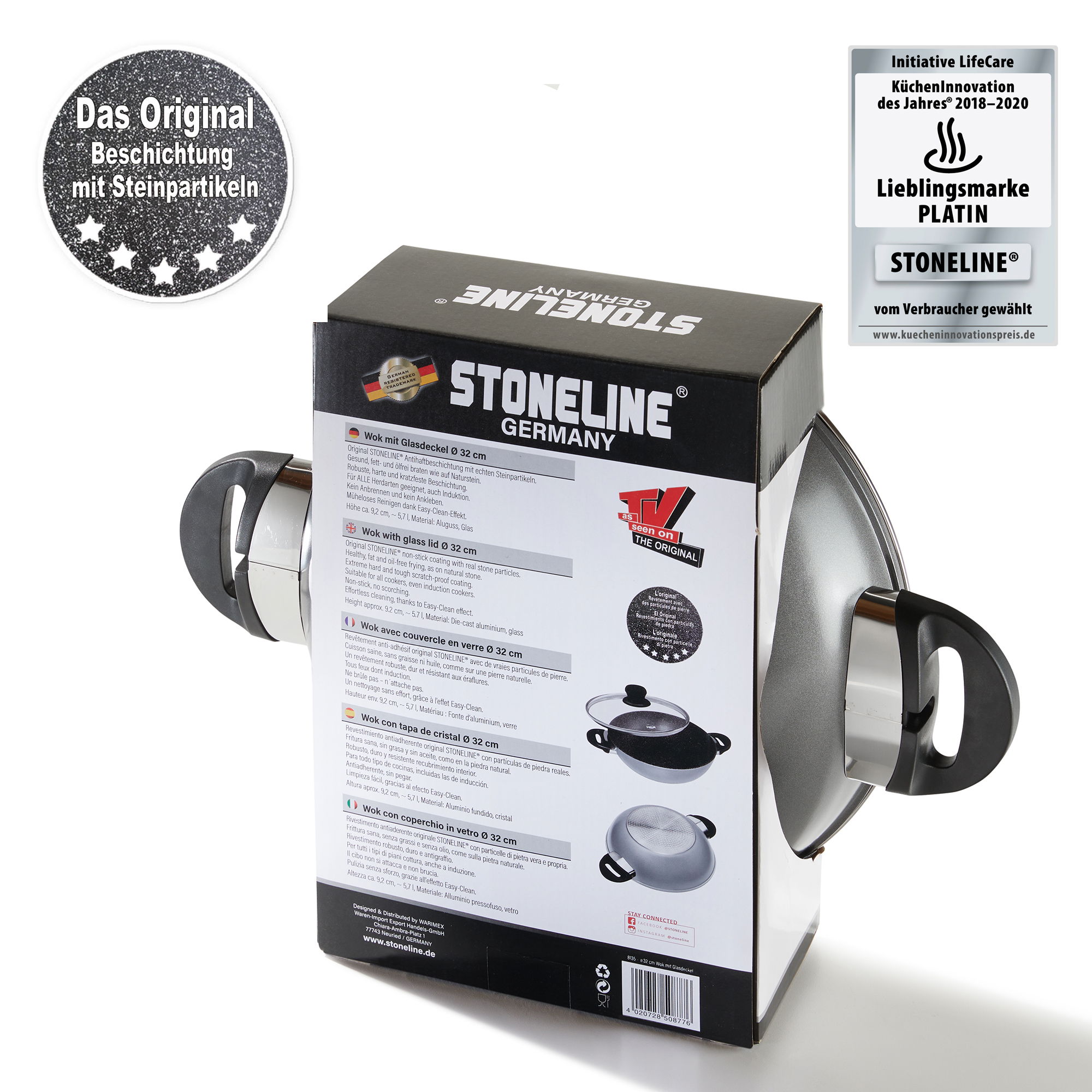 STONELINE® Wok Pan 32 cm, with Lid, Non-Stick Pan | CLASSIC
€59.95*
%
Old price: €149.95*
You save 90,00 €
STONELINE® – The Original!
Healthy cooking and frying without fat!
Bring delicious Asian dishes to your table and enjoy low-fat and healthy Asian cuisine in the comfort of your own home.
With this STONELINE® Wok, it's easy to transform delicate fish, fresh poultry, and crisp vegetables into delightful Asian flavors.
Sear the ingredients briefly and then move them to the pan's edges for slow cooking.
Then onto the plate or into the bowl, add forks or chopsticks – and the exotic delight can begin!
This versatile kitchen utensil isn't just perfect for frying. Steaming, frying, simmering, or blanching work equally well in it.
Thanks to the special STONELINE® non-stick coating, you can prepare your dishes – as desired – with or without cooking fat and oil, and they will release easily from the cookware without sticking.
It doesn't matter if you're cooking on glass ceramic, induction, electric, or gas.
In cookware with the original STONELINE® coating, stubborn residues won't stick, and the easy hand wash will save you time and effort.
1 Wok, ø approx. 32 cm, Height: approx. 9.2 cm, approx. 5.7 liters
1 Glass Lid, ø approx. 32 cm
The Key Advantages of STONELINE® Cookware at a Glance:
World's only non-stick coating with real stone particles
Scratch-resistant STONELINE® non-stick coating
Cook and fry without fat and oil while preserving vitamins
Optimal frying results and crispy meats
Also suitable for vegetarians: Vegetables remain crisp and juicy
No burning and no sticking
Super easy to clean
Extra strong, warp-free base
Base thickness: 4.5 mm
Suitable for all types of stoves, including induction
Oven-safe up to 180°C
Material: Cast aluminum
Cleaning and Care Tips:
Before first use, we recommend thoroughly washing your cooking or baking utensils with some water and a mild dish soap.
Then, spread a few drops of cooking oil on the coating using a paper kitchen towel.
For subsequent use, you can skip using fat or oil!
Thanks to the Easy-Clean effect, hand cleaning is recommended. Simply wipe with hot water, dish soap, and a soft sponge.
Content:

from 3 l to 4 l

Diameter:

28 cm

, 32 cm

Handle:

Fixed

Height:

5 to 10 cm

Lid:

Yes

Oven suitable until:

150 °C

, 180 °C

Series:

Classic

Type:

Woks
---
Induktionseignung Für Induktion ist die Pfanne hervorragend geeignet: Das Siemens Kochfeld verfügt über eine Kochgeschirr-Testfunktion und stuft die Pfanne als optimal geeignet auf allen Kochstellen ein. Ich habe in die Pfanne 200 ml Wasser gefüllt und gemessen, wie lange es dauert, das Wasser zum Kochen zu bringen. Das Induktionskochfeld mit 3,7 kW (Booststufe) benötigt nur 38 sec, bis es kocht.