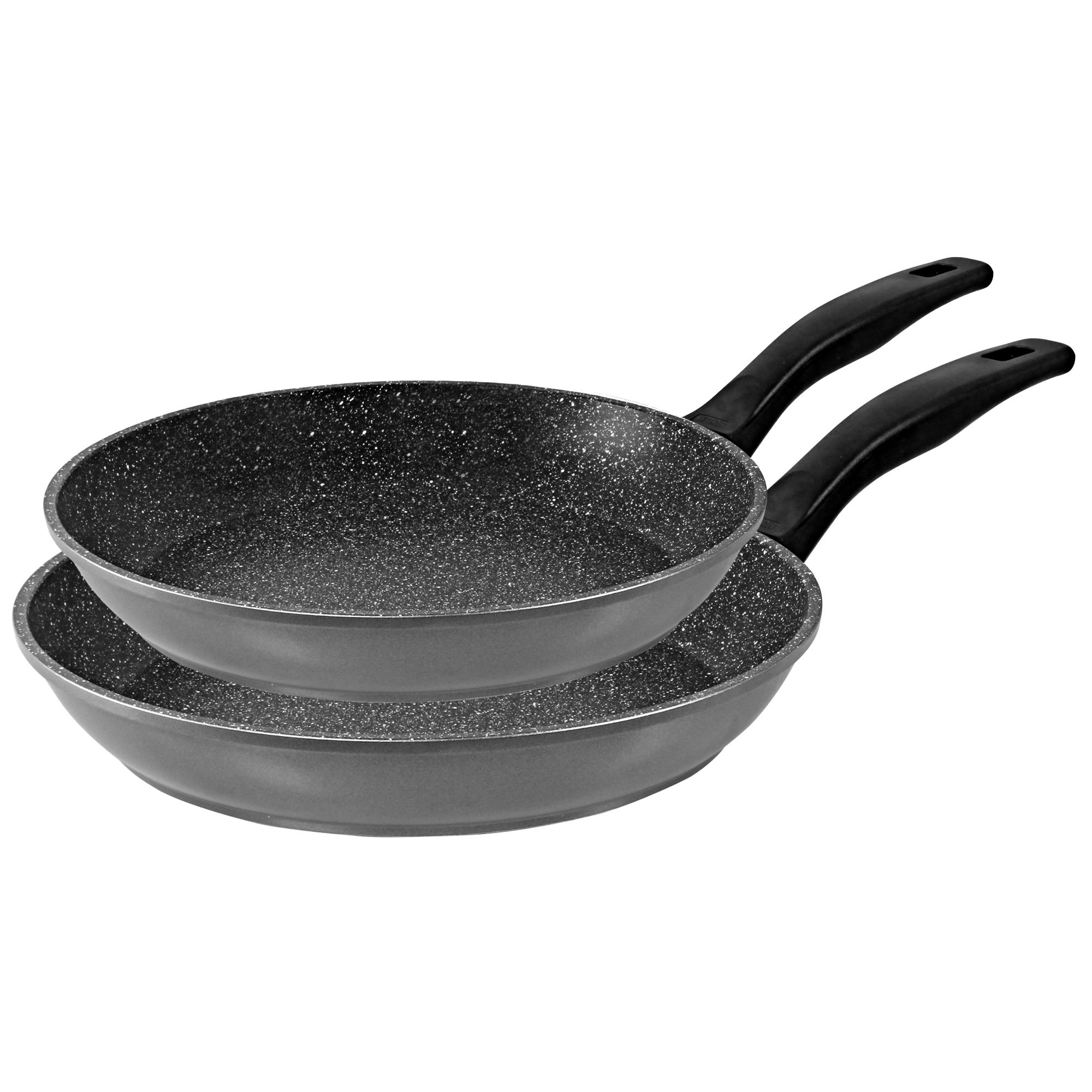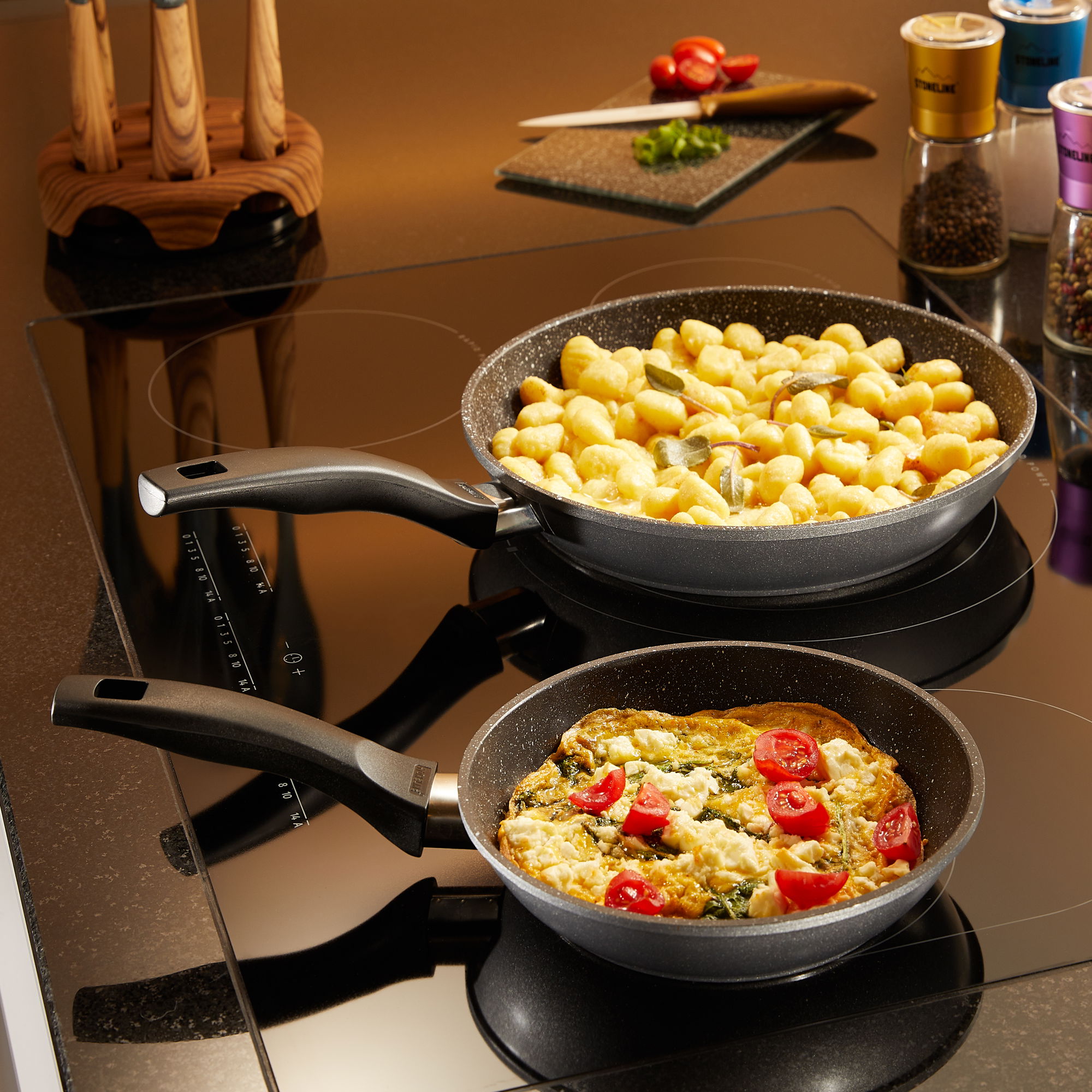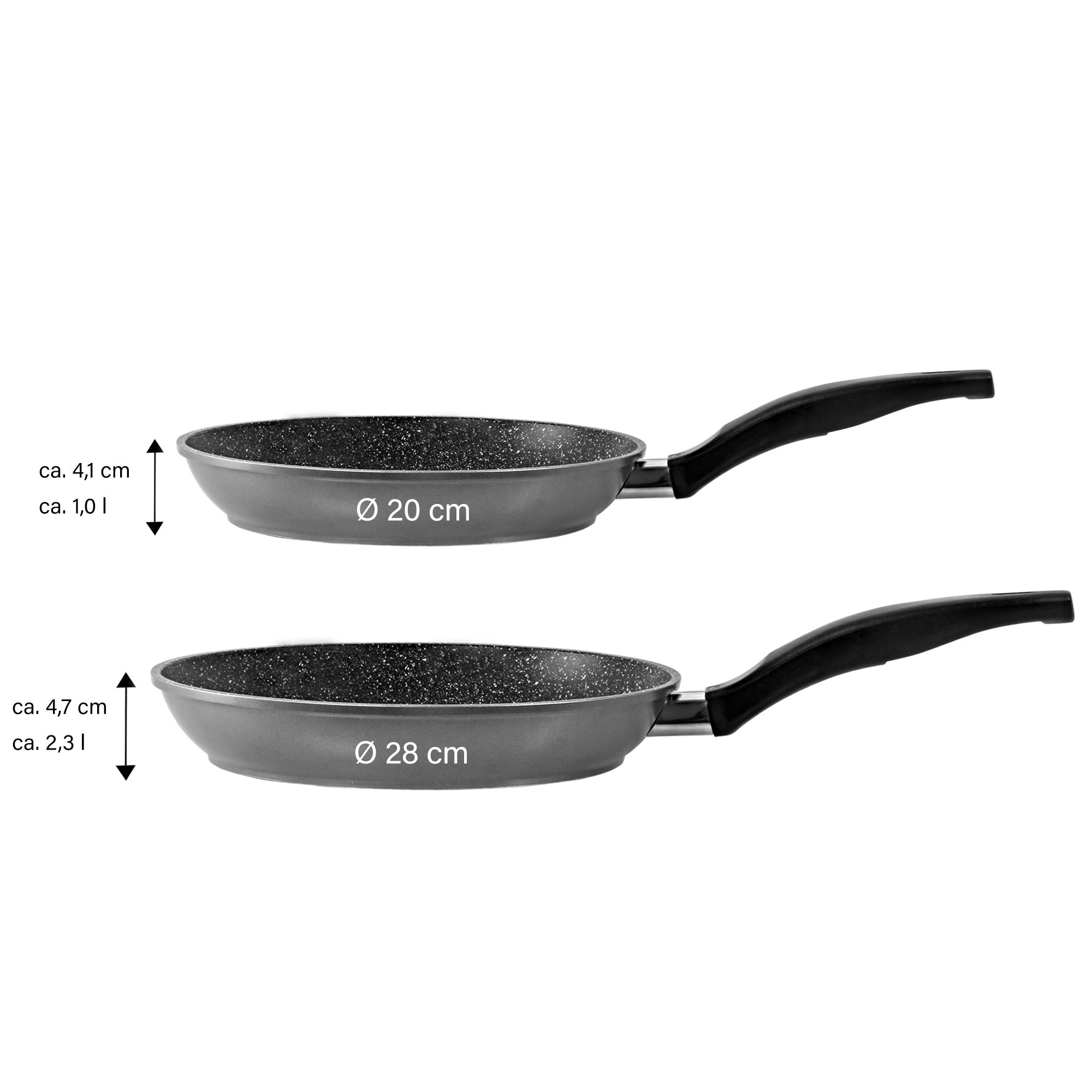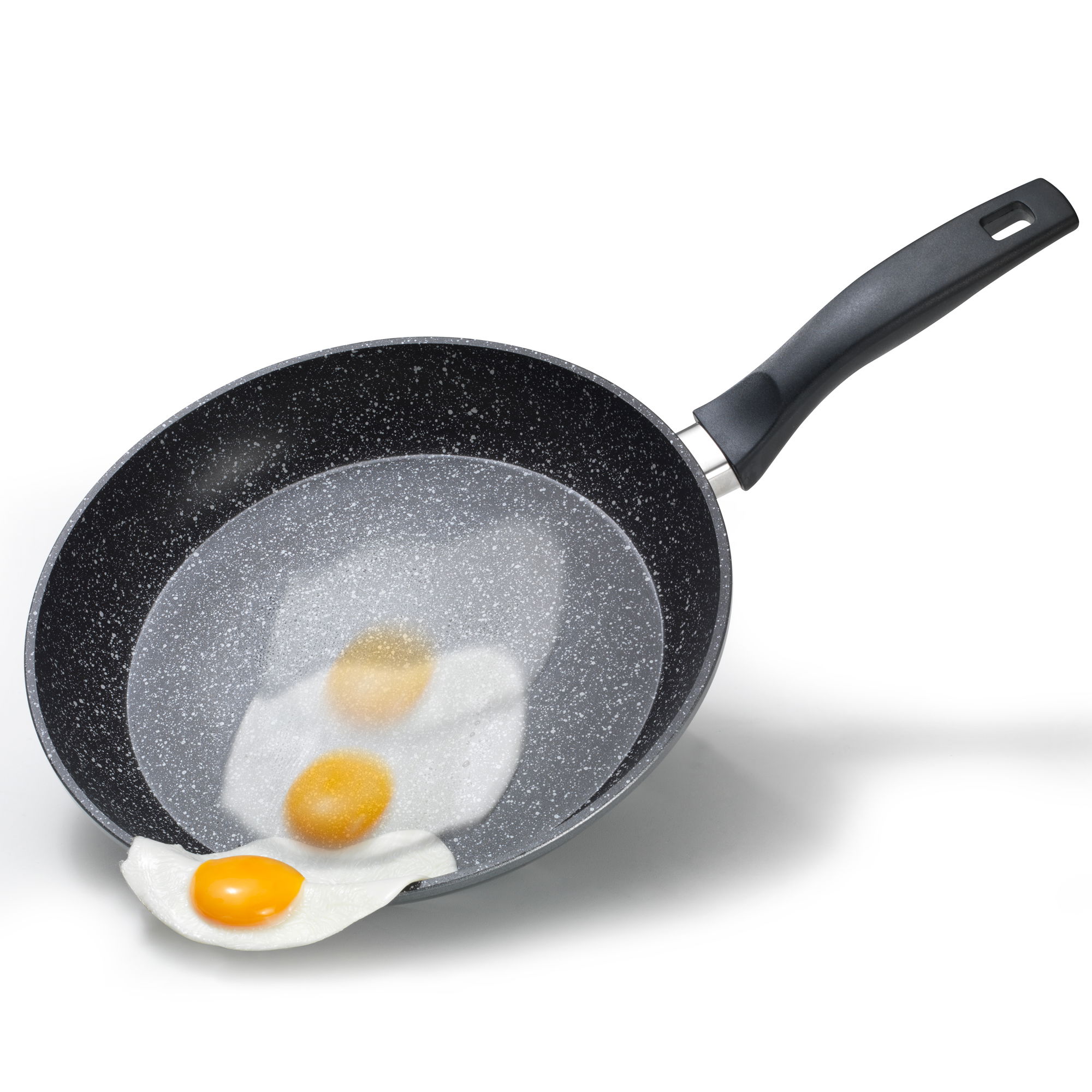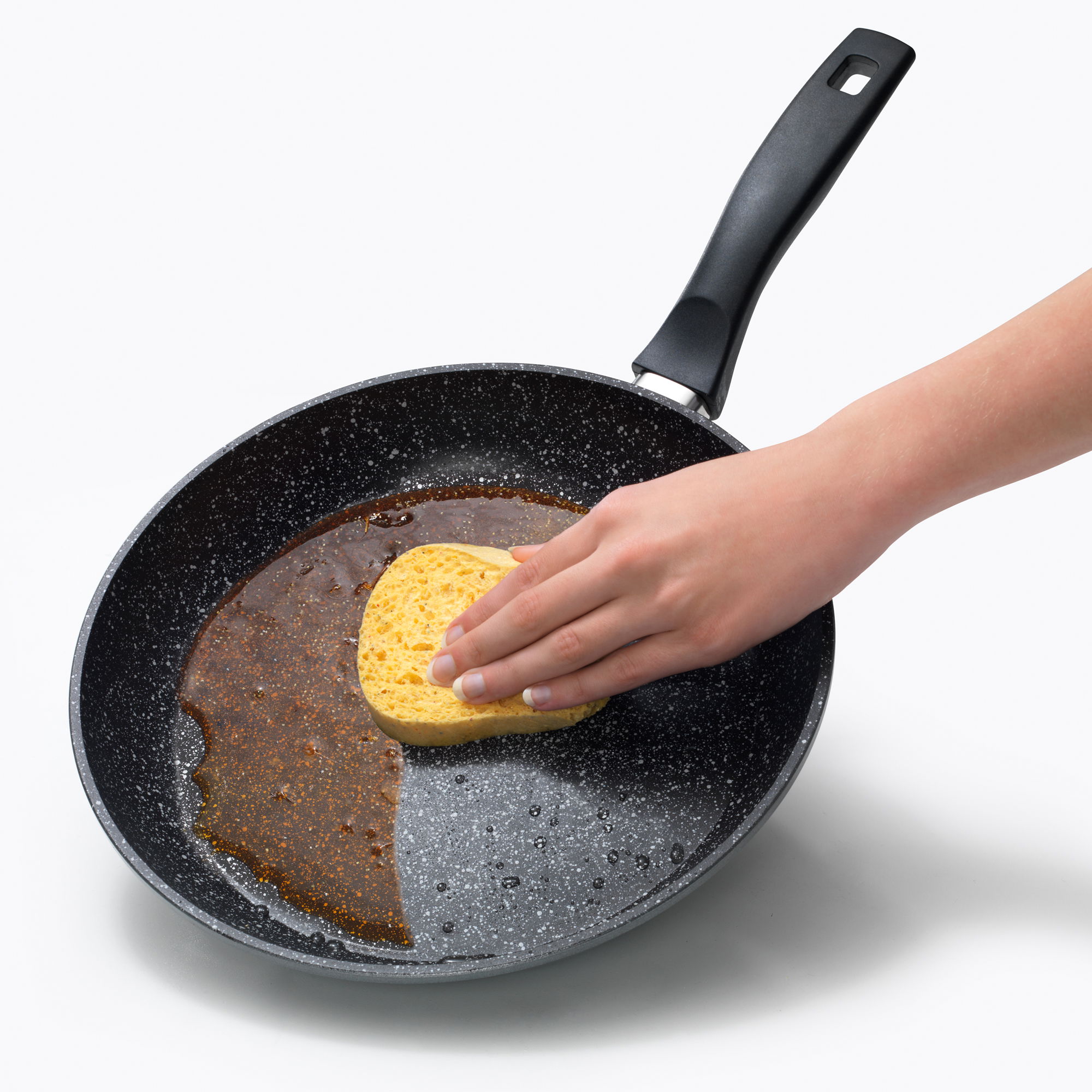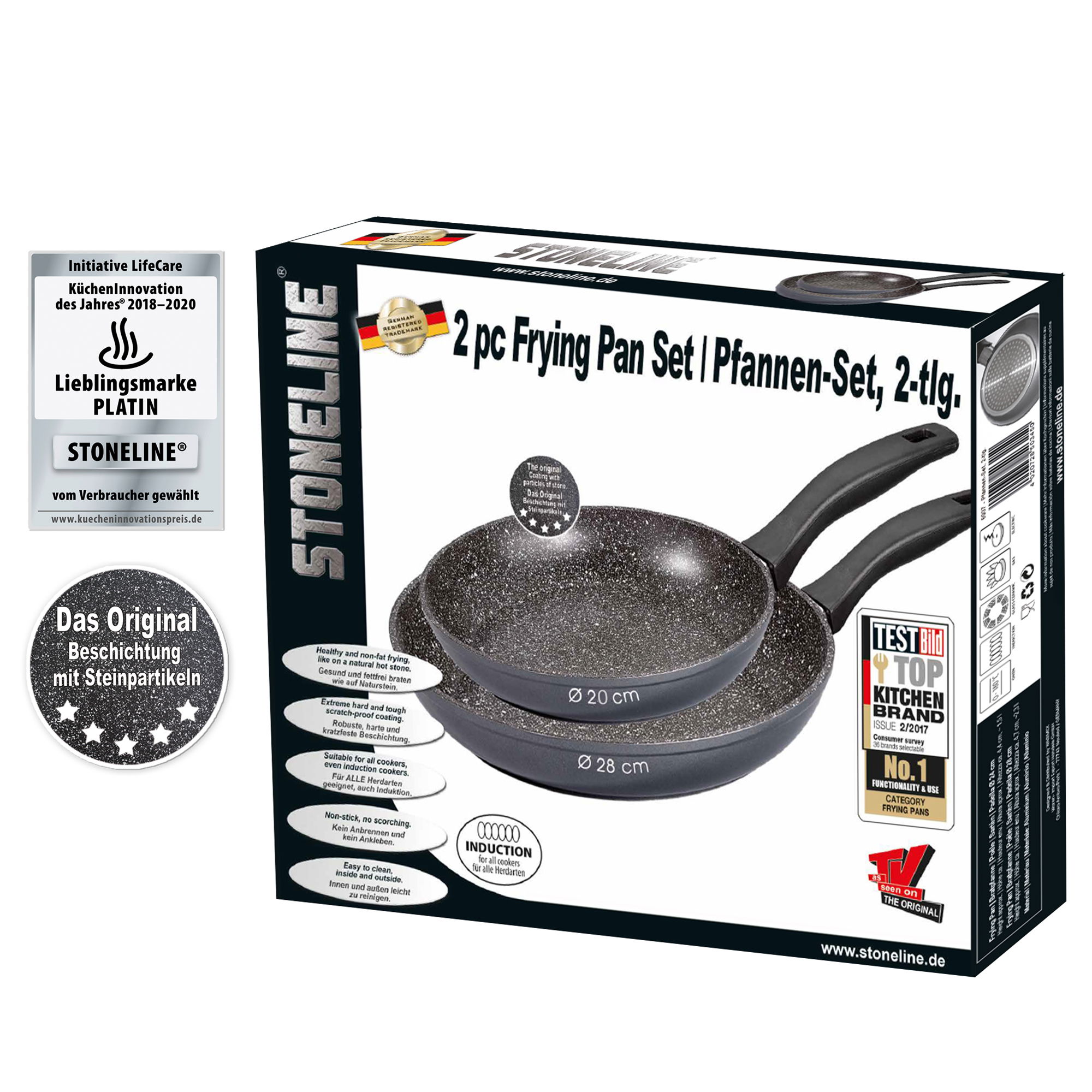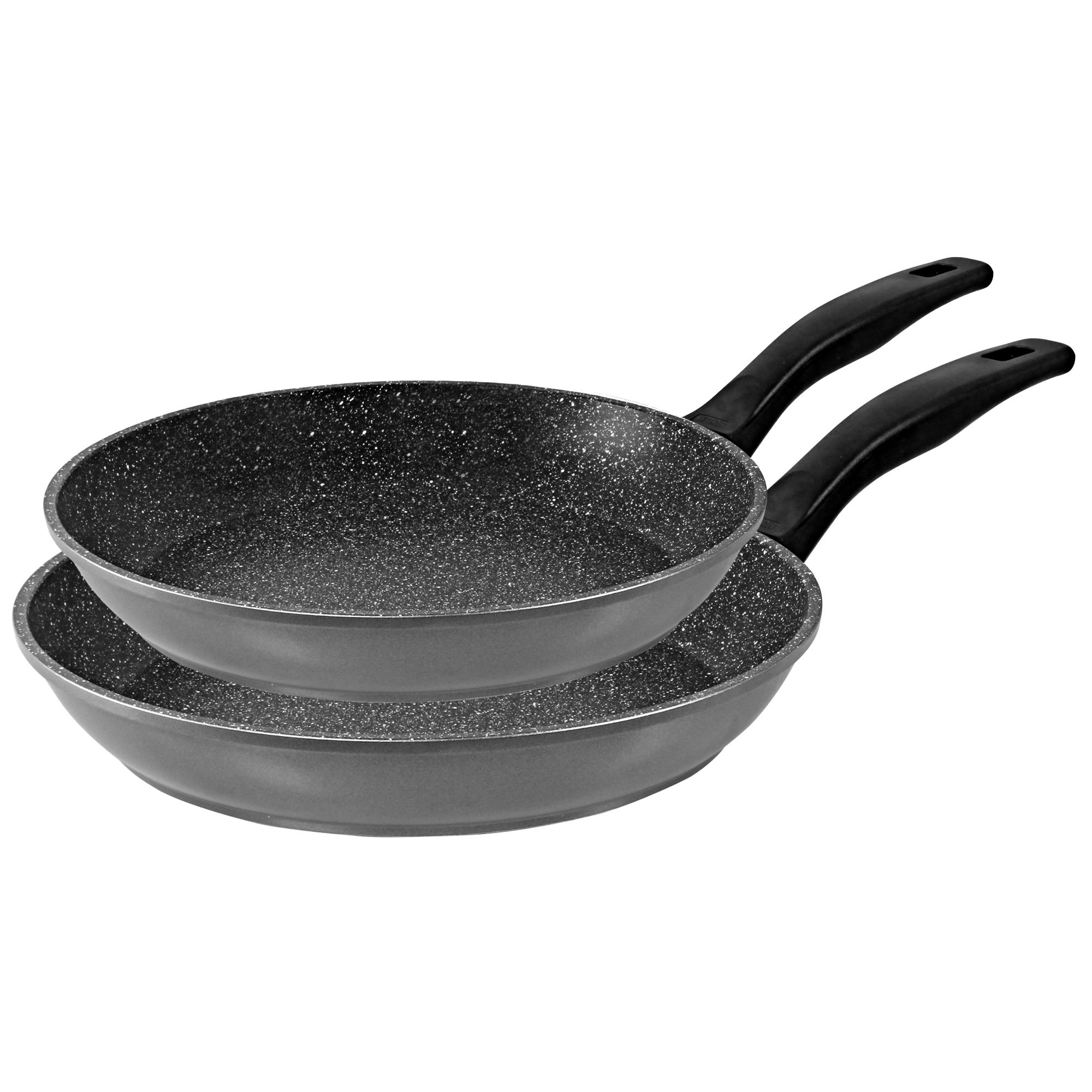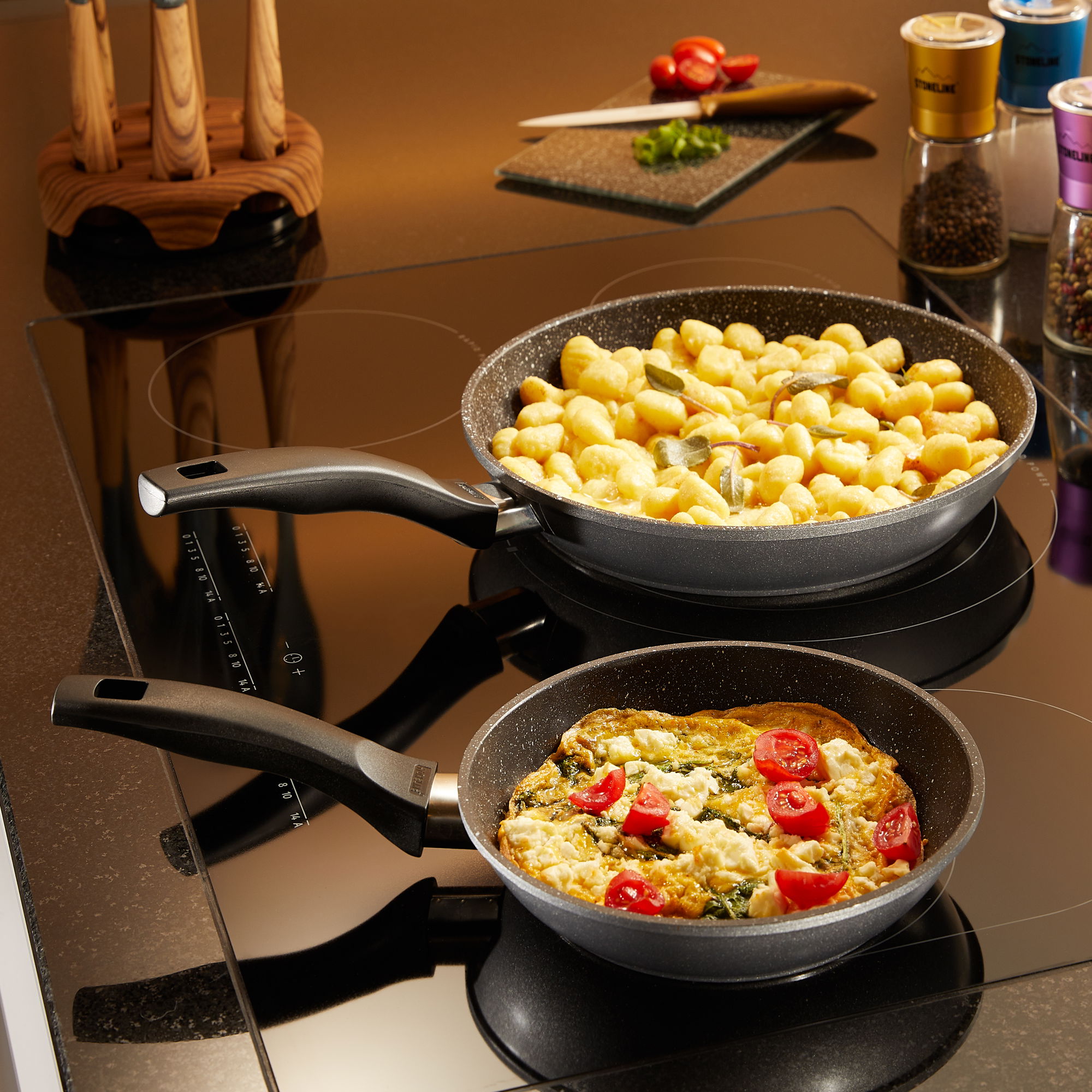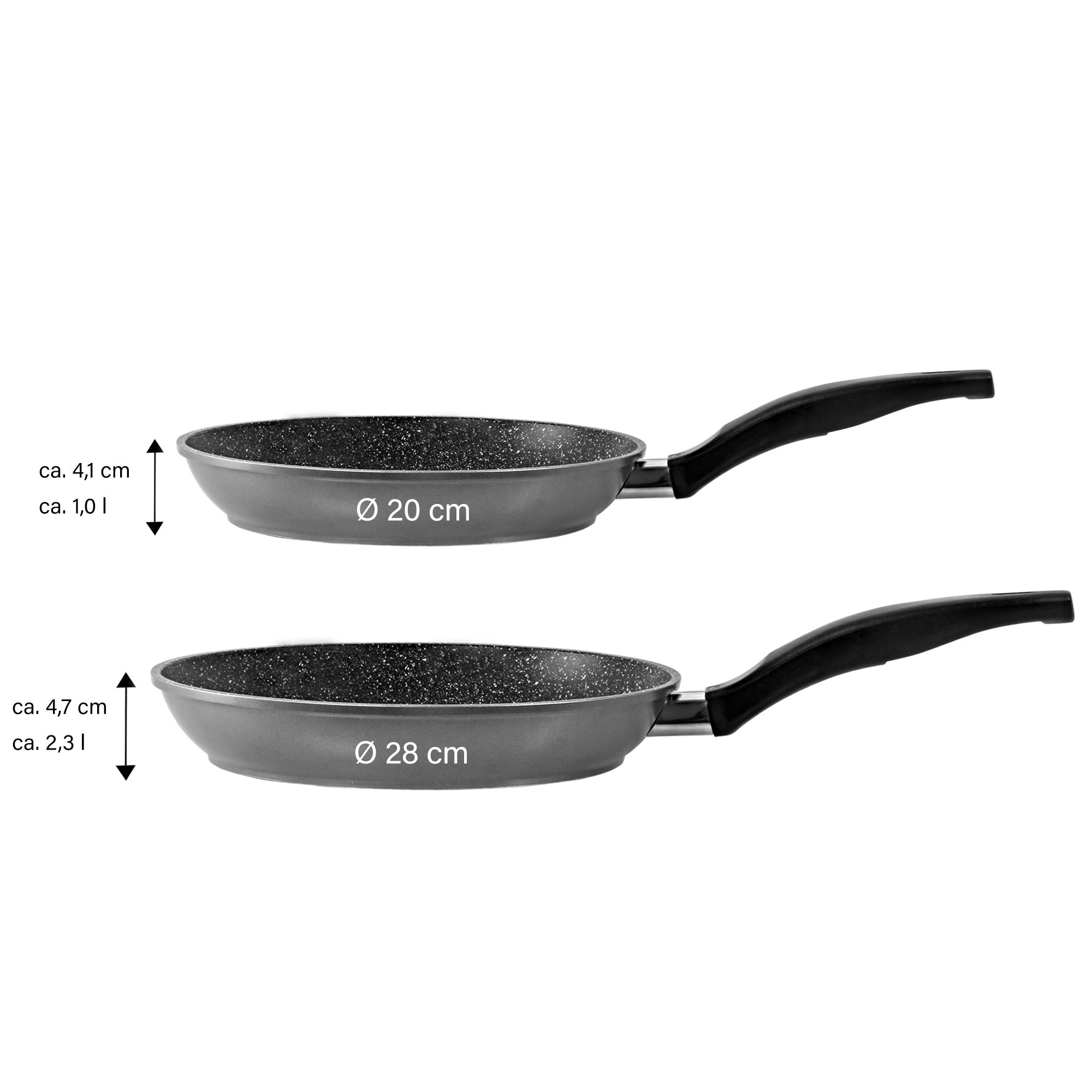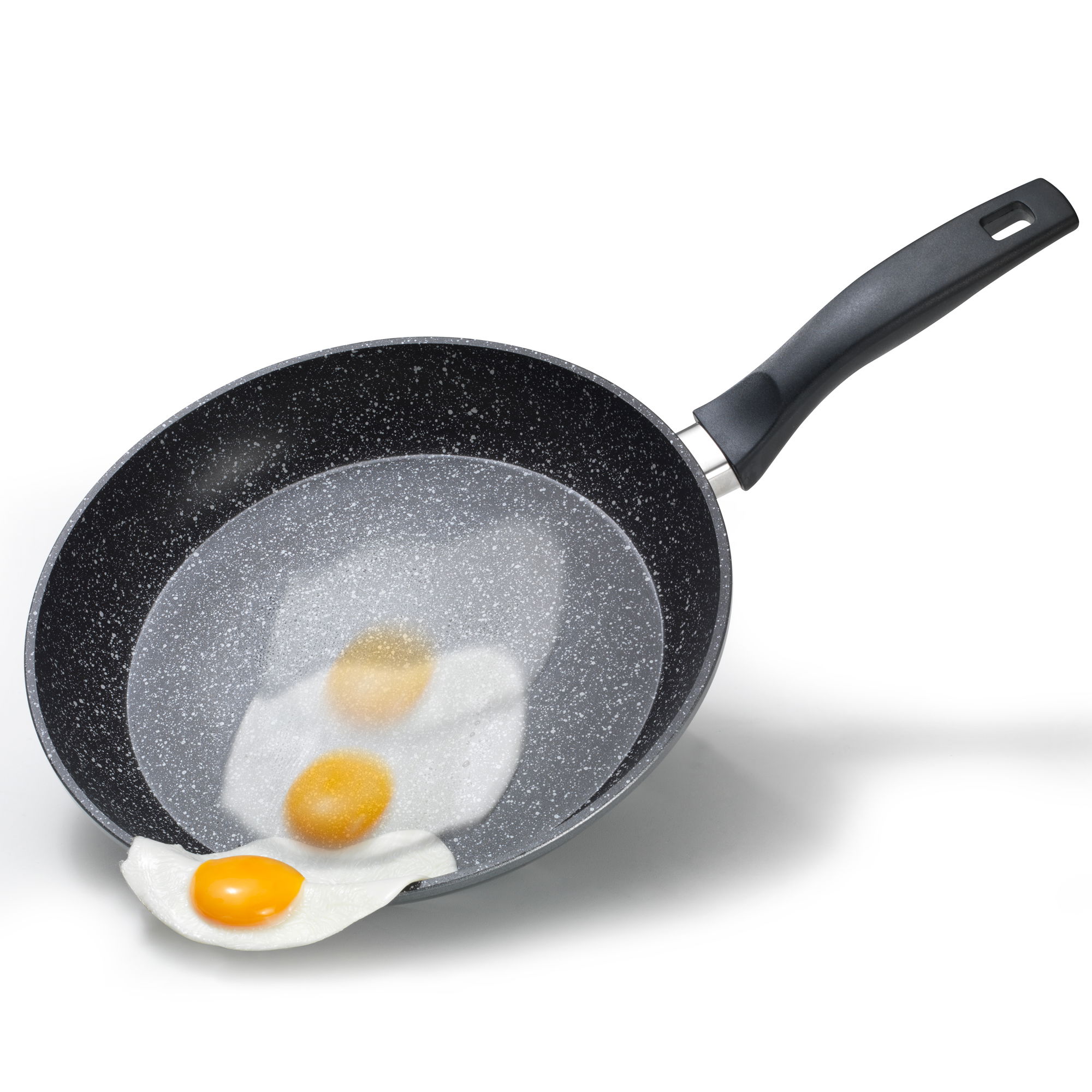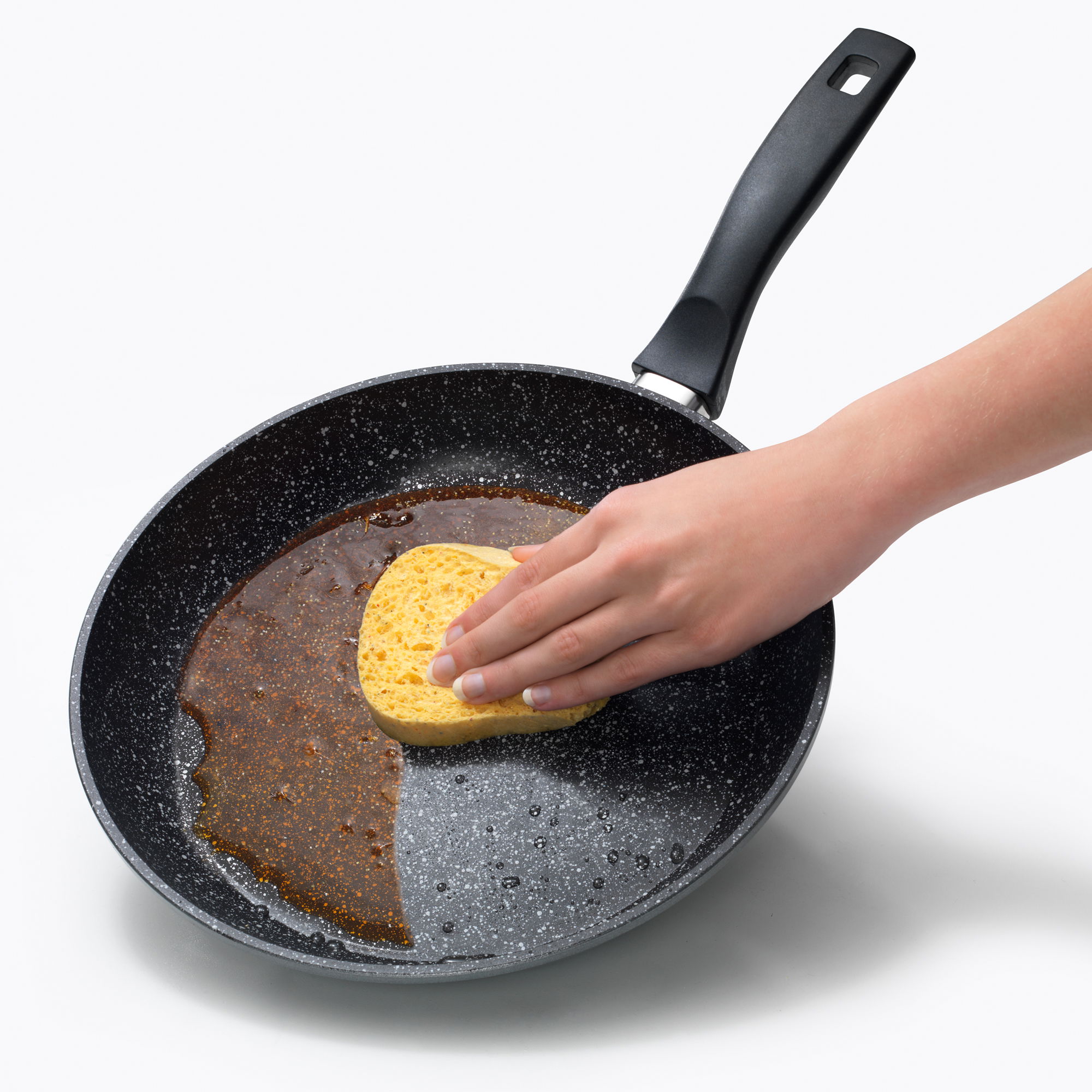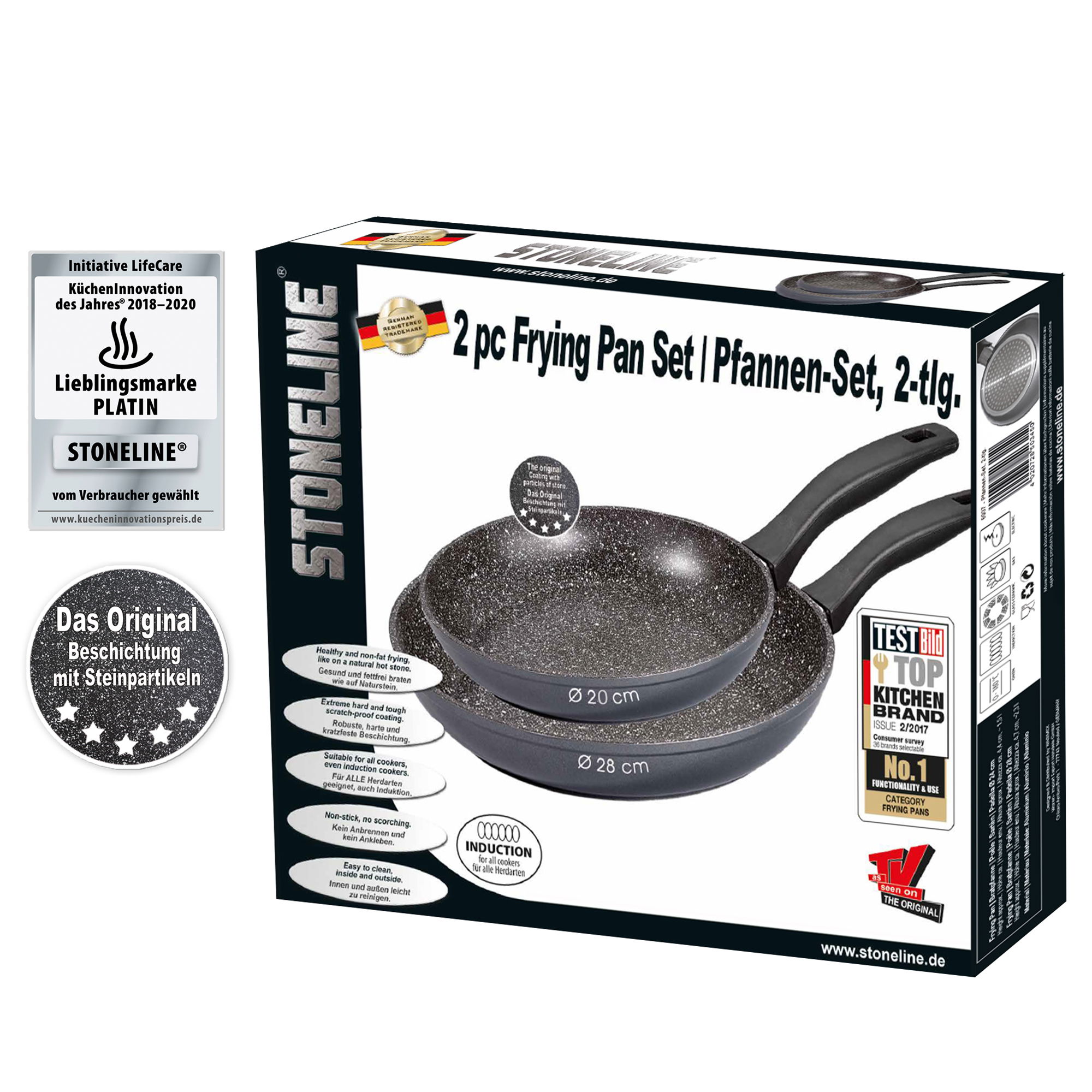 STONELINE® pan set, 2 pieces, 20/28 cm, non-stick coating, induction and oven-safe
€79.95*
%
Old price: €154.95*
You save 75,00 €
Available immediately, in 1-3 days at your home
STONELINE® - The original!
Healthy nonfat cooking and frying
This pan set is essential for every kitchen.
Create delicious fried potatoes, fresh vegetables, fluffy egg dishes or crispy meat and use a bigger or a smaller pan, depending on your needs!
Thanks to the STONELINE® non-stick coating you can prepare your meals with or without fat and oil and remove them easily from the cookware. Frying or slowcooking - this pan set is your perfect companion!
The set of 2 consists of:
1 frying pan, ø approx. 20 cm, height: approx. 4.1 cm, approx. 1.0 l
1 frying pan, ø approx. 28 cm, height: approx. 4.7 cm, approx. 2.3 l
The most important advantages of STONELINE® cookware at a glance:
Scratch-proof non-stick STONELINE® coating
Perfect results and crispy meat
Perfect taste
Vitamin-friendly cooking and frying without fat and oil
No burning and no sticking
Super easy to clean
Suitable for all cookers including induction cookers
Extra strong, non-distorting base
Base thickness 4.5 mm
These products are oven-proof until 180 °C
Material: die-cast aluminium
Tips for cleaning and care:
We recommend cleaning your cookware thoroughly with water and a mild detergent before the first use.
Apply a few drops of cooking oil with a kitchen towel onto the coating.
No fat or oil is needed for further use!
Thanks to the Easy-Clean effect we recommend cleaning the cookware by hand. Wipe clean with hot water, a mild detergent and a soft sponge.
Coating:

Non-stick coating

Content:

from 1 l to 2 l

, from 2 l to 3 l

Diameter:

20 cm

, 28 cm

Handle:

Fixed

Height:

2 to 5 cm

Lid:

No

Number of parts:

2 parts

Oven suitable until:

150 °C

, 180 °C

Series:

Classic

Type:

Pan Sets
---
Ich habe mich über diese sehr guten Pfannen wirklich gefreut. Robuste Beschichtung, nichts klebt, gute Wärmeverteilung.
Pfannenset kam schnell an, alles gut verarbeitet. Braten macht Spass!
Habe die Pfannen schon einige Jahre und bin sehr zufrieden, deshalb habe ich nun auch welche verschenkt. Die Lieferung kam sehr schnell und ich würde jederzeit wieder welche bestellen und natürlich empfehle ich sie auch guten Gewissens weiter.
War sehr schnell die Lieferung zu meiner Überraschung.Der schriftliche Kontakt super freundlich.Kann man nur weiter empfehlen.Danke nochmals.
Die Lieferung war zu meiner Freude super schnell , die 20er Pfanne war ruckzuck montiert genau wie die 28er ,leider habe ich an dieser erst später bemerkt das der Griff nicht fest genug war, nach nochmaligem montieren habe ich festgestellt das die schraube zu lang war, nach einigem suche in der Schraubenkiste habe ich eine passende gefunden und jetzt ist er fest :) Die nächsten beiden : 16er und 24er werden in Kürze bestellt, solche Pfannen MUSS man einfach zum braten haben , da macht das kochen gleich noch mehr Spaß !
Habe das Pfannenset jetzt schon zum zweiten Mal. Das erste hat sehr lange gehalten. Wenn man nicht mit scharfen oder spitzen Gegenständen darin hantiert, löst sich auch nichts ab. Die Pfannen sind schön leicht, haben keinen zu steilen Rand und sind daher gut zu handhaben, z.B. für Pfannkuchen und alles, was gewendet werden muss.
Hab schon das zweite mal diese Pfannen bestellt.Bin sehr zufrieden ohne Fett es brennt nichts an.Einfach klasse.Leicht zu reinigen.
Tolle Pfannen!! Man kann Geri...
Tolle Pfannen!! Man kann Gerichte ohne Öl und Fett zubereiten.