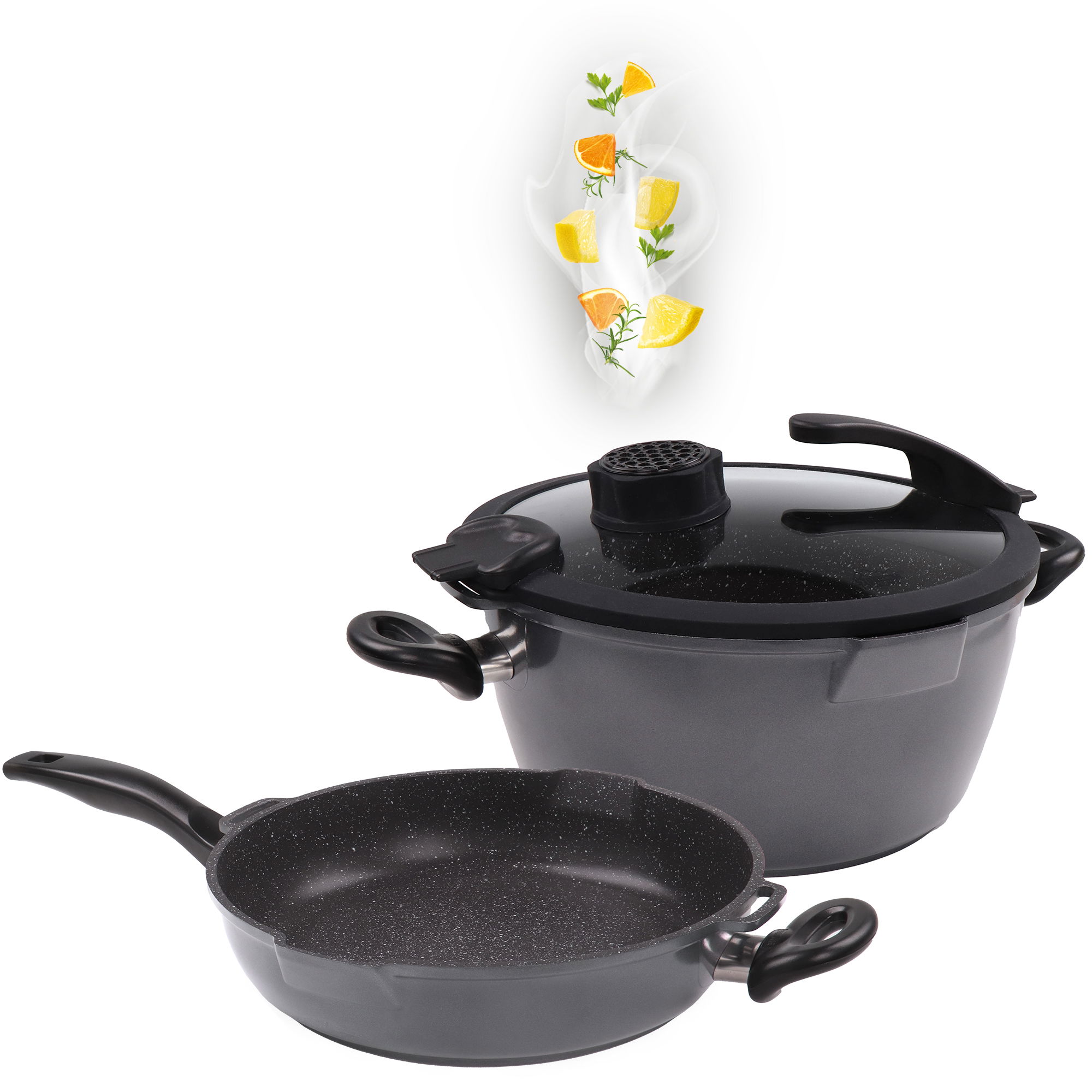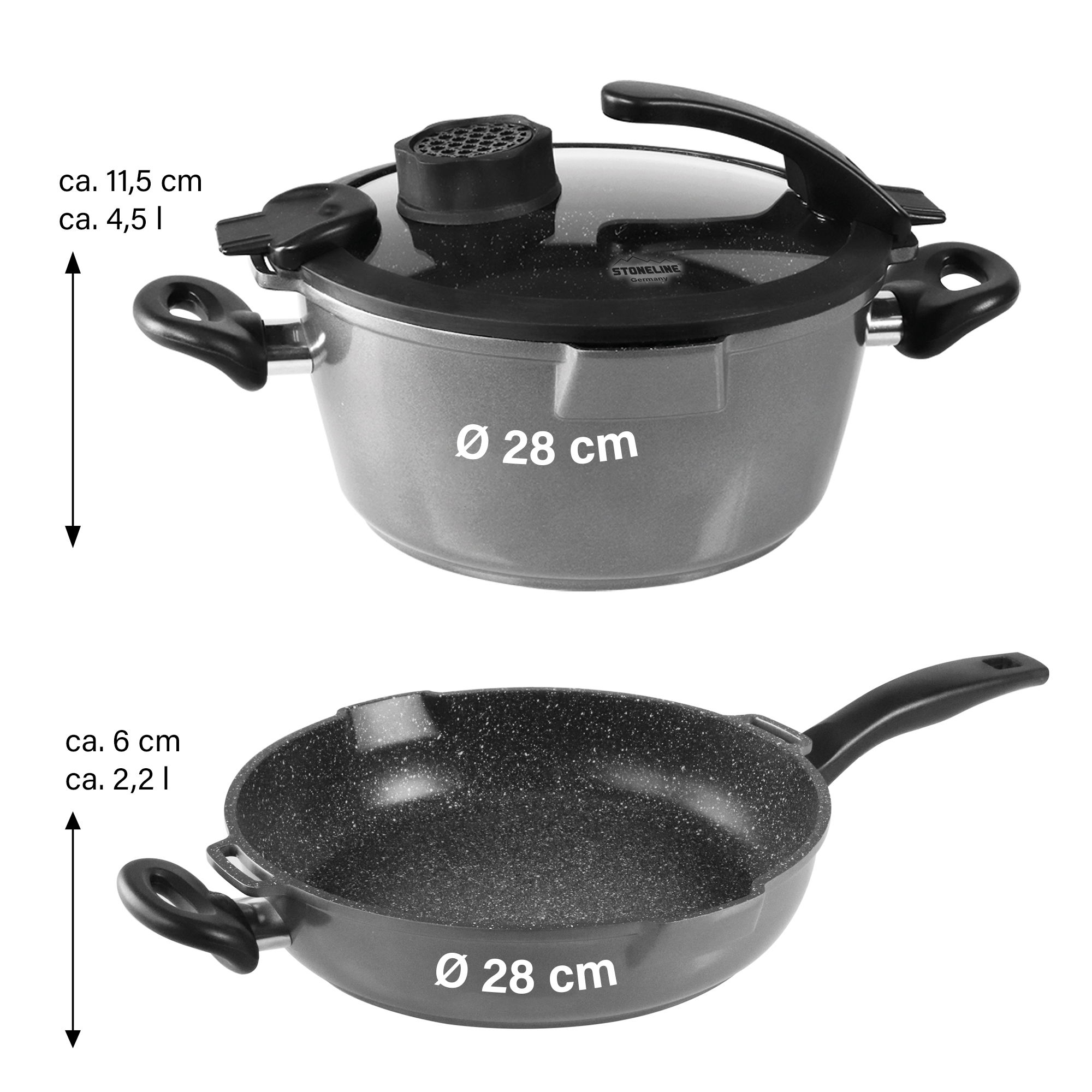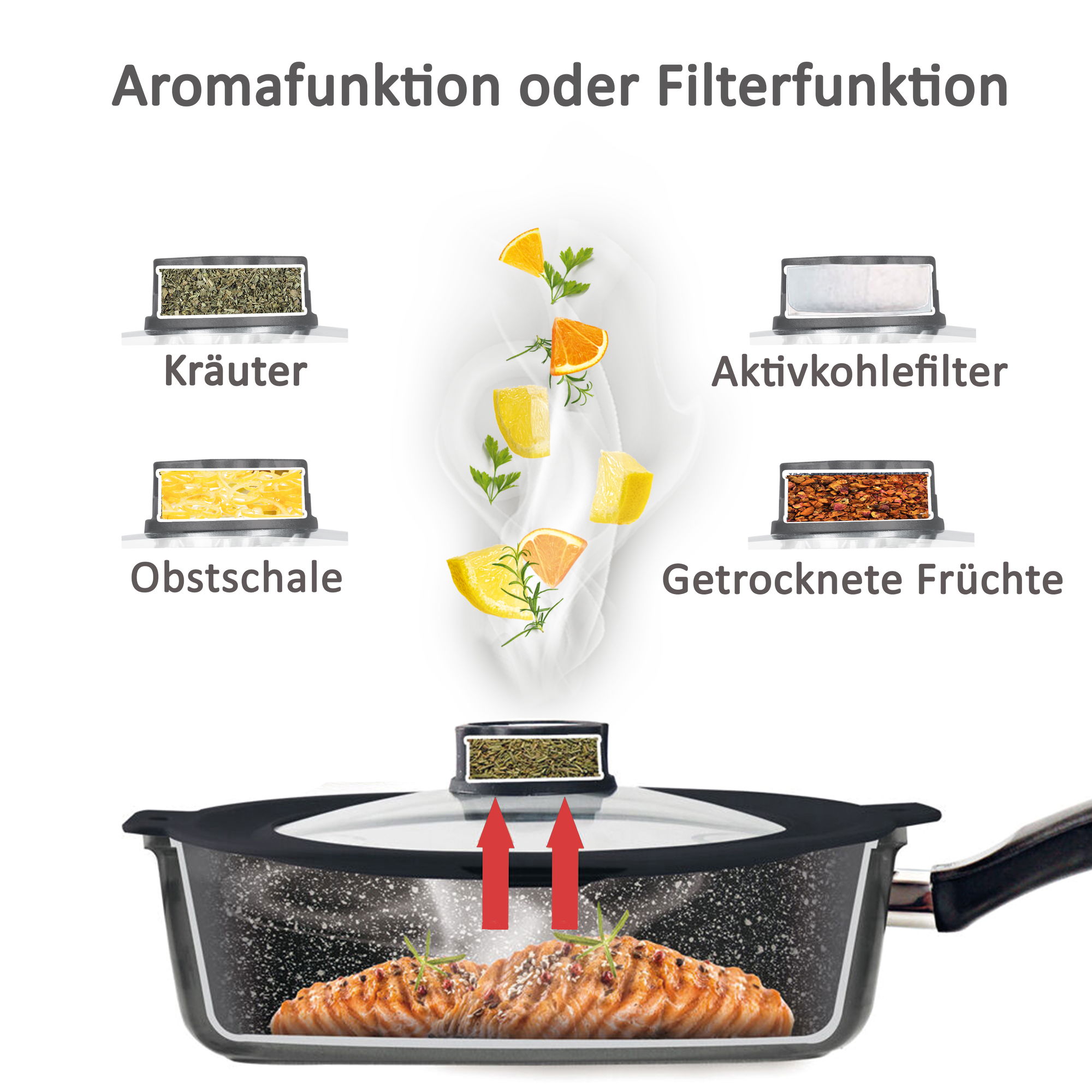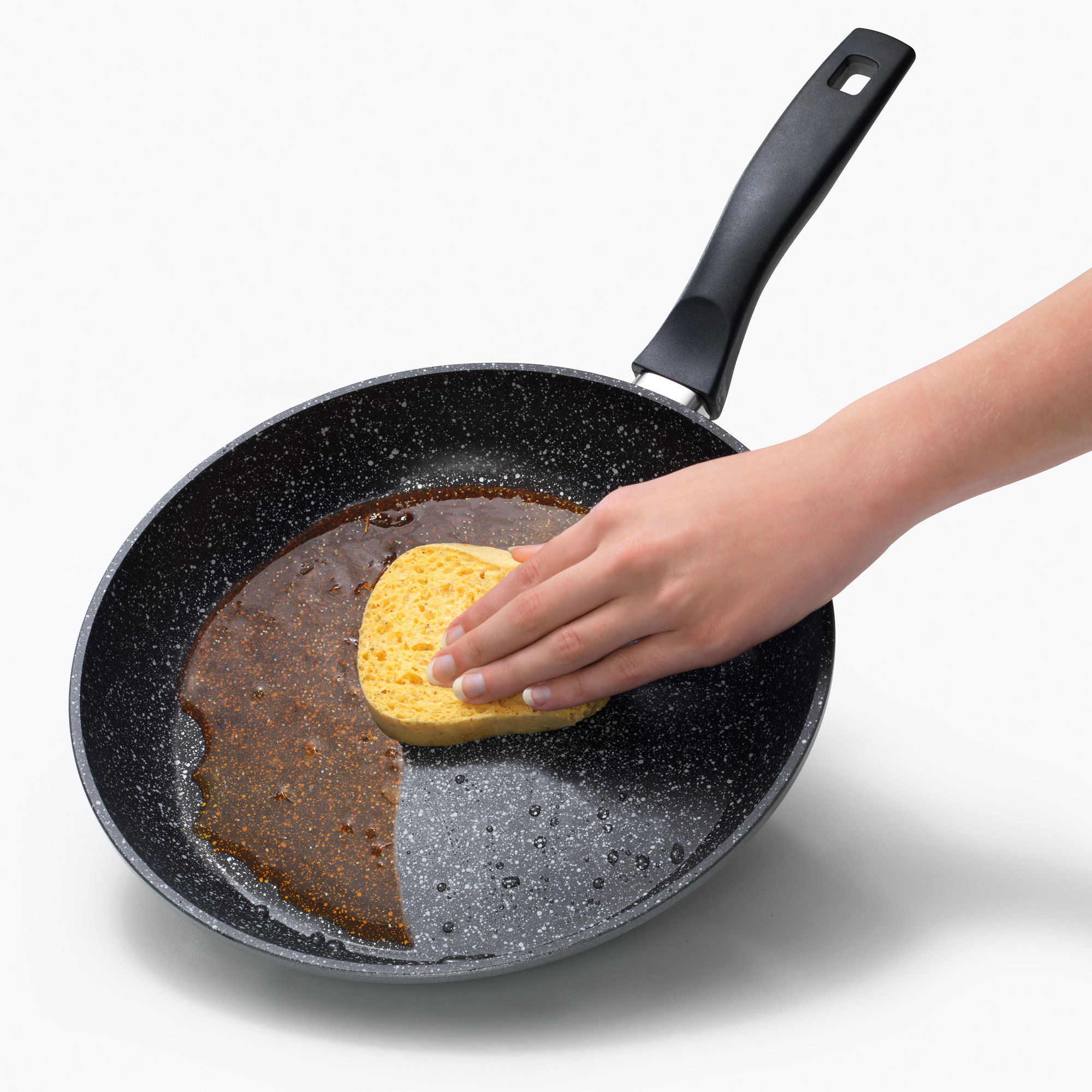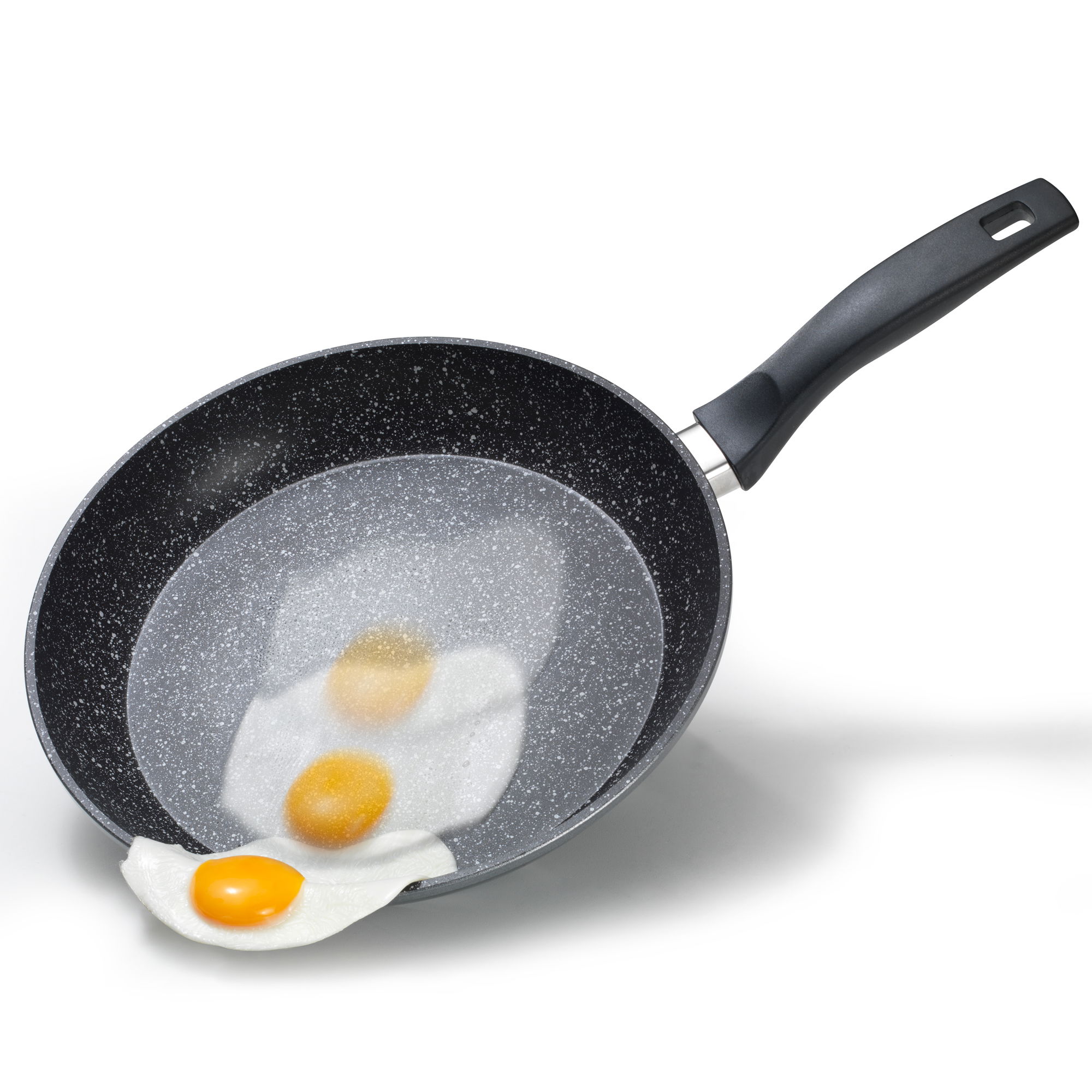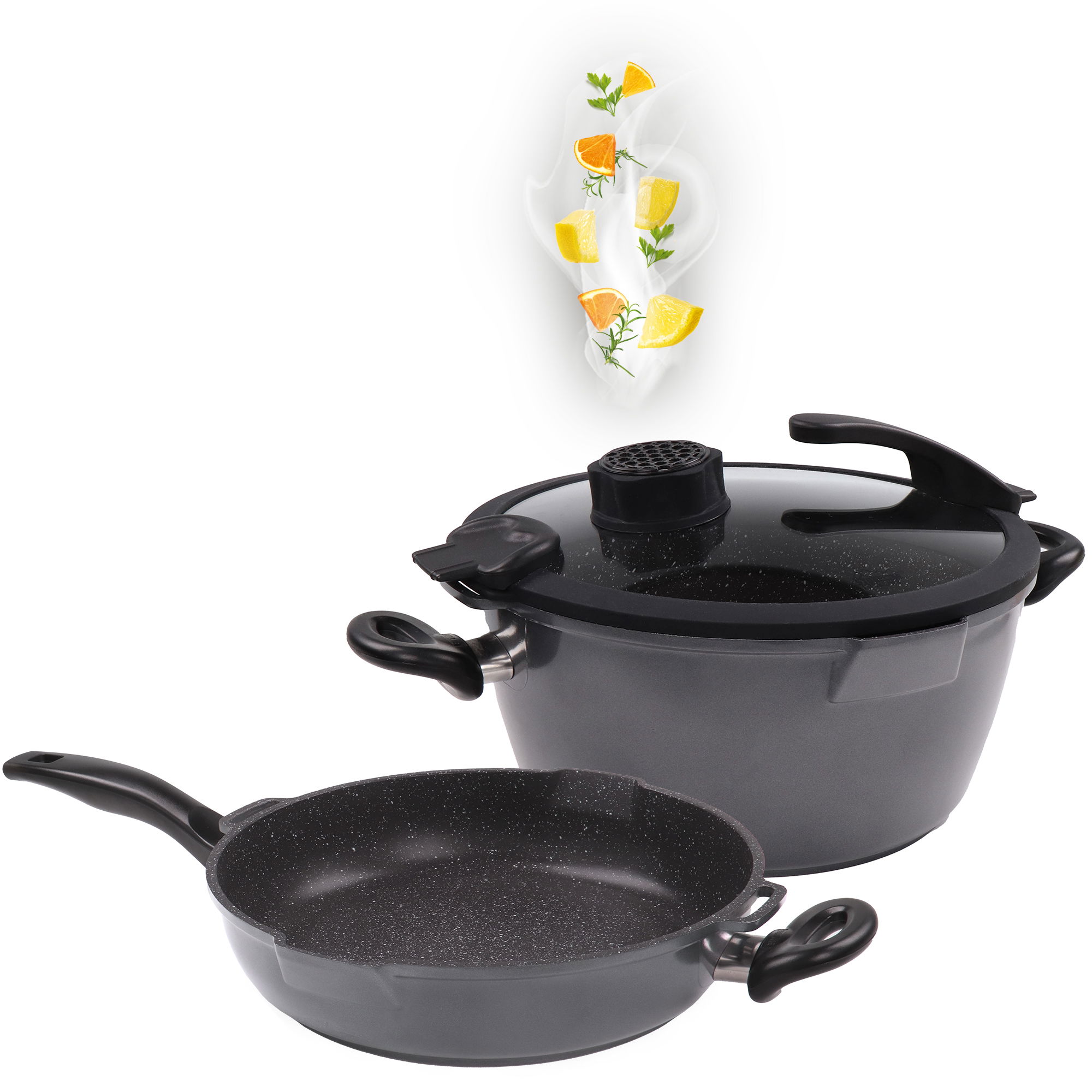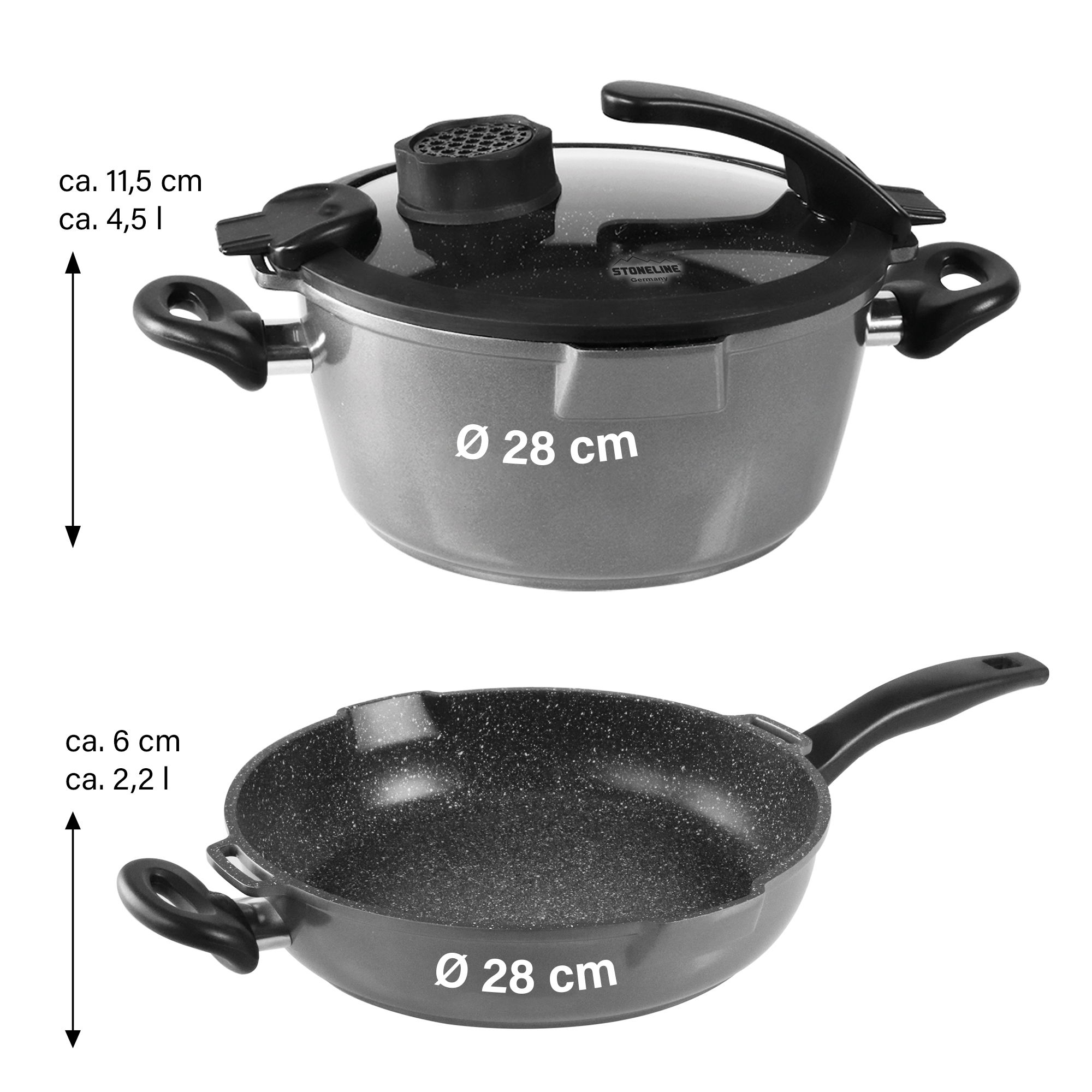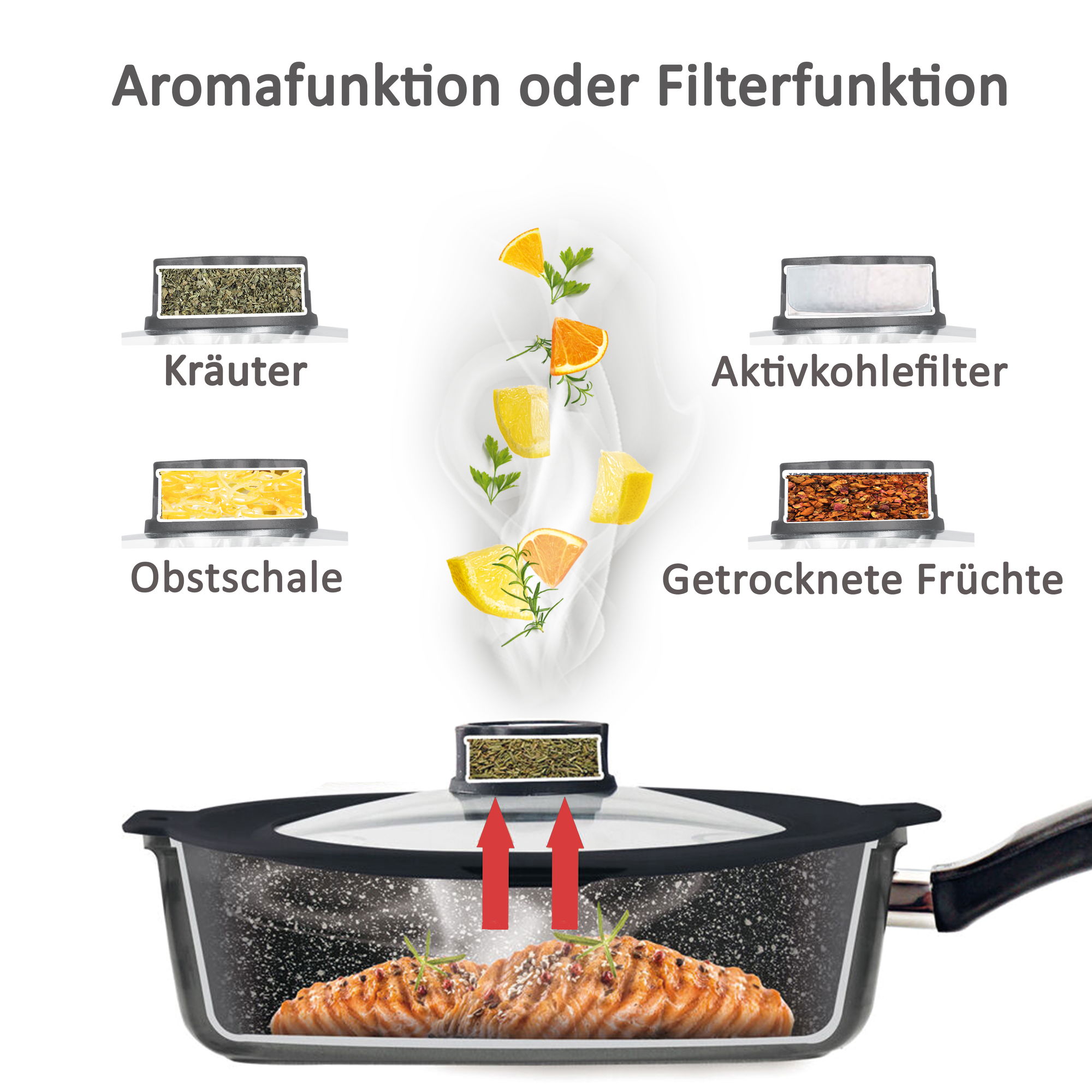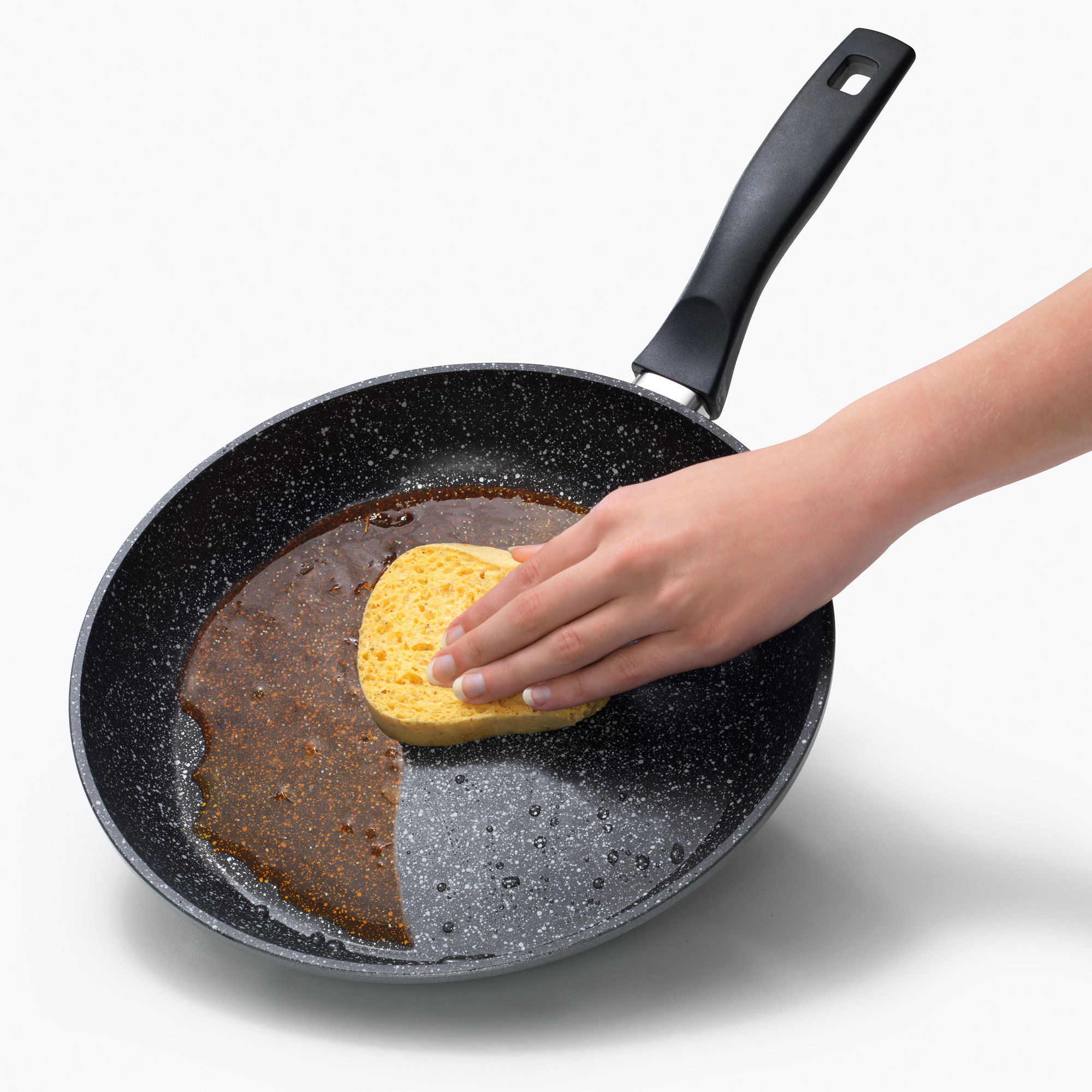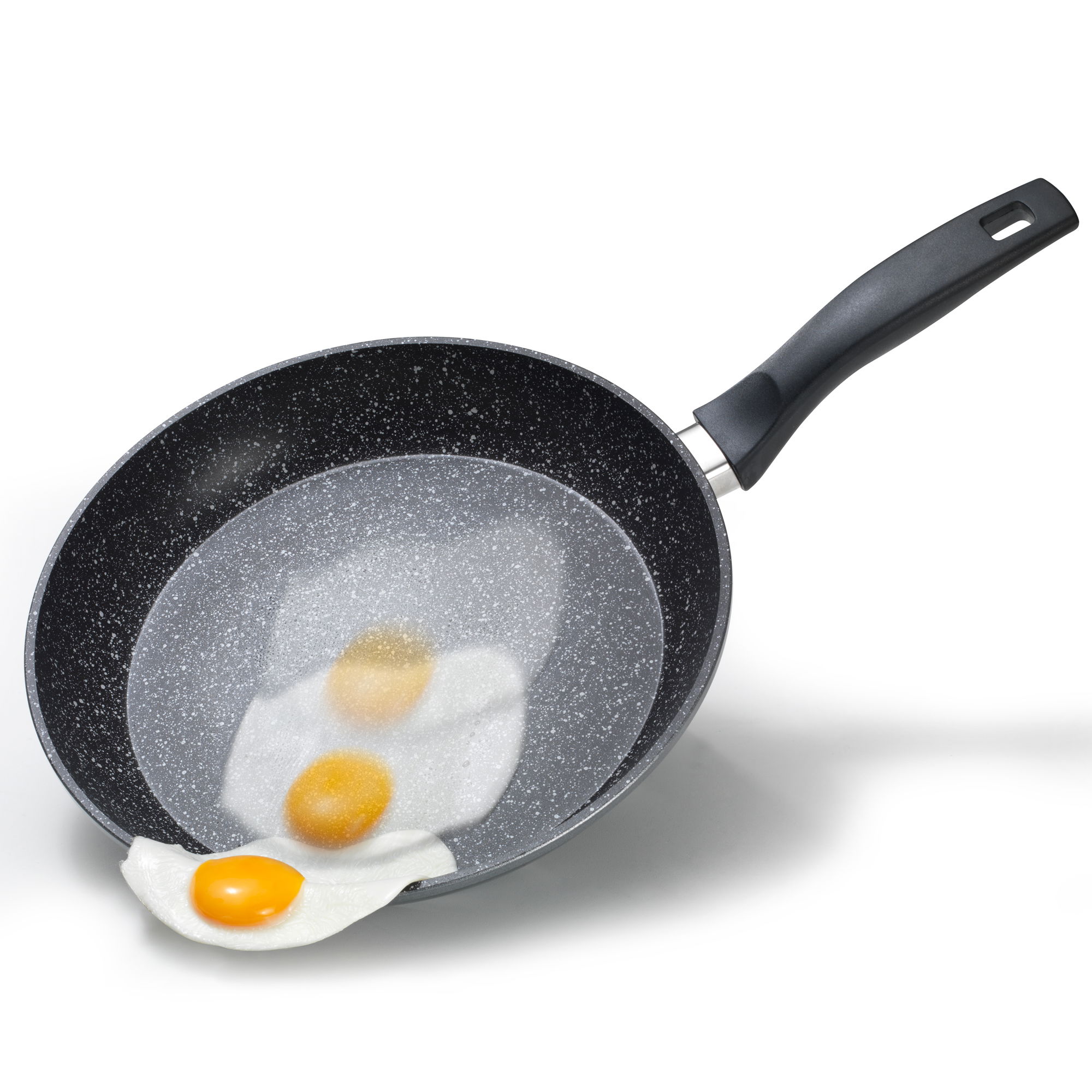 STONELINE® 3 pc Cookware Set 28 cm, Strainer Lid, Odour & Aroma Function | SMELL WELL
€119.95*
%
Old price: €229.95*
You save 110,00 €
Available immediately, in 1-3 days at your home
STONELINE® - The Original!
WORLD PREMIERE - Benefit from the smallest range hood in the world with this set featuring the STONELINE® Smell Well Glass Lid! Say goodbye to unpleasant food odors in your kitchen!
The patented glass lid is equipped with the unique Smell Well cartridge. This cartridge offers either odor-filtering or aroma-function. The odor-filter insert eliminates food odors, ensuring no unpleasant room scent is created, for example, when cooking fish dishes. The aroma function can be used with herbs, fruit peels, or the like, instead of the charcoal filter, to spread a pleasant scent in your kitchen while cooking.
Furthermore, the glass lid has a silicone edge. This silicone rim protects the cookware surface from scratches and makes the glass lid more durable. The silicone glass lid rests directly on the cookware rim, saving energy and eliminating clattering noises while cooking.
Included in the set is the STONELINE® FUTURE Saute Pan with a diameter of approximately 28 cm. The saute pan has an extra-high rim of 6.5 cm and a capacity of approximately 3.4 liters, making it perfect for all frying and stewing dishes.
Also included in the set is the STONELINE® FUTURE Roasting Pot with a diameter of approximately 28 cm and a height of 13.5 cm. The roasting pot is ideal for preparing larger quantities or simmering dishes with plenty of liquid.
This 3-piece set includes:
1 Smell Well Glass Lid ø 28 cm
1 Saute Pan, ø approx. 28 cm, height: approx. 6.5 cm, approx. 3.4 l
1 Roasting Pot, ø approx. 28 cm, height: approx. 13.5 cm, approx. 6.9 l
1 Refill Set with 2 activated charcoal filters and 30 fleece insert sheets for aroma function
The key advantages of STONELINE® cookware at a glance:
Smell Well Multifunction Glass Lid:
Smell Well cartridge with odor-filter and aroma function
Glass viewing window
No hand burns thanks to silicone knob
Heat resistant up to 180 °C (without Smell Well cartridge)
Material: Viewing window made of shatterproof glass, silicone edge
Easy cleaning: rinse with hot water, dry, done (dishwasher safe)
Saute Pan and Roasting Pot:
Scratch-resistant STONELINE® non-stick coating
Cook and fry without fat and oil while preserving vitamins
Optimal cooking results and crispy meat
Also suitable for VEGETARIANS: vegetables stay crisp and juicy
No sticking or burning
Super easy to clean
Extra-strong, warp-resistant base
Base thickness: 4.5 mm ; 5 mm
Suitable for all types of stoves, including induction
Ovenproof up to 180 °C
Material: Cast aluminum
Cleaning and Care Tips:
Before first use, we recommend thoroughly washing your cookware or bakeware with some water and mild detergent.
Then, apply a few drops of cooking oil on the coating using a paper towel.
You can avoid using fat or oil in further use!
Thanks to the Easy-Clean effect, hand washing is recommended. Simply wipe with hot water, dishwashing detergent, and a soft sponge.
Coating:

Non-stick coating

Content:

from 2 l to 3 l

, from 4 l to 5 l

Diameter:

24 cm

Handle:

Fixed

Height:

5 to 10 cm

, 10 to 15 cm

Number of parts:

4 parts

Oven suitable until:

150 °C

, 180 °C

Series:

Future

, Smell Well

Type:

Cookware Sets
---
tolles Topfset, habe Orangenschalen in die Filterkartusche gegeben, Küche duftet jetzt nach orangen und nicht mehr nach Fisch- cool
Alles gut. Lieferung war sehr schnell und die Produkte erfüllen Ihren Zweck