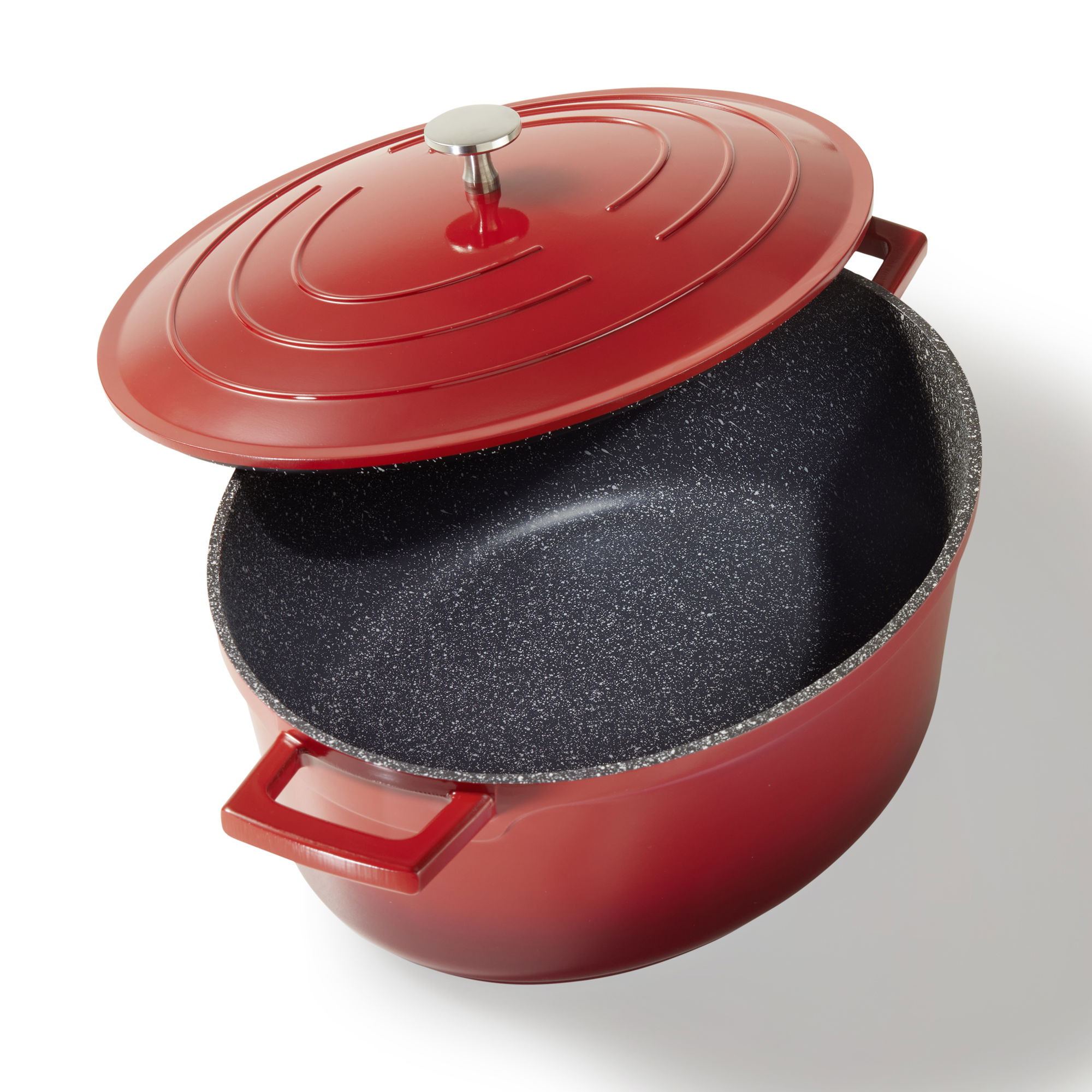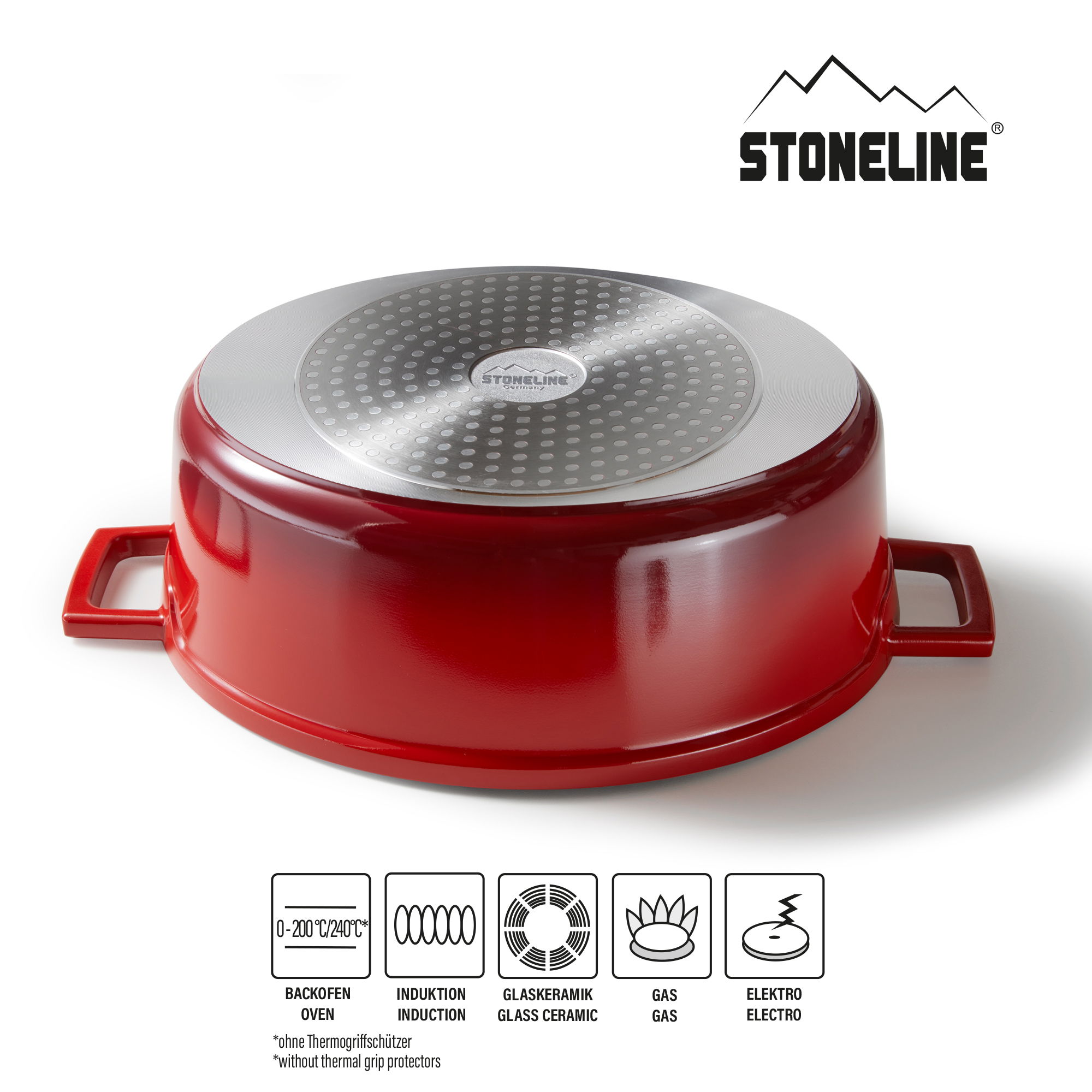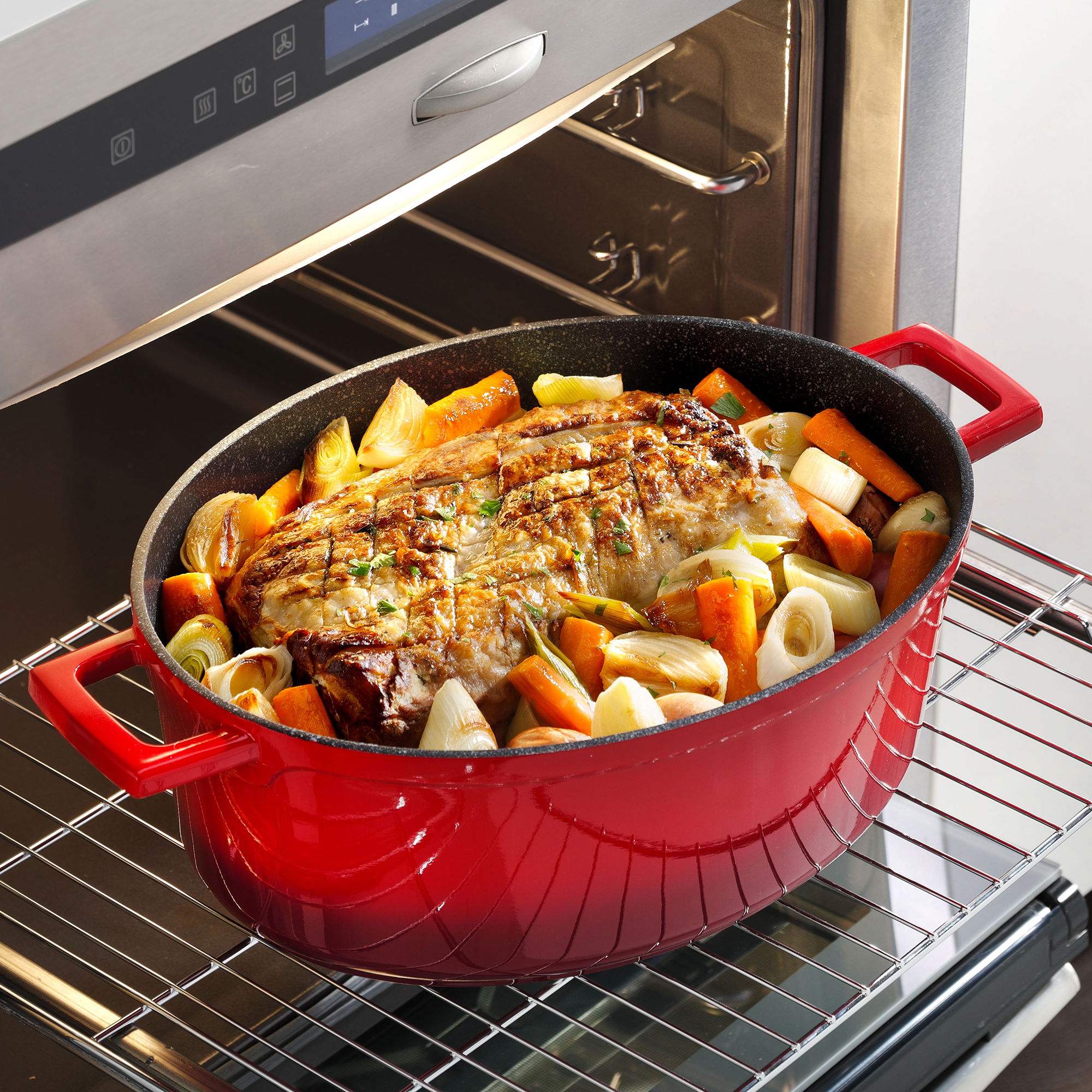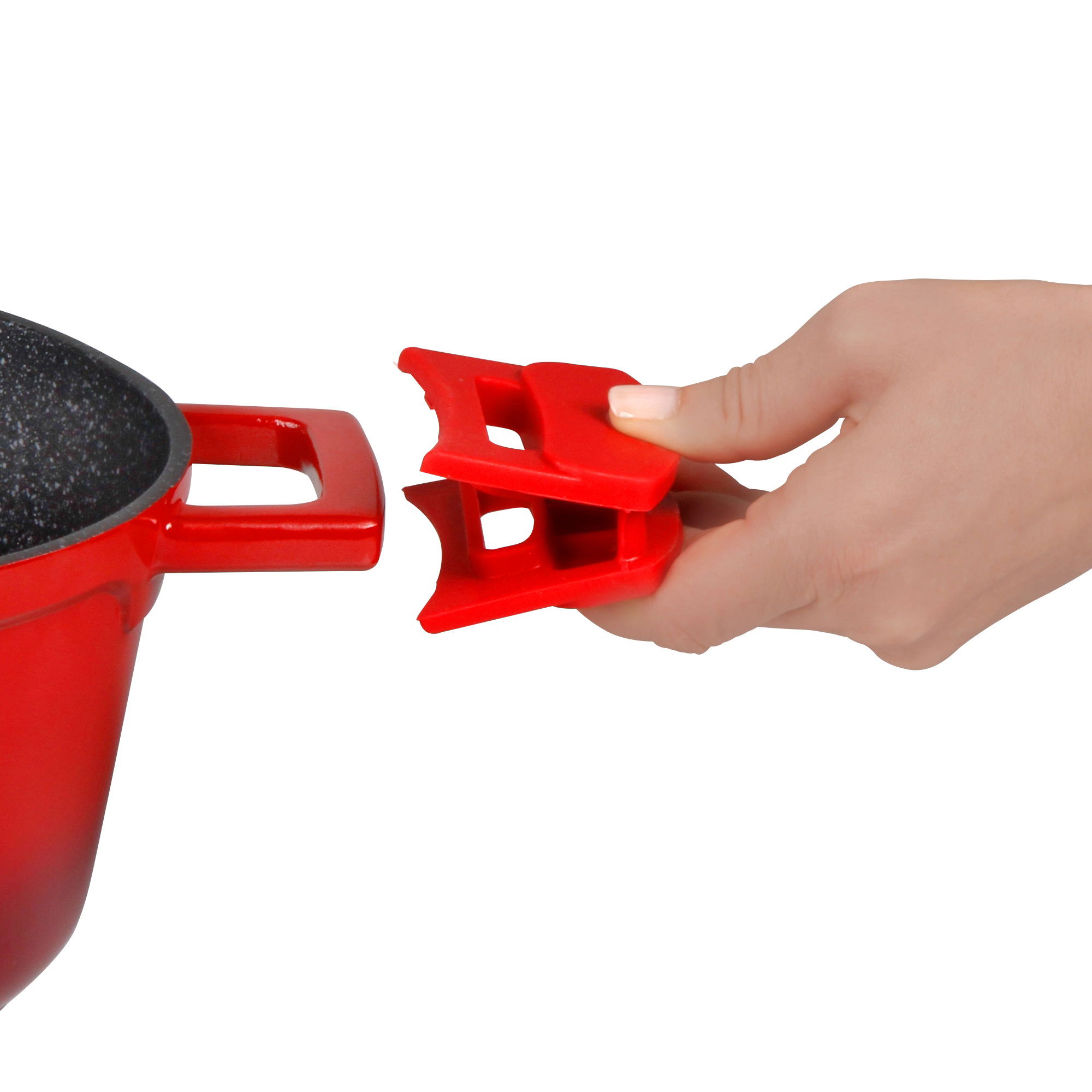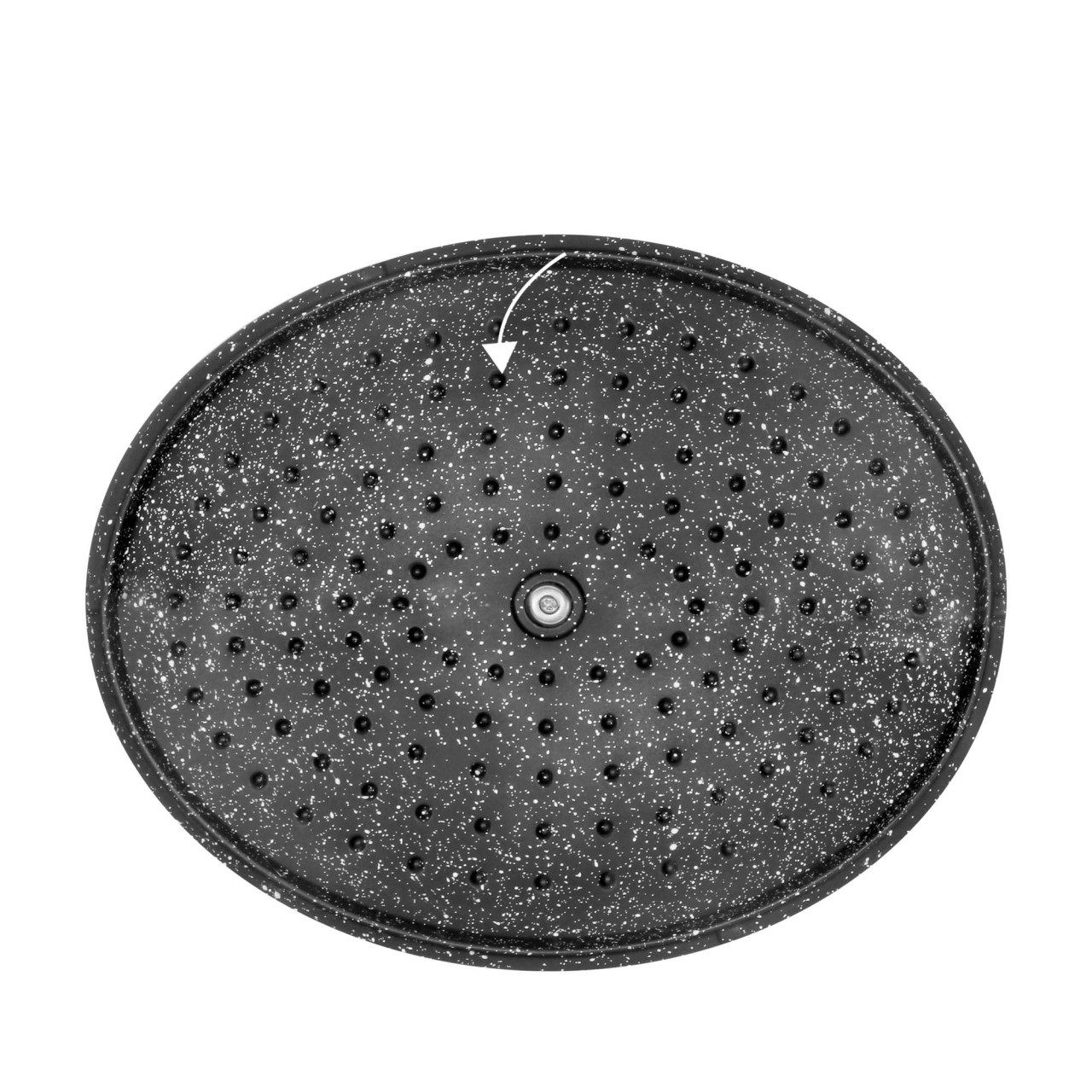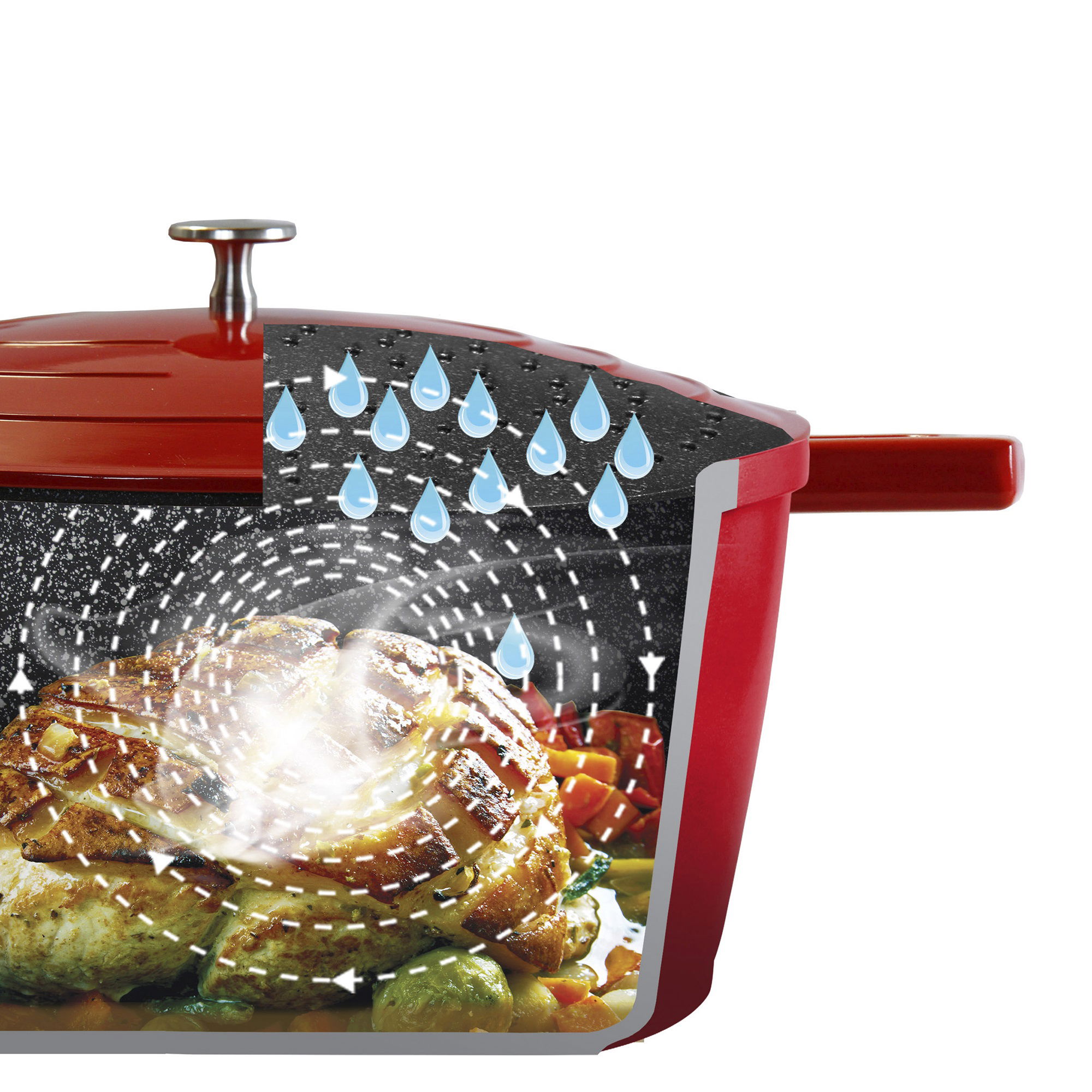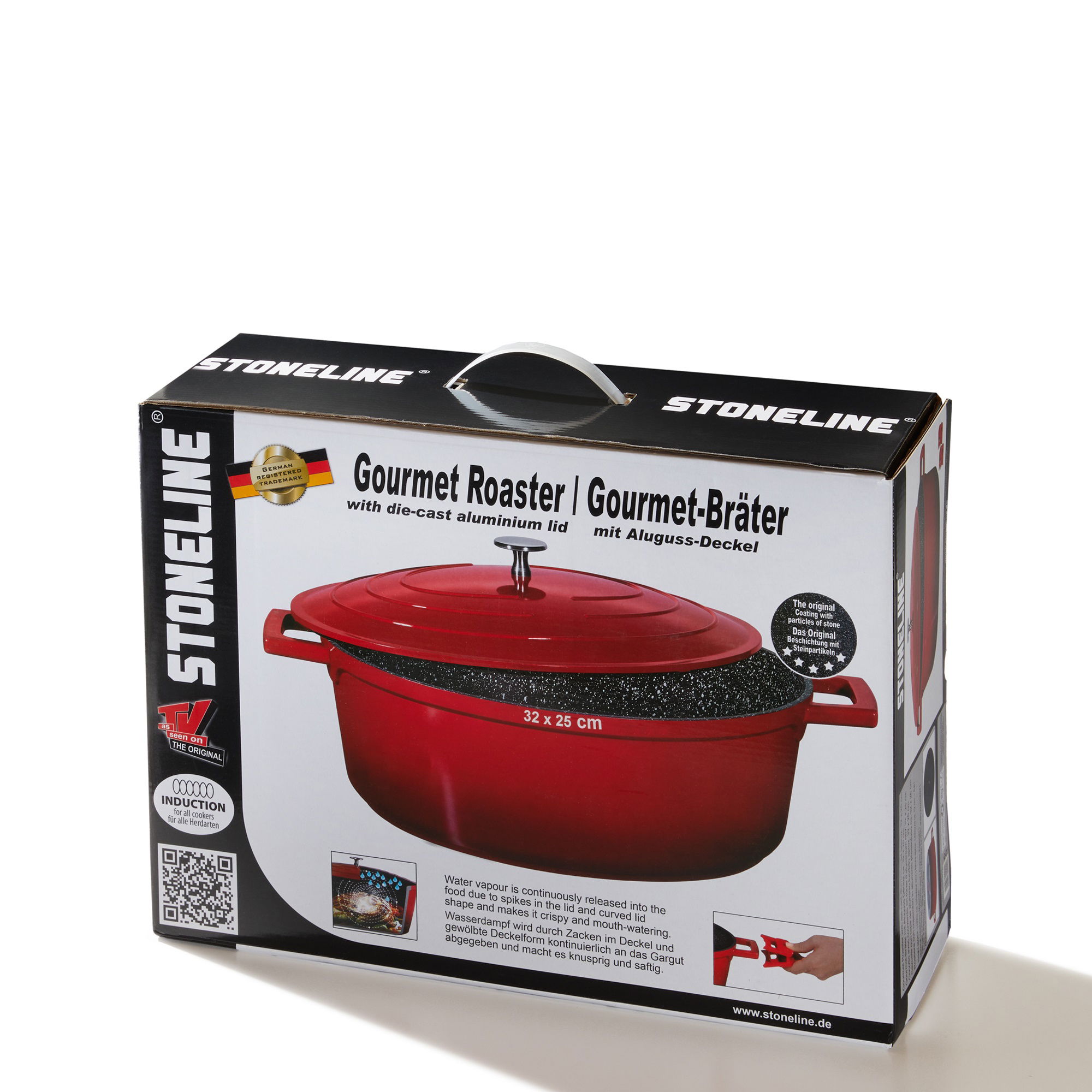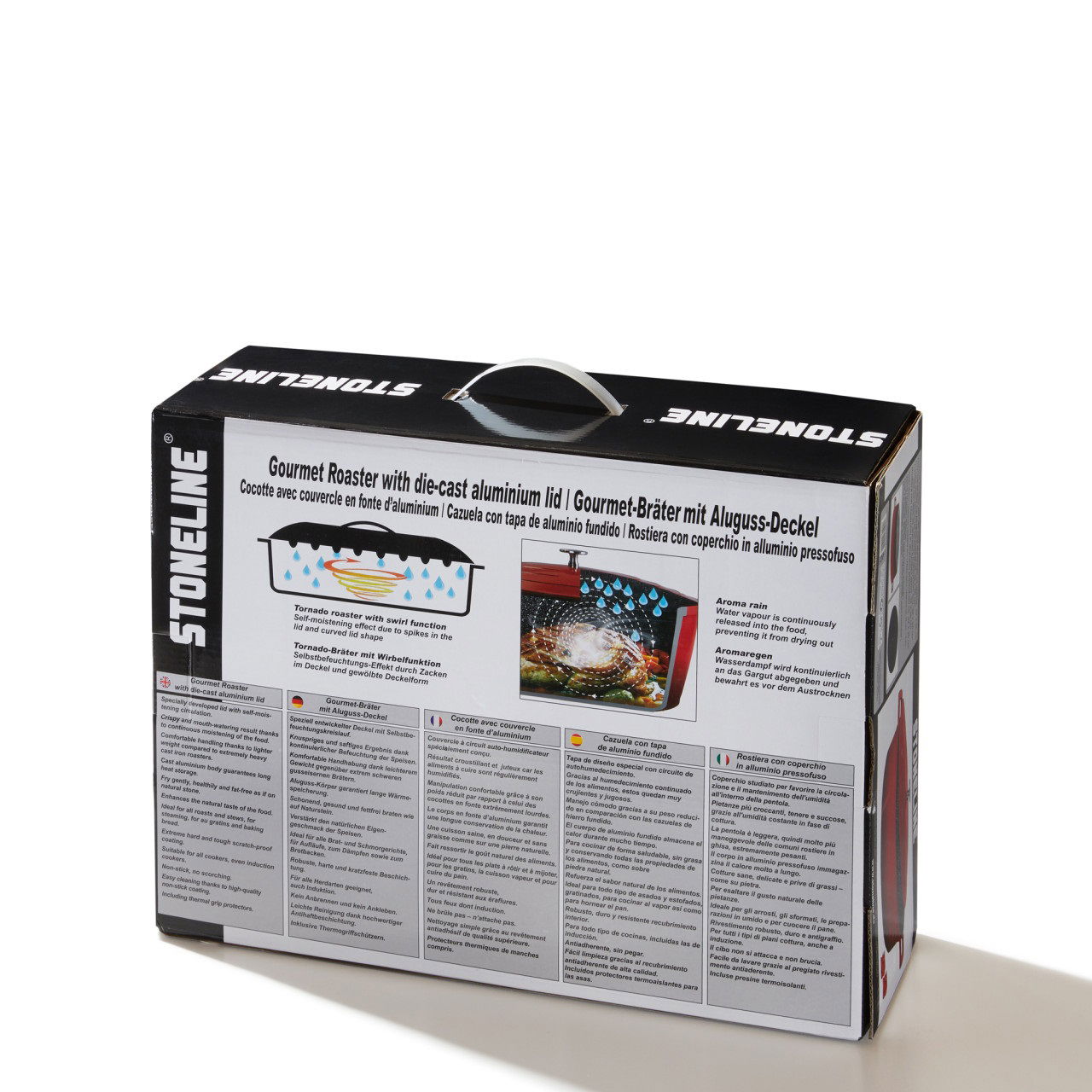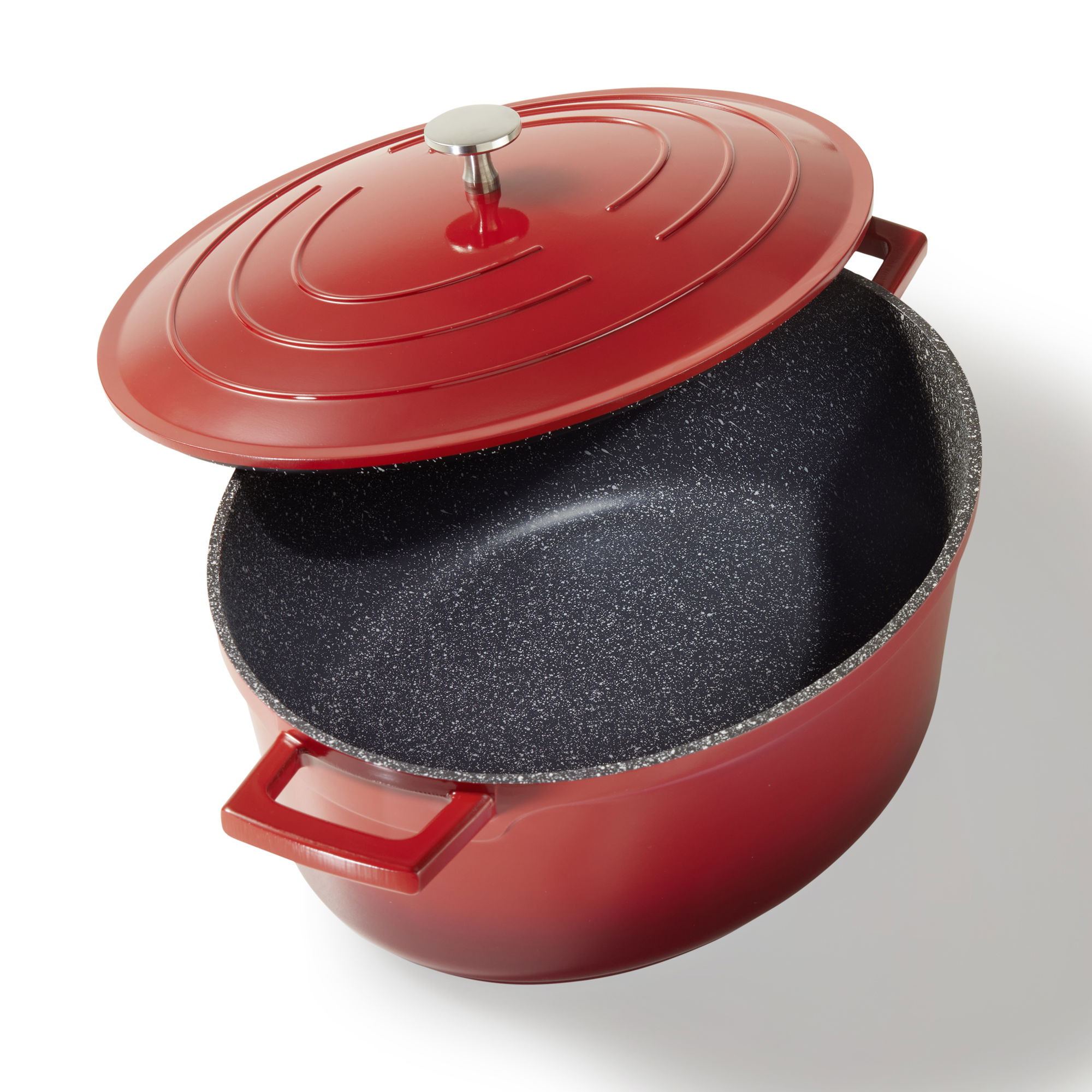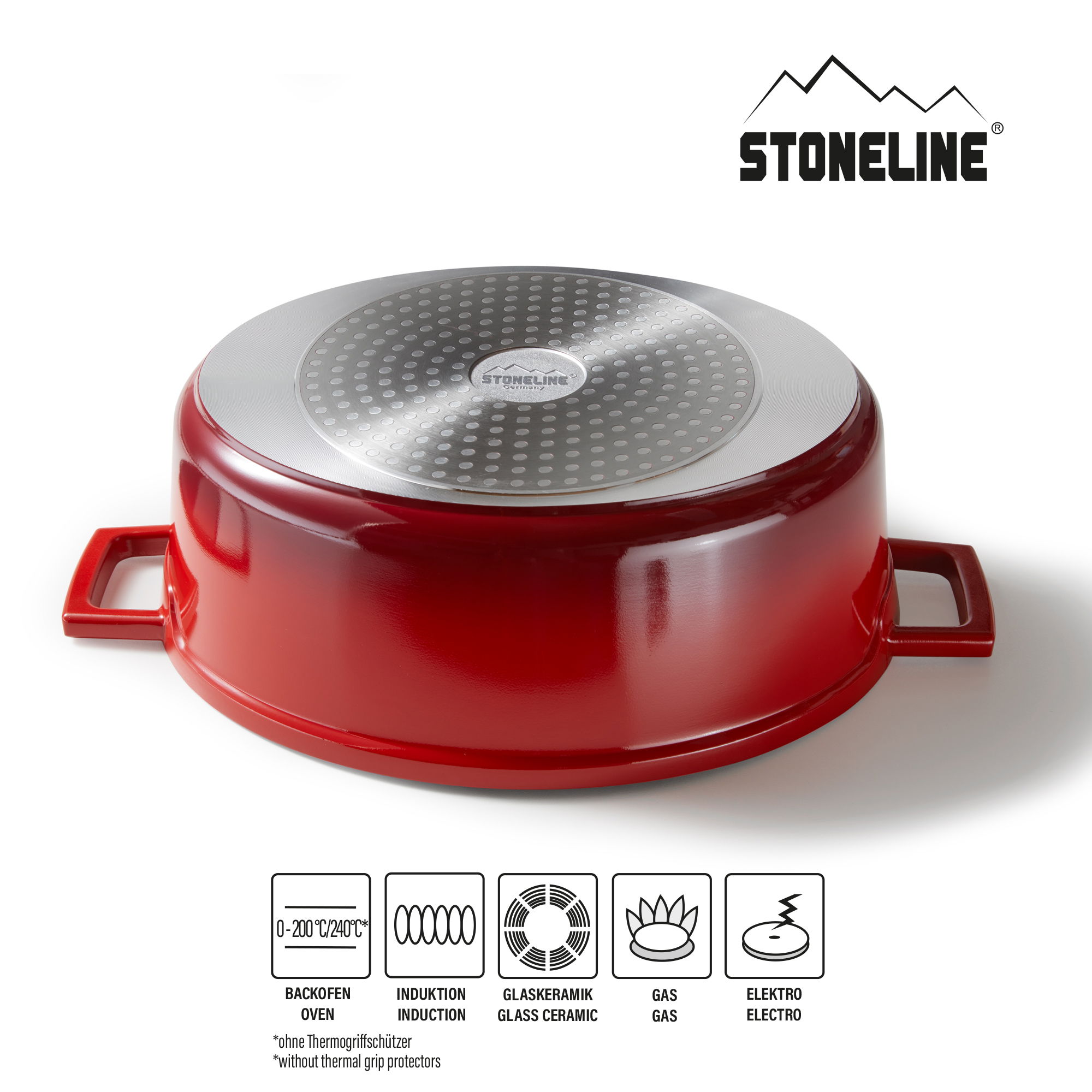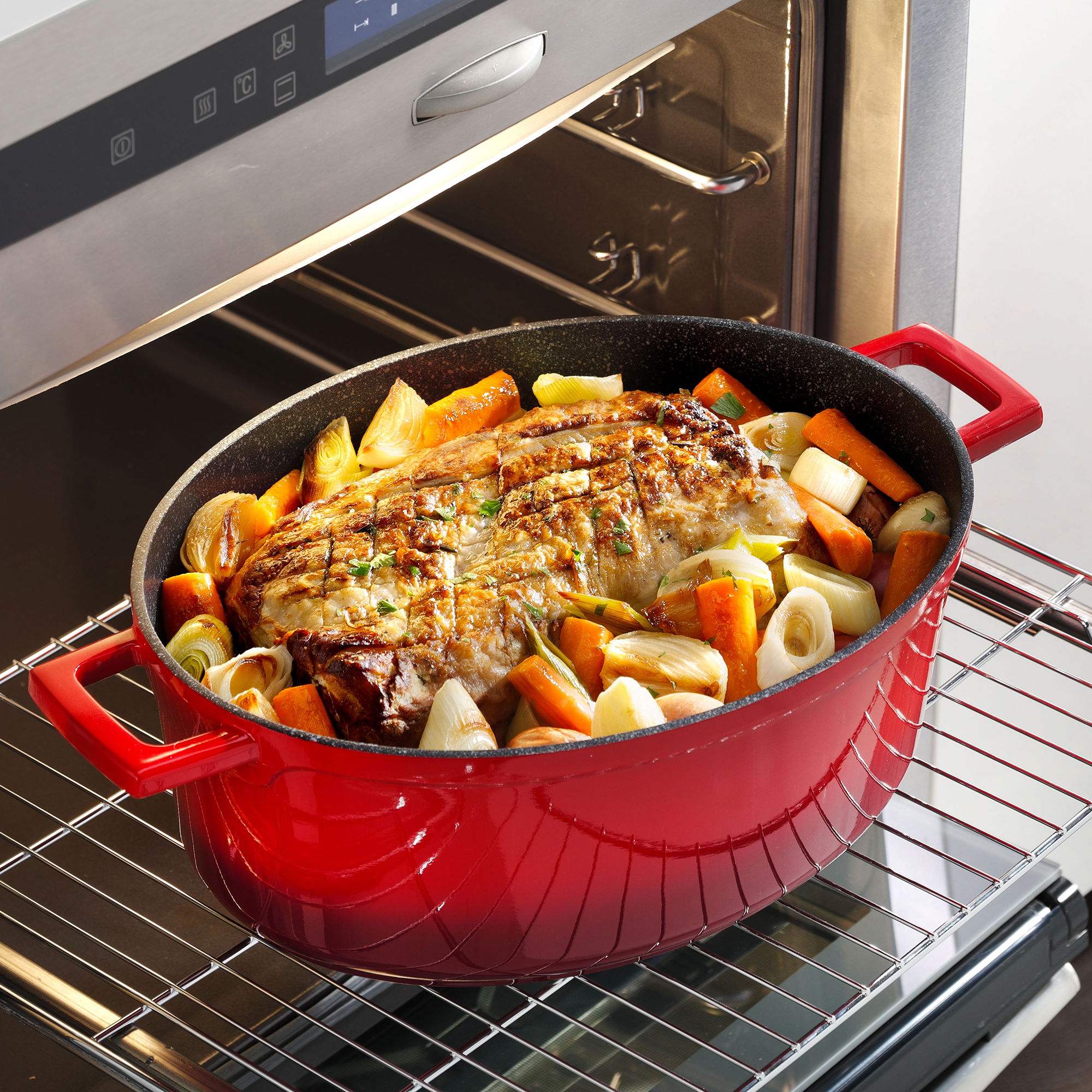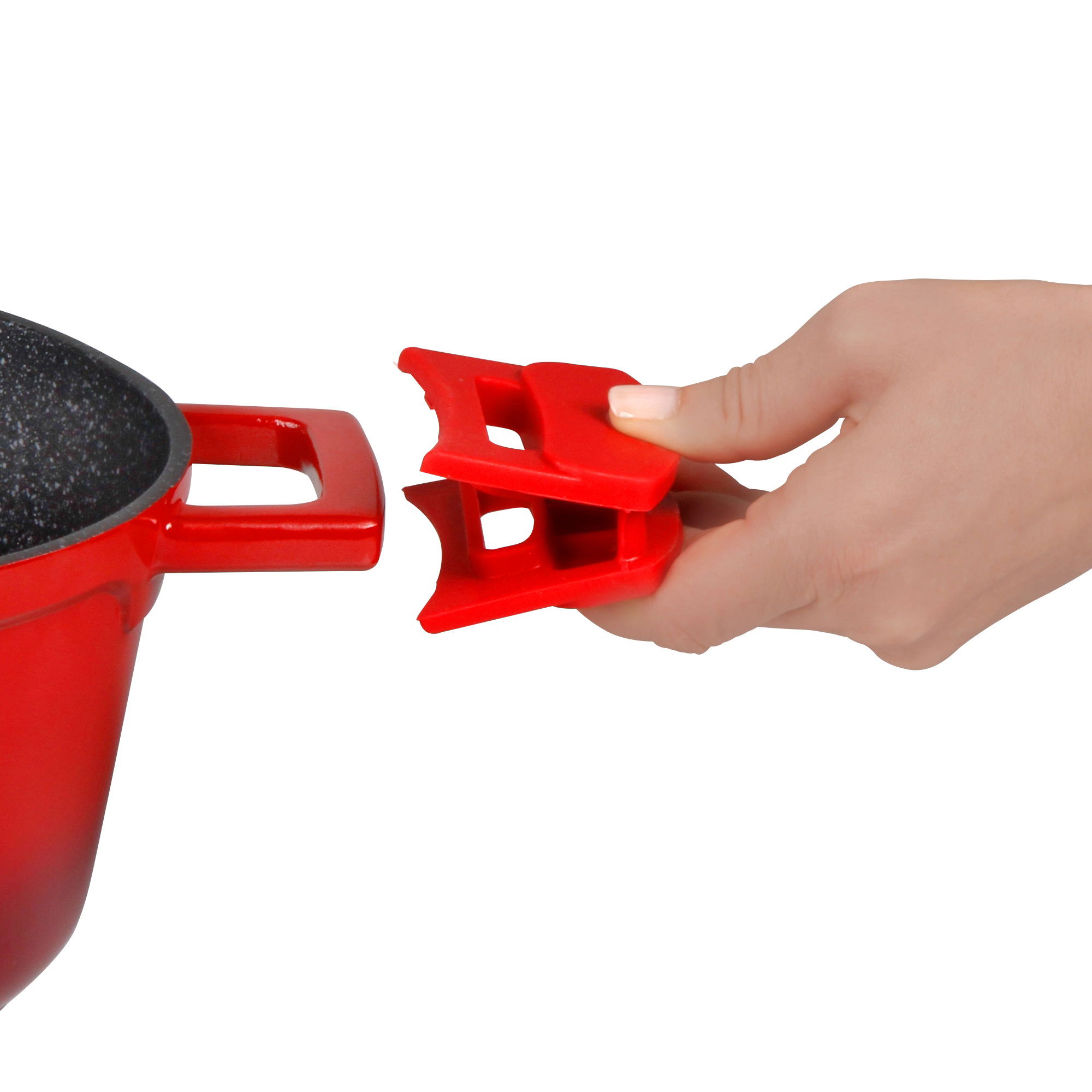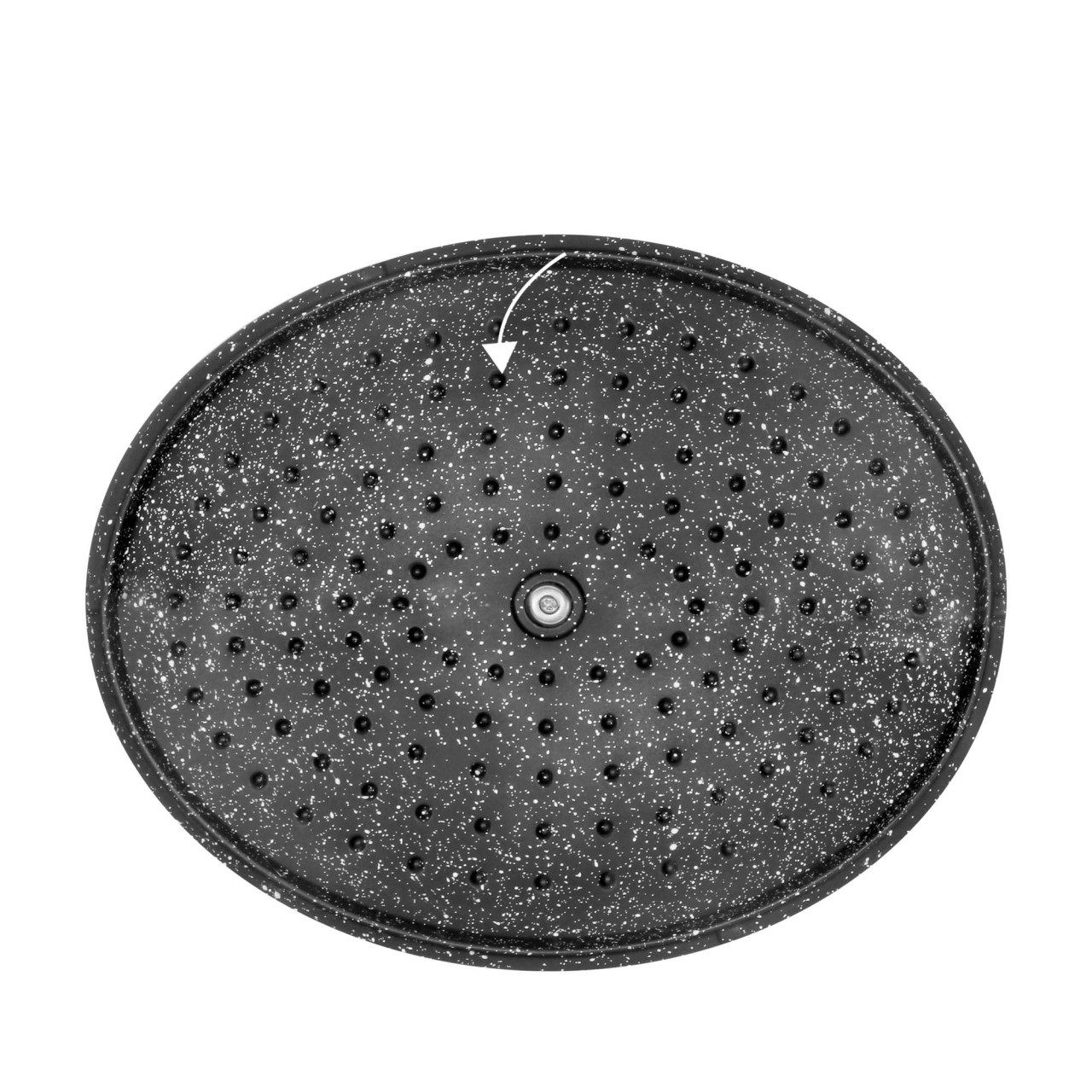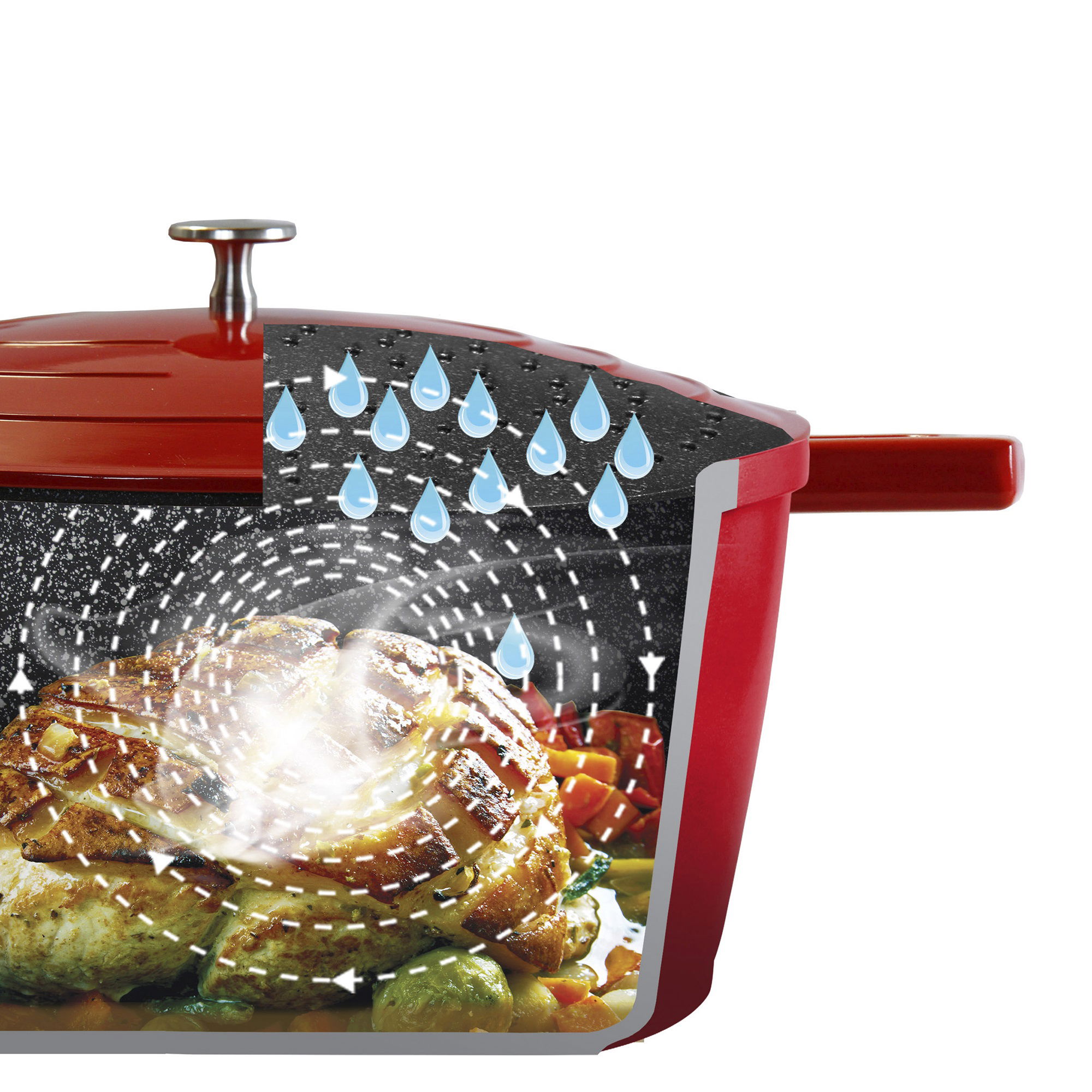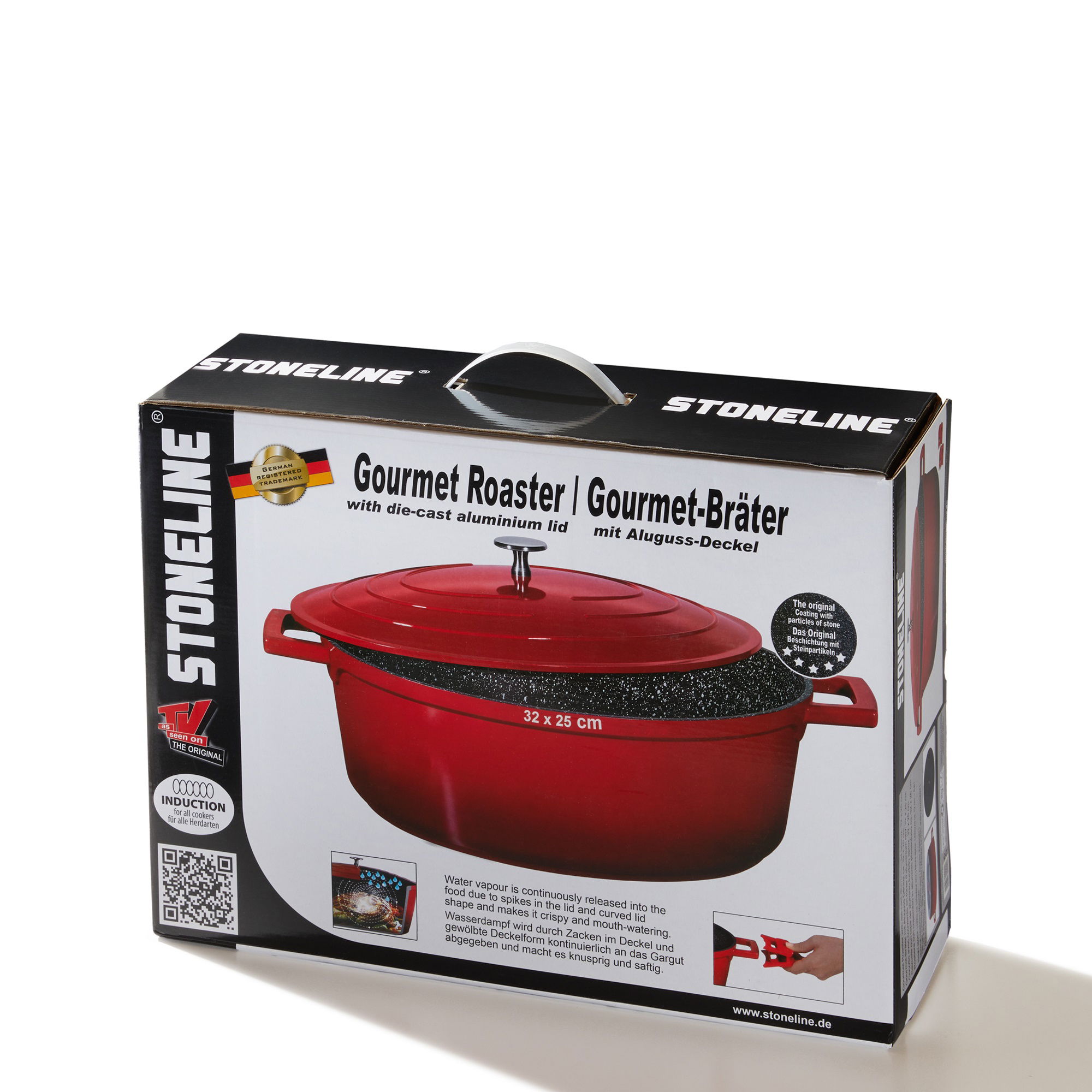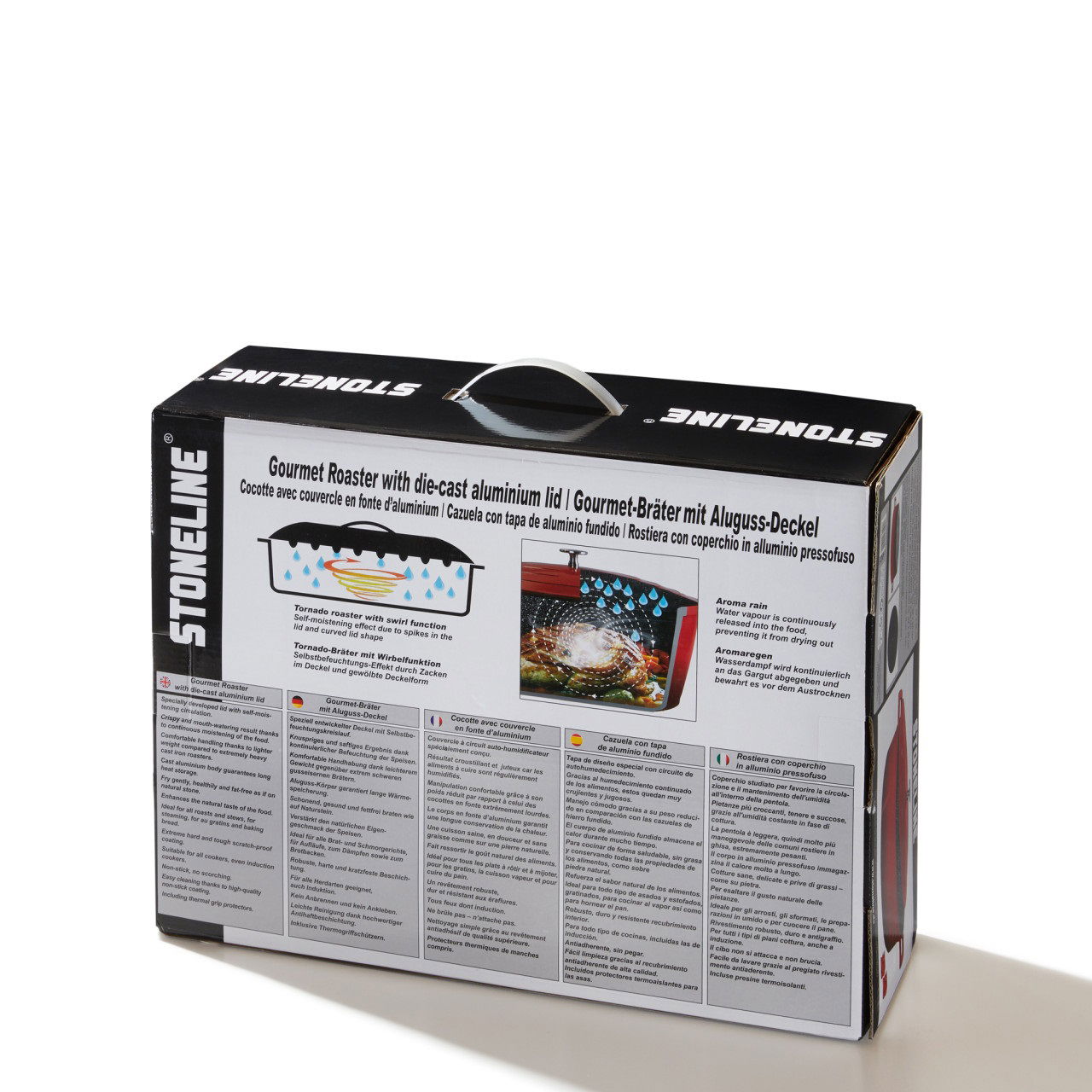 STONELINE® Induction Roaster with Lid 32x25 cm, Casserole Dish, Non-Stick Pot | red
€69.95*
%
Old price: €169.95*
You save 100,00 €
Available immediately, in 1-3 days at your home
STONELINE® – The Original!
Healthy nonfat cooking and frying
You will love these unique and versatile cast aluminium roasters!
The specially developed lid of these roasters has spikes on the inside and a curved lid shape. The resulting self-moistening circulation produces a crispy and juicy result by continuously moistening the food during the cooking process. This "aroma rain" protects your food from drying out, gently cooks your dishes and enhances the natural taste of the food.
The air circulation system inside the roaster ensures a homogeneous air flow within the cast aluminium body, which ensures optimal heating of your food and saves energy. The cast aluminium body guarantees long heat storage and efficient cooking.
STONELINE® roasters are convincingly comfortable to handle, being lighter in weight compared to cast iron roasters, which are extremely heavy.
These roasters are versatile and suitable for all kinds of roast and stew dishes, for casseroles, for steaming and for baking bread.
Thanks to the special STONELINE® non-stick coating, your food can be prepared with or without frying fat or oil, as desired, and can be removed without sticking from the cookware.
You achieve the same results whether you cook on glass ceramic, induction, electric or gas.
No stubborn residues stick to cooking utensils with the original STONELINE® coating and simple washing-up by hand saves you time and effort.
1 Gourmet roaster, approx. 32 x 25 cm, height: approx. 12 cm, approx. 6.6 l
1 cast aluminium lid with self-moistening circulation, approx. 32 x 25 cm
Incl. thermal grip protectors
Colour: cherry red
The most important advantages of the STONELINE® roaster at a glance:
Specially developed lid with self-moistening circulation enhances the natural taste of the food and enables a gentle cooking process
Crisp and juicy result thanks to continuous moisturising of the food
Air circulation system ensures homogeneous air flow: food is heated optimally and energy is saved
Cast aluminium body guarantees long heat storage
Comfortable handling thanks to lighter weight compared to extremely heavy cast iron roasters
Ideal for all roast and stew dishes, for casseroles, for steaming as well as for bread baking
Scratch-proof, non-stick STONELINE® coating
Vitamin-friendly cooking and frying without fat and oil
Also suitable for vegetarians: vegetables remain crisp and juicy
No burning and no sticking
Super easy to clean
Extra strong, non-distorting base
Base thickness: 4.5 mm
Suitable for all cookers including induction cookers
Oven-proof up to 240 °C (without thermal grip protectors) / 200 °C (with thermal grip protectors)
Material: die-cast aluminium
Tips for cleaning and care:
We recommend cleaning your cookware thoroughly with water and a mild detergent before the first use.
Apply a few drops of cooking oil with a kitchen towel onto the coating.
No fat or oil is needed for further use!
Thanks to the Easy-Clean effect we recommend cleaning the cookware by hand. Wipe clean with hot water, a mild detergent and a soft sponge.
Content:

past 5 l

Form:

Oval

Oven suitable until:

200 °C

, 220 °C

, 230 °C

, 240 °C

Type:

Roasters
---
hätte nicht gedacht das dieser Bräter so leicht ist. Meine Handgelenke danken.