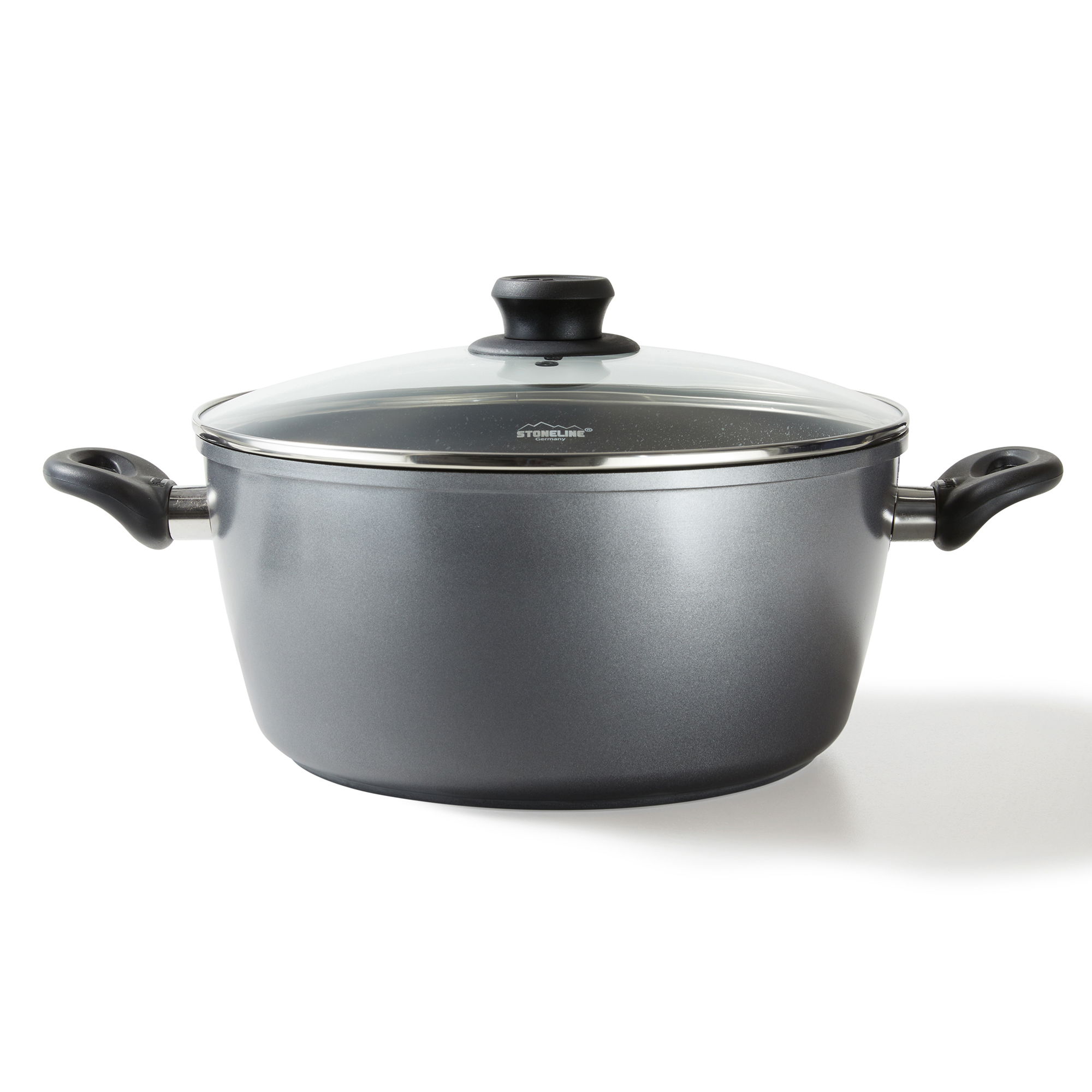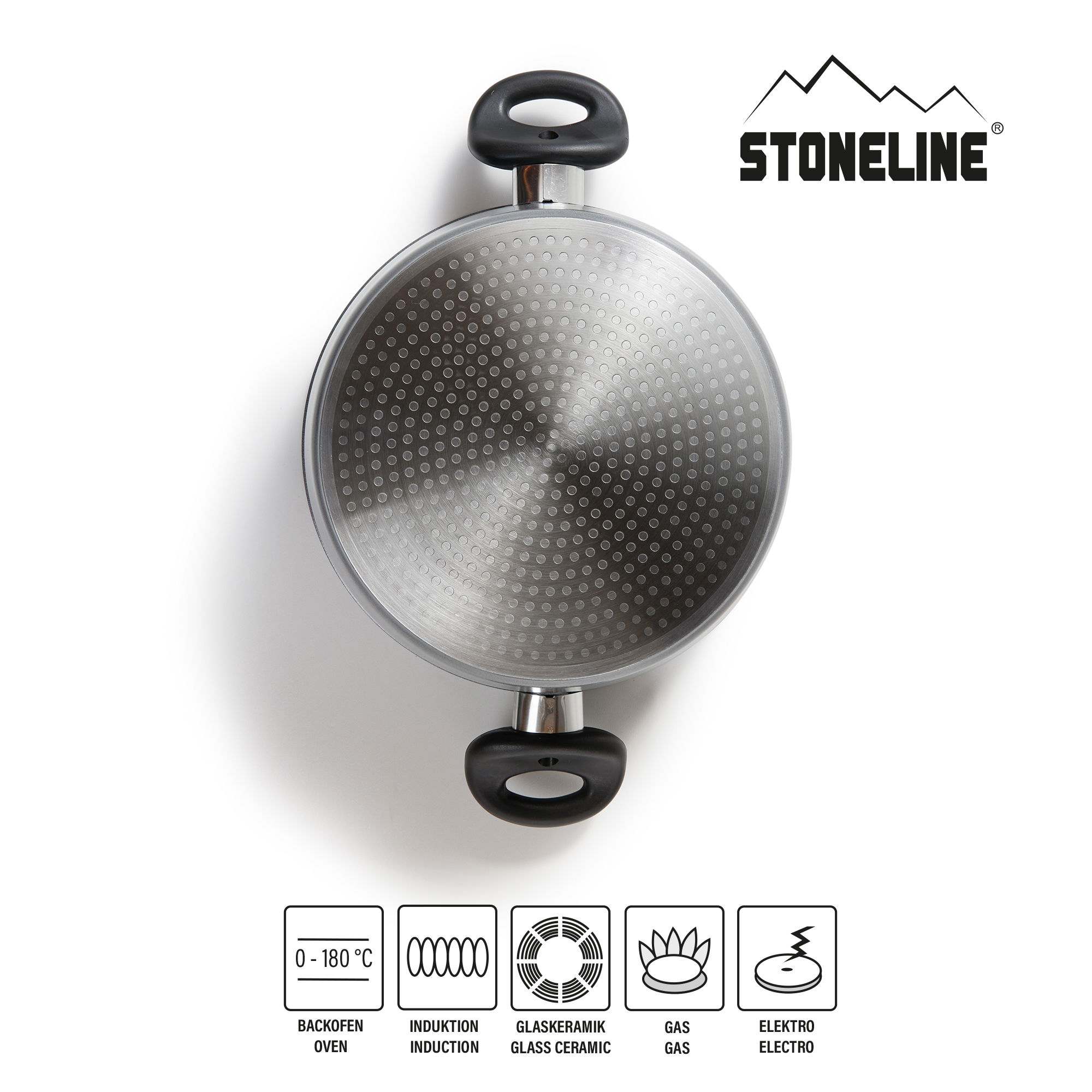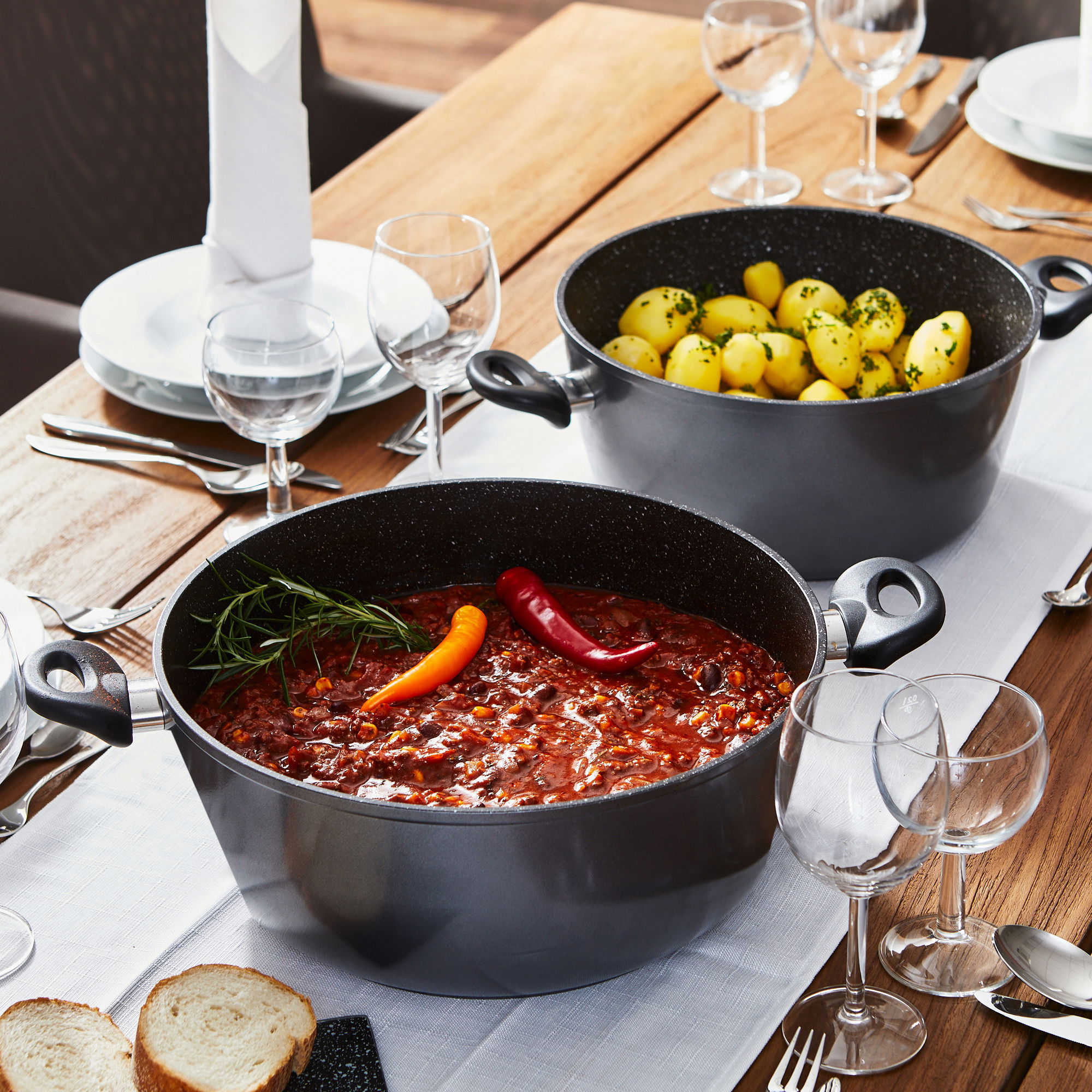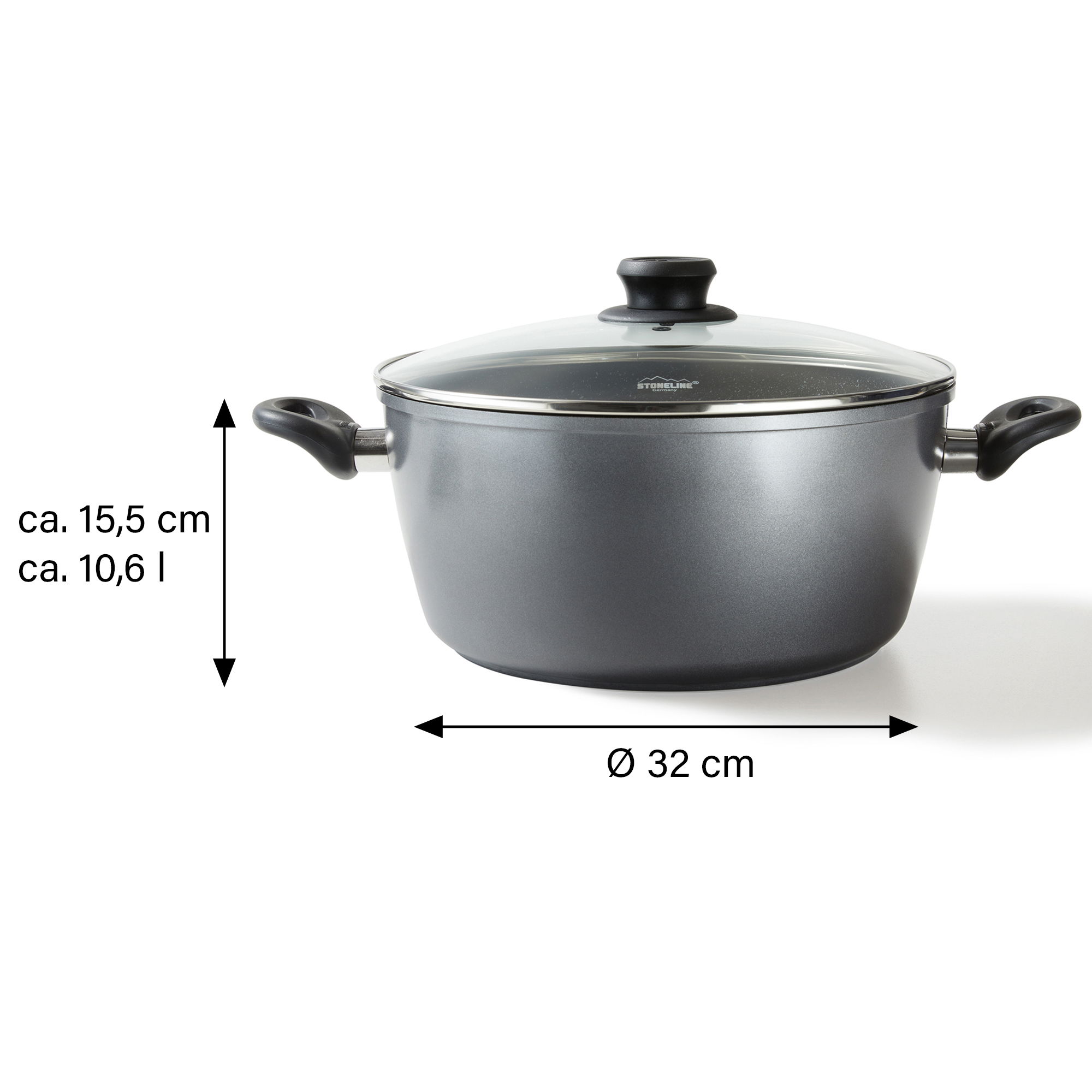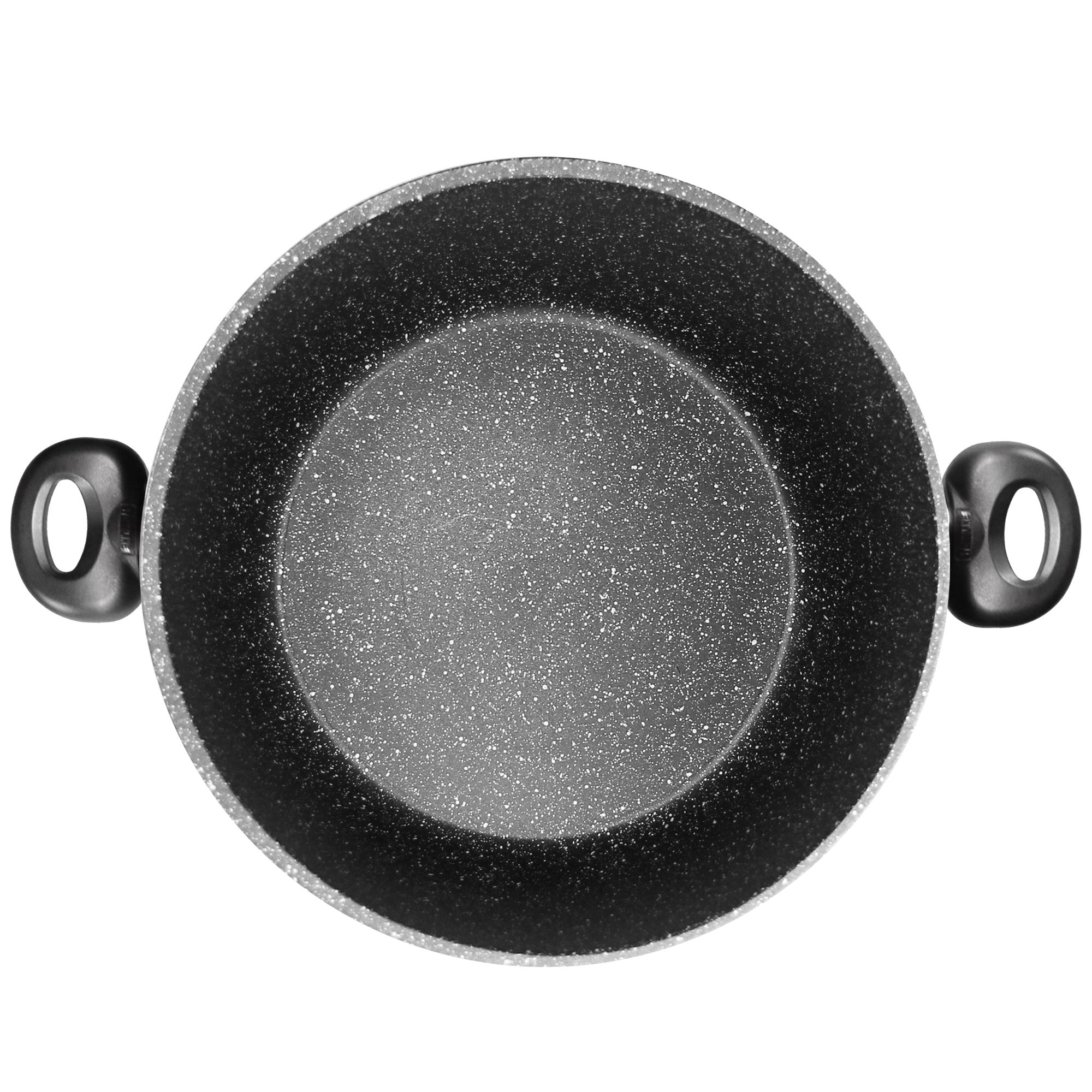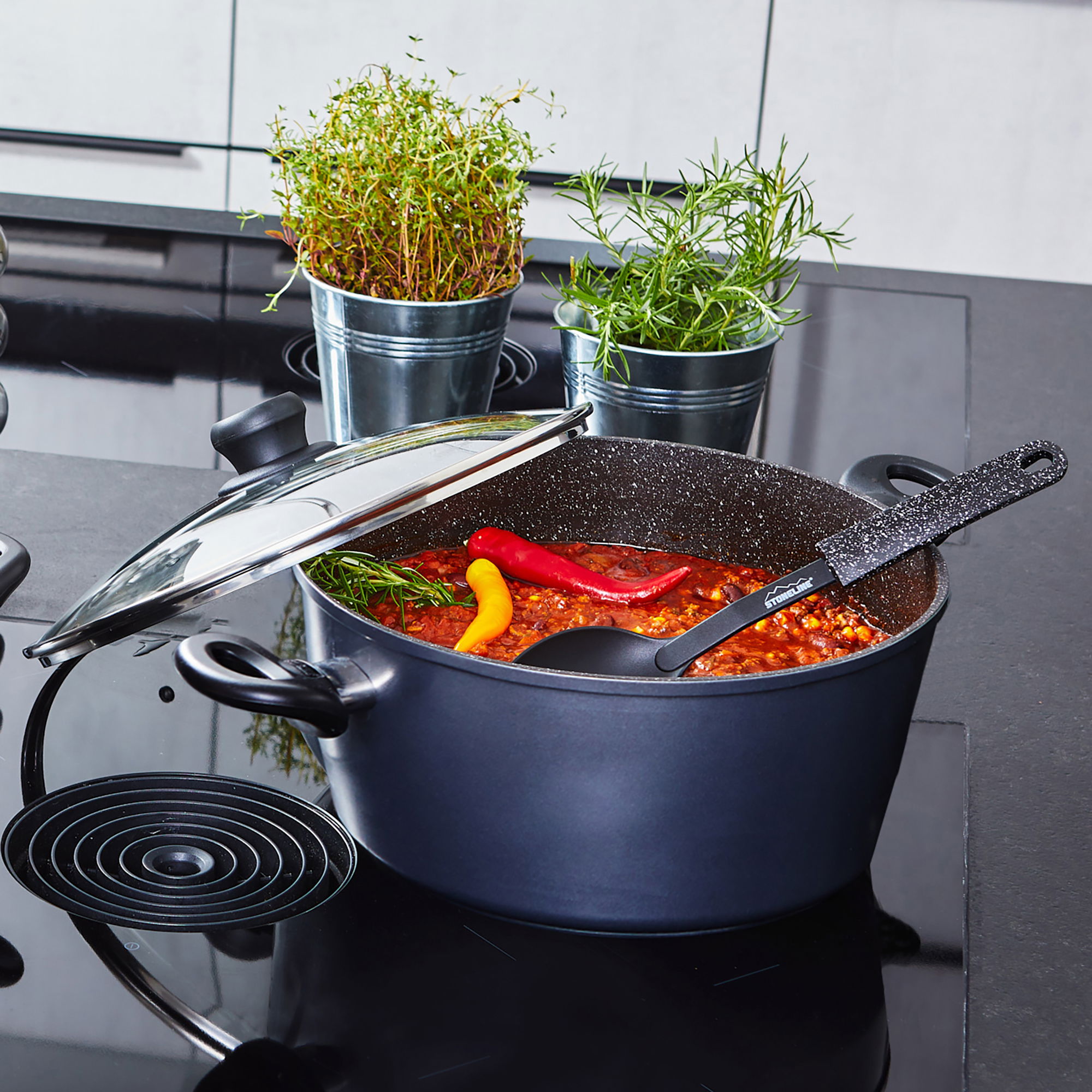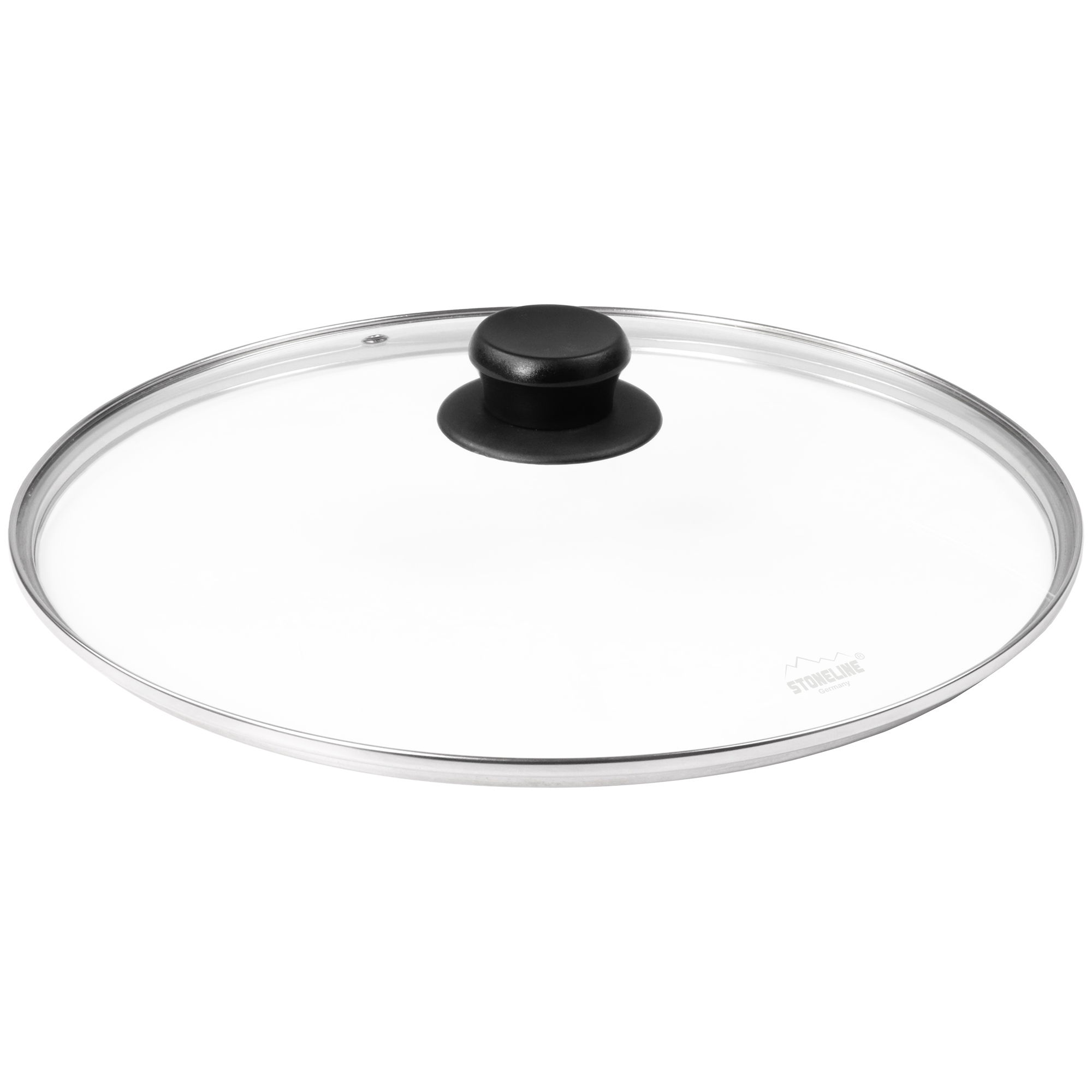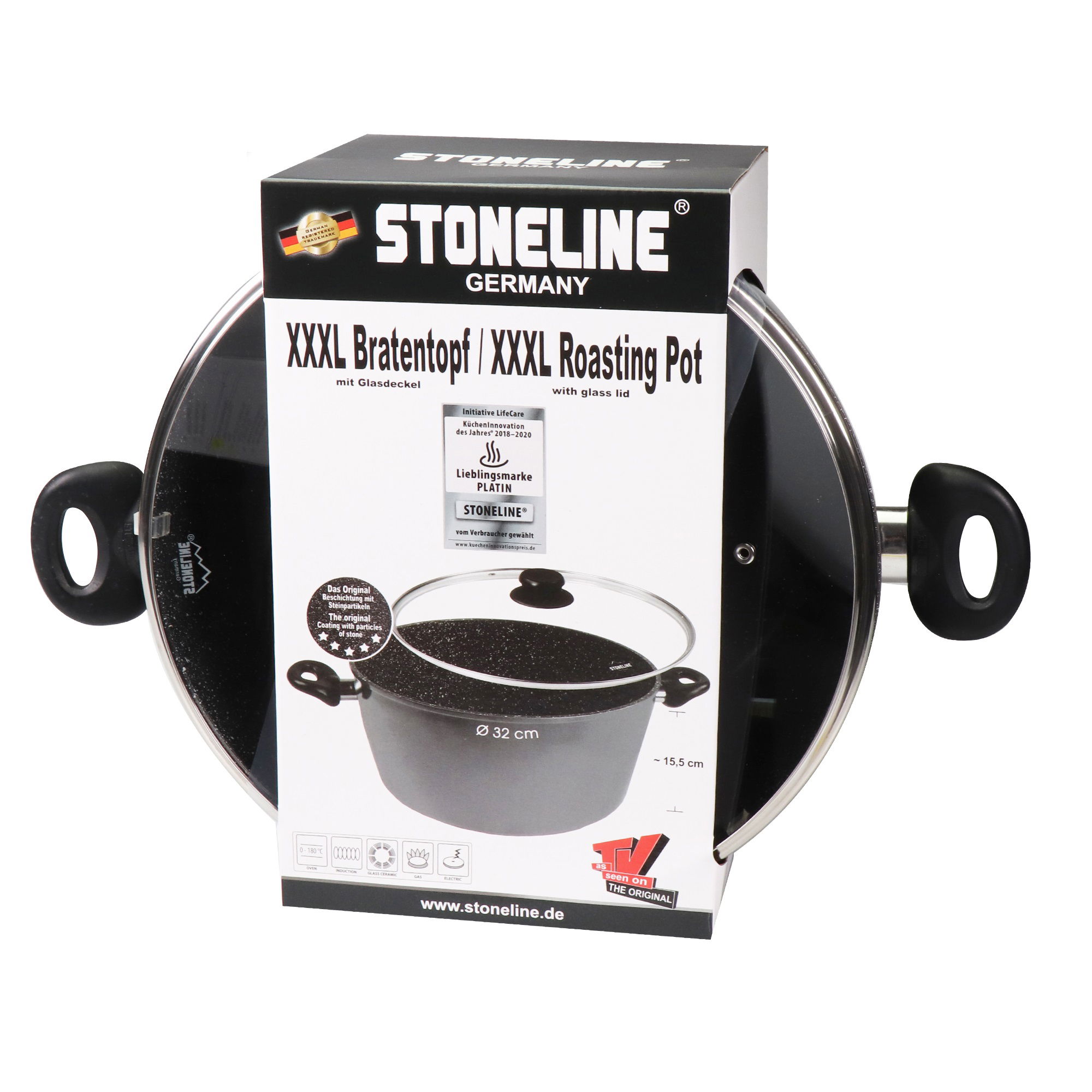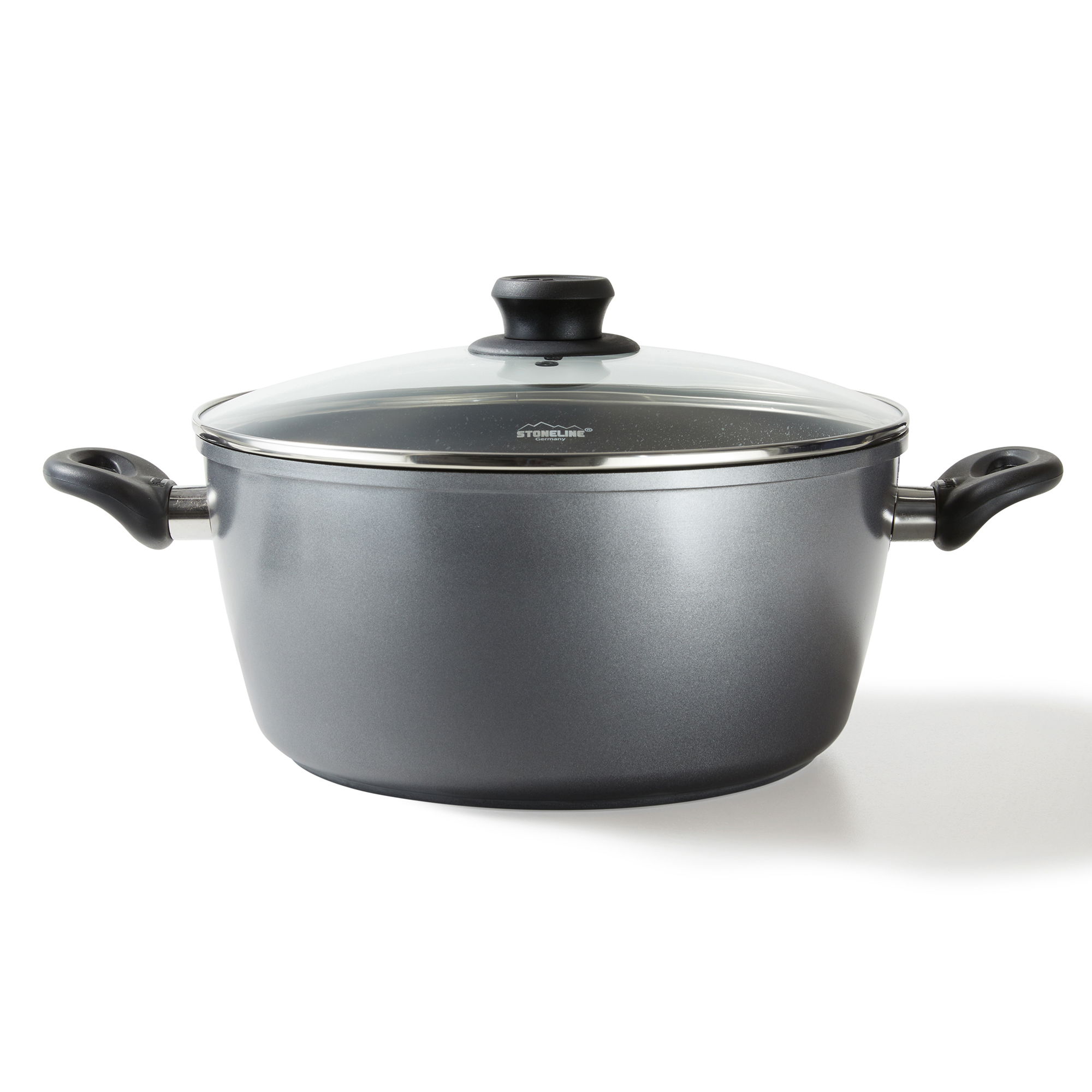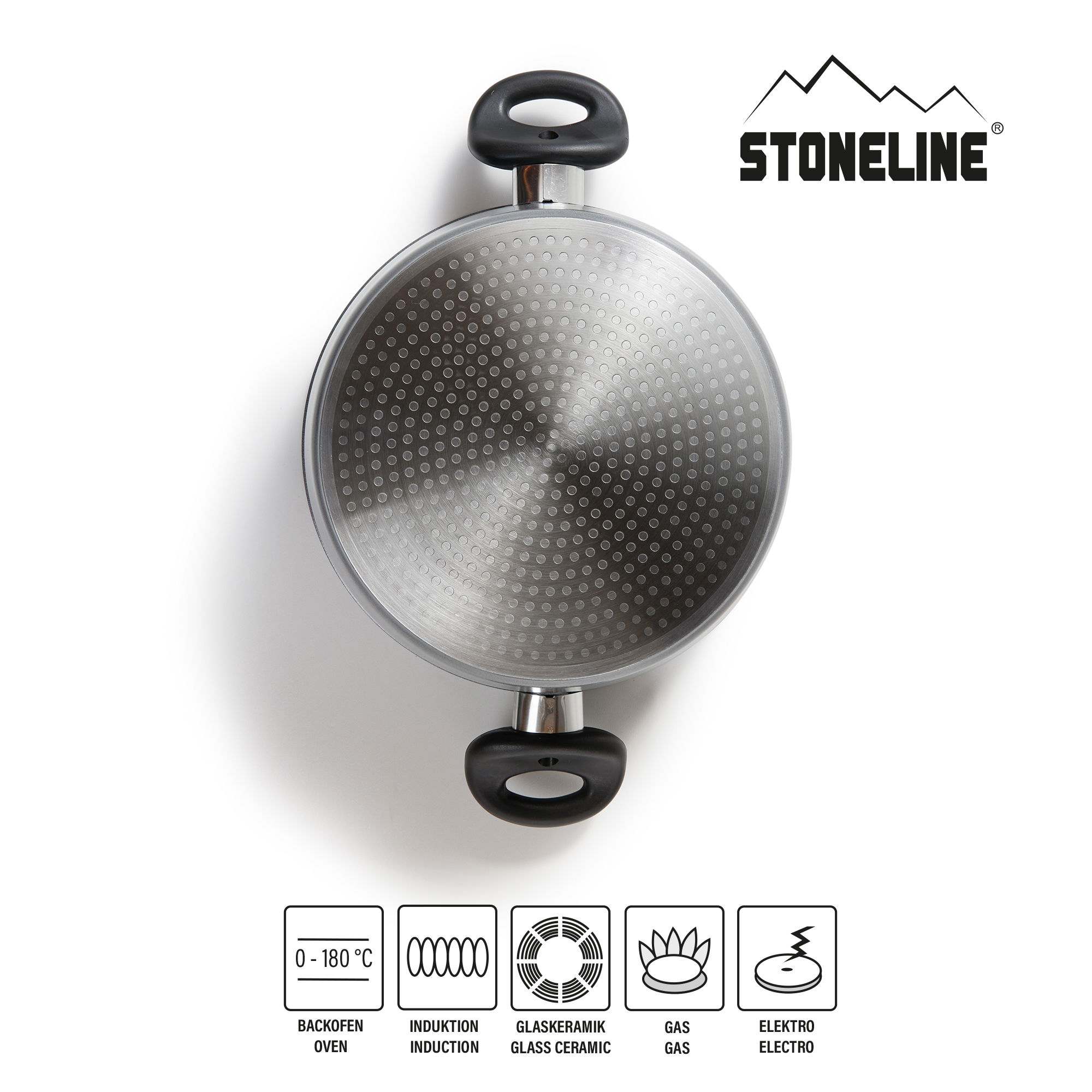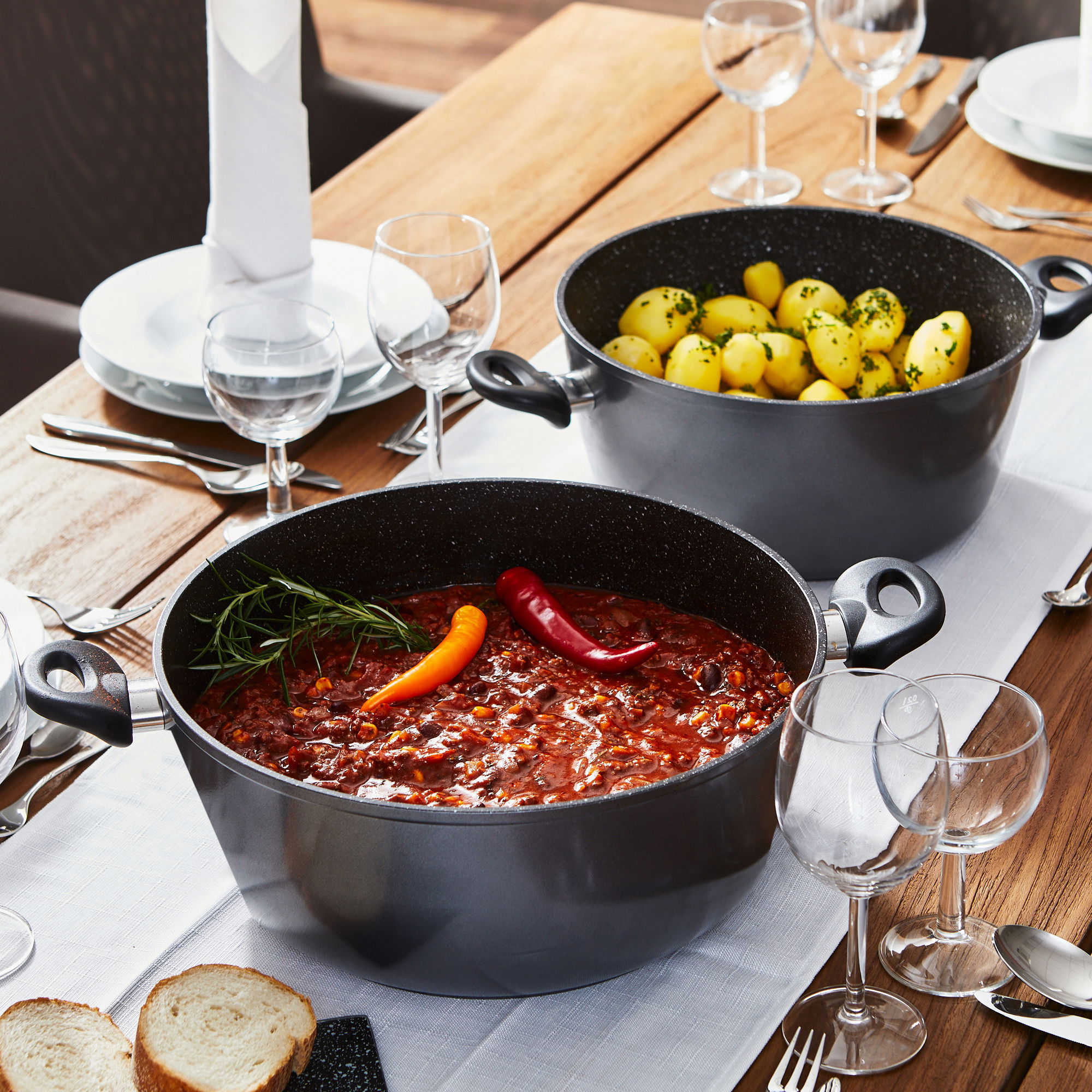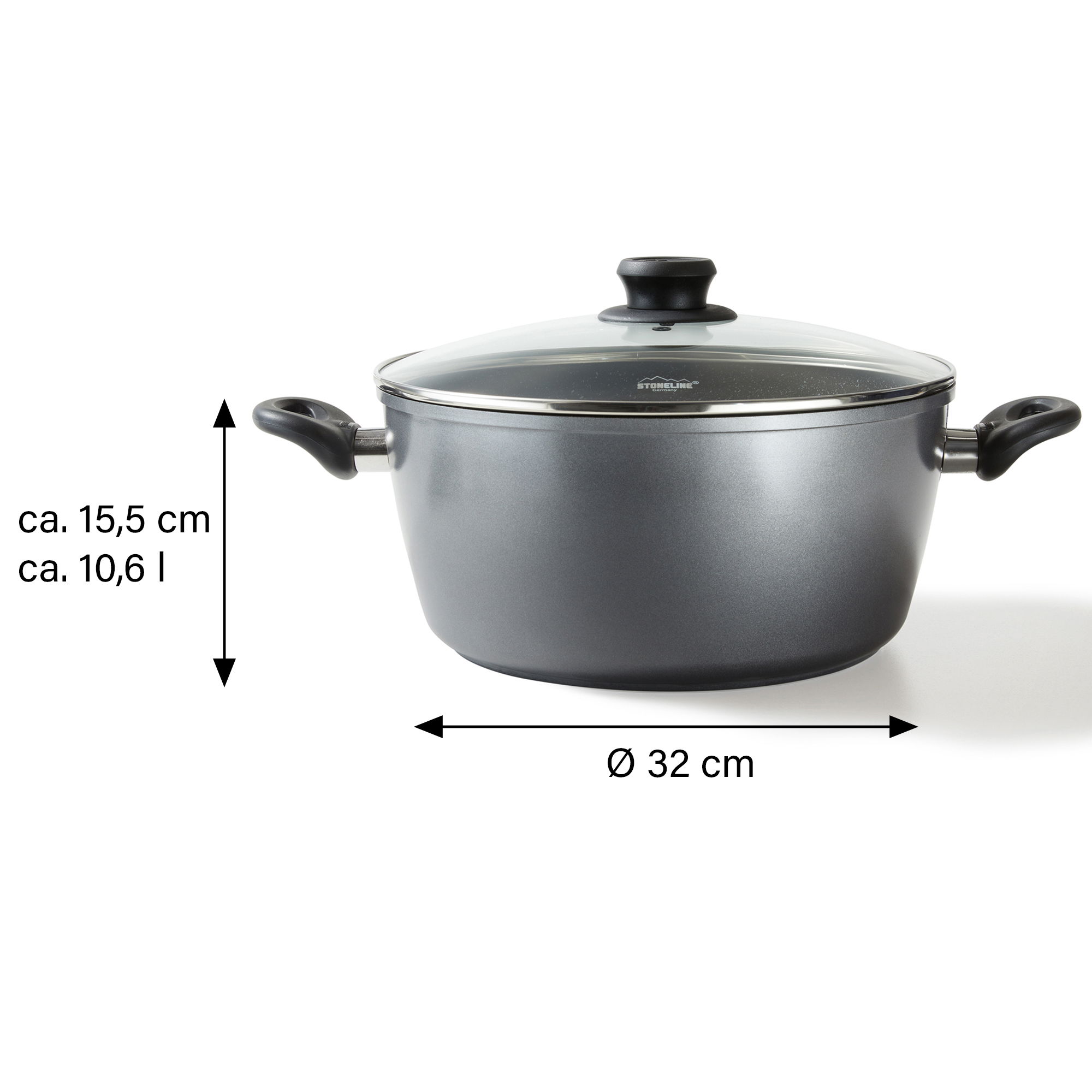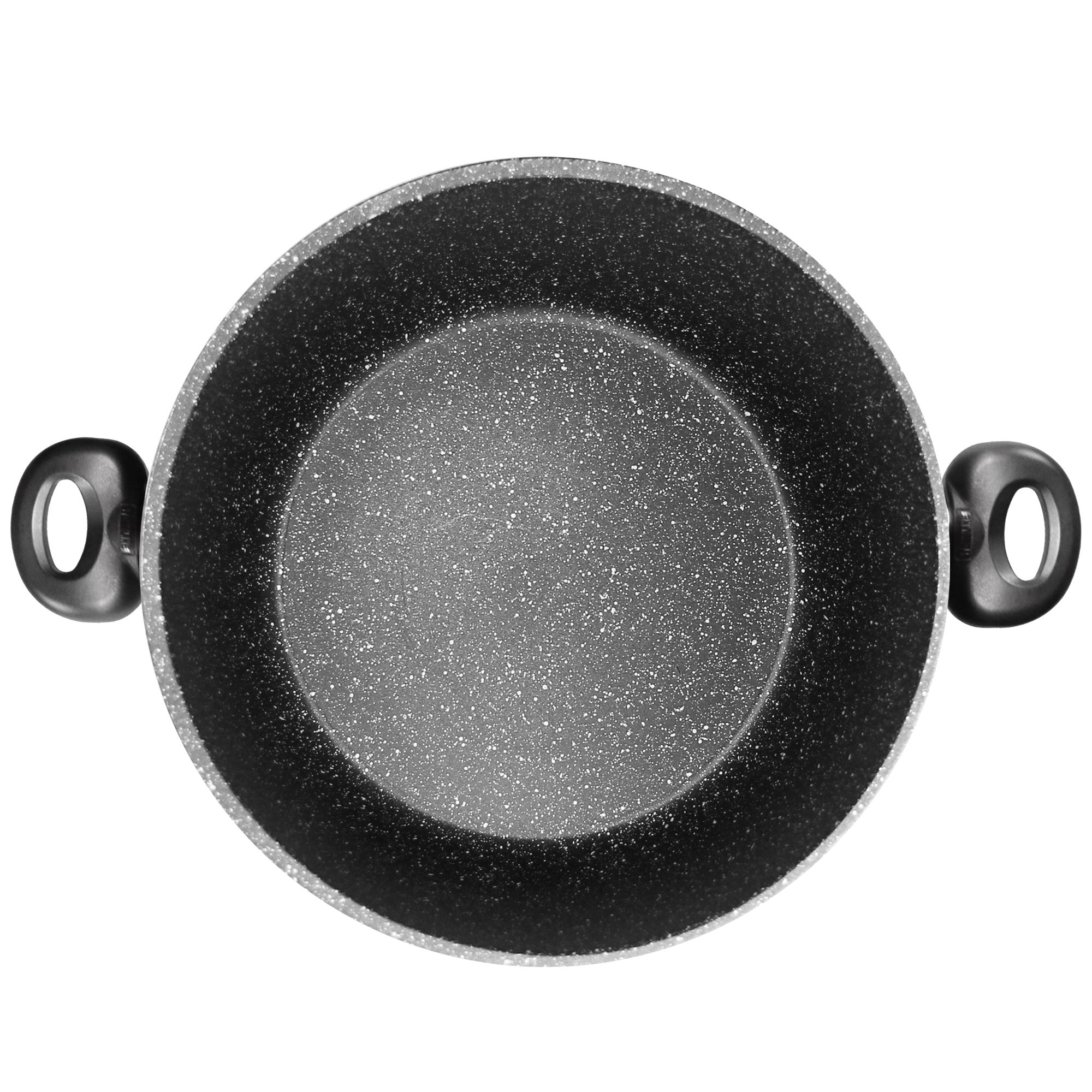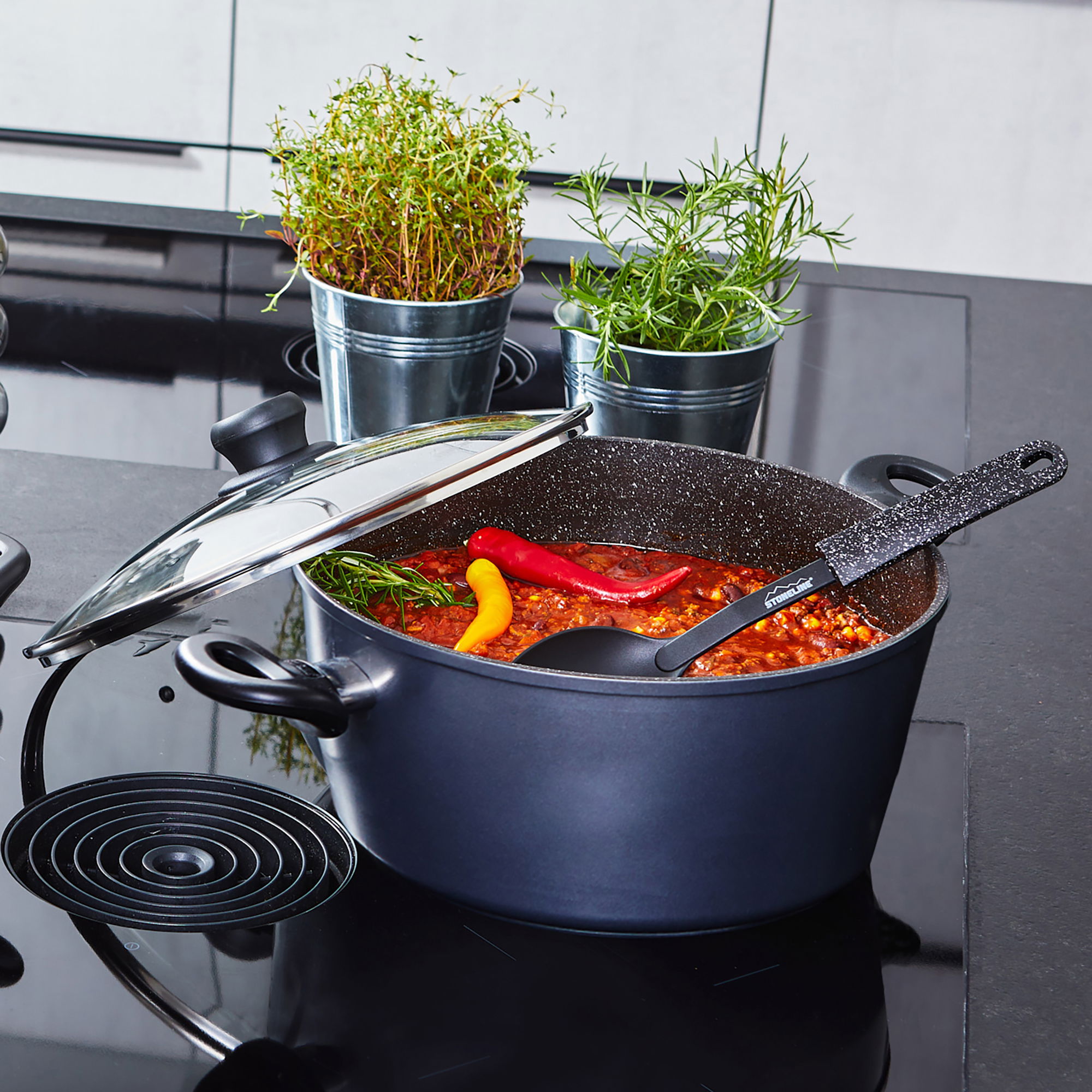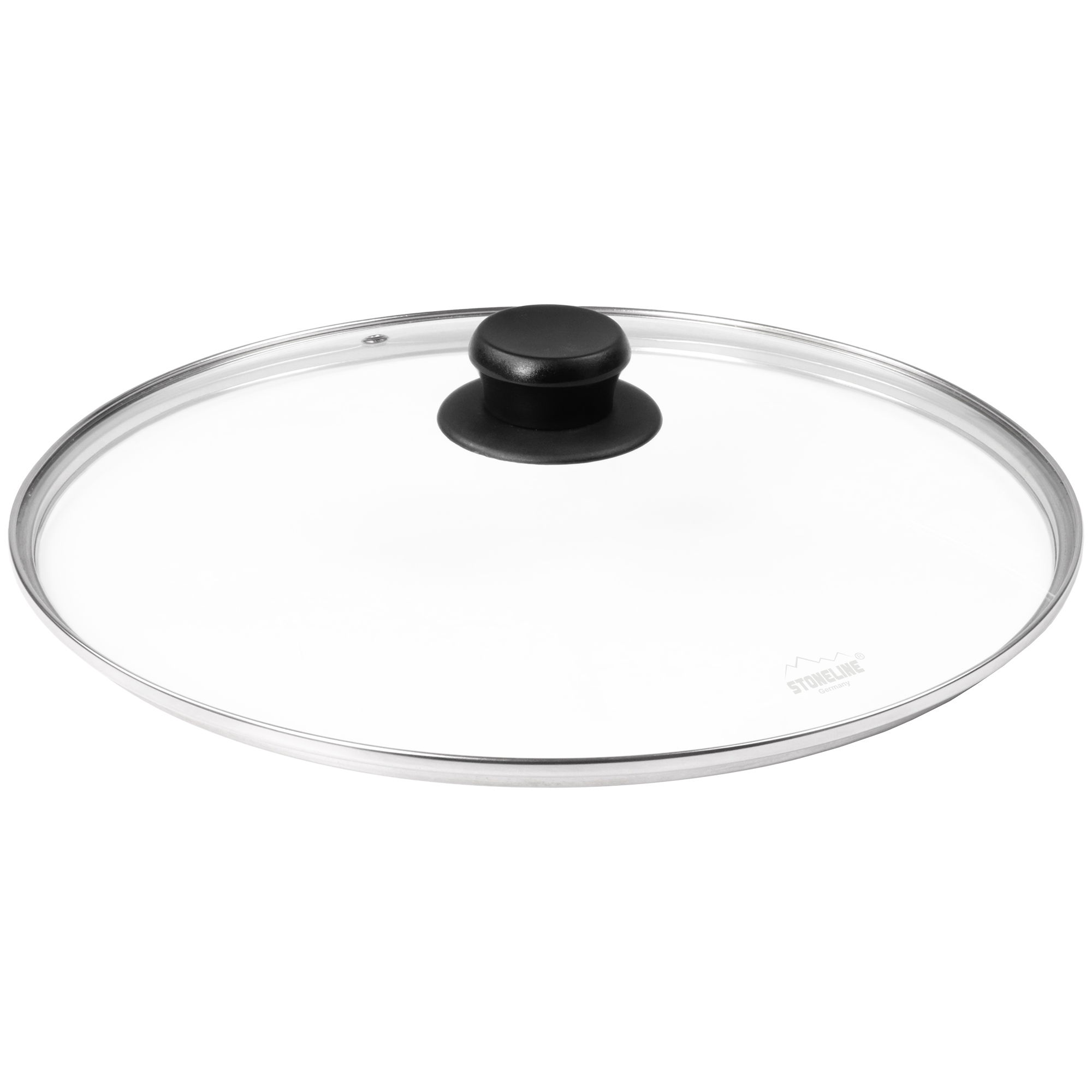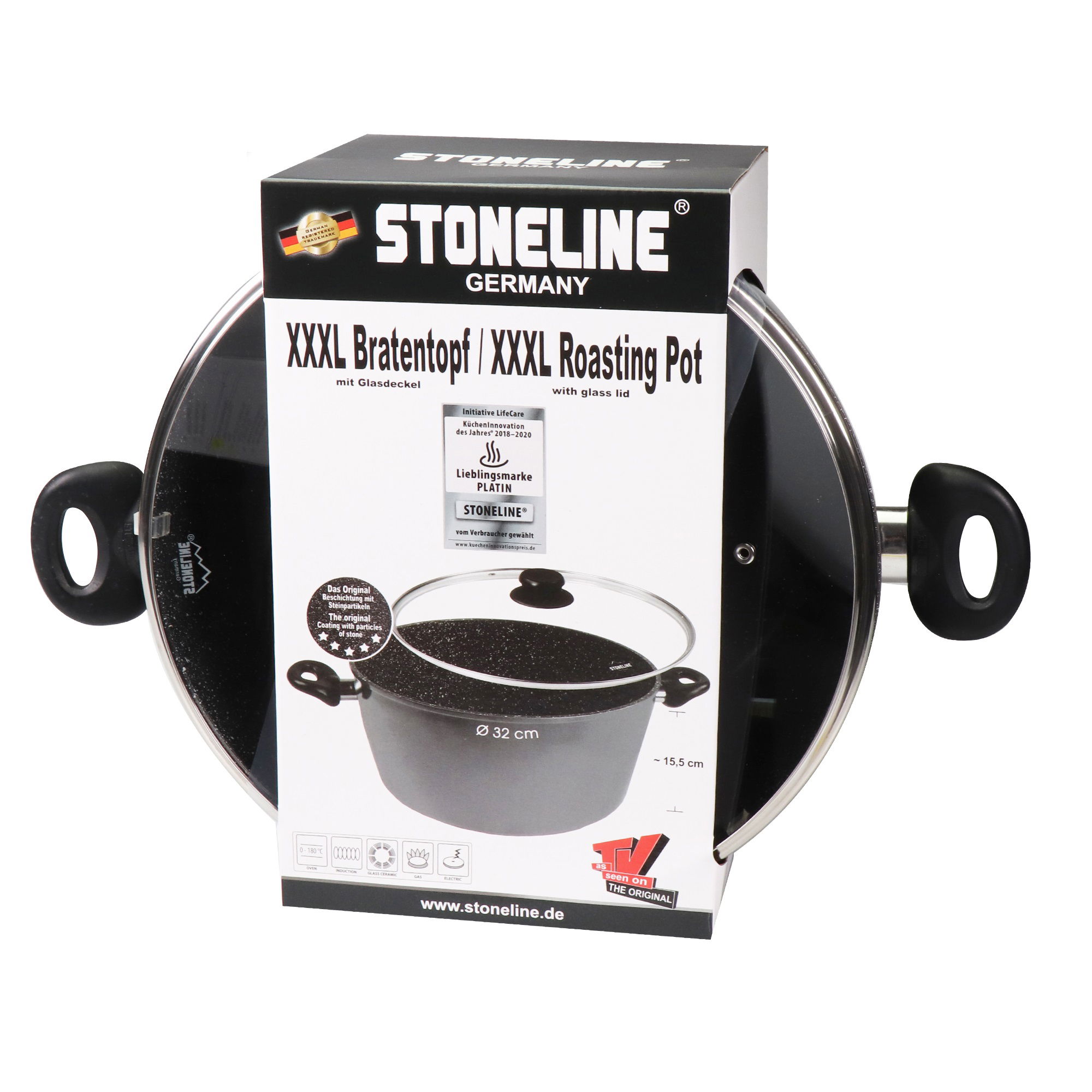 STONELINE® XXXL Cooking Pot 32 cm, with Lid, Large Non-Stick Pot | CLASSIC
€114.95*
%
Old price: €164.95*
You save 50,00 €
Available immediately, in 1-3 days at your home
STONELINE® – The original!
Healthy nonfat cooking and frying
The STONELINE® pot is perfect for the single kitchen.
Use it for cooking or frying small portions, for making slowcooked dishes like goulash or chilli or for ragouts and curries. Also perfect for warming up food.
Thanks to the premium nonstick coating you can cook and fry without burning or having food that sticks in the cookware- even if you prefer cooking without using additional fat or oil.
1 pot, ø approx. 32 cm, height: approx. 15,5 cm, approx. 10,6 l
1 glass lid, ø approx. 32 cm
The most important advantages of STONELINE® cookware at a glance:
World's only non-stick coating with real stone particles
Scratch-proof STONELINE® non-stick coating
Vitamin-friendly cooking and frying without fat and oil
Perfect results and crispy meat
Also suitable for vegetarians: Vegetables stay crunchy and juicy
No burning and no sticking
Super easy to clean
Suitable for all cookers including induction cookers
Extra strong, non-distorting base
Base thickness 4.5 mm
This product is oven-proof up to 180 °C
Material: die-cast aluminium
Tips for cleaning and care
We recommend cleaning your cookware thoroughly with water and a mild detergent before the first use.
Apply a few drops of cooking oil with a kitchen towel onto the coating.
No fat or oil is needed for further use!
Thanks to the Easy-Clean effect we recommend cleaning the cookware by hand. Wipe clean with hot water, a mild detergent and a soft sponge.
Coating:

Non-stick coating

Content:

from 1 l to 2 l

, from 2 l to 3 l

, from 4 l to 5 l

, past 5 l

, über 10 l

Diameter:

16 cm

, 18 cm

, 20 cm

, 24 cm

, 26 cm

, 28 cm

, 32 cm

Handle:

Fixed

Height:

5 to 10 cm

, 10 to 15 cm

, 15 to 20 cm

Lid:

Yes

Oven suitable until:

150 °C

, 180 °C

Series:

Classic

Type:

Braising Pots

, Roasting Pots
---
Diese Größe hat mir noch gefehlt! Ich bin damit sehr zufrieden! Kein Anbrennen mehr, leichte Reinigung! Darum gibt es für diesen Topf 16 cm Durchmesser 5 Sterne!
Ich habe schon die Future Serie von Stoneline und mir fehlte noch eine kleinerer Topf, leider gabs den nur mit anderem Deckel. Ich würde keine andere Serie mehr kaufen, absolut spitzenmäßige Qualität und ganz leicht zu reinigen, nichts brennt an. Ich hätte gern noch einen Milchtopf ohne Deckel und eine kleine Servierpfanne für 3-4 Personen, dann wäre alles perfekt.
ich würde keine anderen mehr nehmen,etwas besseres bekommt man nicht. es ist sehr zum empfehlen.
Ein schöner, leichter Topf bei dem nichts anbrennt. Und endlich ein Topf bei dem die Griffe kühl bleiben! Habe jetzt 4 Töpfe aus dieser Serie und bin ganz begeistert.
Stoneline ist einfach super
Besitze seit Jahren schon anderes Kochgeschirr von Stoneline weil es leicht und super beschichtet ist.Dieser kleine Topf ist genau so super und ideal für Singles.Es setzt nichts an und ist leicht zu reinigen und außerdem noch preisgünstig,weil es langlebig ist.
Habe erst 3 Töpfe vom Nachfolger Stonedine gekauft und bin sehr zufrieden. Brauchte noch einen Kleineren, deshalb jetzt von Stoneline. Auch hier alles super, bisher keine Probleme und sehr zu empfehlen.
Es gibt bei diesen Töpfen kein Anbrennen. Sie sind sehr gut beschichtet.
Meine Frau ist sehr zufrieden. Ich kann nichts sagen da ich damit nichts zu tun habe.
Diese Töpfe sin einfach super, leicht u sehr gut zum reinigen,Hatte vorher AMC aber stoneline ist besser u schneller
Kochtöpfe,Stielkasserole und Bratpfanne
Wir sind sehr zufrieden mit diesen Töpfen etc. Dies ist bereits der zweite Satz den ich bestellt habe; bei den Vorgängern hat sich nach ca. 8 Jahren die Innenschicht teilweise gelöst. Die Utensilien waren tagtäglich im Einsatz.