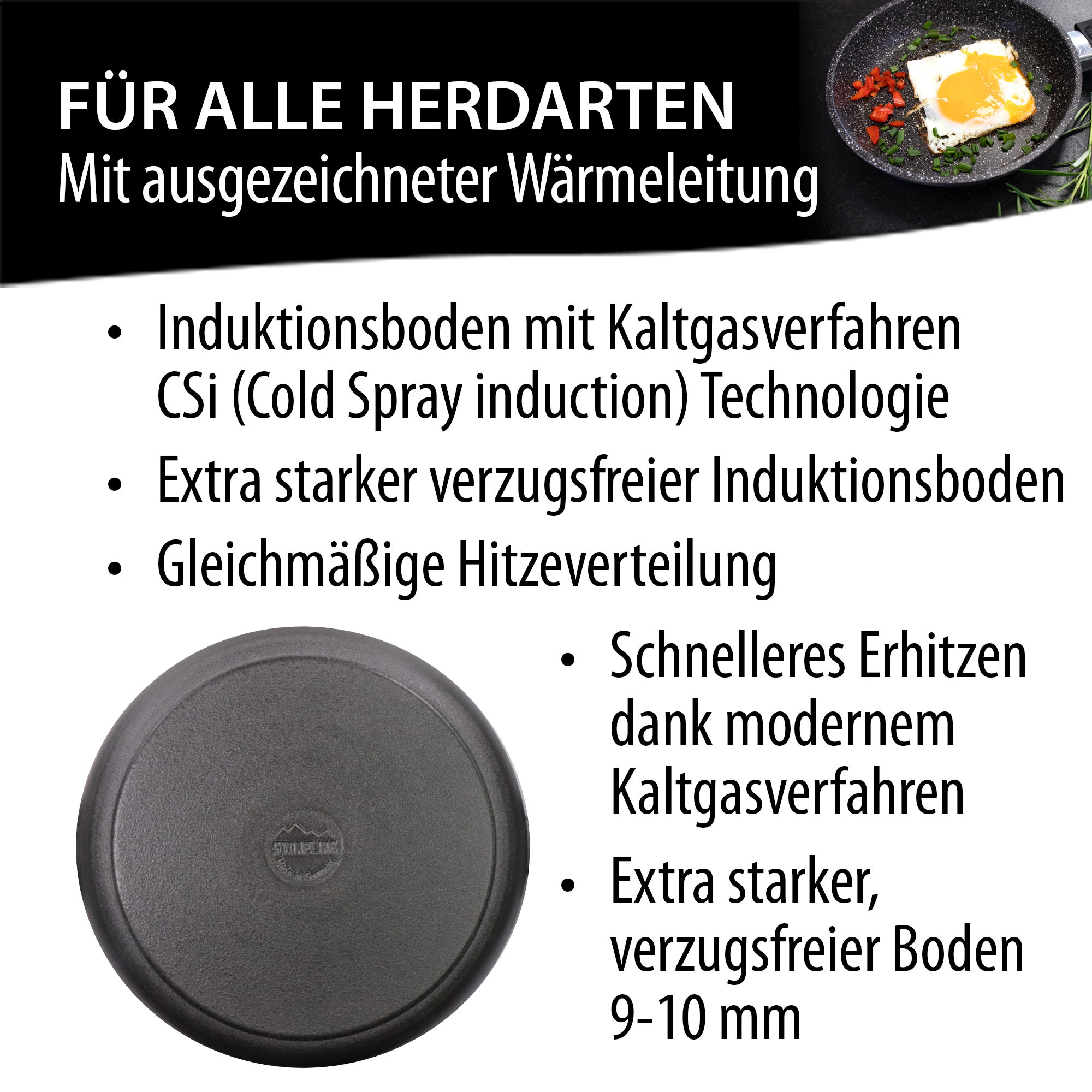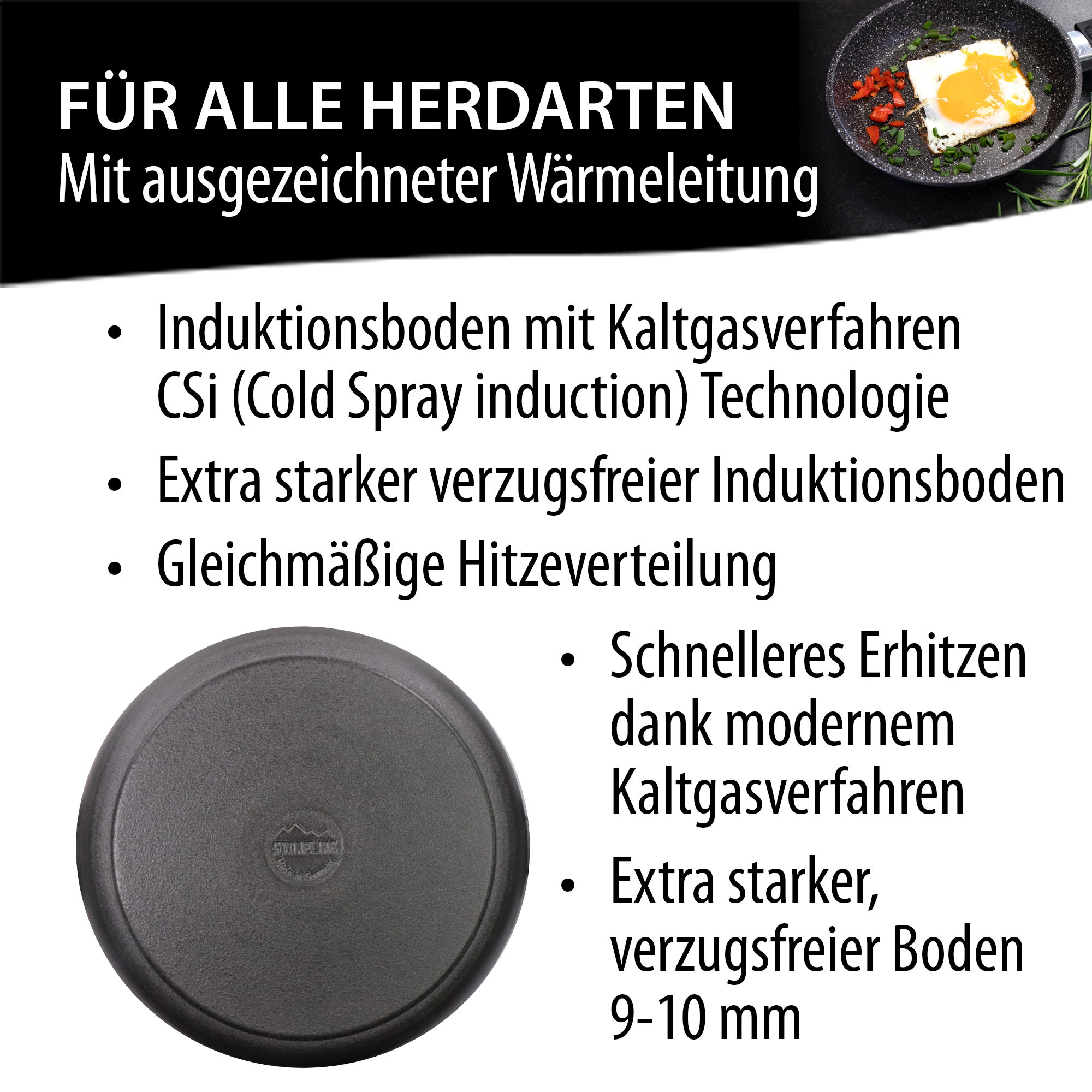 STONELINE® Wok Pan 32 cm, Removable Handle, Cast Non-Stick Pan | Made in Germany
€89.95*
%
Old price: €189.95*
You save 100,00 €
Available immediately, in 1-3 days at your home
STONELINE® Made in Germany!
The quality feature "Made in Germany" speaks for itself with this cookware cast by master hand. Thanks to the gravity die-cast aluminium the cookware remains tension-free and does not deform even at very high temperatures.
The extra strong base sits perfectly on the stove so that heat can be absorbed directly and quickly. This guarantees a very energy efficient cooking. Your dishes are prepared gently, vitamins and minerals are preserved as far as possible.
Thanks to the excellent heat conduction this cookware is ideal for frying, stewing, braising and steaming.
If you remove the handle, the cookware also fits perfectly in the refrigerator and is much easier and space-saving to store.
Thanks to our unique original STONELINE® non-stick coating you can prepare your meals with or without fat and oil and remove them easily from the cookware.
This top product of German workmanship convinces in functionality and quality!
1 cast wok, diam. approx. 32 cm, height: approx. 10 cm, approx. 4 l
High-quality products made in Germany:
The unique pans of STONELINE® stand for functionality and quality at the highest level!
Piece by Piece cast by hand.
• Material body made of gravity die-cast aluminium
- Piece by piece cast by hand
- Made of finest raw materials
- Tensionless casting method
• Induction base - with cold gas process CSi (Cold Spray induction) technology
- Excellent thermal conductivity and even heat distribution
- Faster heating thanks to modern cold gas process
- Extra strong and distortion free base 9-10mm
• Equipped with our unique Original STONELINE® coating
- Worldwide unique and scratch-resistant STONELINE® non-stick coating with real stone particles
- Vitamin-preserving cooking and frying without fat and oil
- No burning and no sticking
- Super easy to clean
• Reinforced rim
- Easy pouring without dripping
- Higher impact resistance
• With removable handles
- Perfect for use in the oven
- Space-saving storage
- Safe handling due to solid fixation
- Easy handling
• Convenient for roasting, steaming, stewing, gratinating in the oven
• Suitable for all kind of stove, also induction
• Cookware without handle ovenproof up to 260 °C
• Healthy and non-fat frying
Tips for cleaning and care:
We recommend cleaning your cookware thoroughly with water and a mild detergent before the first use. Spread a few drops of cooking oil with a kitchen towel onto the coating. No fat or oil is needed for further use.
Thanks to the Easy-Clean effect we recommend cleaning the cookware by hand. Wipe clean with hot water, a mild detergent and a soft sponge.
Coating:

Non-stick coating

Content:

past 5 l

Diameter:

32 cm

Handle:

Removable

Height:

5 to 10 cm

Lid:

No

Oven suitable until:

150 °C

, 180 °C

, 200 °C

, 220 °C

, 230 °C

, 240 °C

, 250 °C

, 260 °C

Series:

Flex

, Made in Germany

Type:

Woks
---
Kochgenuss mit dem Wok-Plus
Die Materialmasse lässt den Wok gut heiß werden und speichert die Hitze hervorragend. Die Antihaftbeschichtung hält, was sie verspricht und sorgt so für ein anhaftfreies Kochvergnügen. Die Gerichte sind - wie von einem Wok gewöhnt - mit einer besonderen Geschmacksnote beglückt.