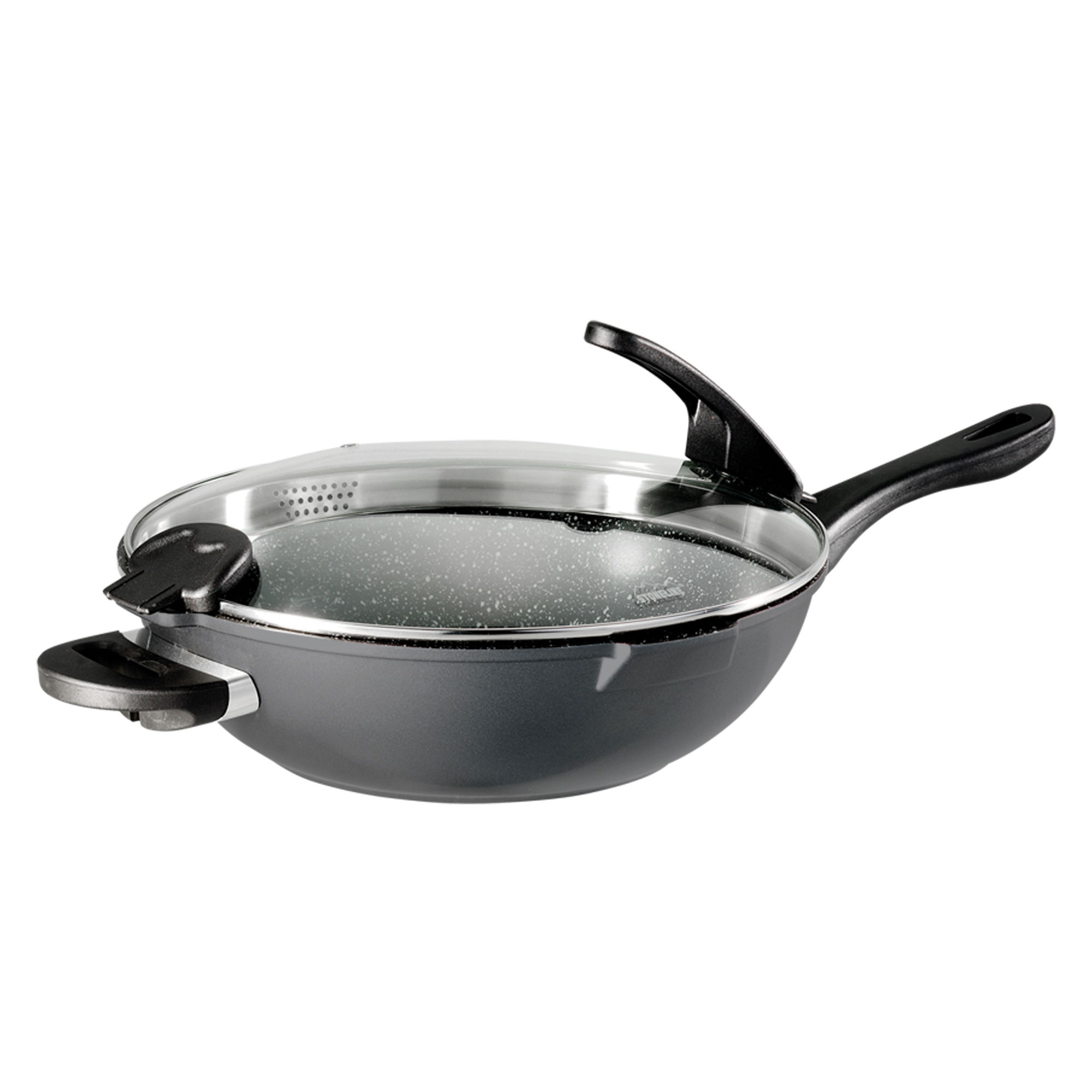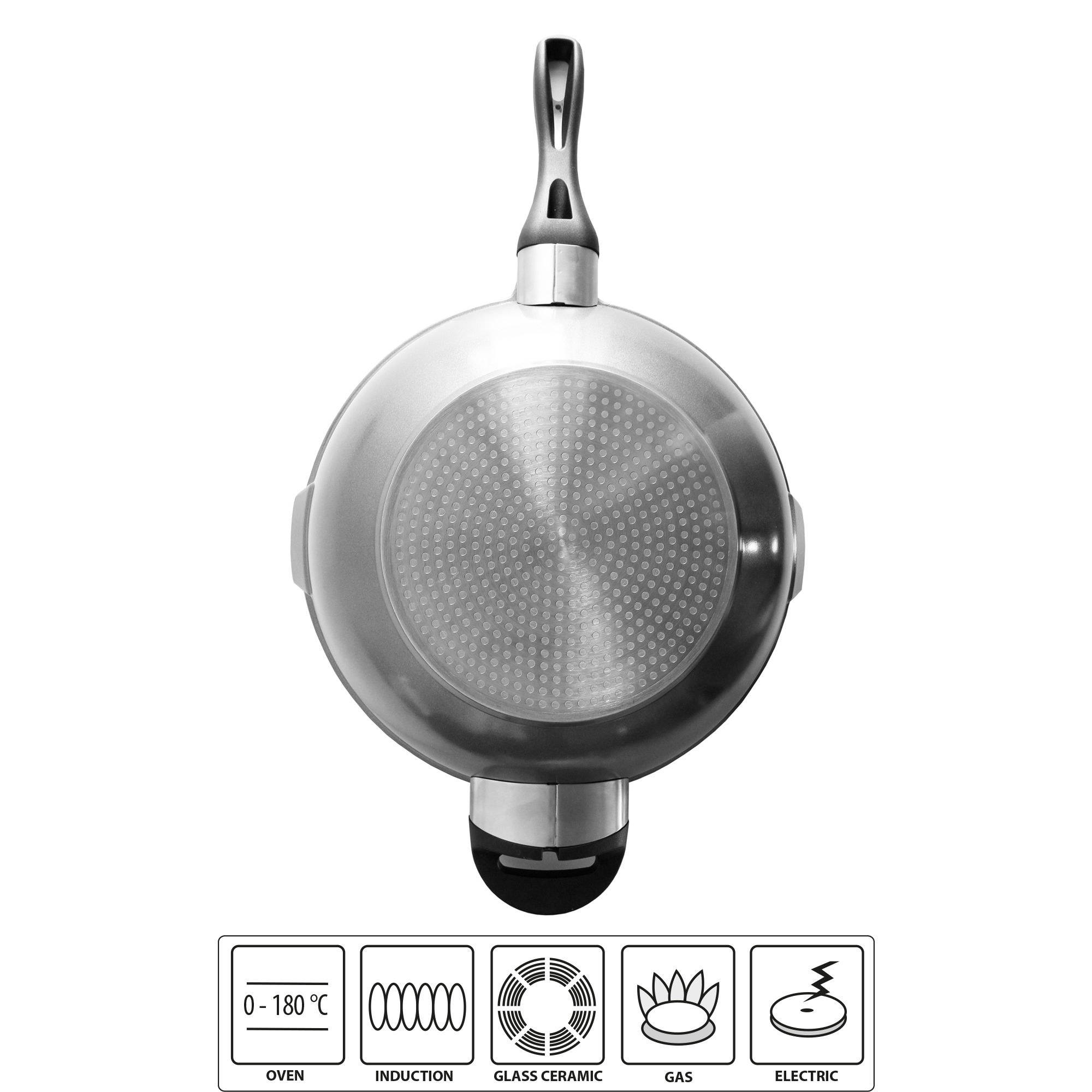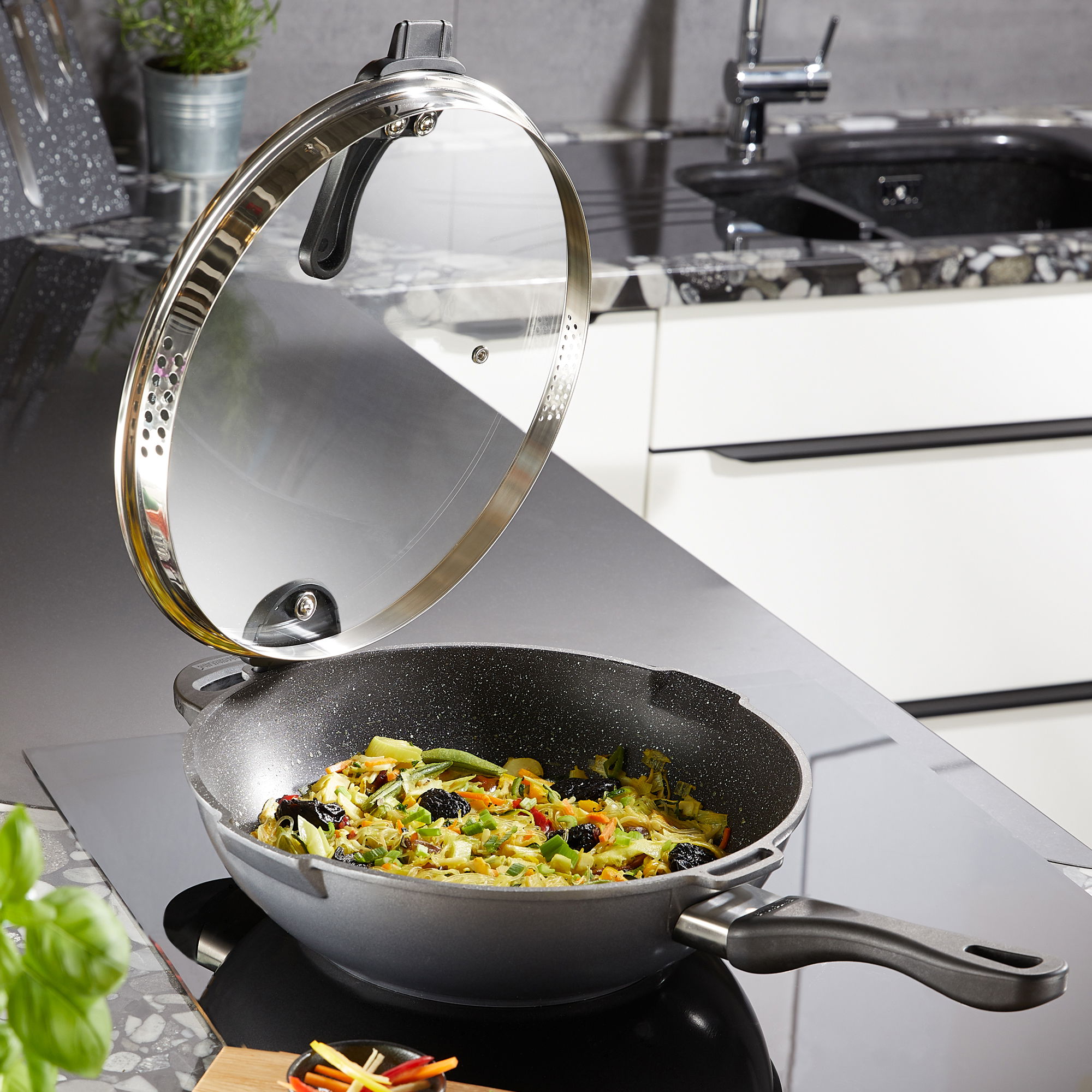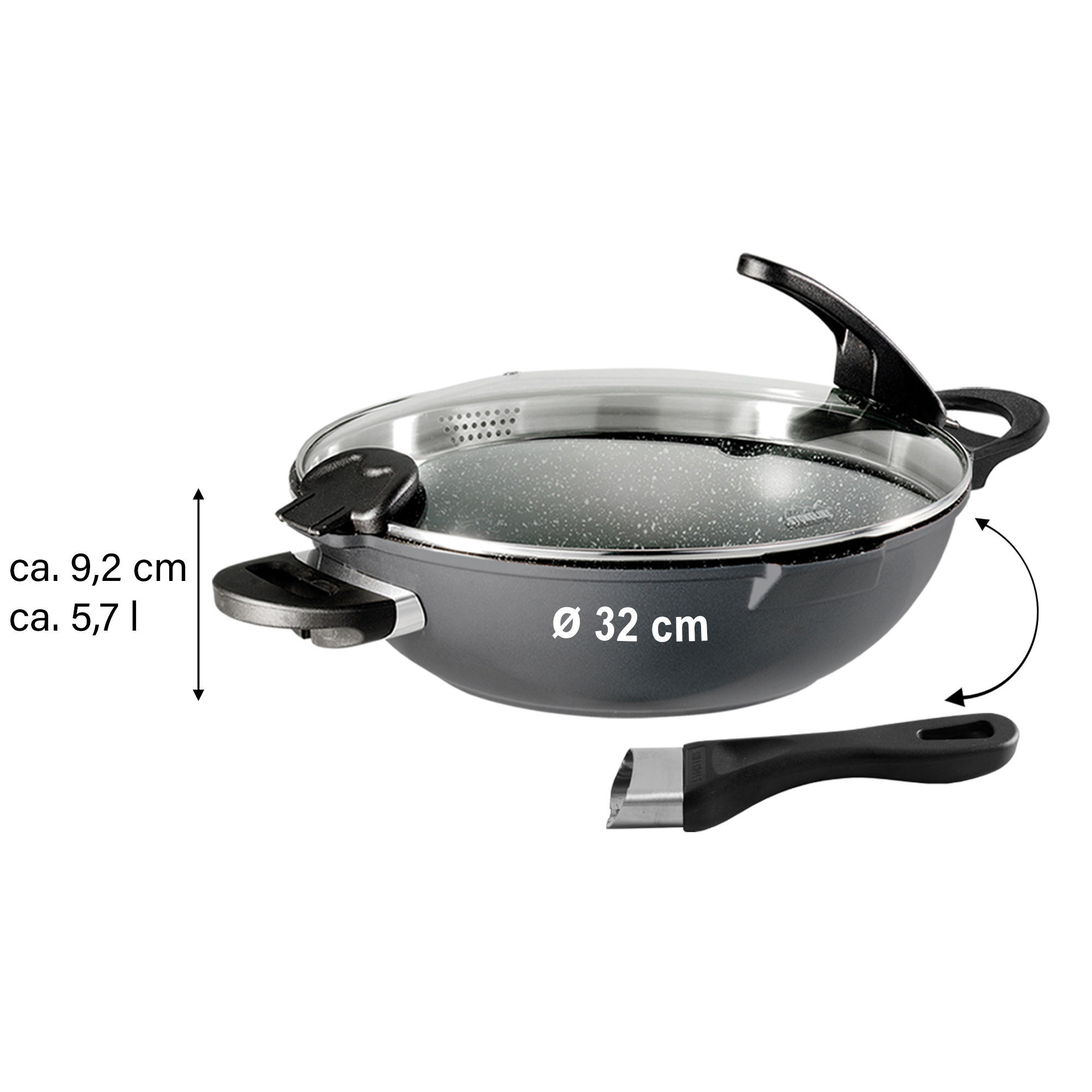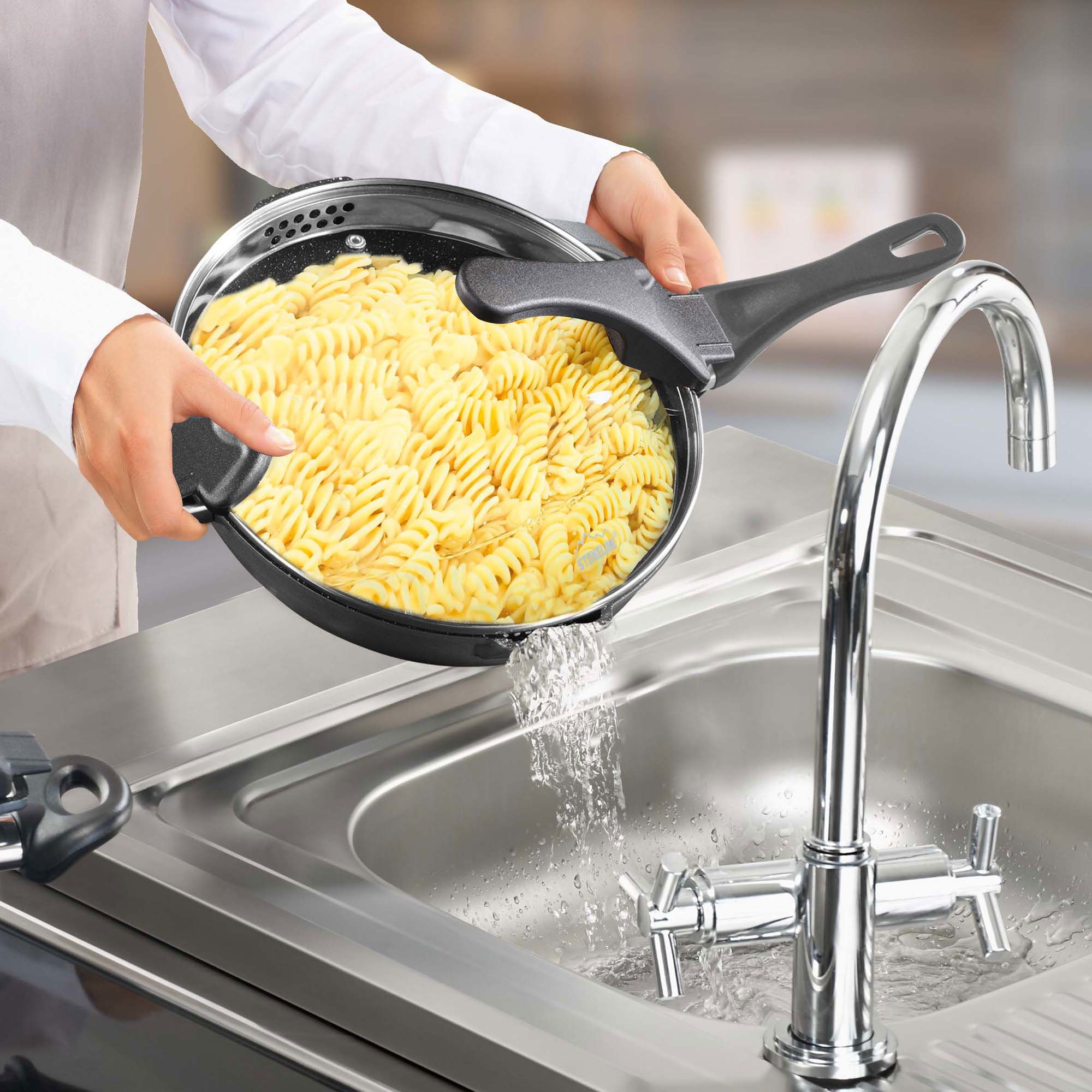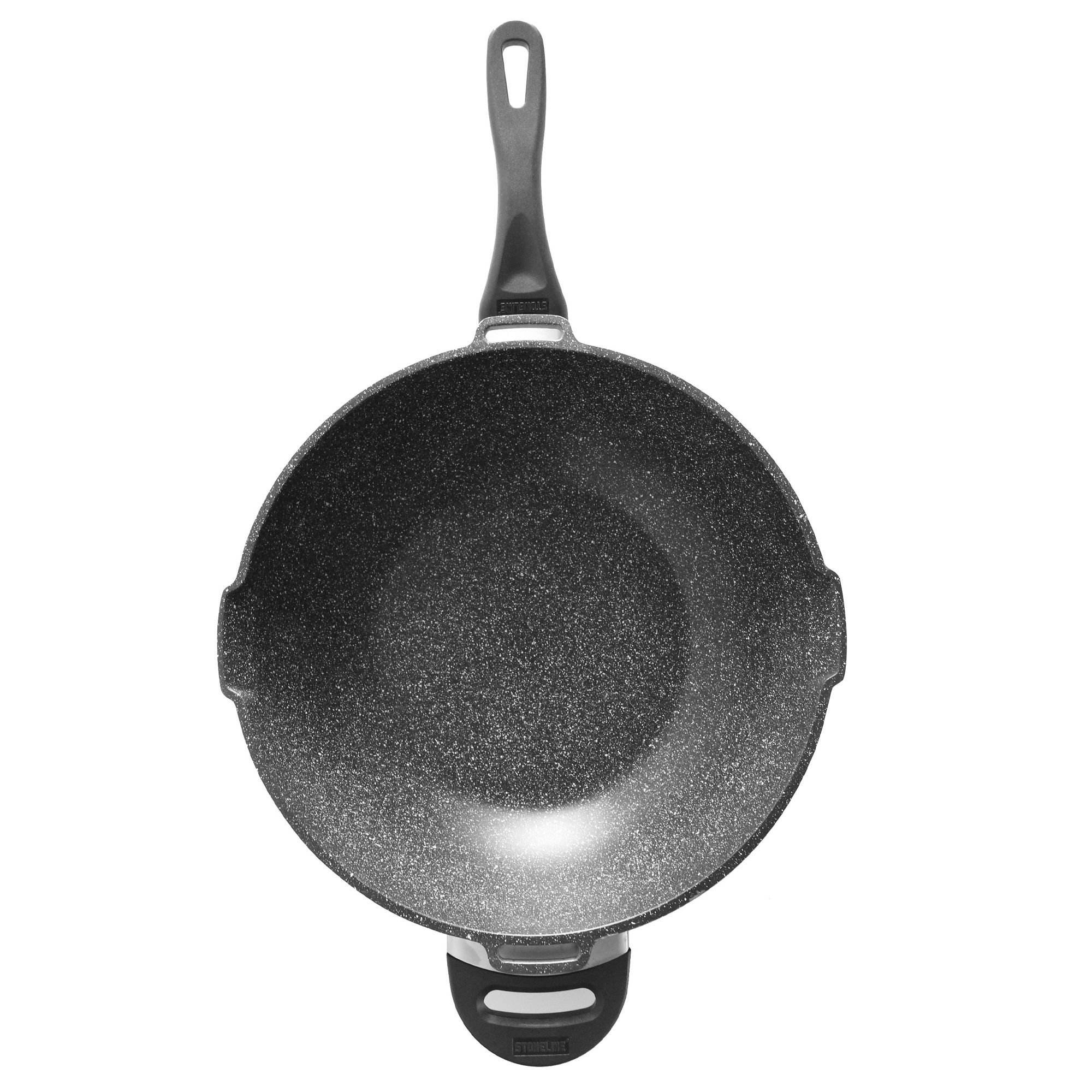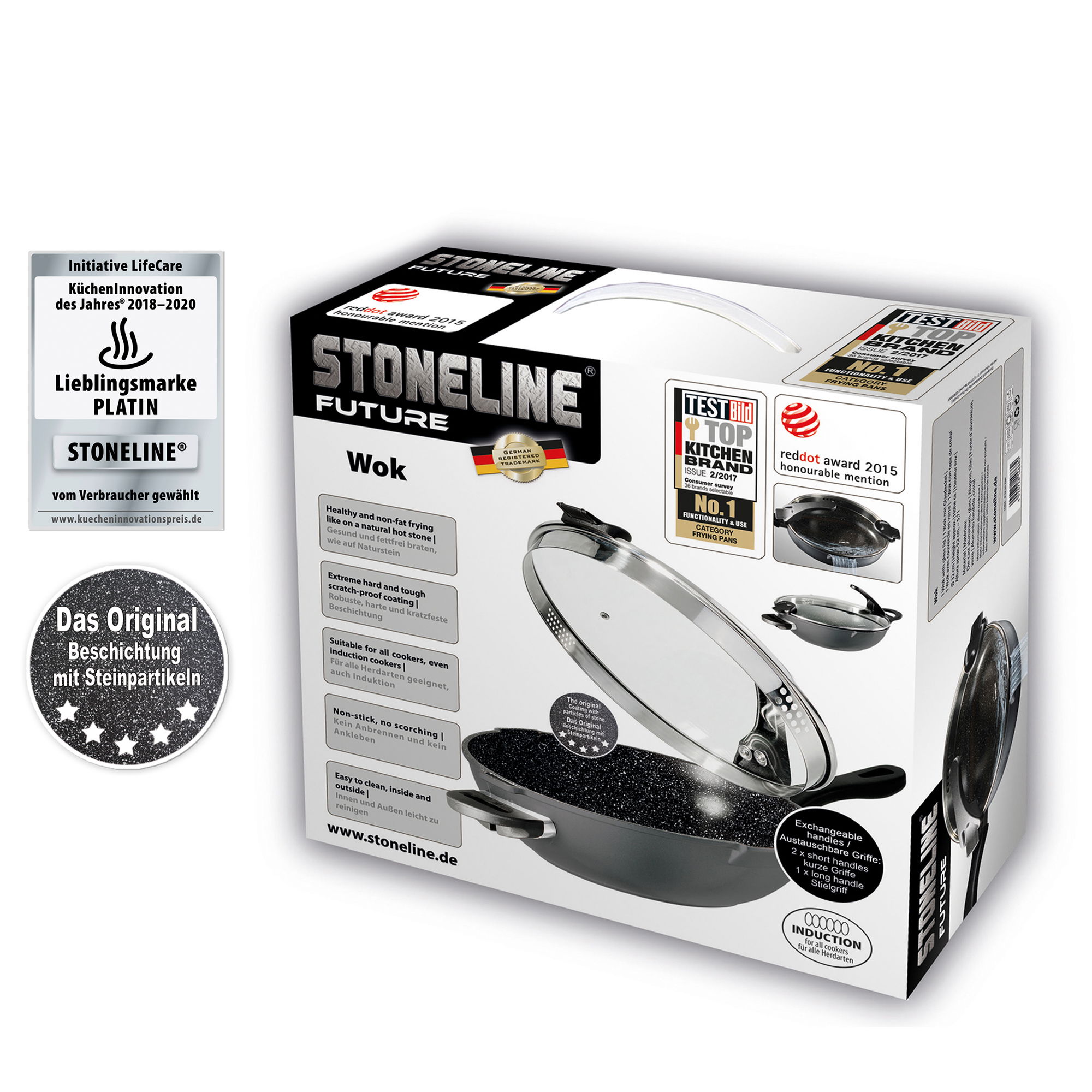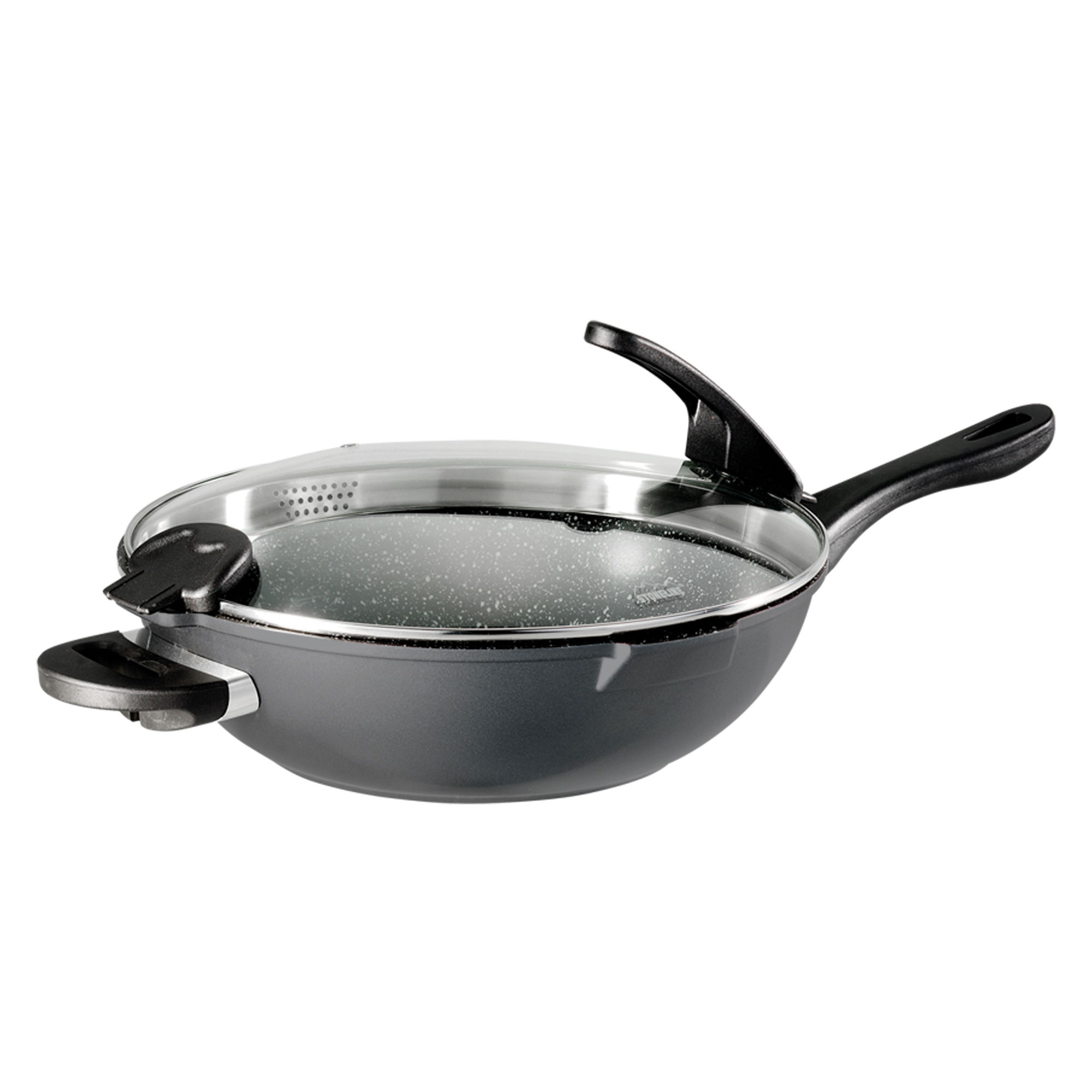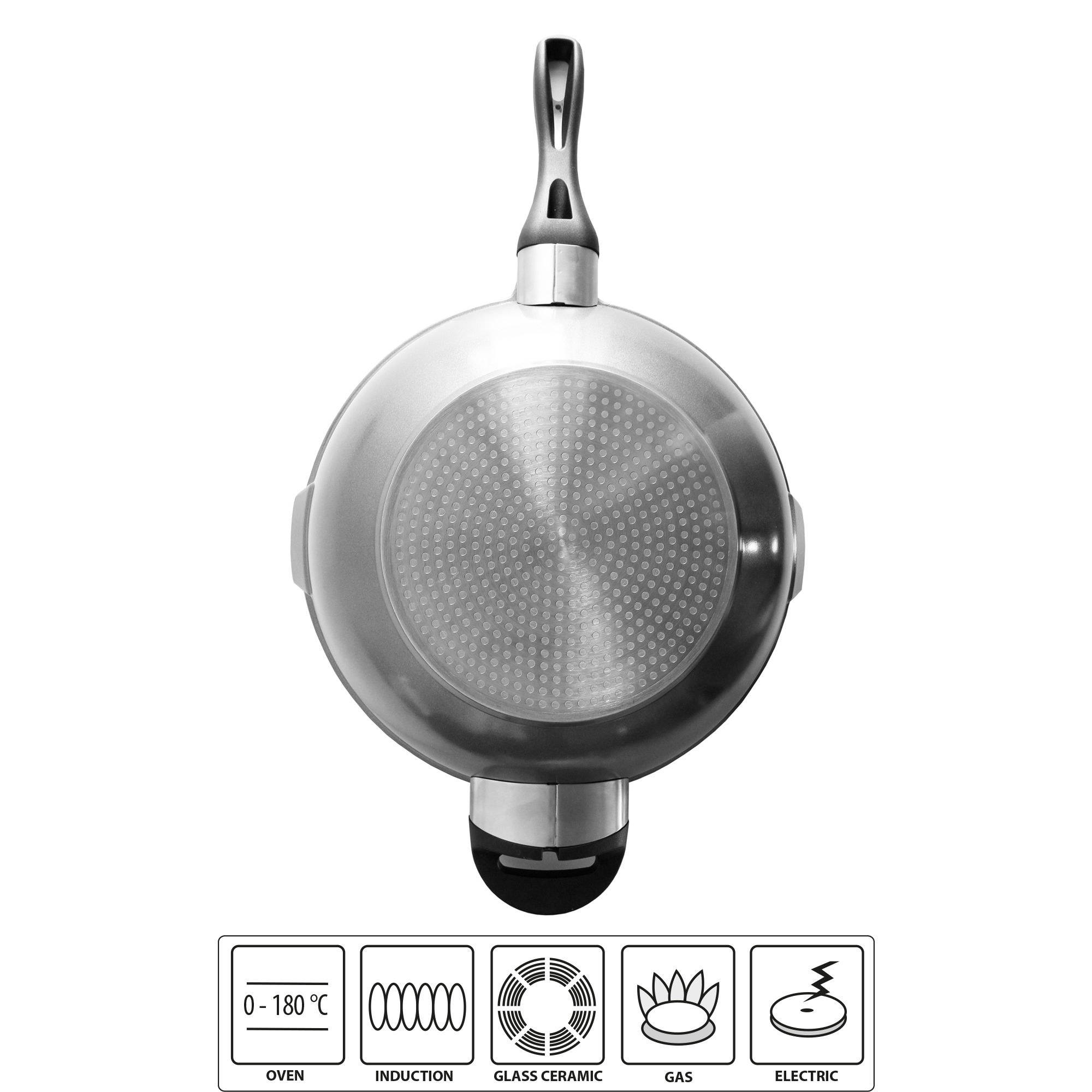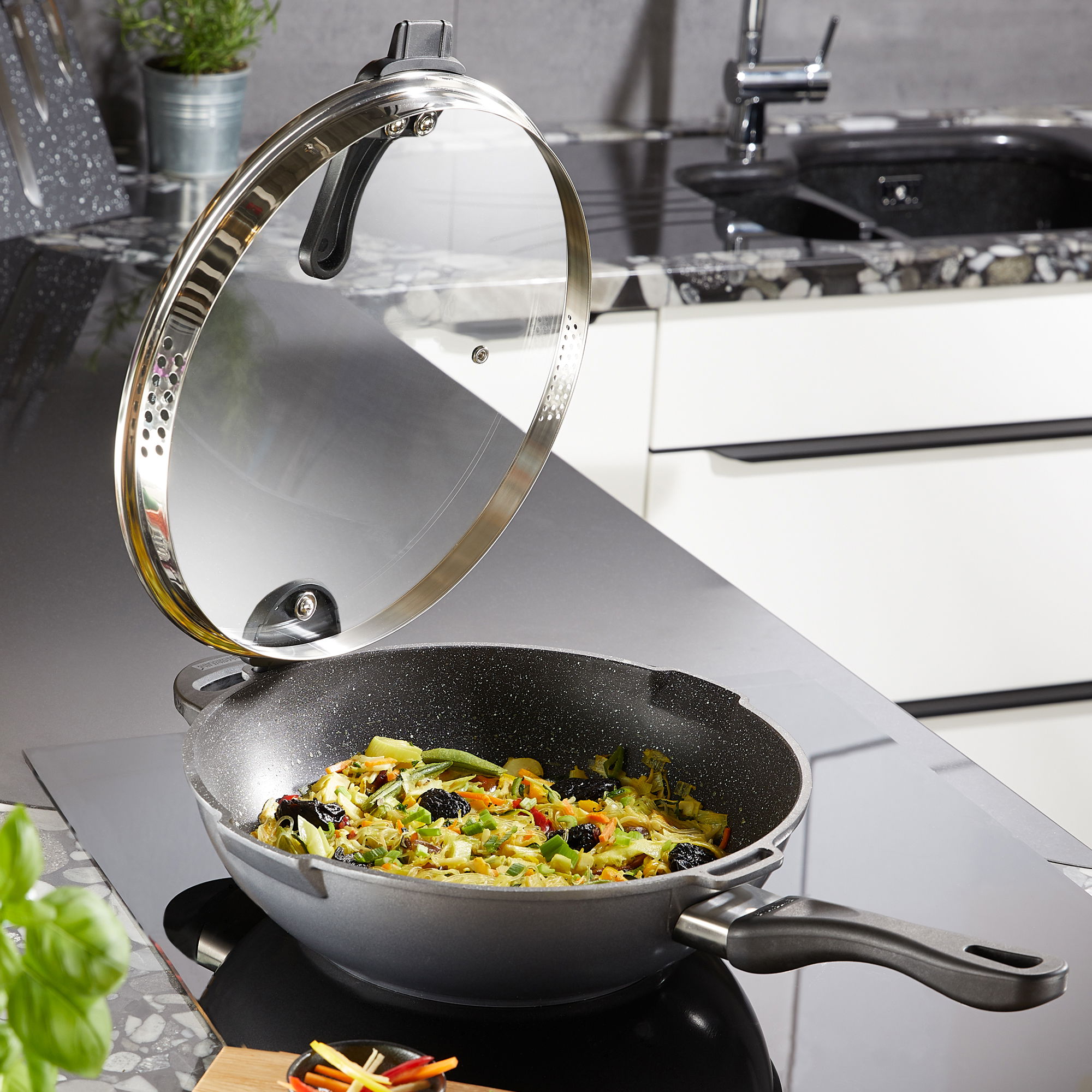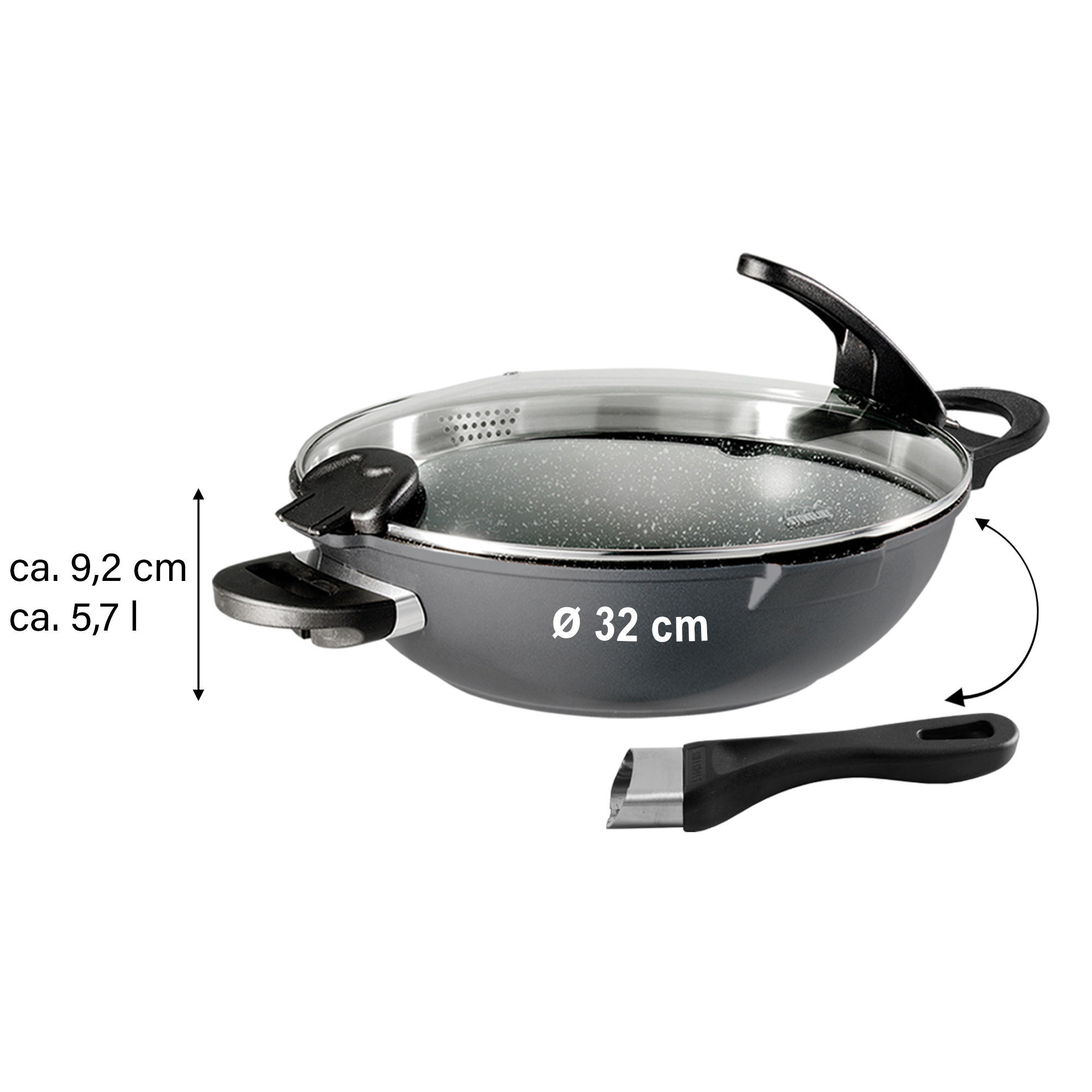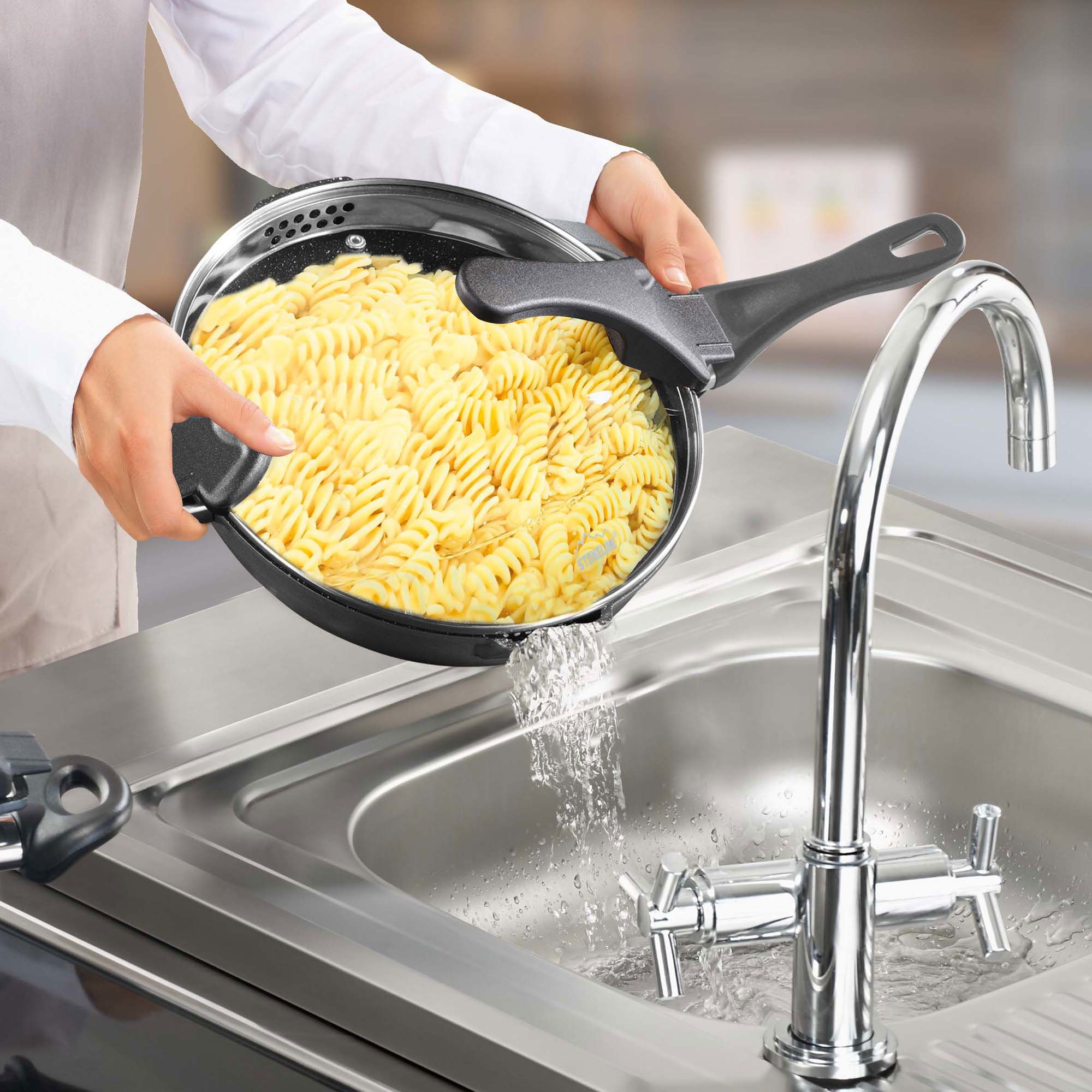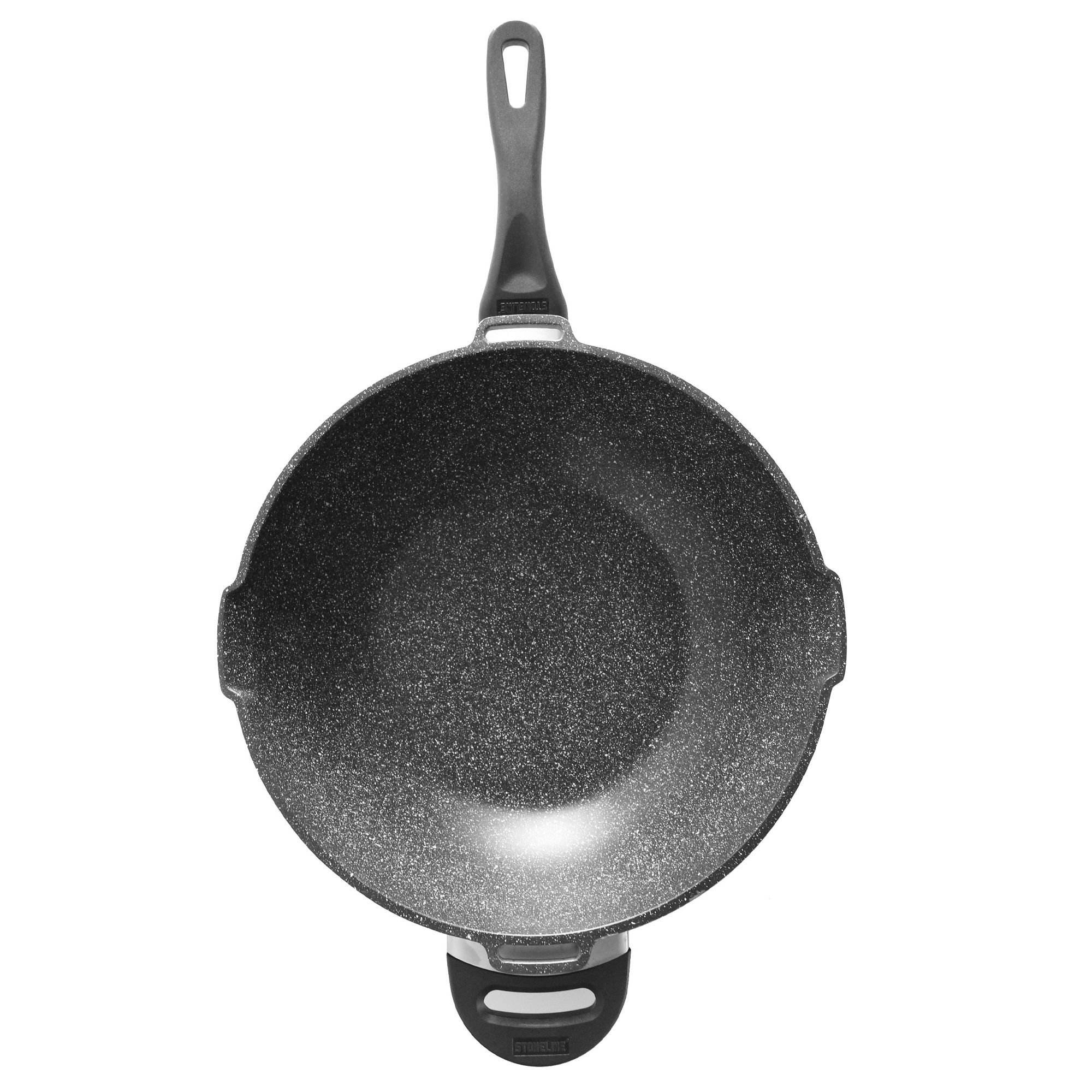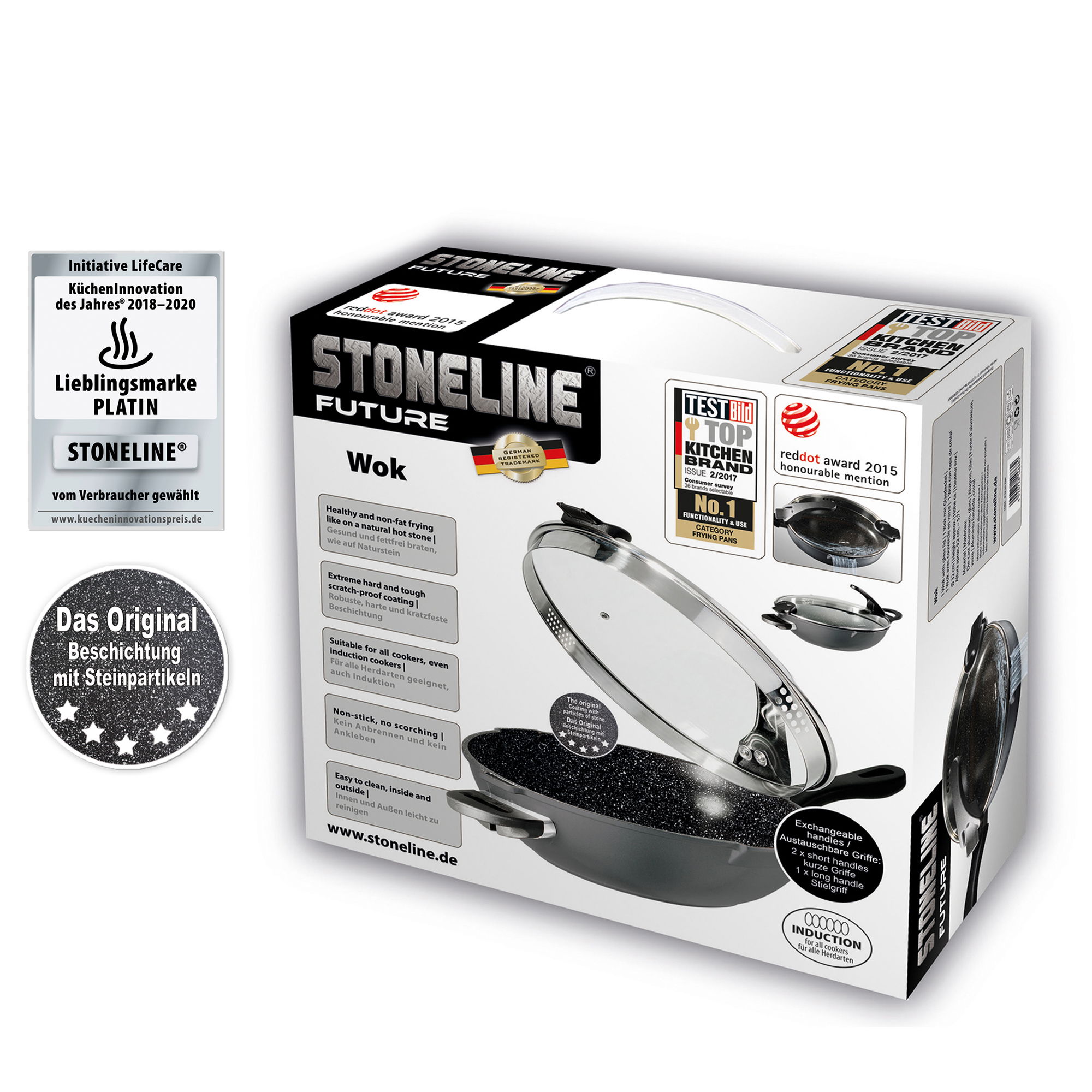 STONELINE® FUTURE wok pan 32 cm, interchangeable handles, with sieve glass lid, suitable for induction
€99.95*
%
Old price: €179.95*
You save 80,00 €
Available immediately, in 1-3 days at your home
STONELINE® – The original!
Healthy nonfat cooking and frying
The STONELINE® FUTURE series is suitable for right-handed and left-handed chefs!
Two handy spouts make it super easy to drain off liquids without spilling on the cooktop or worktop!
Another advantage of the STONELINE® FUTURE series is the integrated fine-mesh strainer and coarse strainer.
Additional strainers or bowls become a thing of the past – simply serve your pasta in the pot you cooked it in.
Thanks to the practical lid holders that the pots and pans of this series are equipped with, excess liquid simply flows back into the cookware. Avoid unneccessary water stains on the worktop.
The carefully designed lid knob provides lots of space and prevents your hands from being burned!
This wok is not only great for Asian delicacies, but thanks to its 32 cm diameter also ideal for fish, poultry, goulash and much more.
It comes with 1 long and 2 short handles that can be exchanged. Easy swivelling thanks to the long handle and the short counter handle and great for serving directly on the table. Thanks to the short handles, several pans can fit next to each other on the cooktop.
1 wok, ø approx. 32 cm, height: approx. 9.2 cm, approx. 5.7 l
1 sieve glass lid, ø approx. 32 cm
2 short handles
1 long handle
The most important advantages of STONELINE® cookware at a glance:
Scratch-proof non-stick STONELINE® coating
Vitamin-friendly cooking and frying without fat and oil
Perfect results and crispy meat
Also suitable for VEGETATRIANS: Vegetables stay crunchy and juicy
No burning and no sticking
Super easy to clean
Extra strong, non-distorting base
Base thickness: 4.5 mm
Suitable for all cookers including induction cookers
Oven-proof up to 180 °C
Material: die-cast aluminium
Tips for cleaning and care:
We recommend cleaning your cookware thoroughly with water and a mild detergent before the first use.
Apply a few drops of cooking oil with a kitchen towel onto the coating.
No fat or oil is needed for further use!
Thanks to the Easy-Clean effect we recommend cleaning the cookware by hand. Wipe clean with hot water, a mild detergent and a soft sponge.
Coating:

Non-stick coating

Content:

past 5 l

Diameter:

32 cm

Handle:

Fixed

Height:

5 to 10 cm

Lid:

Yes

Oven suitable until:

150 °C

, 180 °C

Series:

Future

Type:

Woks
---
Ich kaufe diesen Wock bereits das 4te Mal. Das ist ein wirklich toller Topf. Ich koche jeden Tag damit u. er hält dafür wirklich lang.
hält bei intensiver benutzung
Wir kochen viel, und wenn man viel chinesisch kocht, braucht man einen ordentlichen Wok. Aber wir möchten gerne gesunder ernähren, nicht so fettig wie beim Restaurant. Dieser Wok ist dafür ideal. Sie ist groß genug für fast alle Gerichte die wir zu Hause kochen, ist leicht genug zum werf-flip und da klebt nicht an. Das ist mittlerweile unser zweiter Wok gleicher Bau. Der letzte hat 5 oder 6 Jahre gehalten und wir nutzen es oft, mindestens 6 Tage in der Woche und manchmal sogar mehrmals am Tag. Zu beachten ist: wir haben es nie "trocken" anbrennen lassen. Nie in Geschirrspüler gewaschen. Nie Metal Werkzeug genutzt, nur Bambus oder Silikon.
Mega und hält was es verspricht
Einmalig für kurzgebratenes mit Gemüse
Your product is very in quality