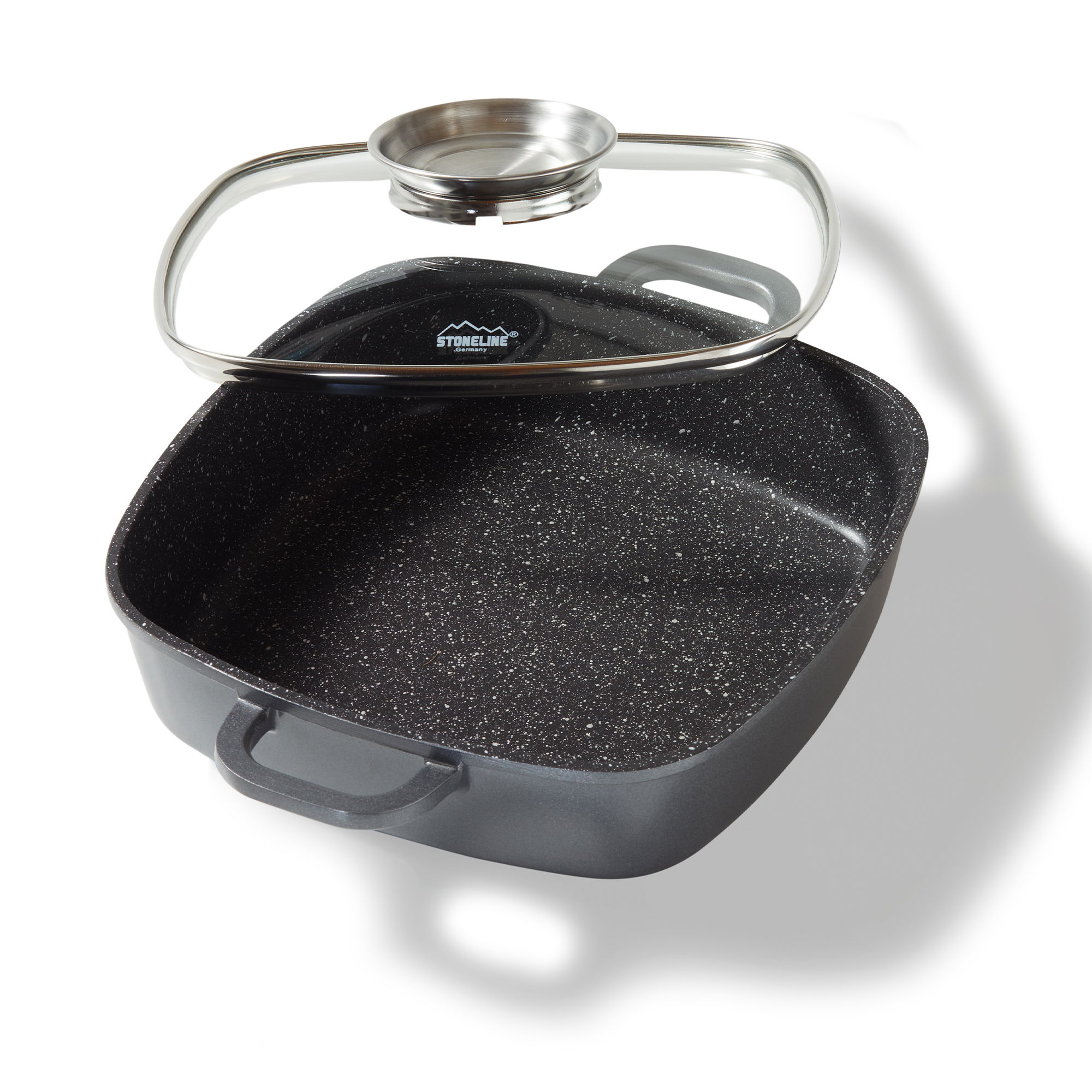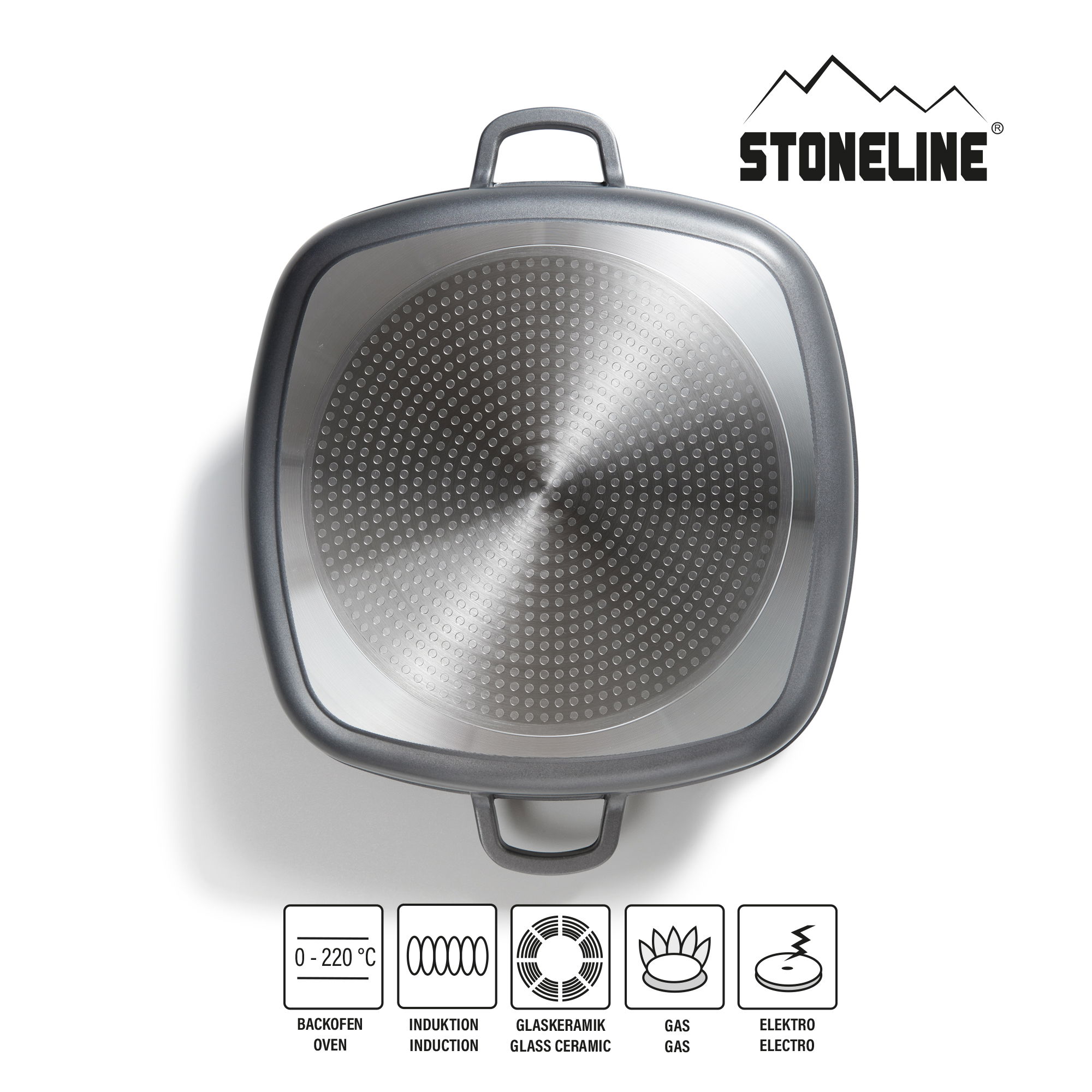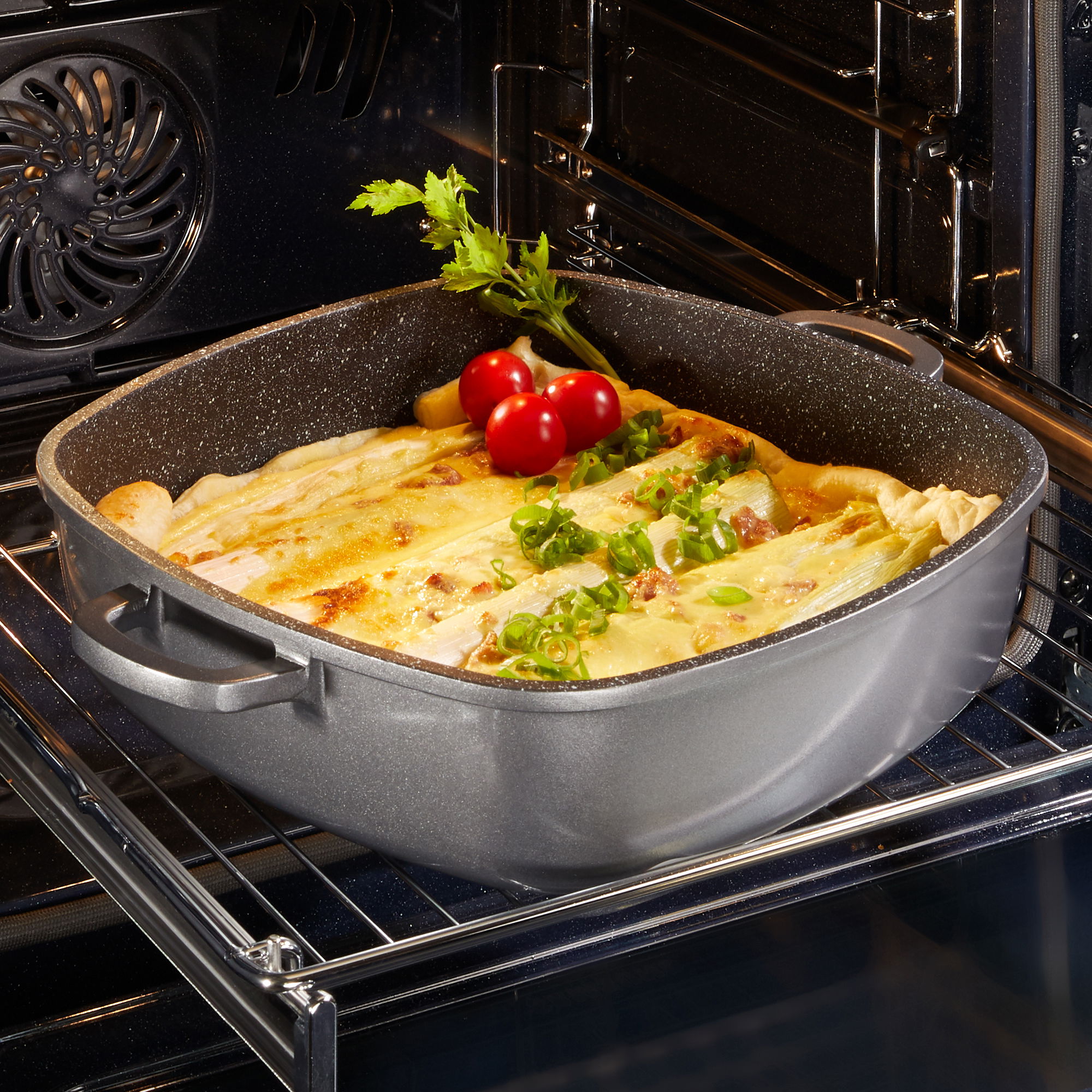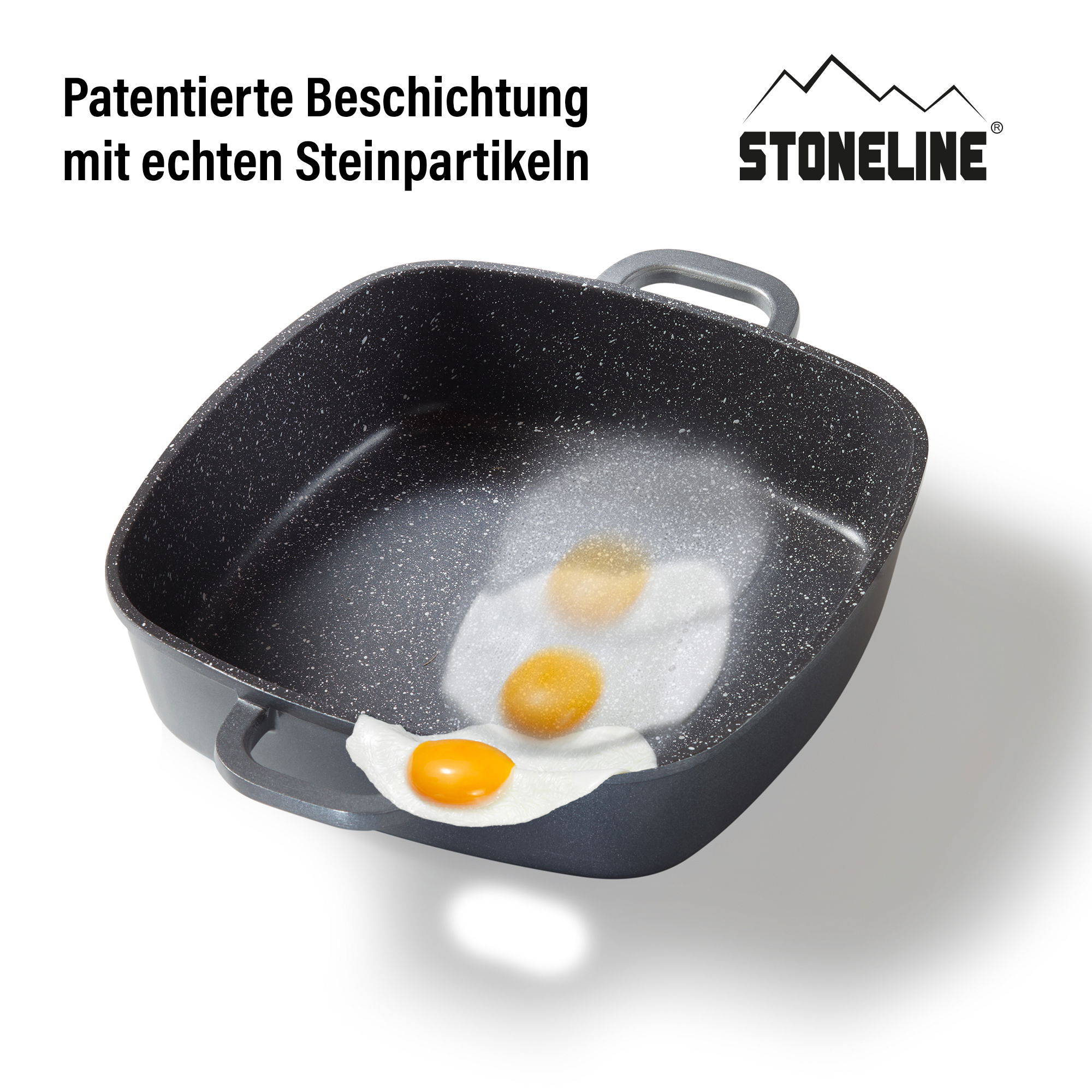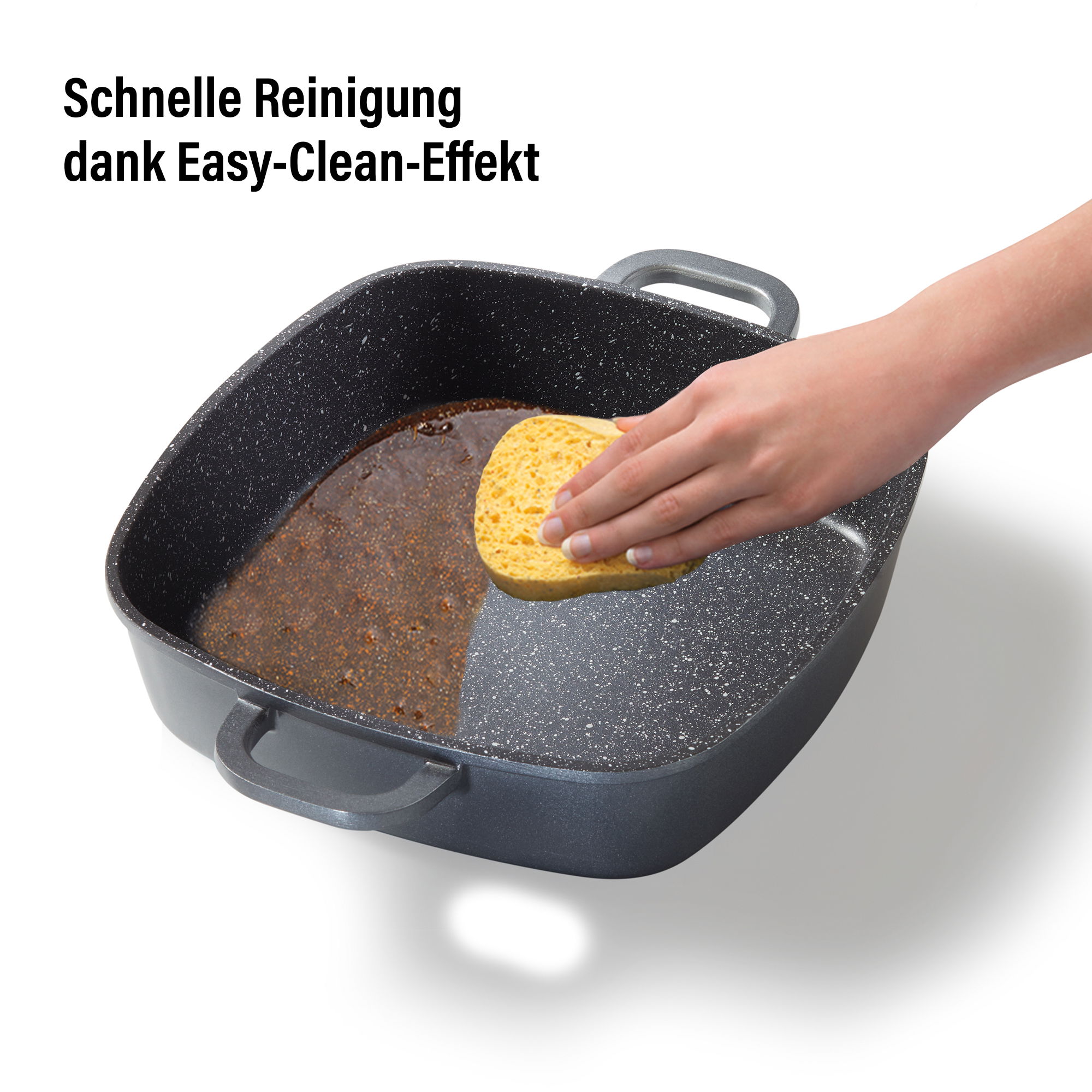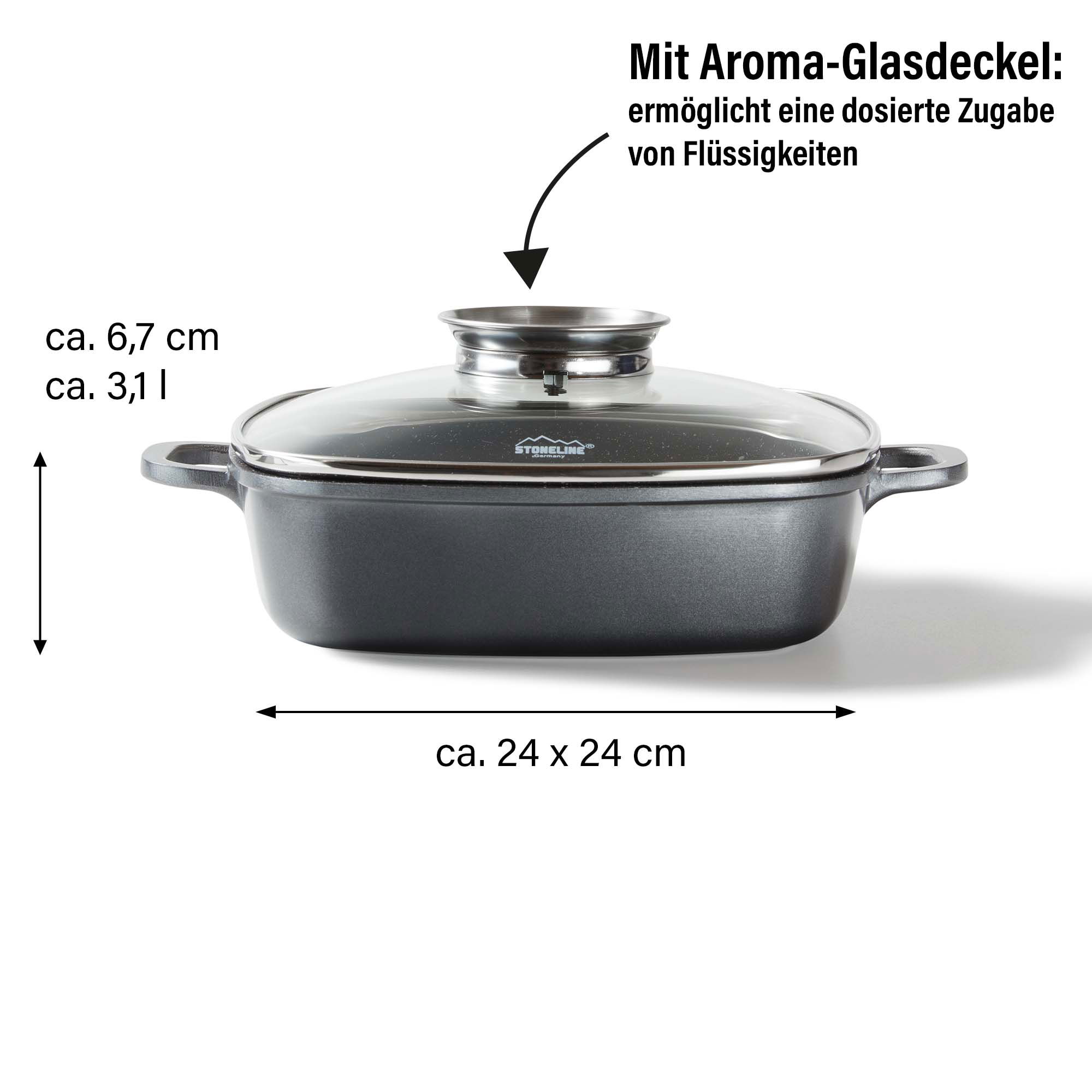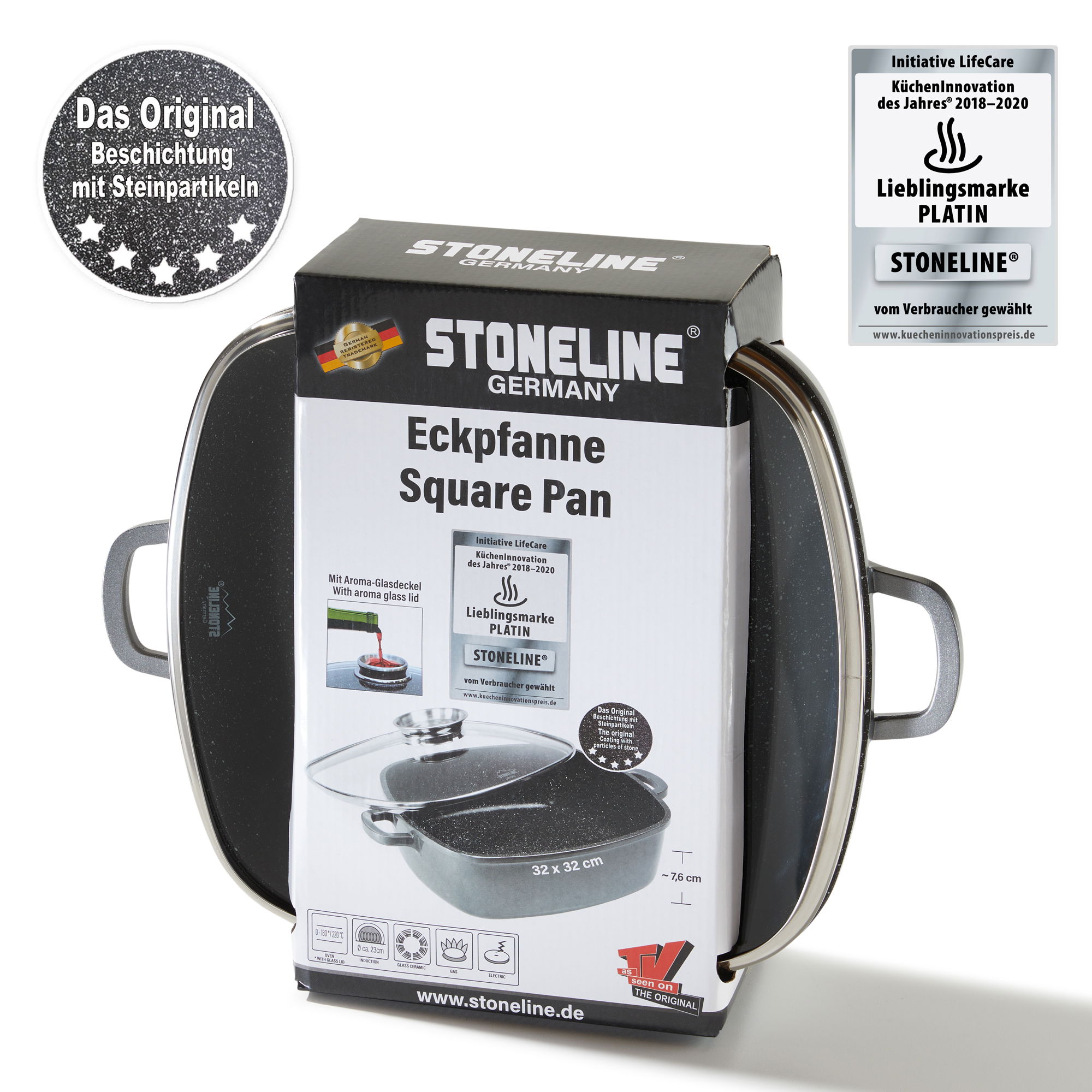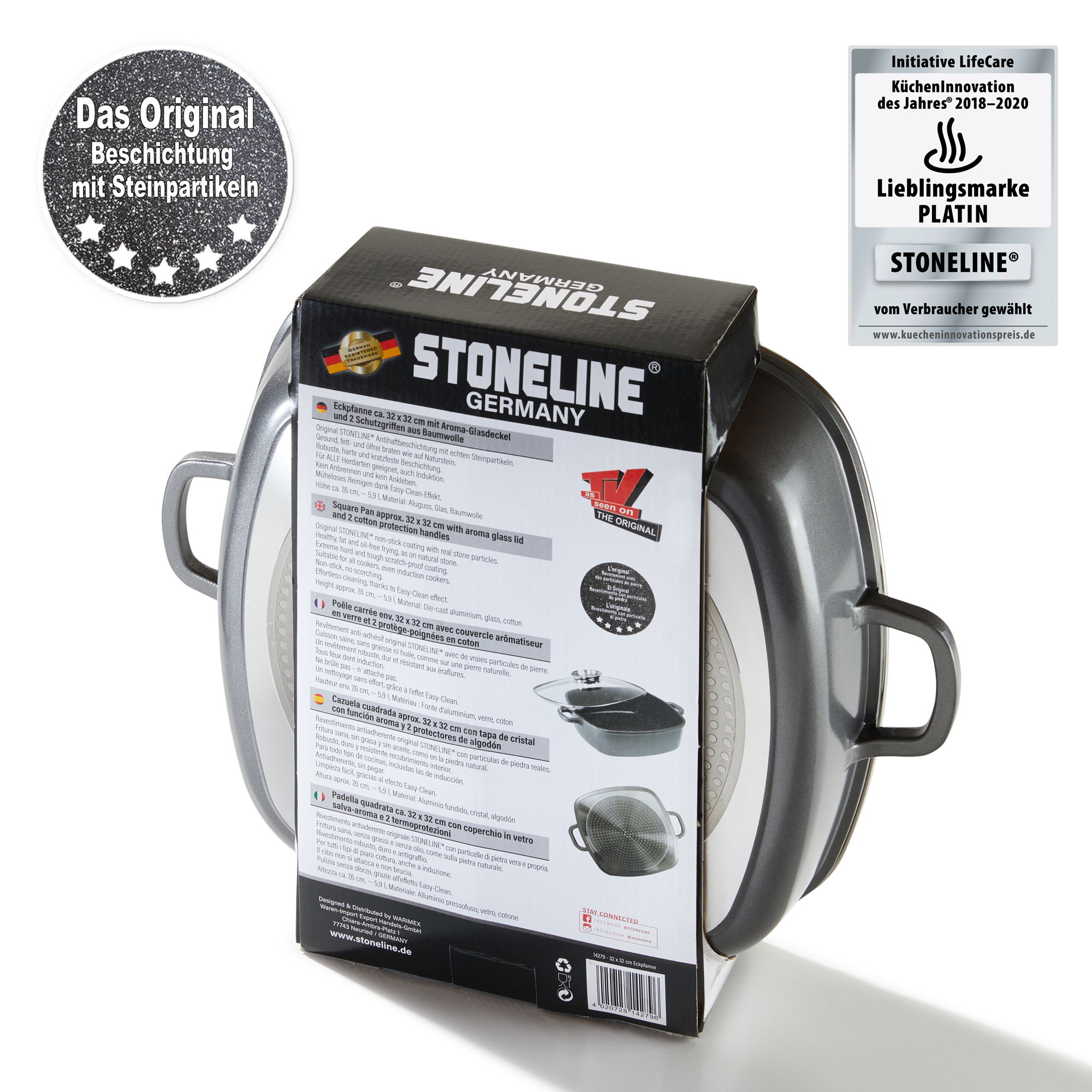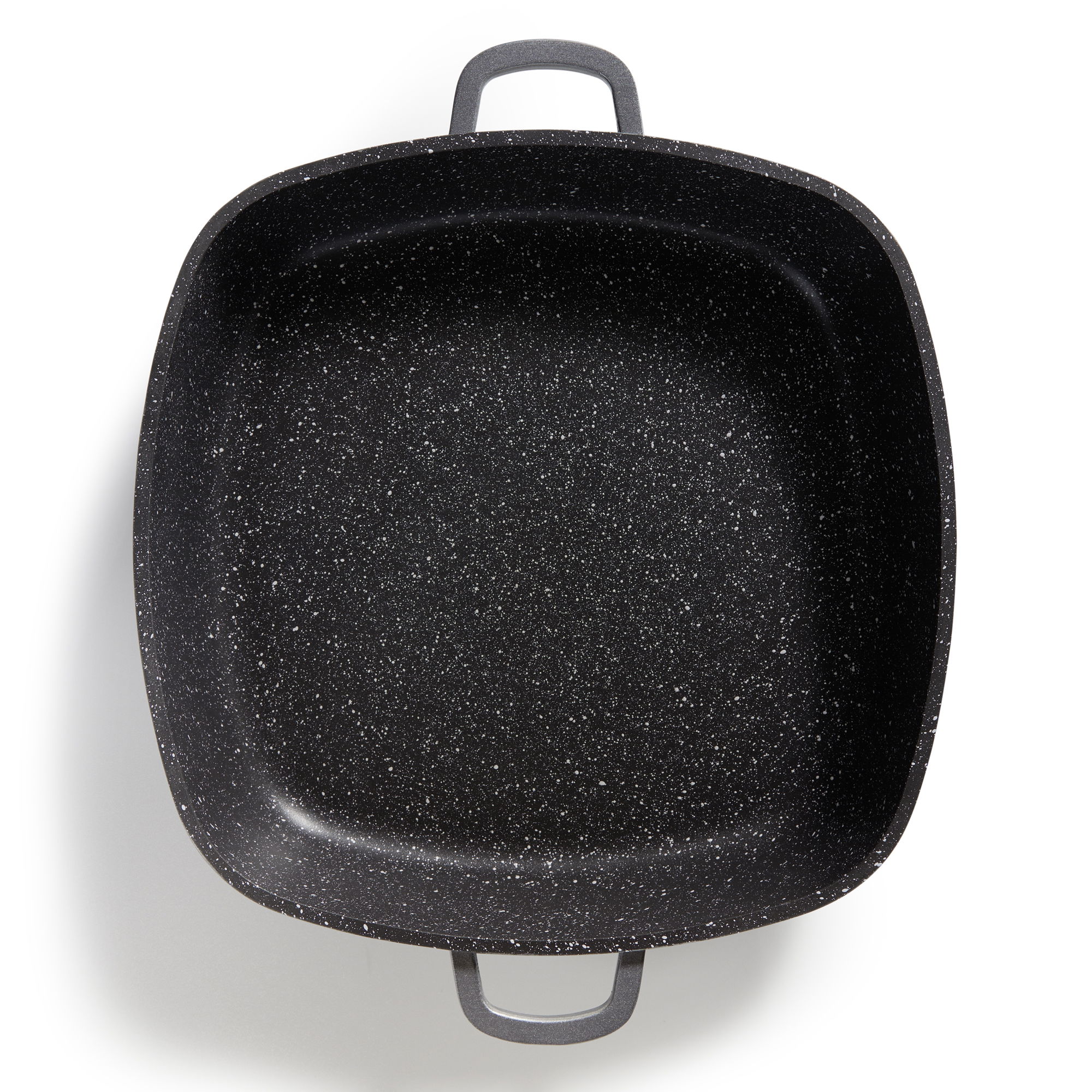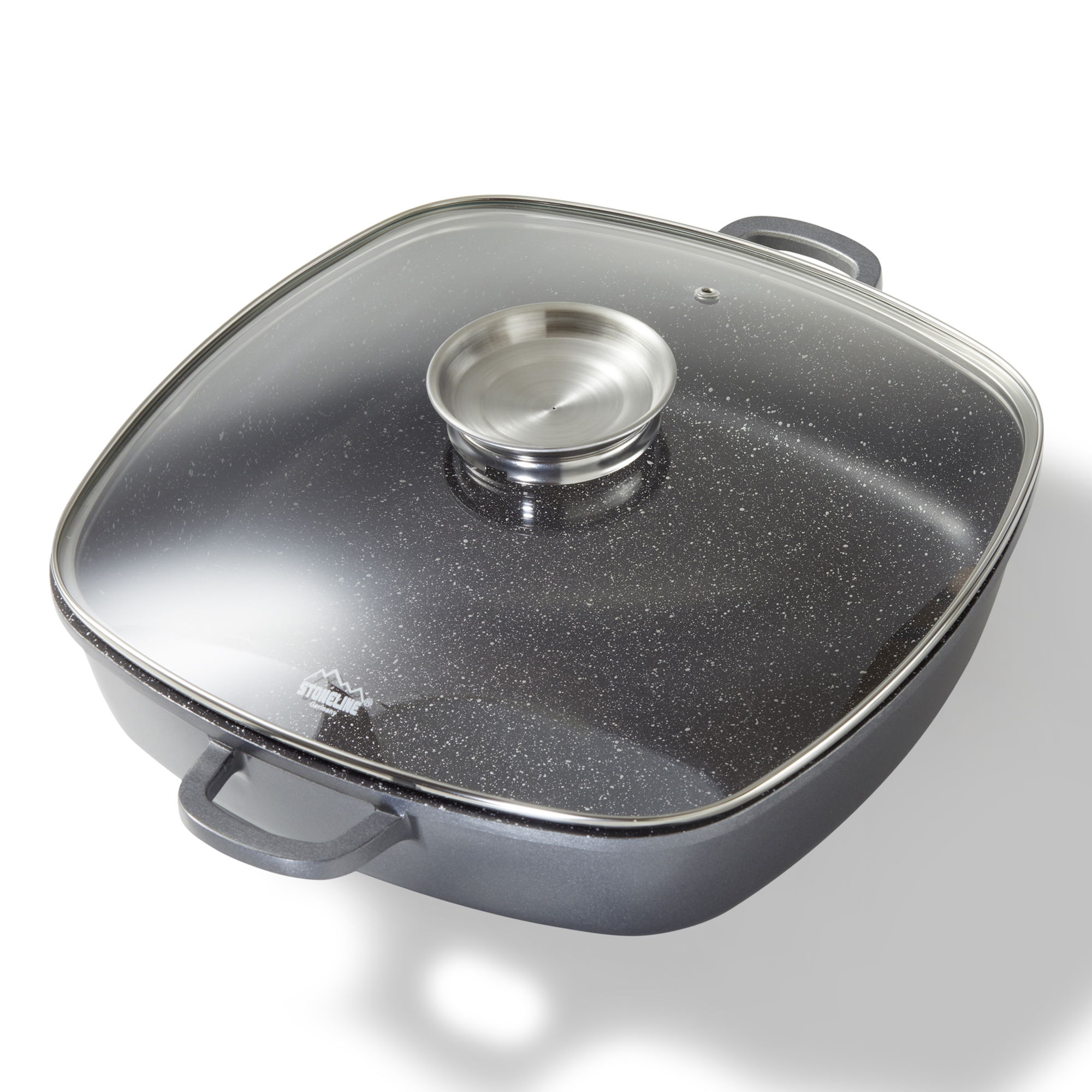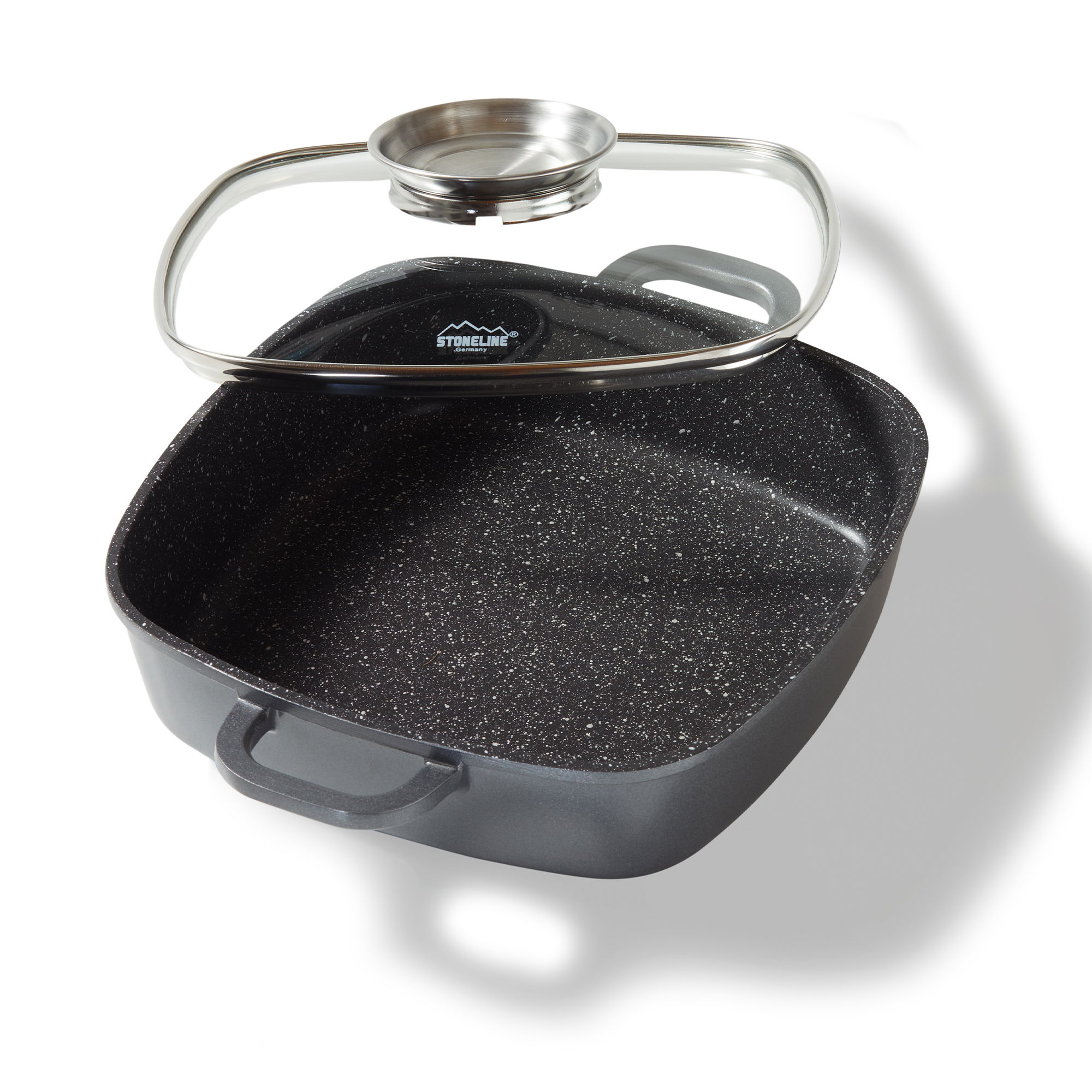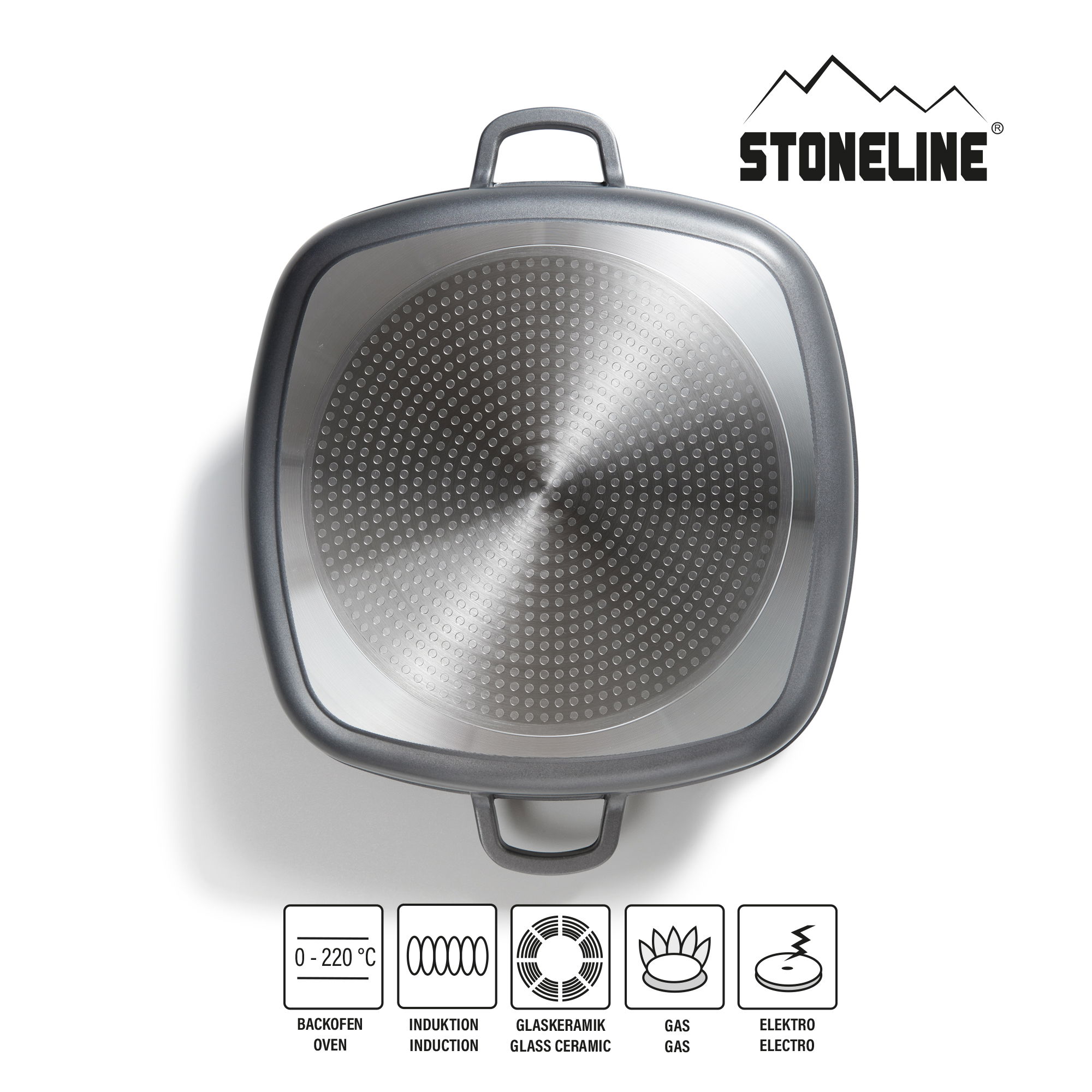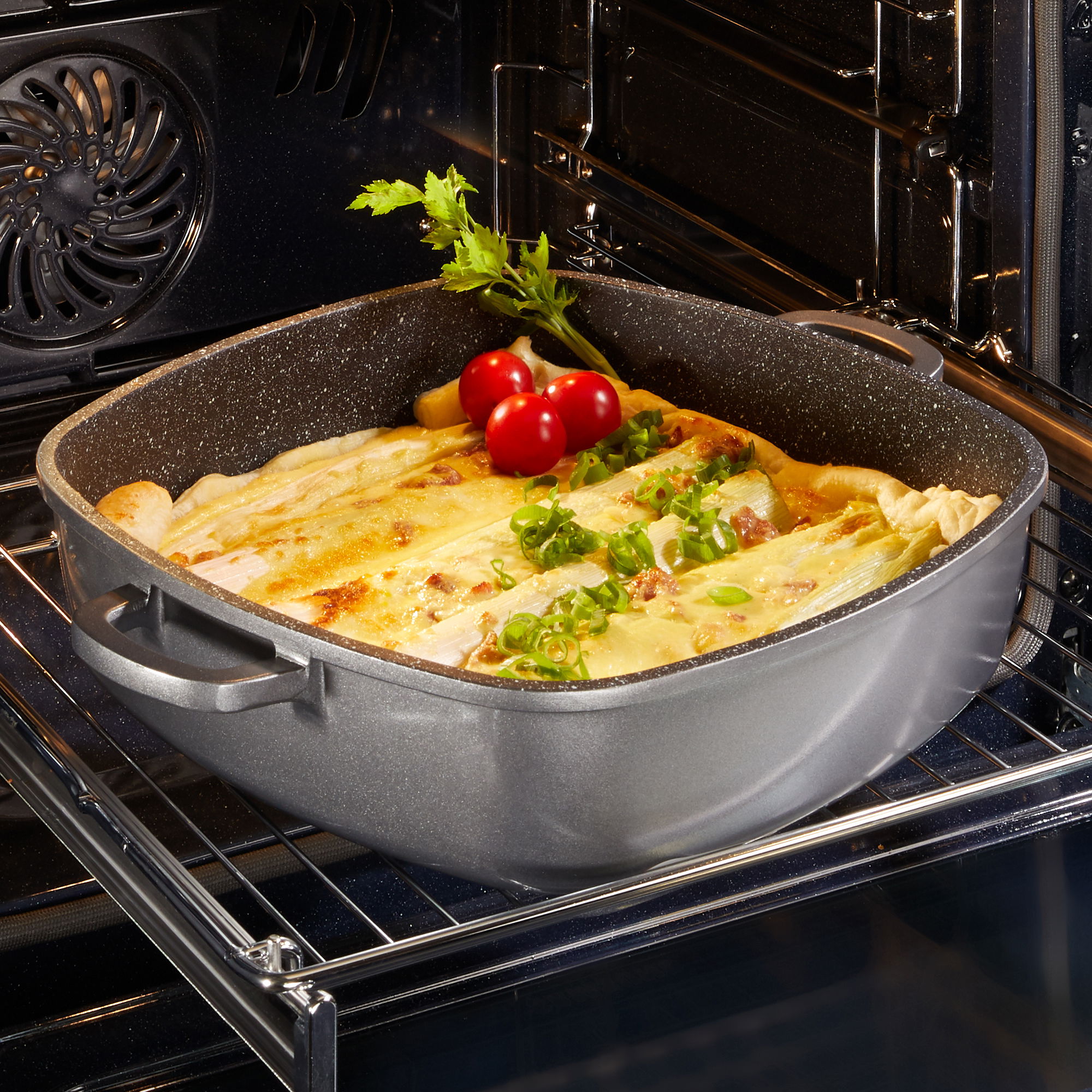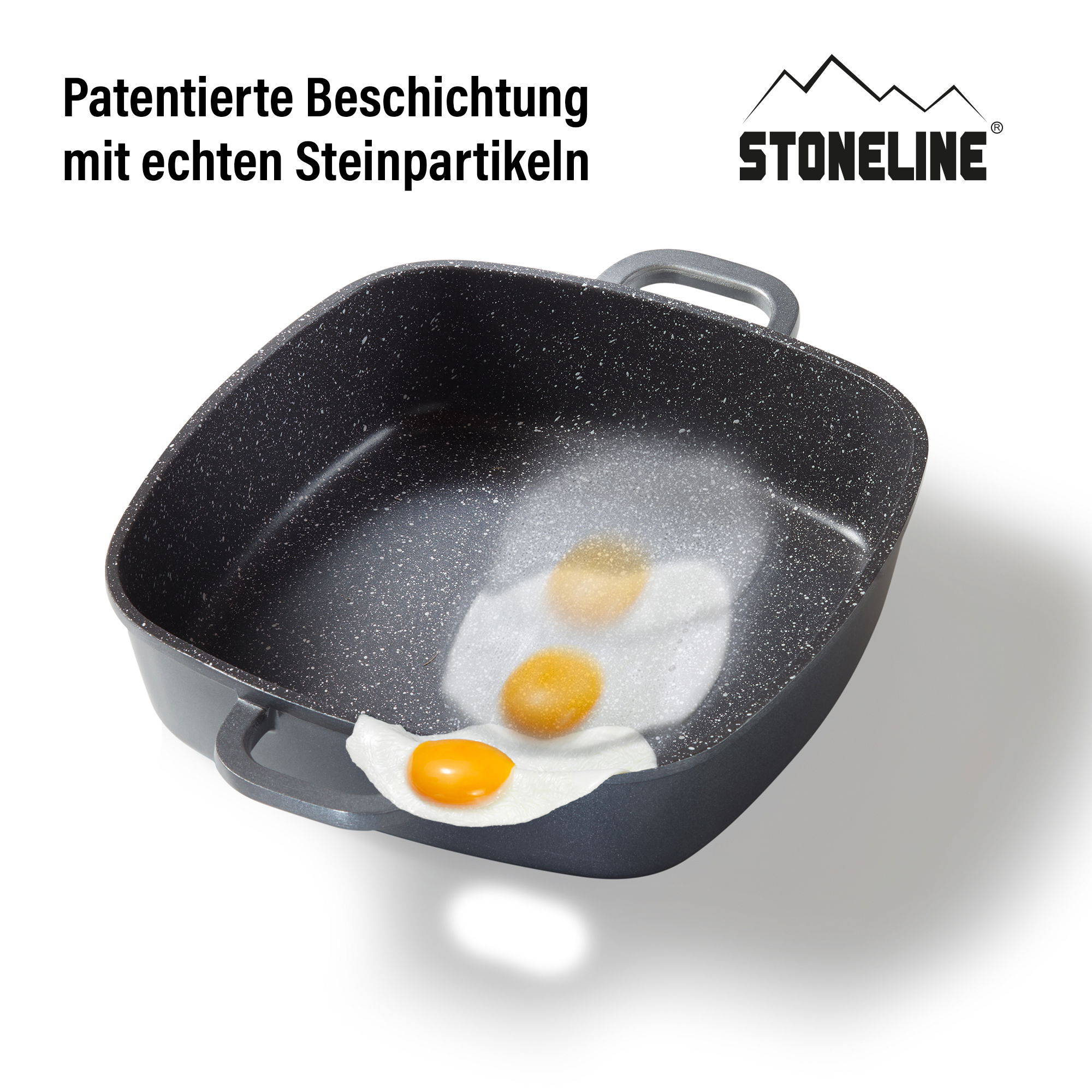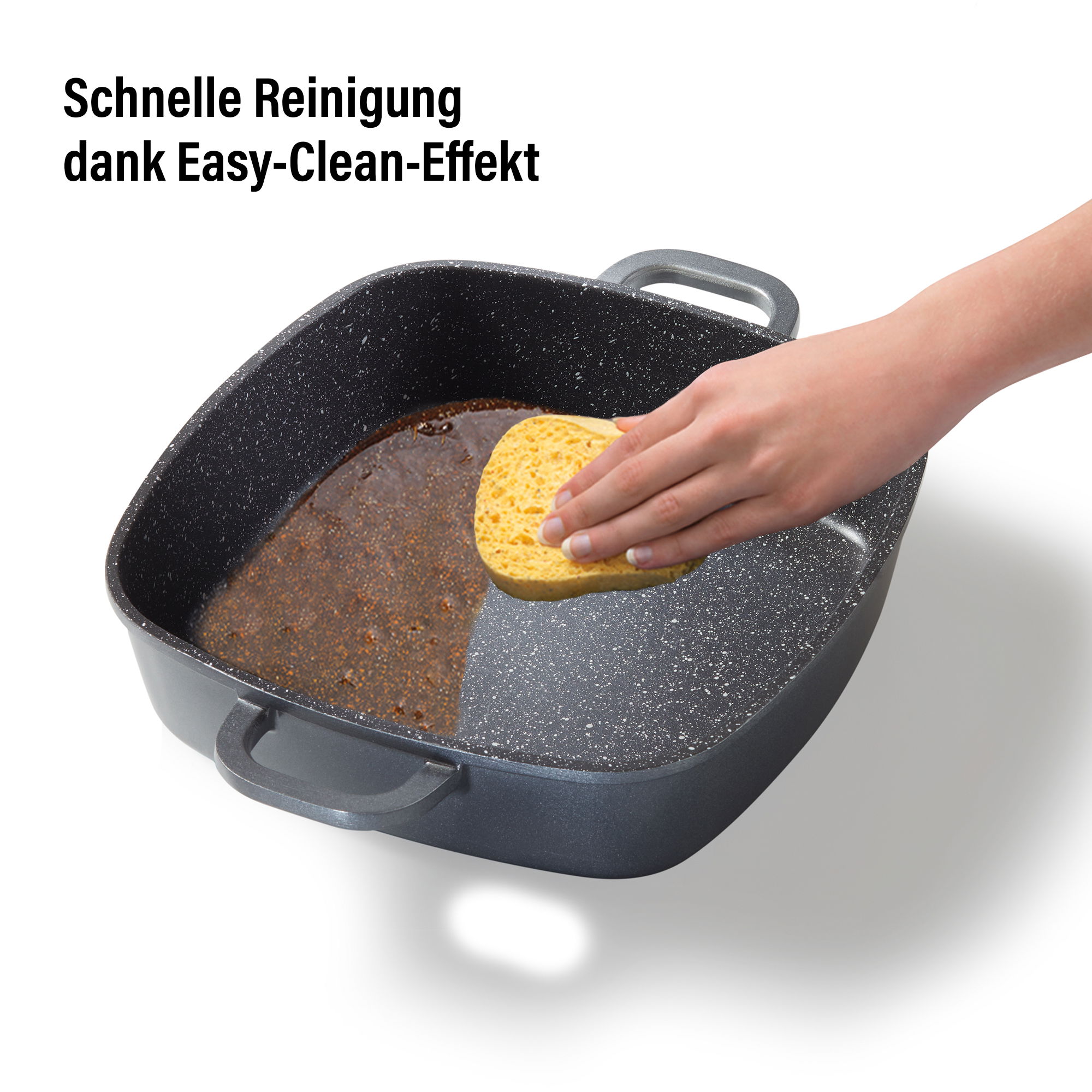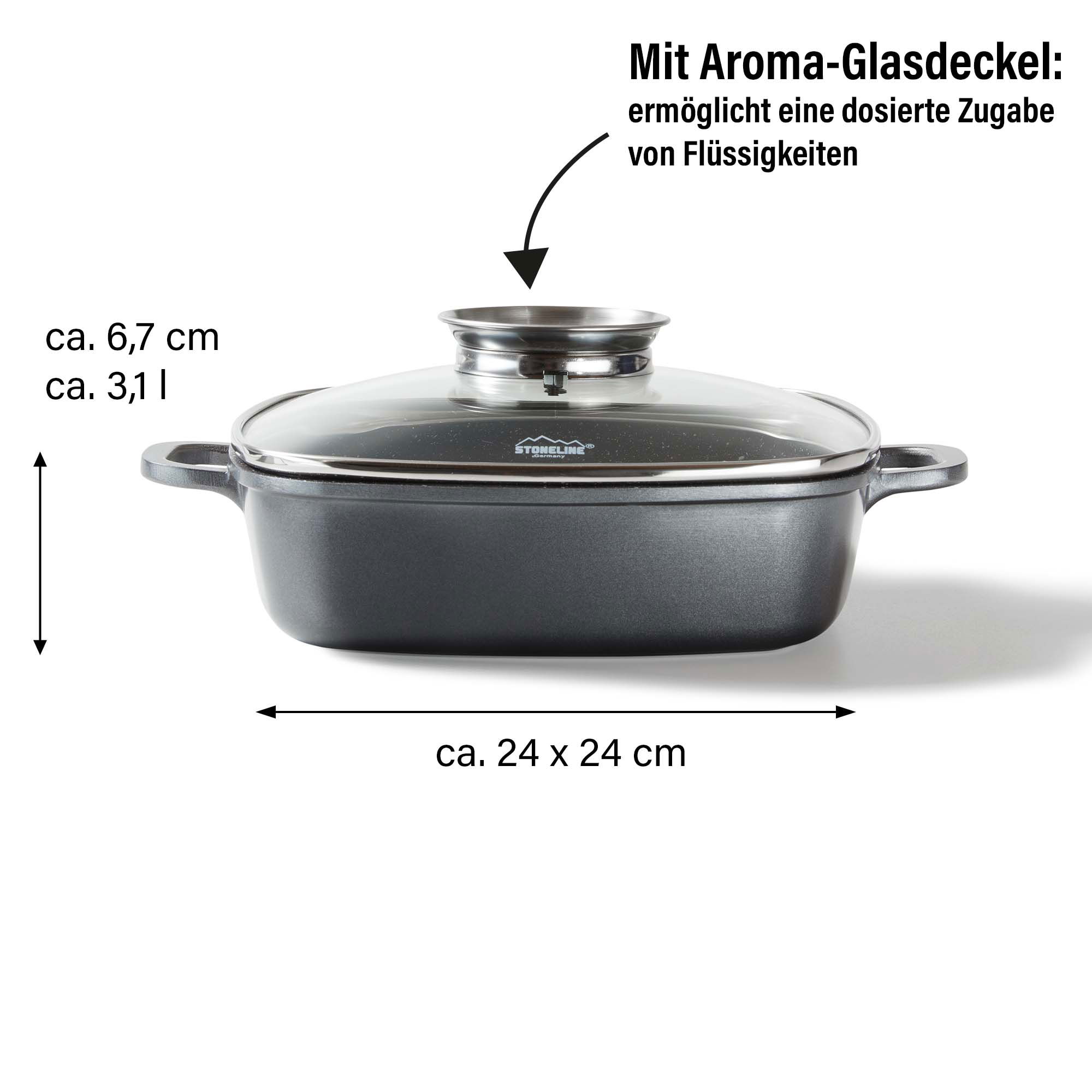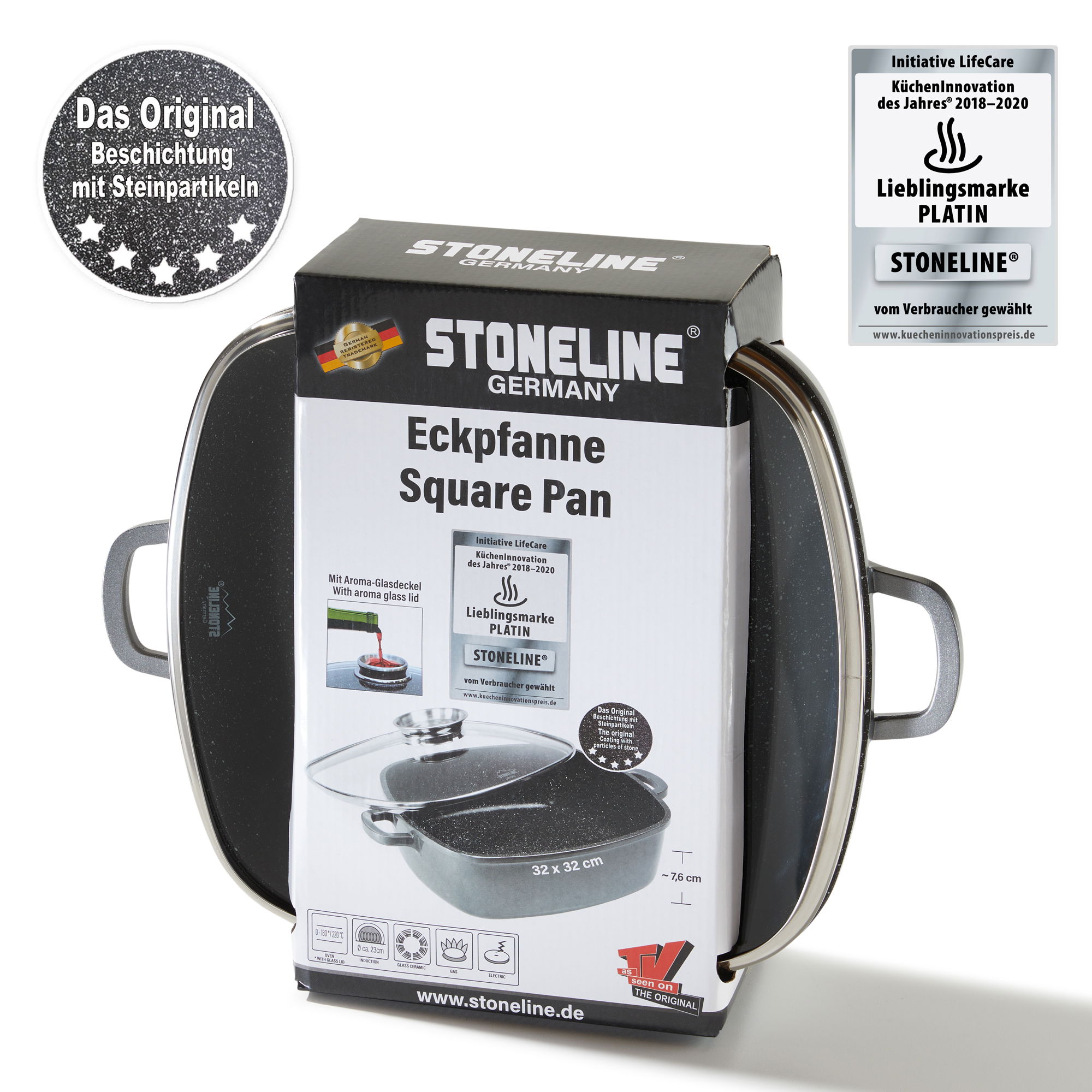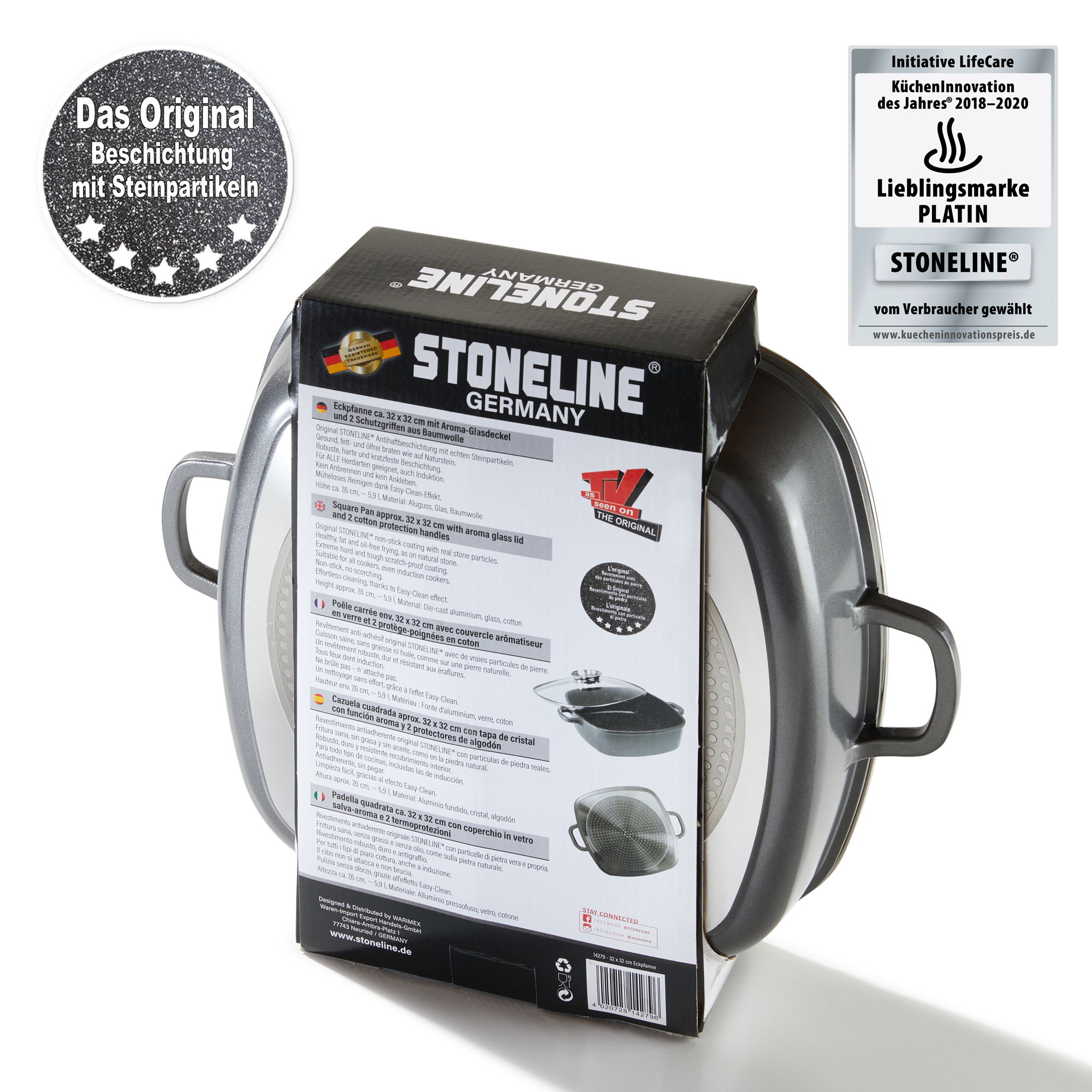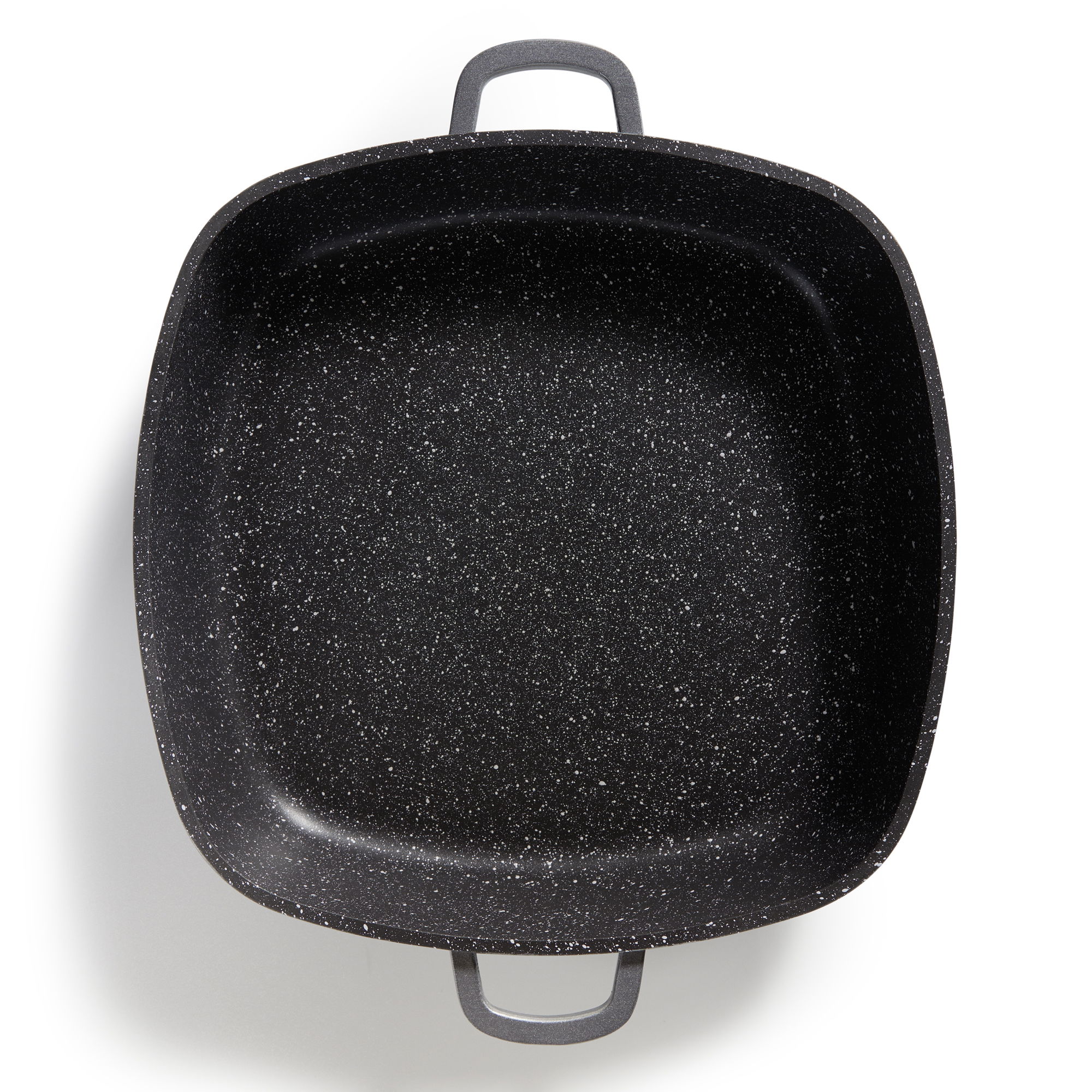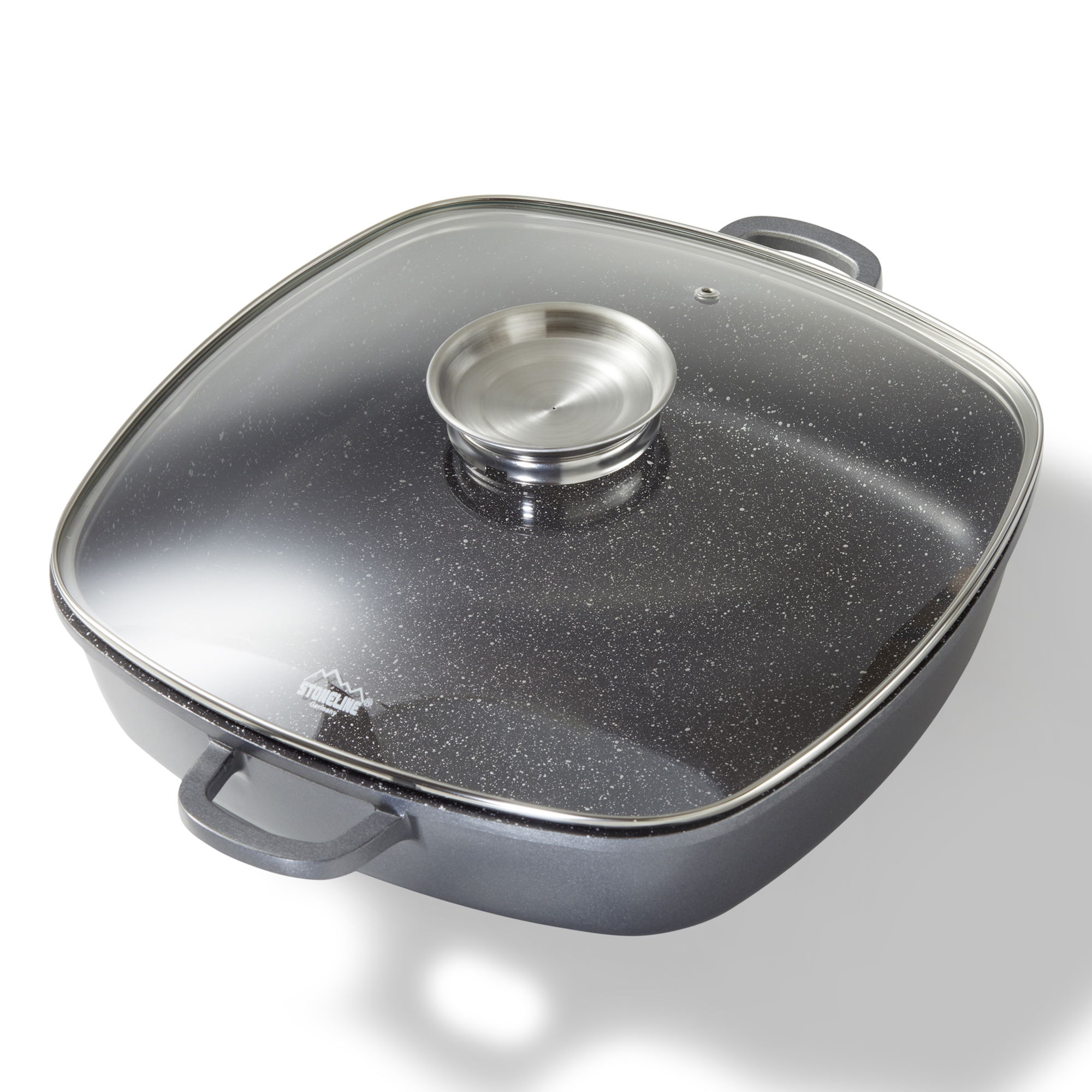 STONELINE® Square Serving Pan 32 cm, with Aroma Lid, Non-Stick Pan Casserole Dish
€89.95*
%
Old price: €149.95*
You save 60,00 €
Available immediately, in 1-3 days at your home
STONELINE® – The Original!
Healthy fat-free cooking and frying!
This 32 cm corner pan is versatile and perfect for all types of frying and stewing dishes.
Thanks to its corner shape, it offers an additional frying surface of more than 25% compared to round pans. This corner pan is a must-have for every kitchen.
The unique Aroma-Glass Lid allows for controlled addition of liquids such as wine, liquid spices, or other essences through the lid knob. This way, your refined dishes acquire the unmistakable flavor of the added aromas.
The corner pan is oven-safe up to 220°C, and you can easily remove it from the oven using the supplied thermo protectors.
Thanks to the special STONELINE® non-stick coating, your dishes can be prepared with or without frying fat and oil according to your preference, and they release easily from the cookware without sticking.
It doesn't matter whether you're cooking on glass ceramic, induction, electric, or gas stovetops.
Cookware with the original STONELINE® coating prevents stubborn residues from sticking, and easy hand washing saves you time and effort.
1 Corner Pan, approx. 32 x 32 cm, Height: approx. 7.6 cm, approx. 5.9 l
1 Aroma-Glass Lid, approx. 32 x 32 cm
2 Thermo Protectors
The Key Benefits of STONELINE® Cookware at a Glance:
World's only non-stick coating with real stone particles
Scratch-resistant STONELINE® non-stick coating
Cook and fry without fat and oil, preserving vitamins
Optimal frying results and crispy-browned meat
Suitable for vegetarians too: Vegetables remain crisp and juicy
No burning and no sticking
Super easy to clean
Extra strong, warp-free base
Base thickness: 4.6 mm
Suitable for all types of stovetops, including induction
Oven-safe up to 220°C (without lid, without thermo protectors) / 180°C (with lid, without thermo protectors)
Material: Cast aluminum
Cleaning and Care Tips:
Before first use, we recommend thoroughly washing your cooking or baking utensils with some water and mild dish soap.
Then, apply a few drops of cooking oil onto the coating using a paper towel.
During further use, you can avoid using fat or oil!
Thanks to the Easy-Clean effect, hand washing is recommended. Simply wipe with hot water, dish soap, and a soft sponge.
Coating:

Non-stick coating

Content:

from 2 l to 3 l

, from 3 l to 4 l

, from 4 l to 5 l

, past 5 l

Handle:

Fixed

Height:

5 to 10 cm

Length / Width:

24 x 24 cm

, 28 x 28 cm

, 32 x 32 cm

Lid:

Yes

Oven suitable until:

150 °C

, 180 °C

, 200 °C

, 220 °C

Series:

Classic

Type:

Square- and serving pans
---
Die Pfanne hat eine perfekte Größe nach dem Kochen haftet kein bisschen mehr an dem Boden. Ist auf jeden Fall zu empfehlen
Wir haben diese Pfanne - aufgrund unserer eigenen Zufriedenheit nochmals zum Verschenken an meine Schwiegermutter gekauft. Die Pfanne ist sehr handlich, wir kochen grundsätzlich ohne Fett und nützen sie fast täglich. Sie wird - neben einer grossen Stonelinepfanne - am meisten benützt.
Die Qualität der Pfanne ist se...
Die Qualität der Pfanne ist sehr gut. Aber beim Backen im Ofen werden die Griffe sehr heiß.Da wir aber in unserer Küche Backhandschuhe haben, ist das kein Problem.
Regina schreibt: Die Pfanne i...
Regina schreibt: Die Pfanne ist sehr gut, daß die Griffe heiß werden ist durch die im Paktet enthaltenen Thermoüberzieher sehr gut zu verschmerzen. Dies ändert nichts daran, daß man hervorragende Ergebnisse mit dieser Pfanne erzielt.
Heidi schreibt: Ich habe sc...
Heidi schreibt: Ich habe schon mehree Stoneline Produkte und bin von der Beschichtung und der Qualität der Produkte hell auf begeistert.Ich kann die Produkte nur weiter empfehlen.
für einen zweipersonen Haushal...
für einen zweipersonen Haushalt eine ideale größe.allerdings gab es nach relativ kurzer Zeit Probleme mit der Beschichtung. es gab anstandslos eine ersatzlieferung , wenn es auch eine ganze weile gedauert hat
Ich habe auch schon die 28 x 2...
Ich habe auch schon die 28 x 28 und würde die Pfannen immer wieder weiter empfehlen. Einfach Super.
bin begeistert von der qualitä...
bin begeistert von der qualität der pfanne. habe sie seit dem tag an dem ich sie erhalten habe schon sehr oft benutzt und immer mit sehr gutem ergebnis. ich freue mich, daß ich mich für dieses produkt entschieden habe.