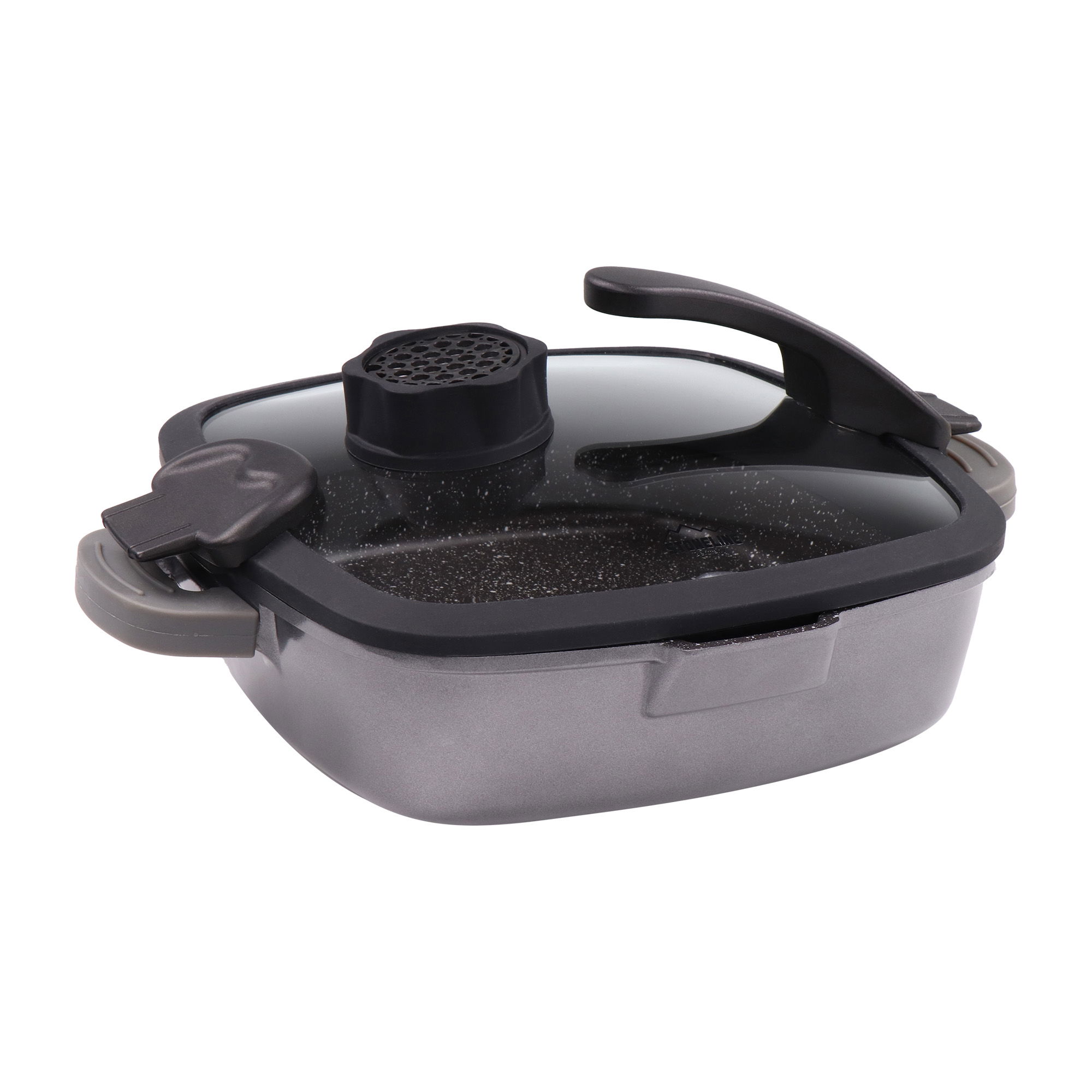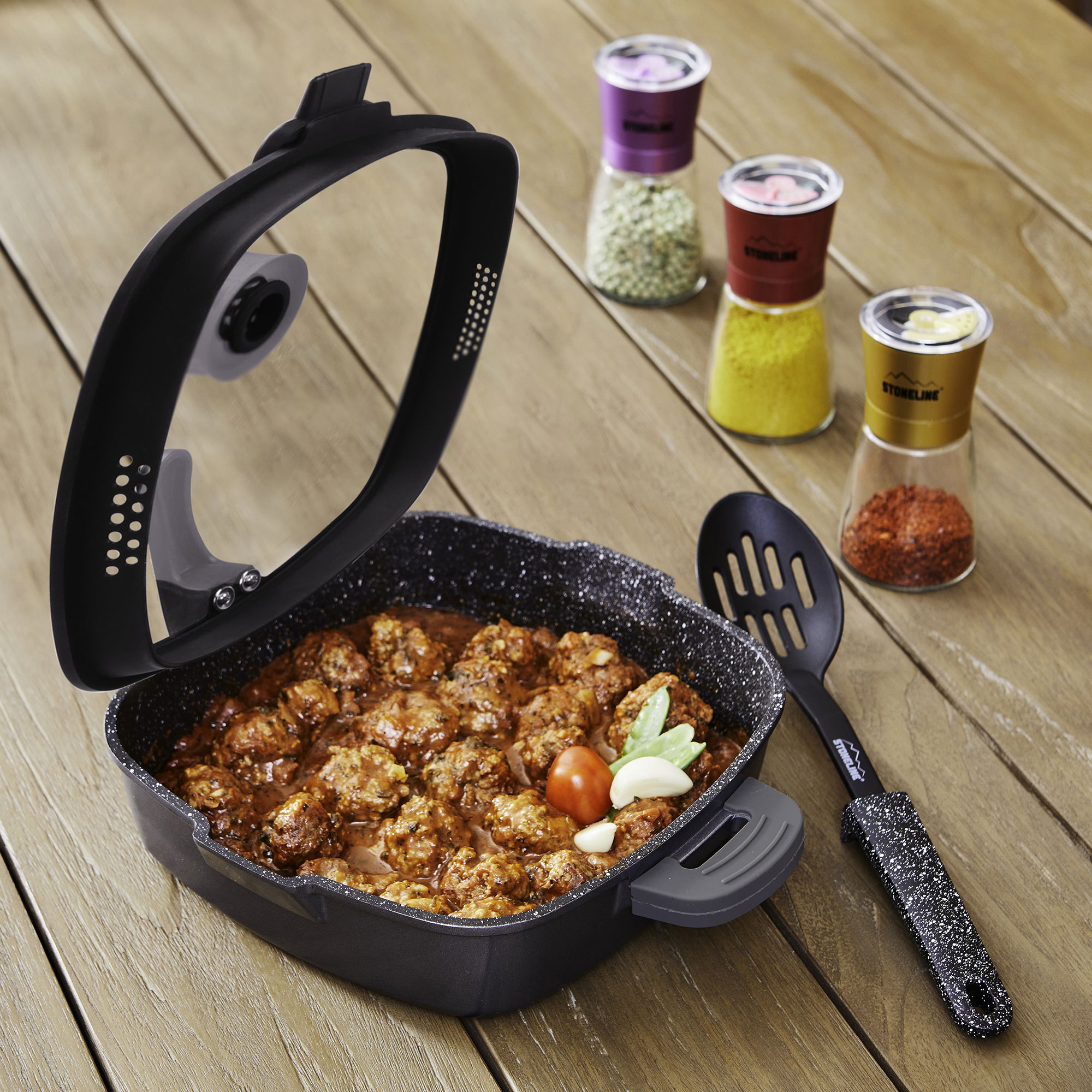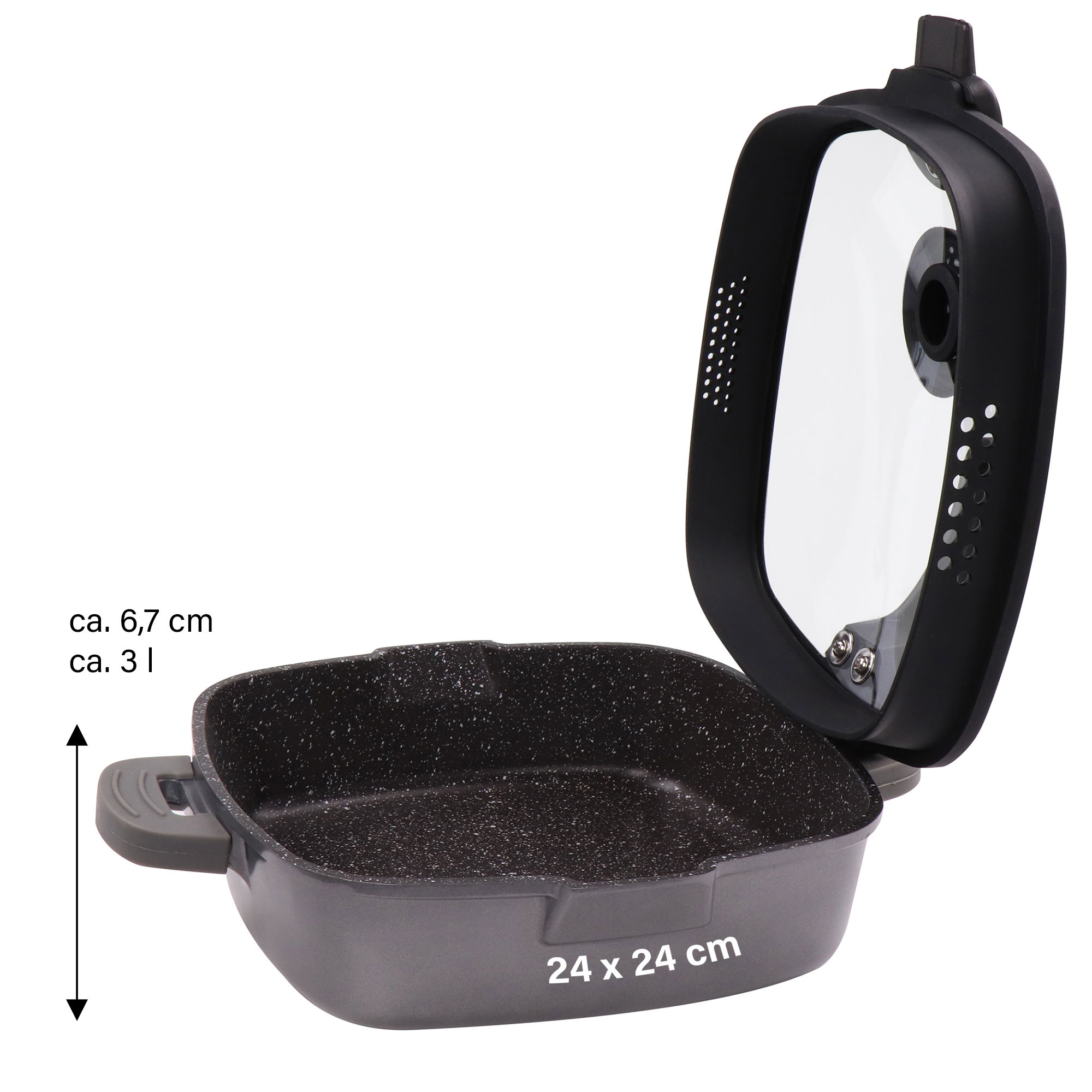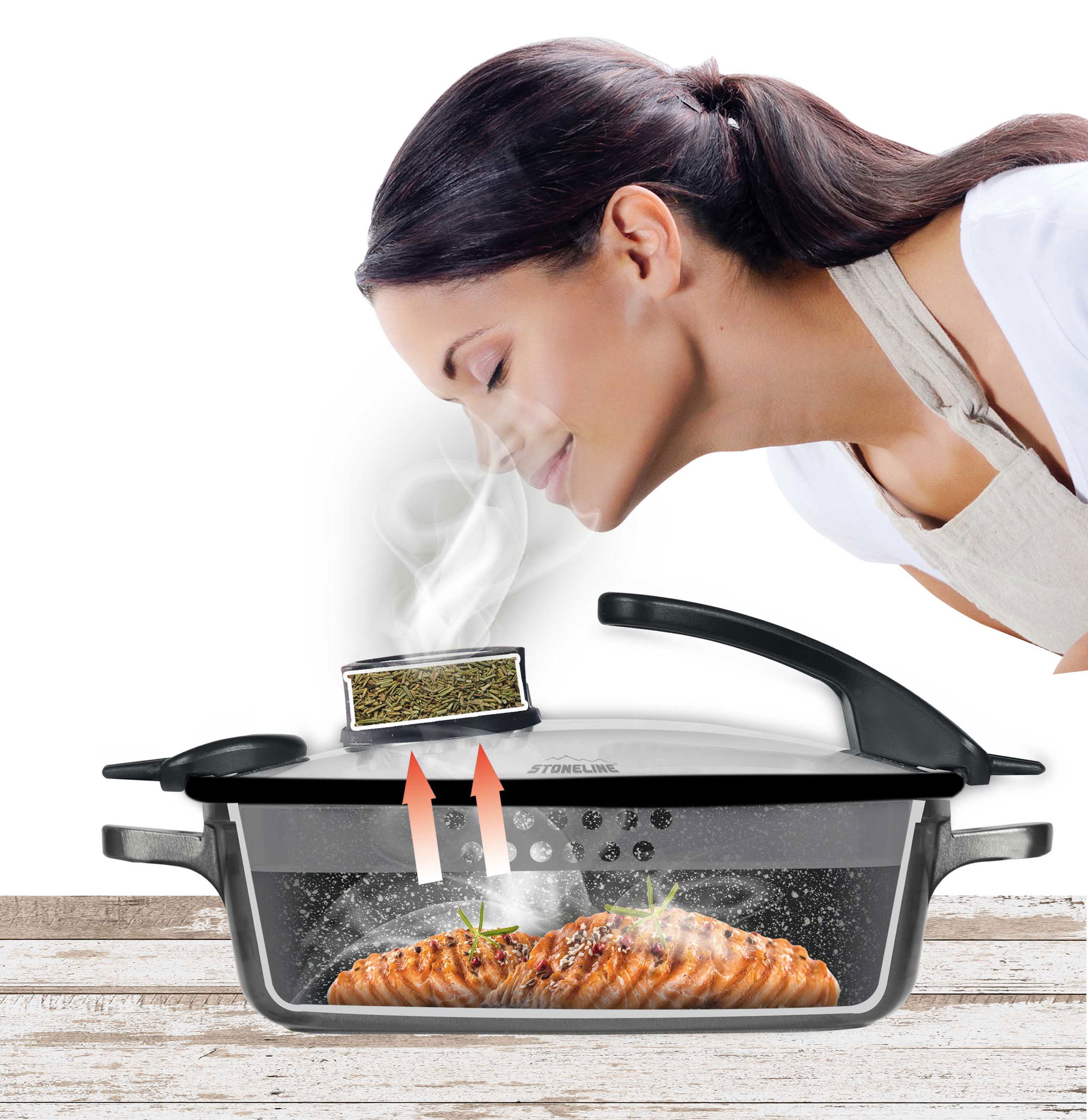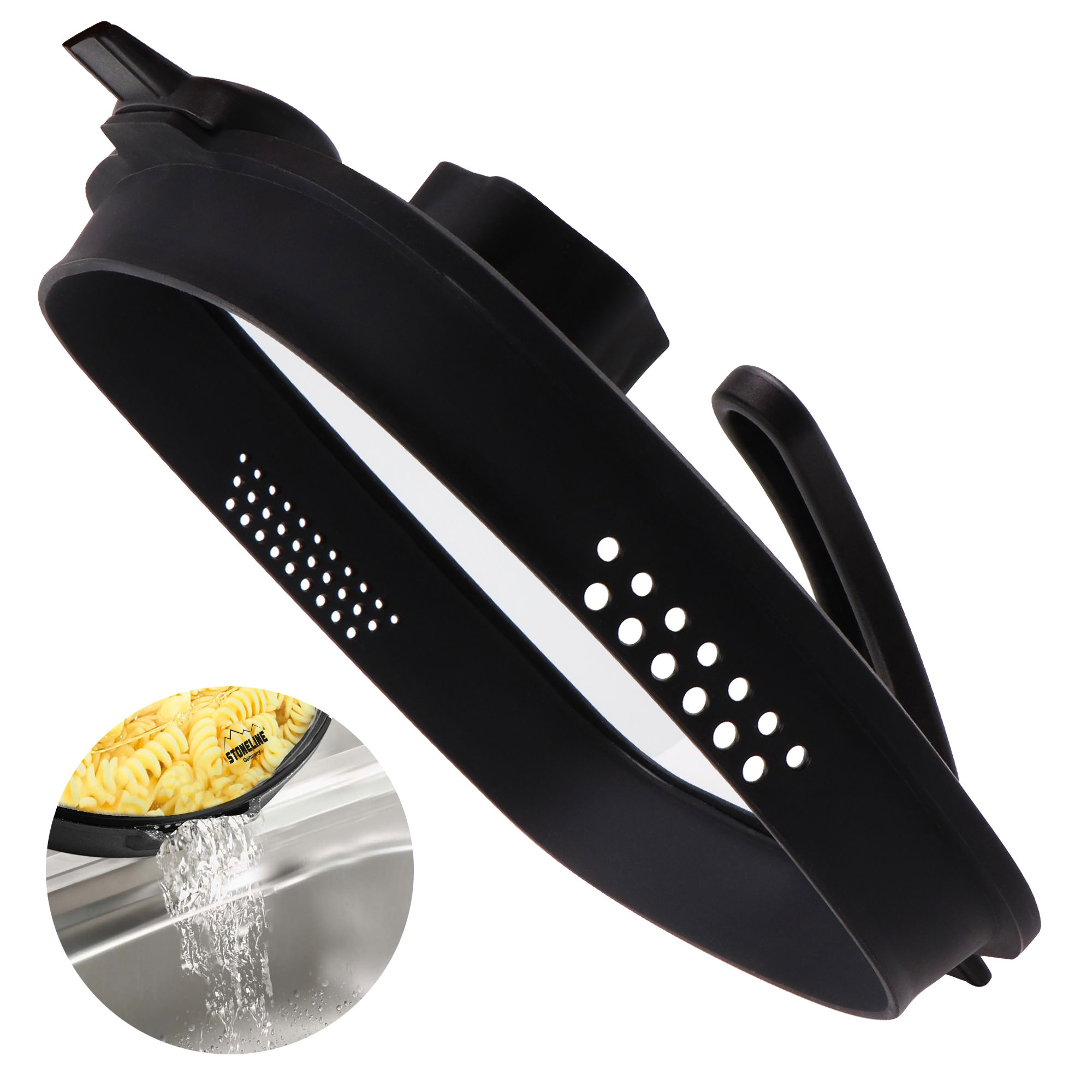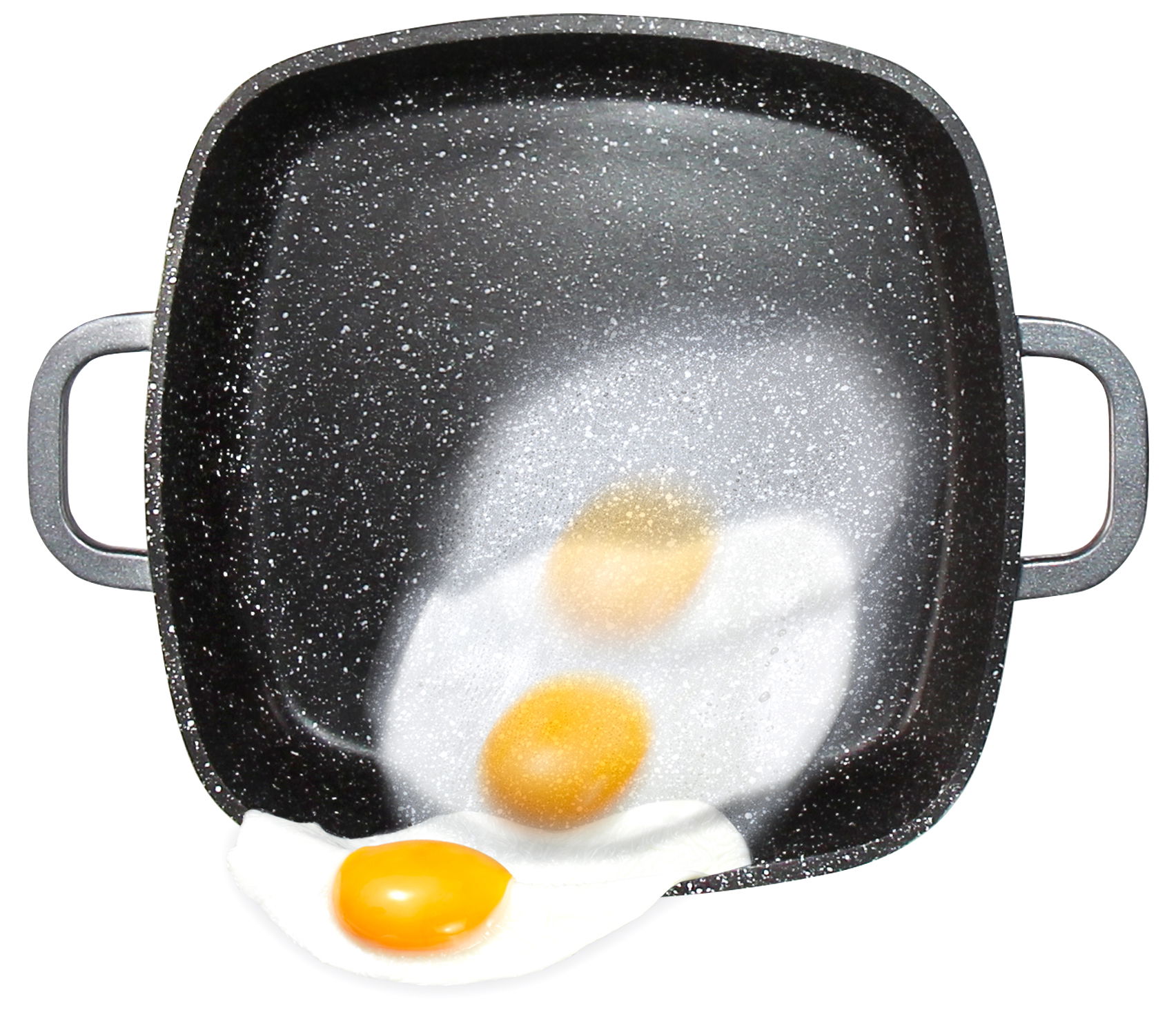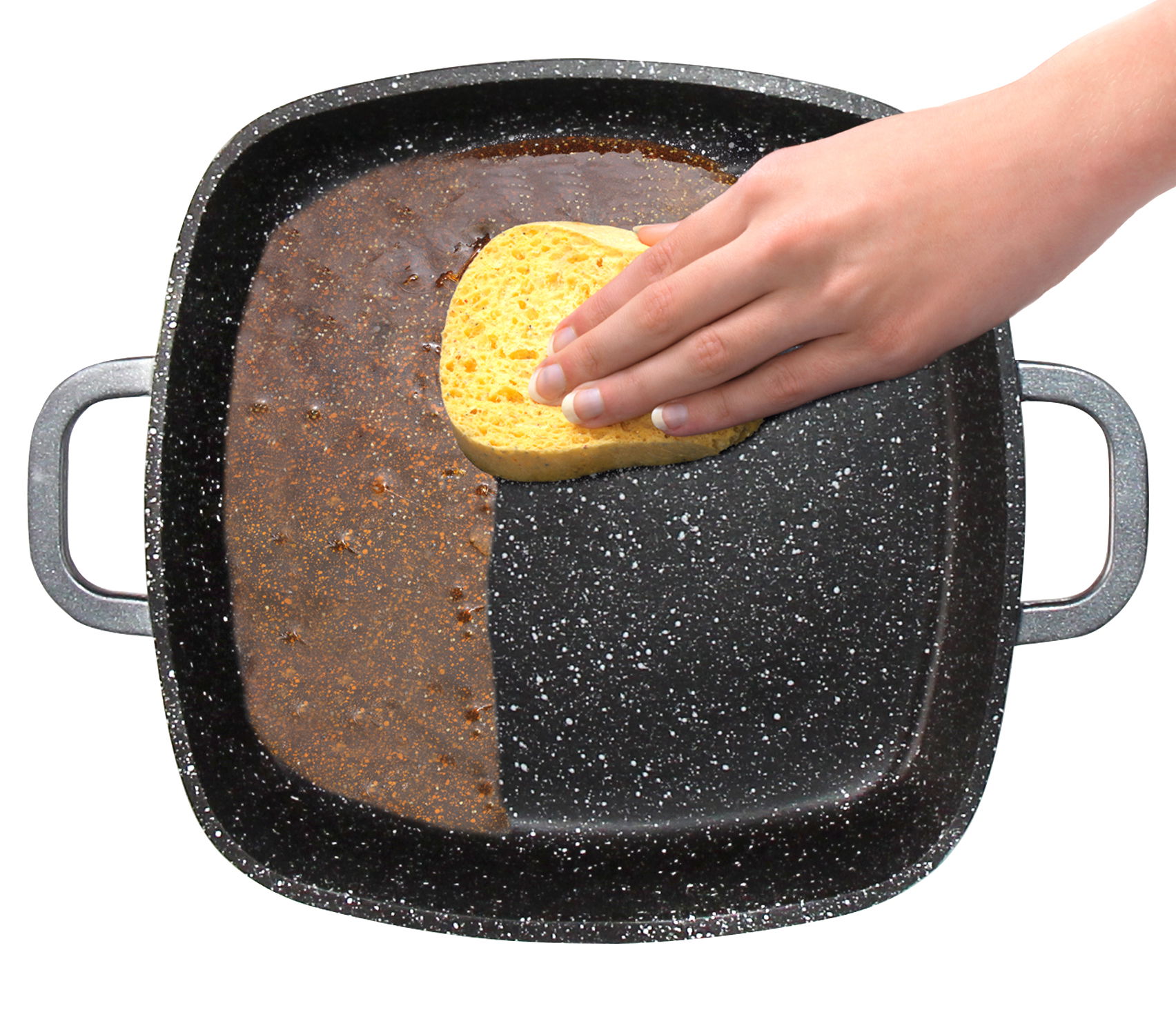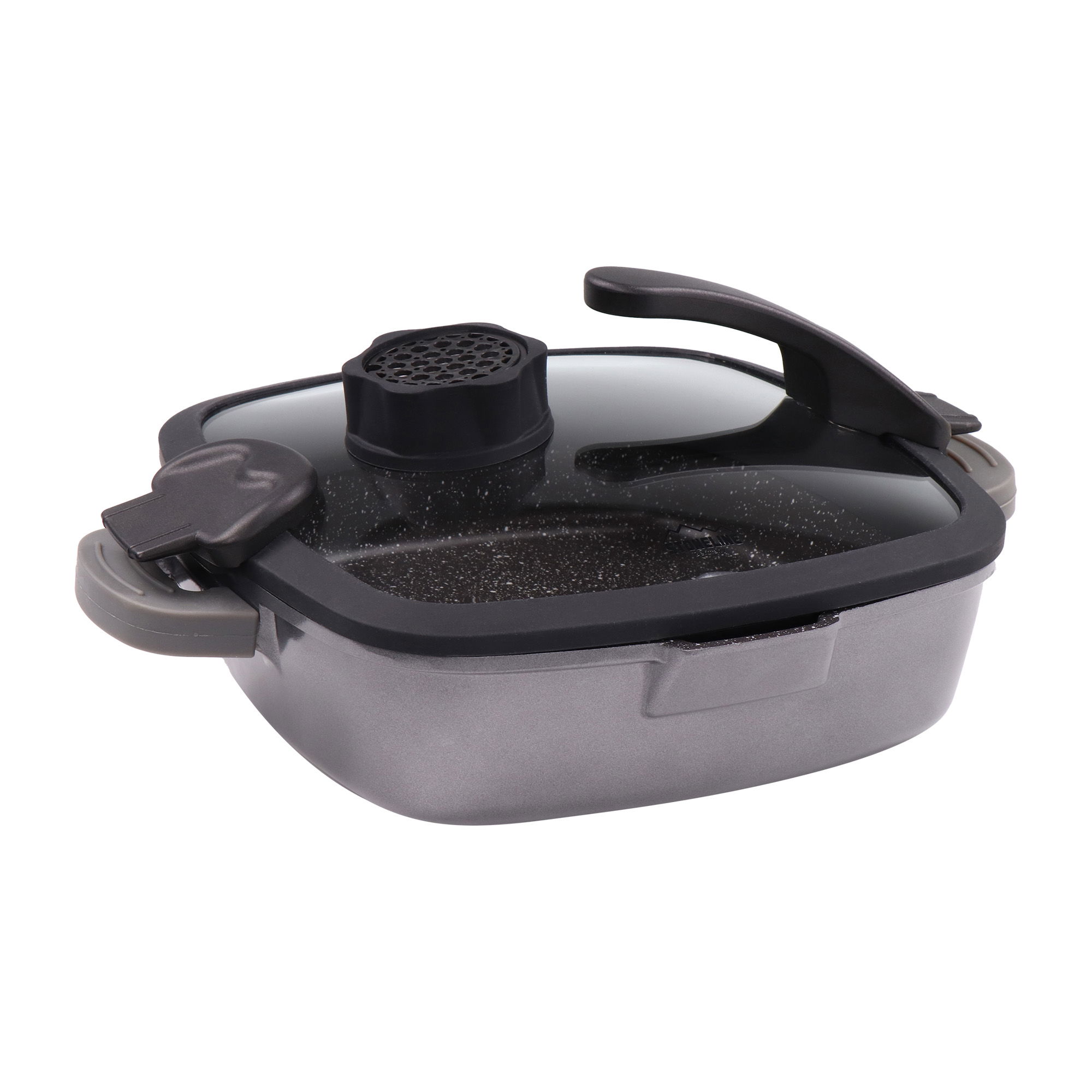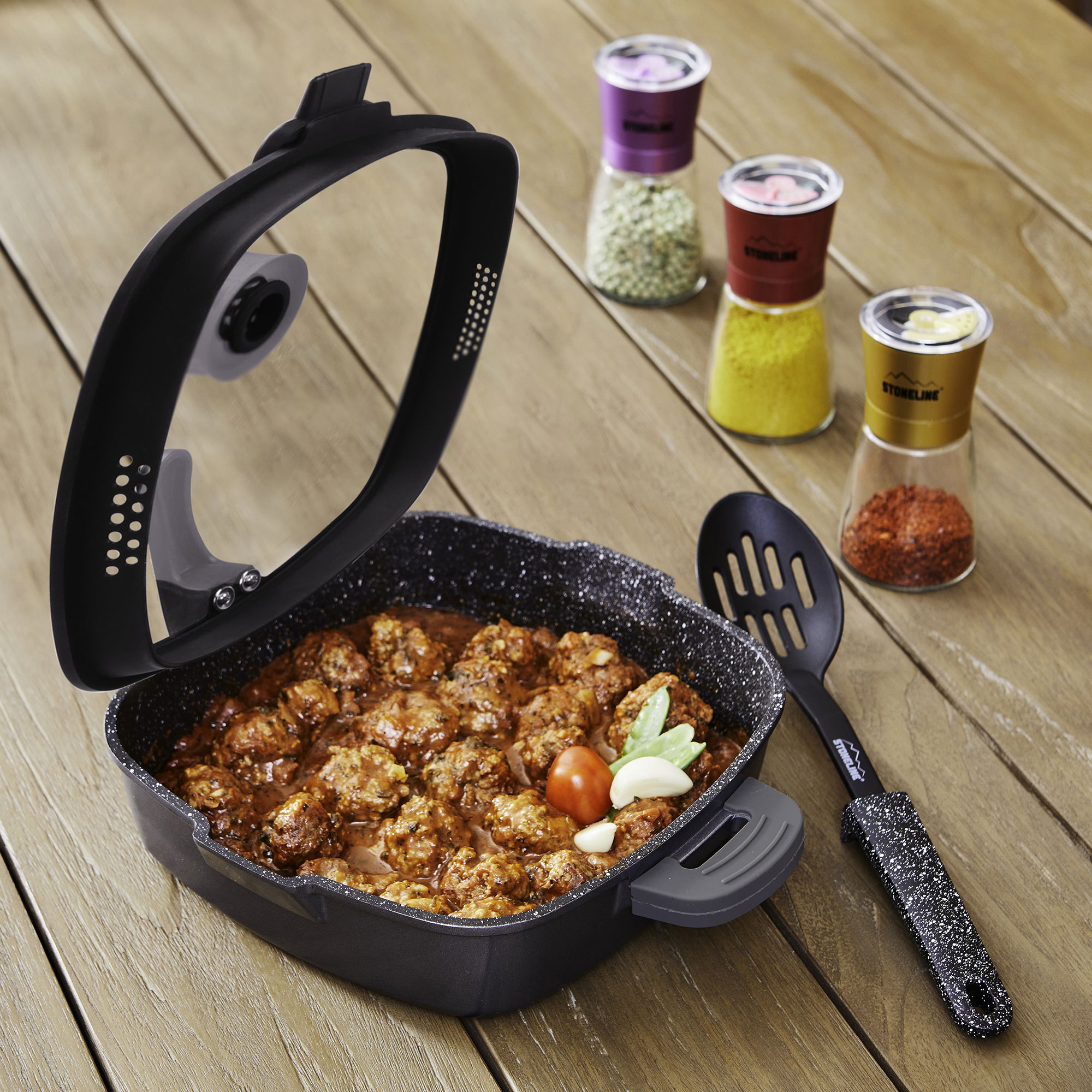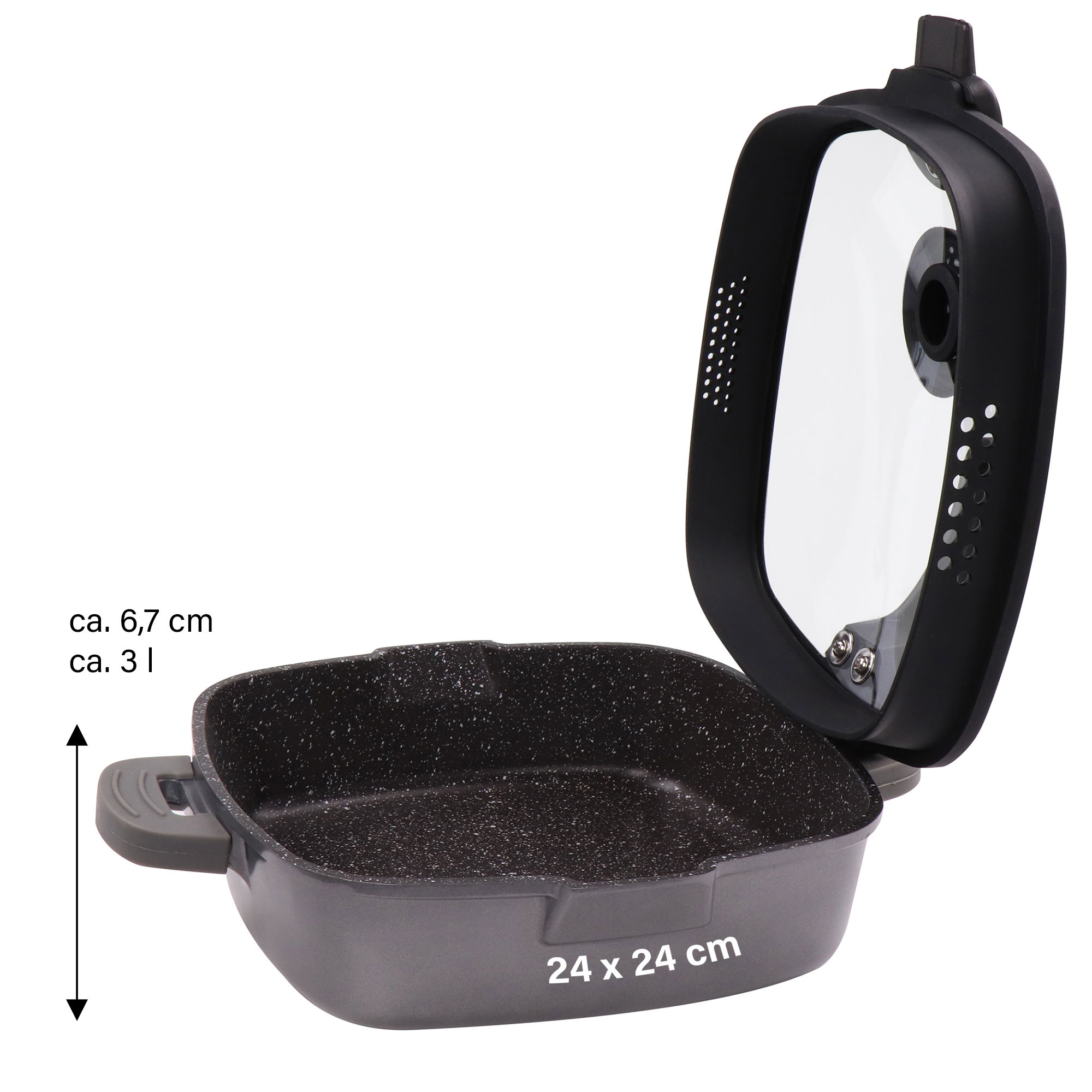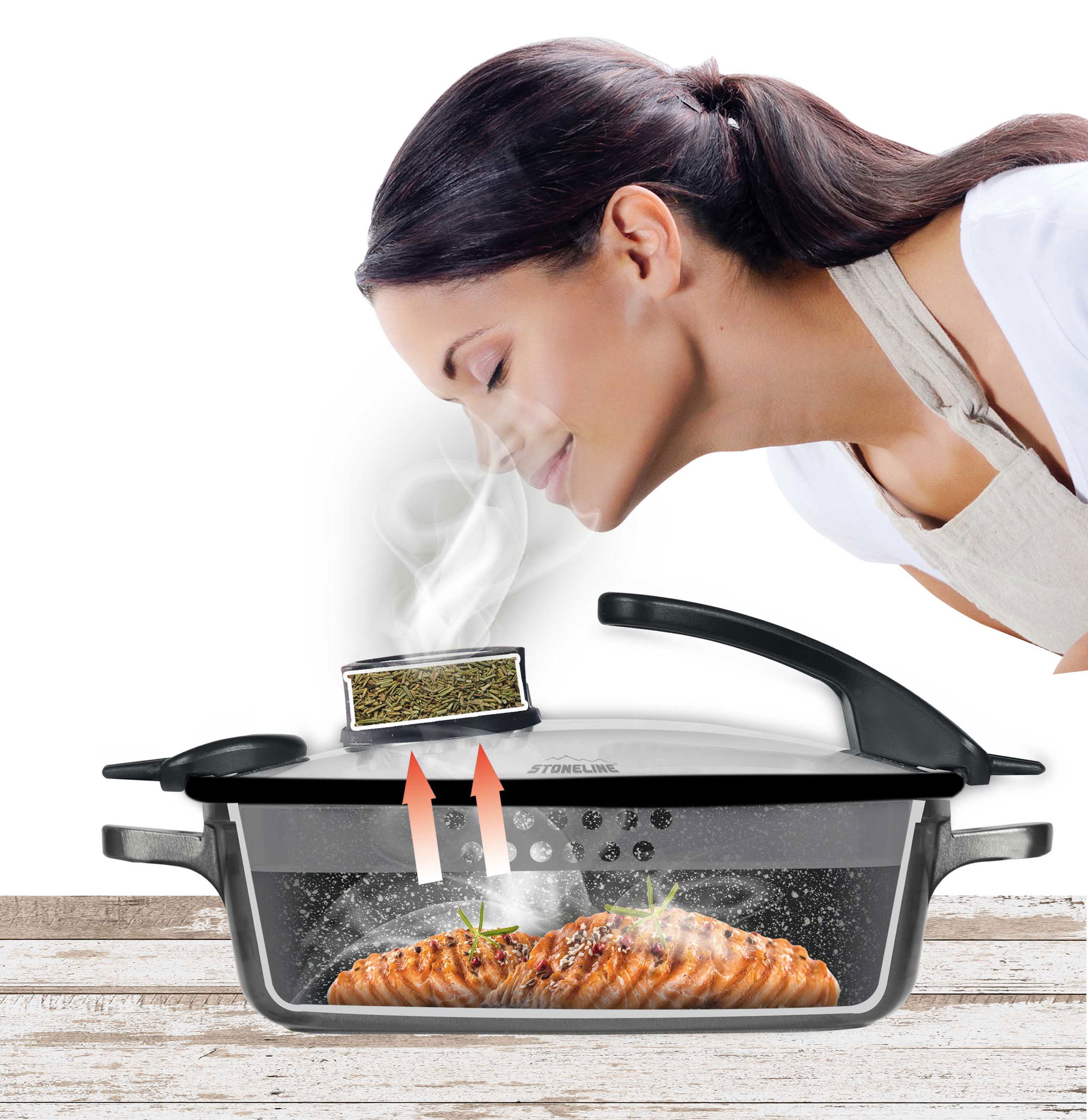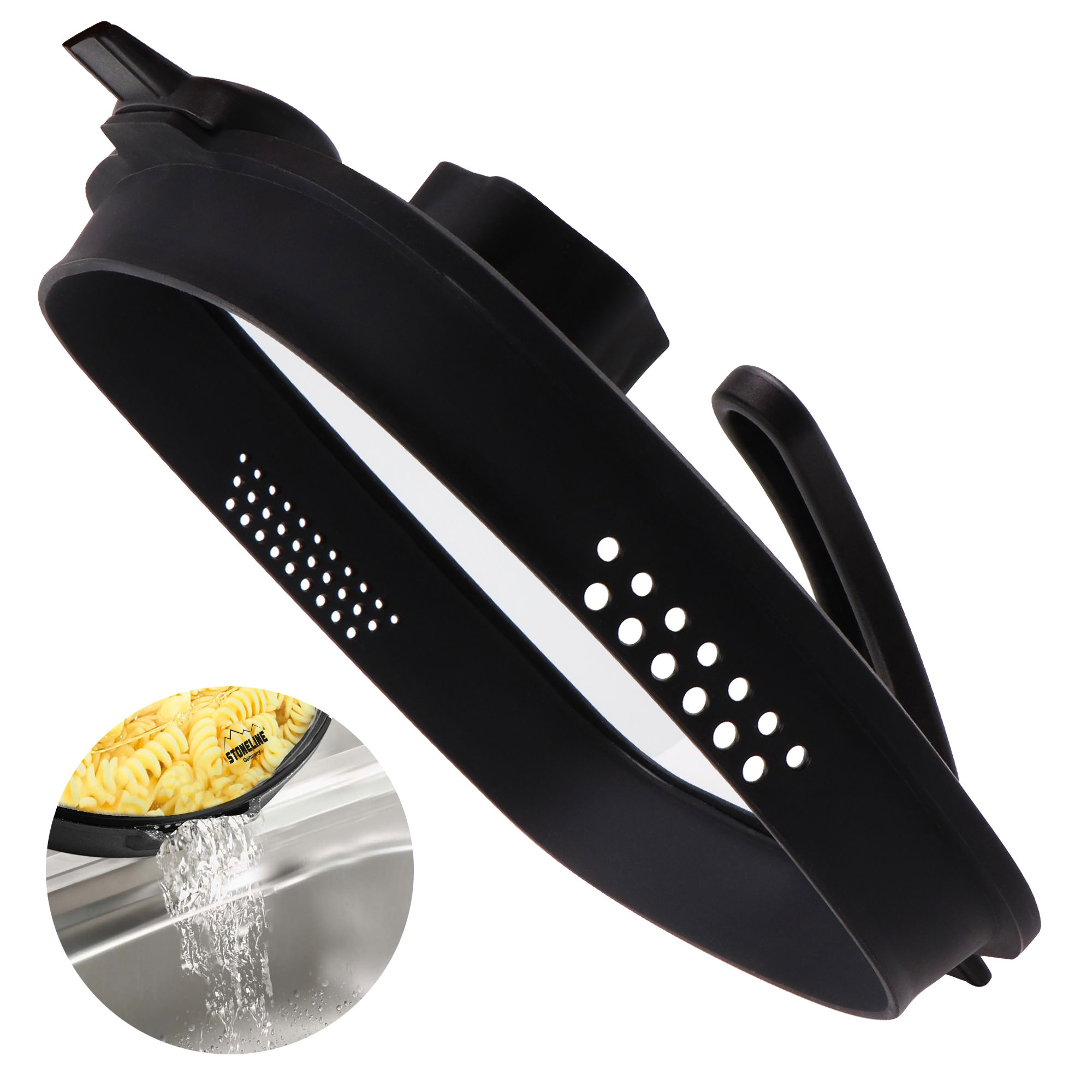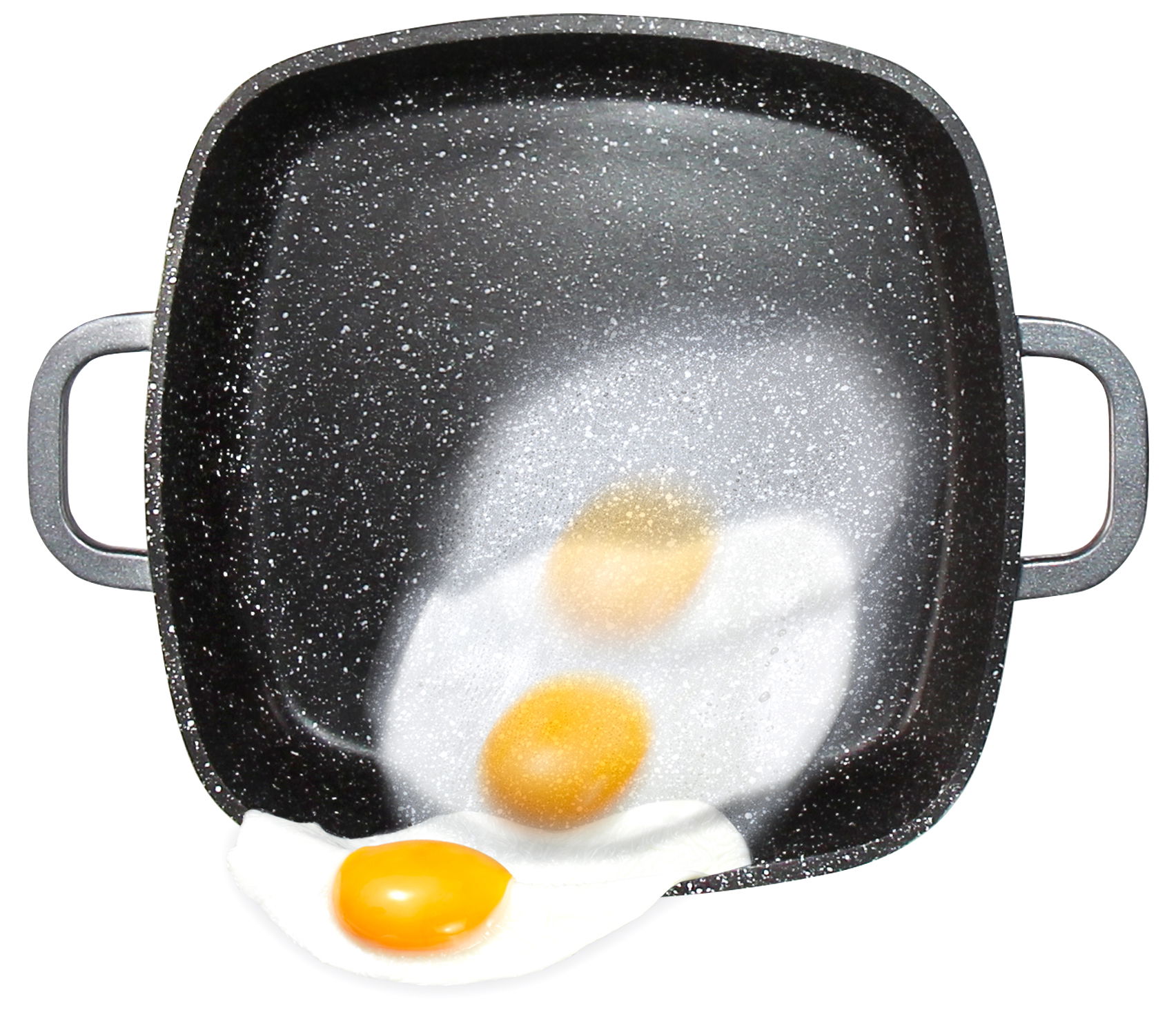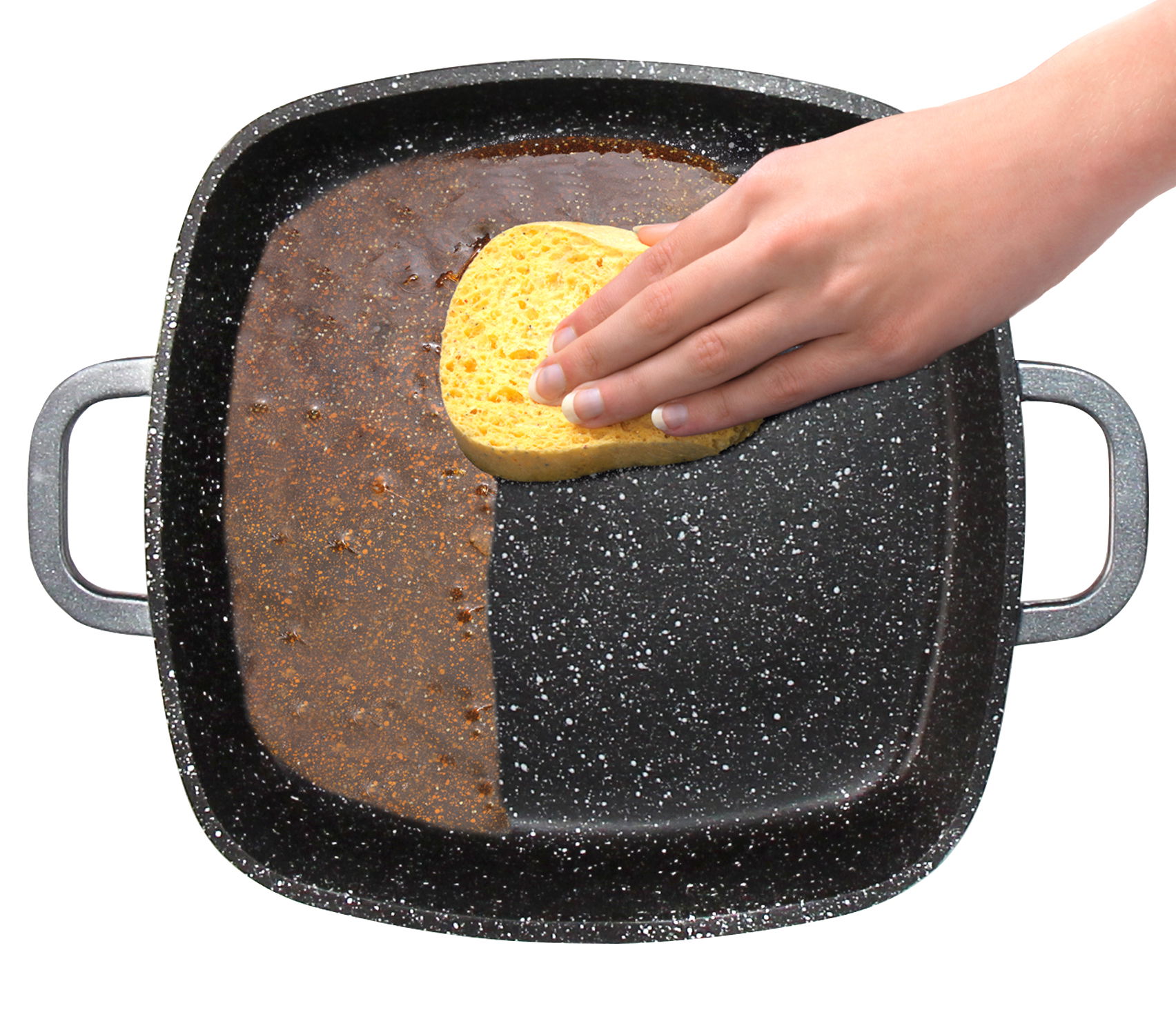 STONELINE® Square Serving Pan 24 cm, Strainer Lid, Odour & Aroma Function | SMELL WELL
€39.95*
%
Old price: €129.95*
You save 90,00 €
Available immediately, in 1-3 days at your home
STONELINE® – The Original!
WORLD FIRST – Benefit from the smallest extractor hood in the world in this set with the STONELINE® Smell Well glass lid! Use it to banish unpleasant cooking odours from your kitchen!
The patented glass lid features the unique Smell Well cartridge. This cartridge offers an optional odour filter or aroma function. The odour filter insert filters out food odours, preventing unpleasant smells from escaping, for example when cooking fish dishes. The aroma function can be used with herbs, fruit peel, etc. instead of the carbon filter to distribute a pleasant scent in your kitchen while cooking.
The glass lid also has a silicon rim. This silicon rim protects the surface of the cookware from scratches and makes the glass lid more resistant to breaking. The silicon glass lid sits directly on the edge of the cookware. This saves energy and avoids any rattling noises during cooking.
In addition to the Smell Well glass lid with strainer function, the set also includes the STONELINE® FUTURE square pan with a diameter of approx. 24 cm. The square pan has an extra-high edge at 6.7 cm and a capacity of around 3.0 litres, making it ideal for all roasted and stewed dishes!
1 Smell Well glass lid, 24 x 24 cm
1 square pan, approx. 24 x 24 cm, height: approx. 6.7 cm, approx. 3.0 l
1 refill set comprising 2 activated charcoal filters and 30 fleece insert sheets for aroma function
The key advantages of STONELINE® cookware at a glance:
Smell Well glass lid:
Smell Well cartridge with odour filter and aroma function
Glass viewing window
No burning of the hands thanks to silicon handle
Heat-resistant up to 180 °C (without Smell Well cartridge)
Material: Viewing window made from break-resistant glass, silicon rim
Easy cleaning: rinse with hot water, dry, and you're done (dishwasher safe)
Square pan:
Scratch-resistant, STONELINE® anti-stick coating
Vitamin-preserving cooking and frying without fat or oil
A perfect fry and crispy cooked meat
Also suitable for vegetarians: vegetables stay crunchy and juicy
No burning and no sticking
Superbly easy to clean
Extra-strong, warp-free base
Base thickness: 4.5 mm
Suitable for all hobs, including induction
Oven-safe up to 220 °C (without thermal handle protectors)
Material: Cast aluminium
Cleaning and care tips:
Before using it for the first time, we recommend washing your cookware or bakeware thoroughly with a little water and gentle detergent.
Then use a paper towel to spread a few drops of cooking oil over the coating.
With further use, you can stop using fat or oil!
We recommend cleaning by hand thanks to the Easy-Clean effect. Simply wipe out with hot water, washing-up liquid and a soft sponge.
Coating:

Non-stick coating

Content:

from 2 l to 3 l

, from 3 l to 4 l

, from 4 l to 5 l

Handle:

Fixed

Height:

5 to 10 cm

Length / Width:

24 x 24 cm

, 28 x 28 cm

Lid:

Yes

Oven suitable until:

150 °C

, 180 °C

, 200 °C

, 220 °C

Series:

Future

, Smell Well

Type:

Square- and serving pans
---
Kam zufällig an das Produkt, kannte Bis dahin Stoneline noch nicht! Bin völlig begeistert , insbesondere Ohne Öl/Fett braten zu können mit Einem TopErgebnis !! Die kinderleichte Reinigung, da nichts Mehr stark anhaftendes ist sehr Erfreulich?
Keine uangenehmen Gerüche mehr. die ausgüsse sind auch super!!