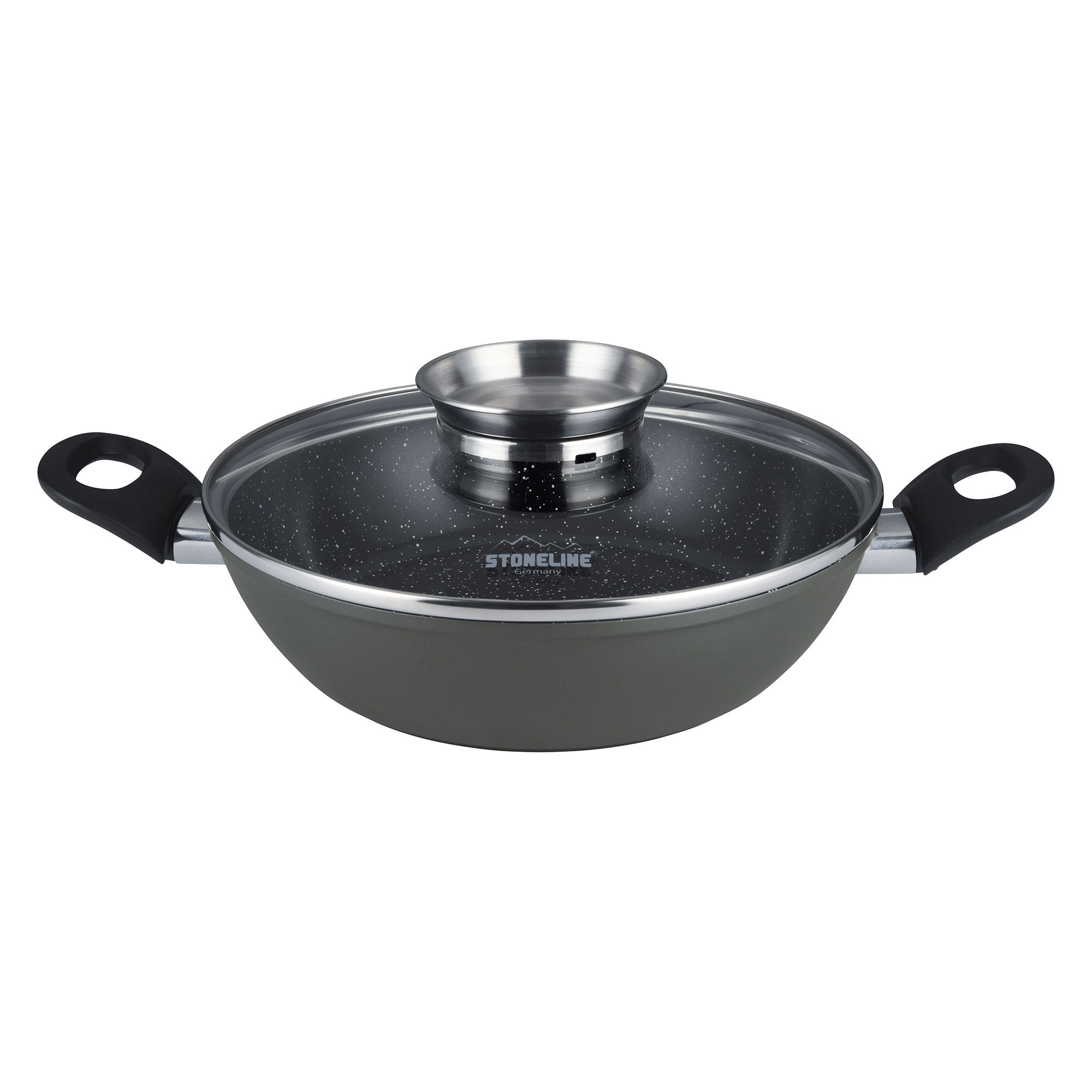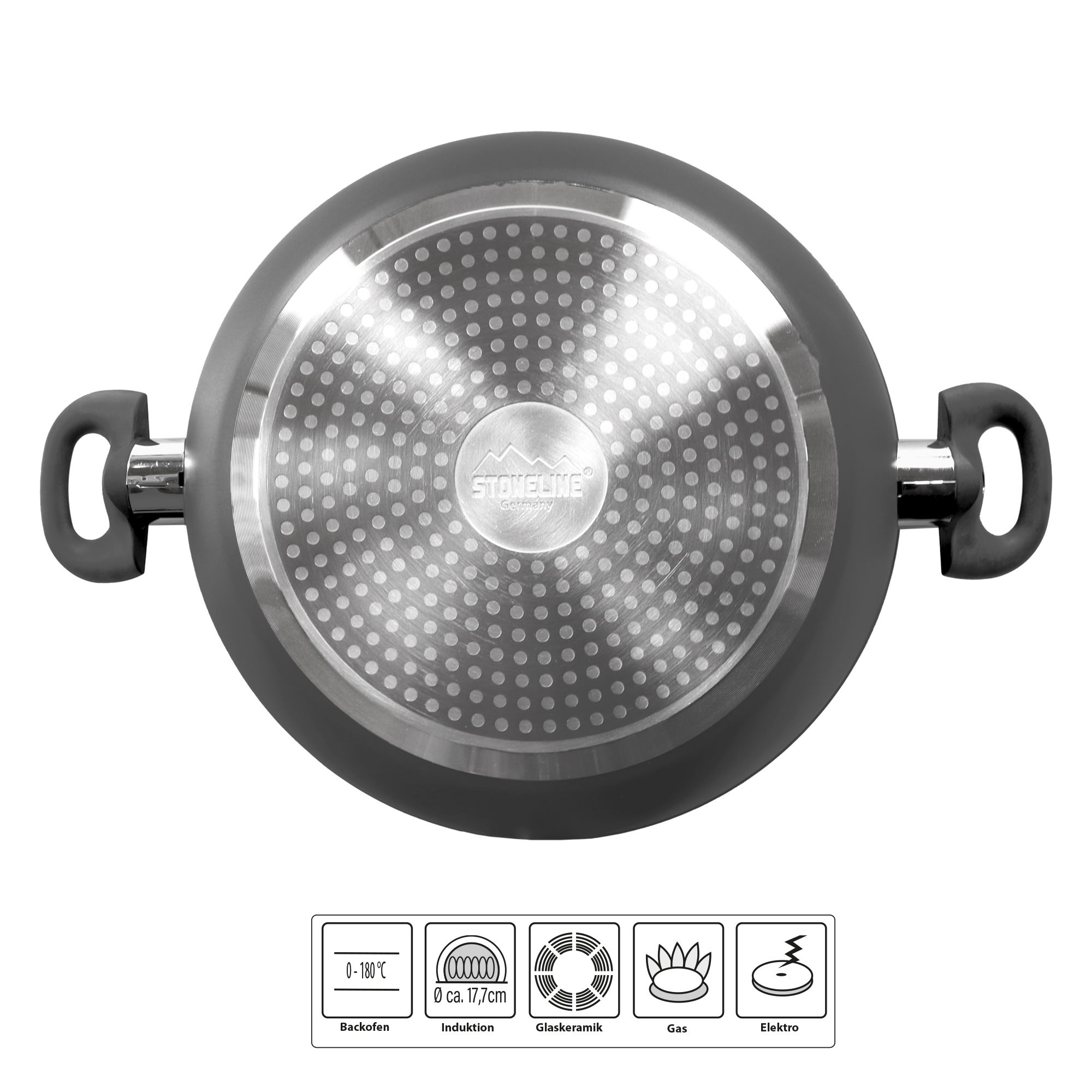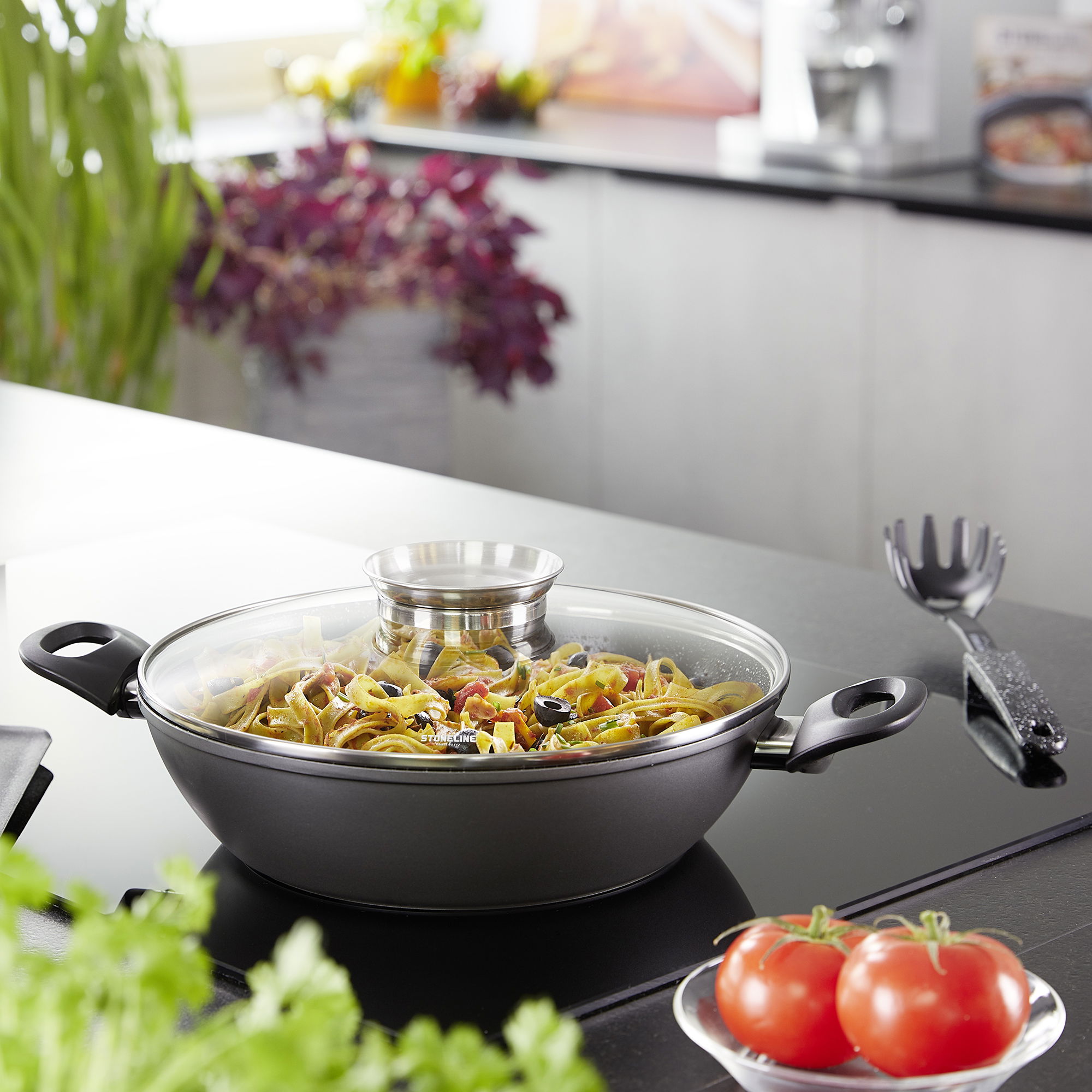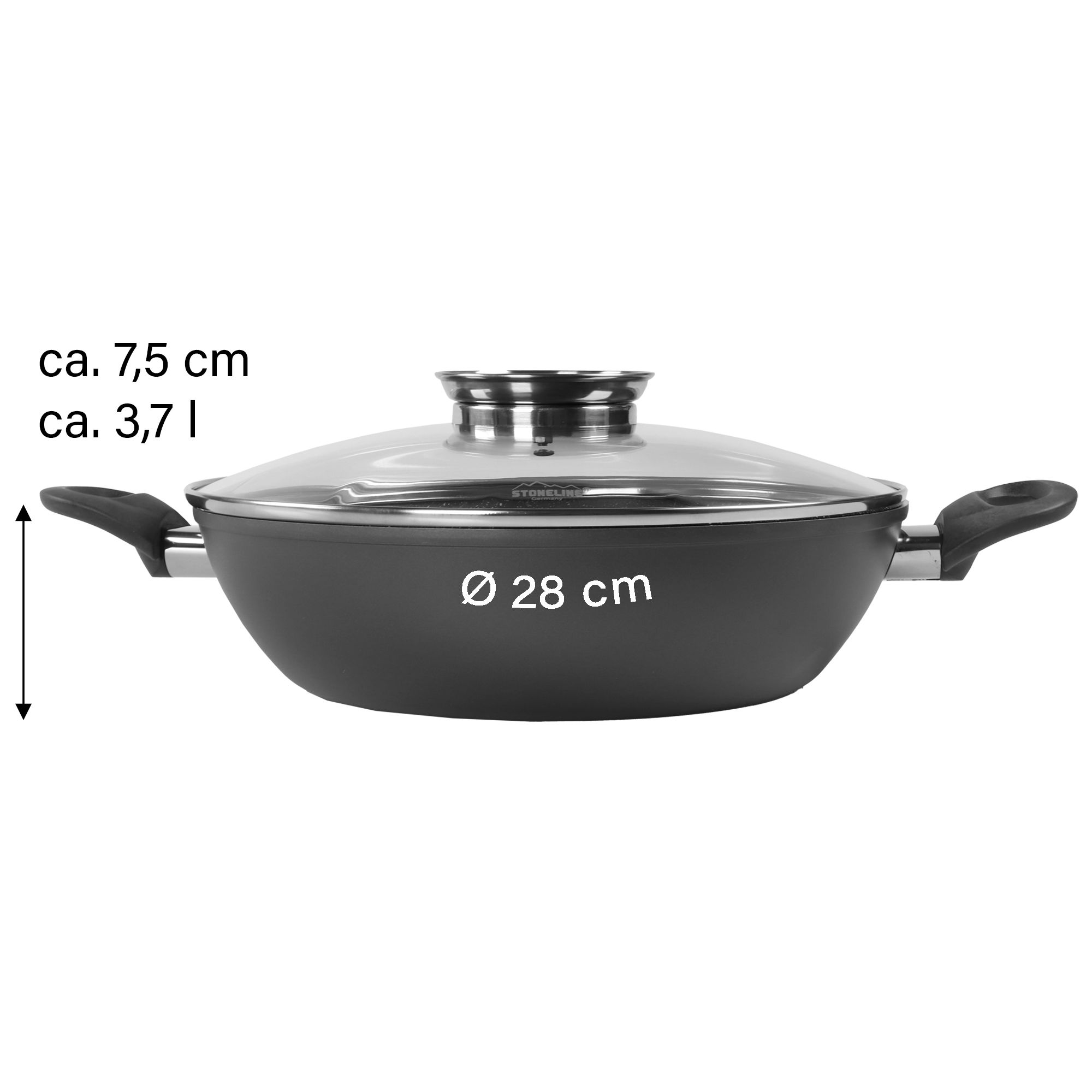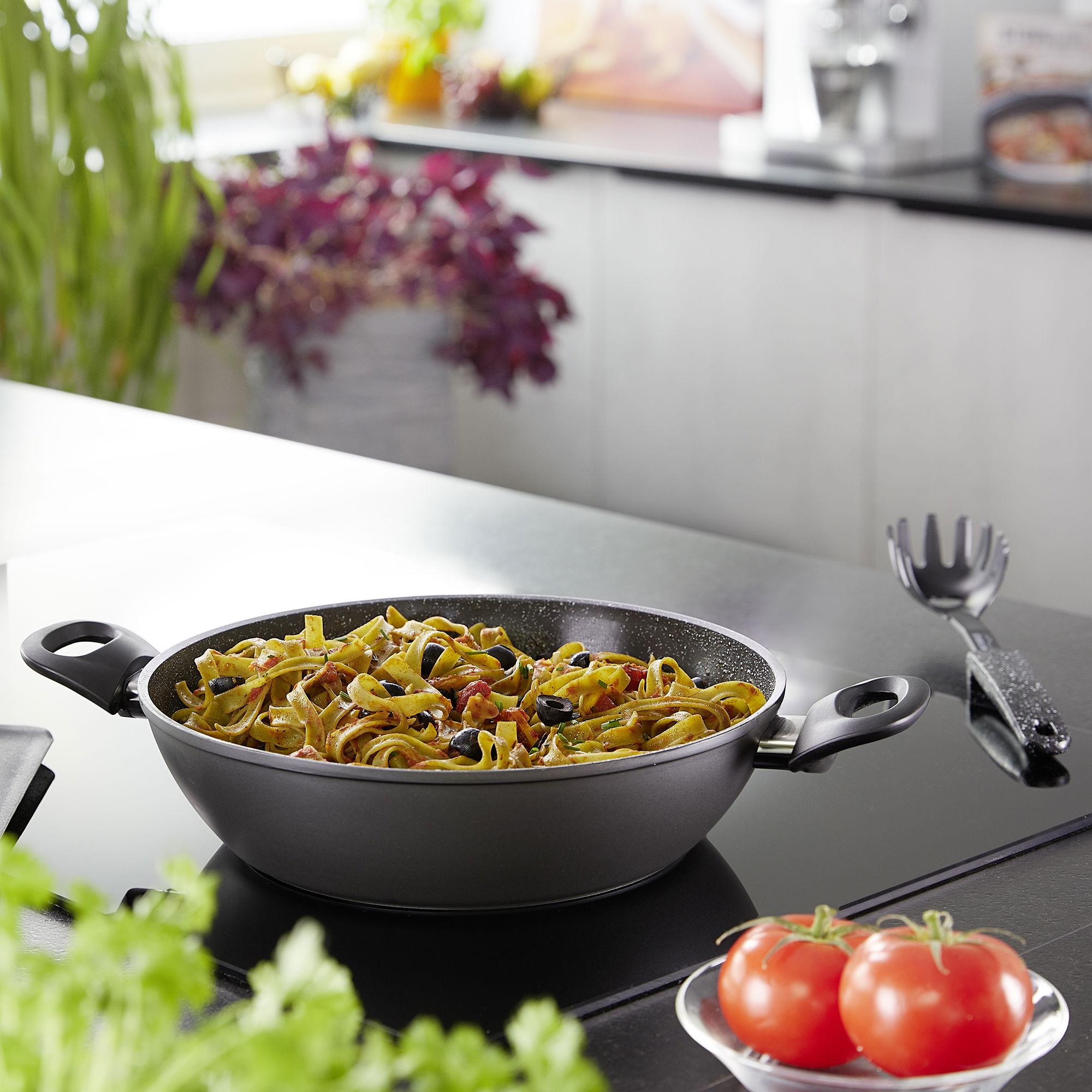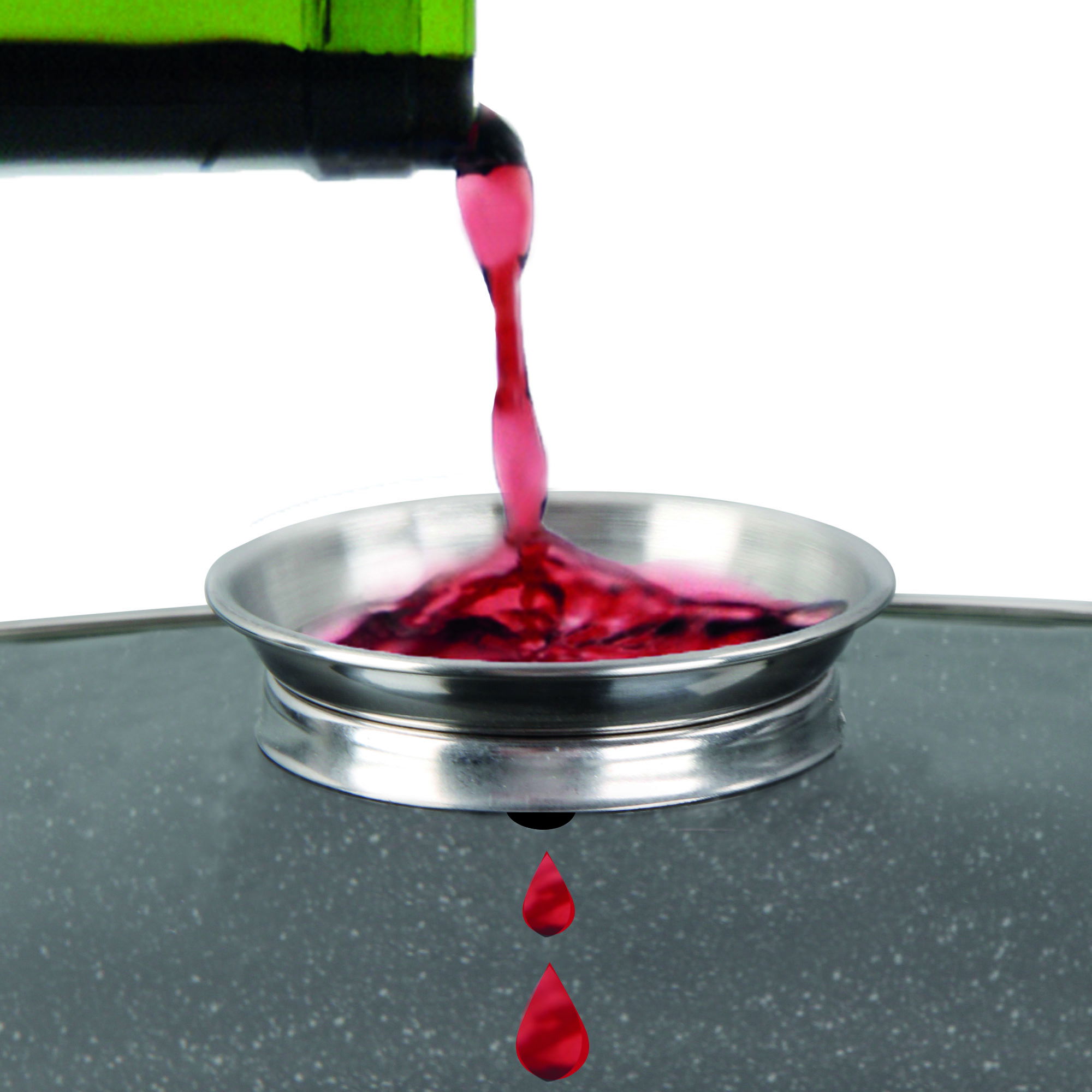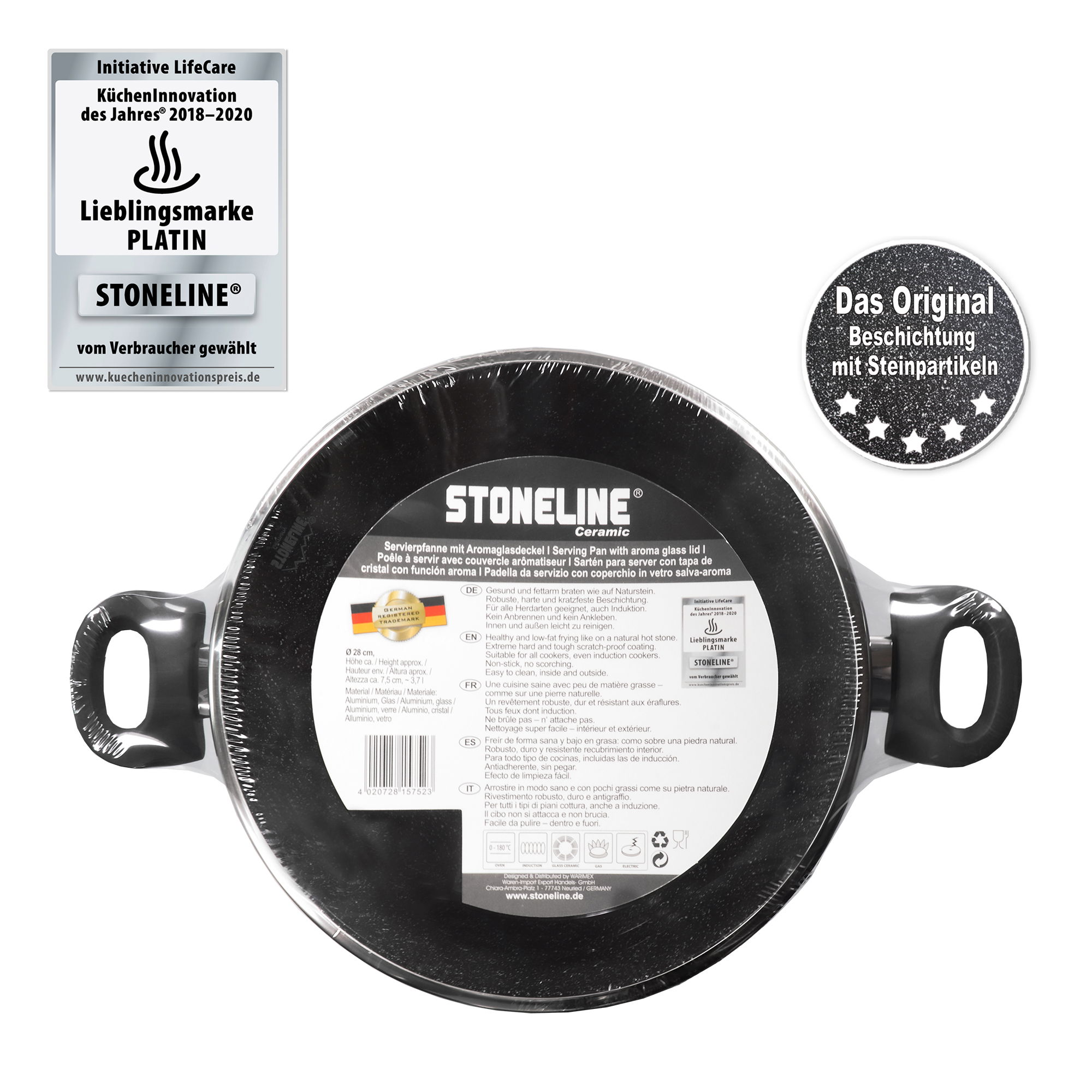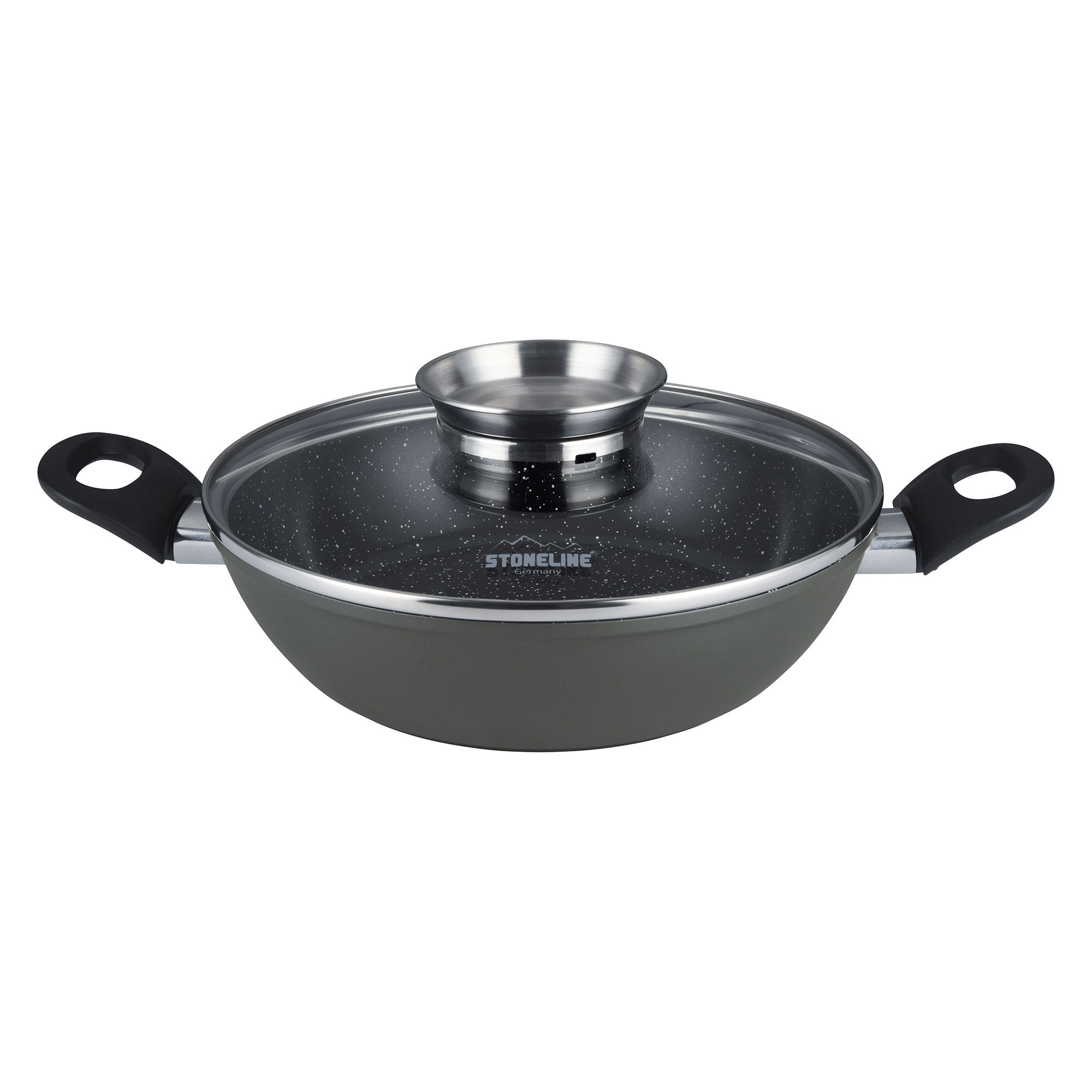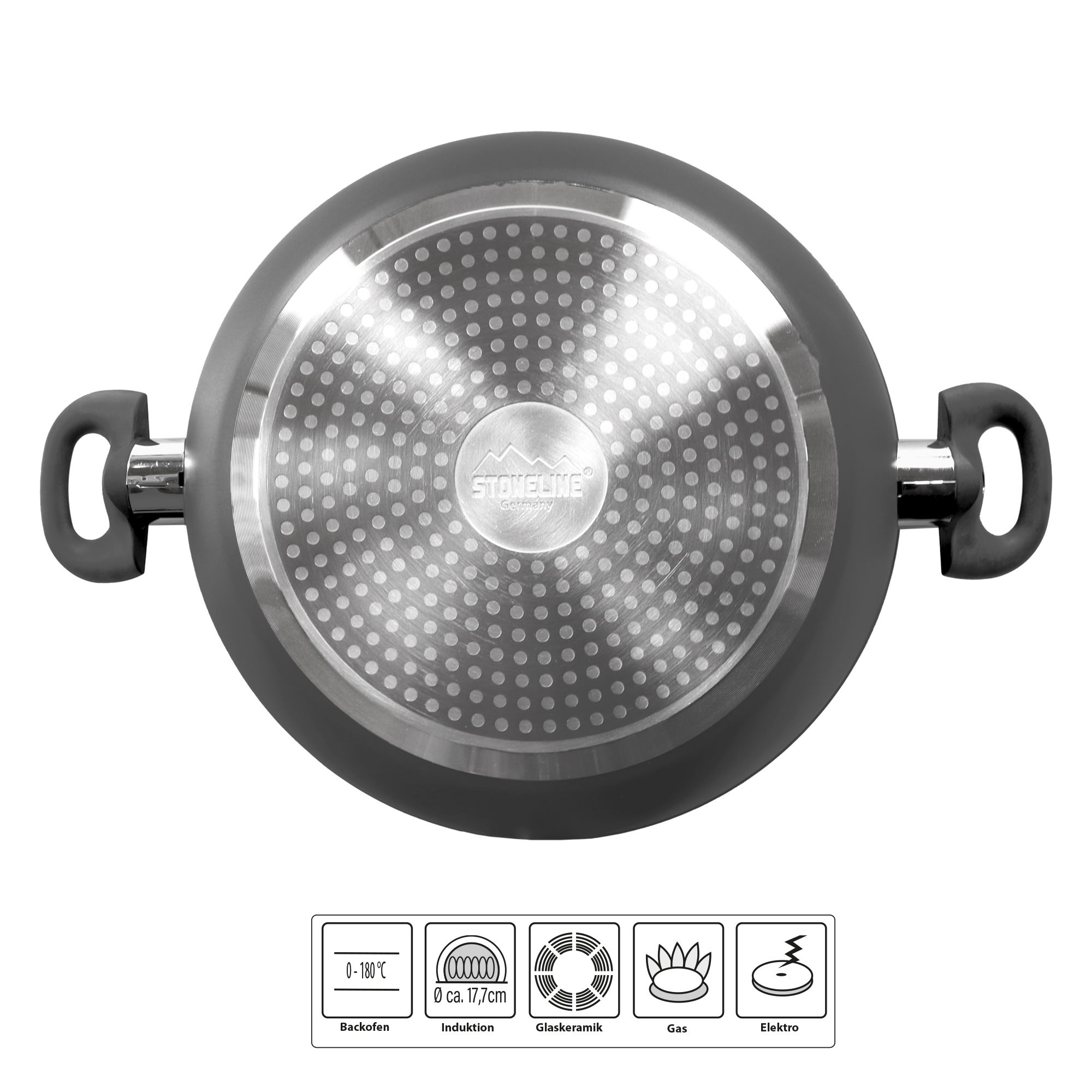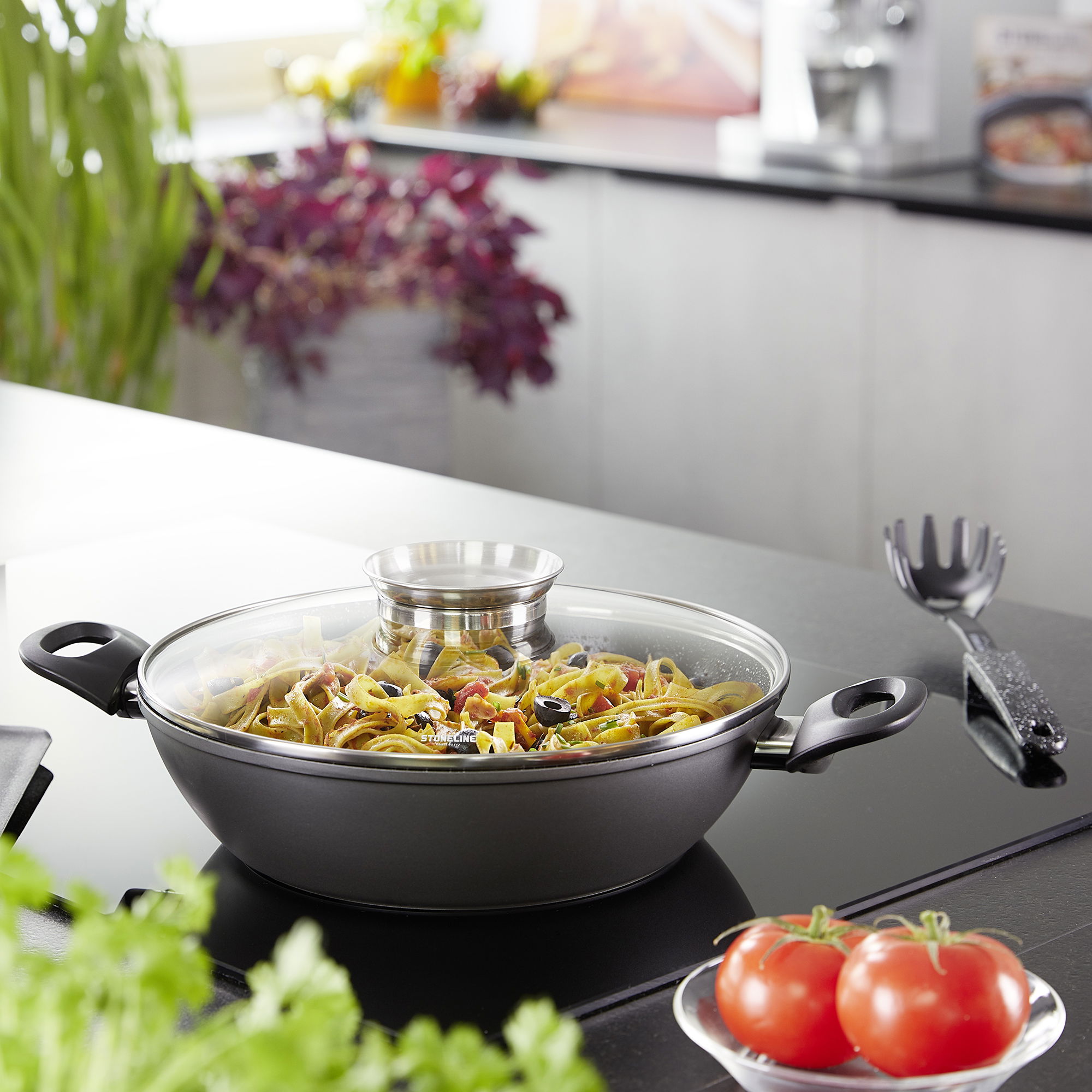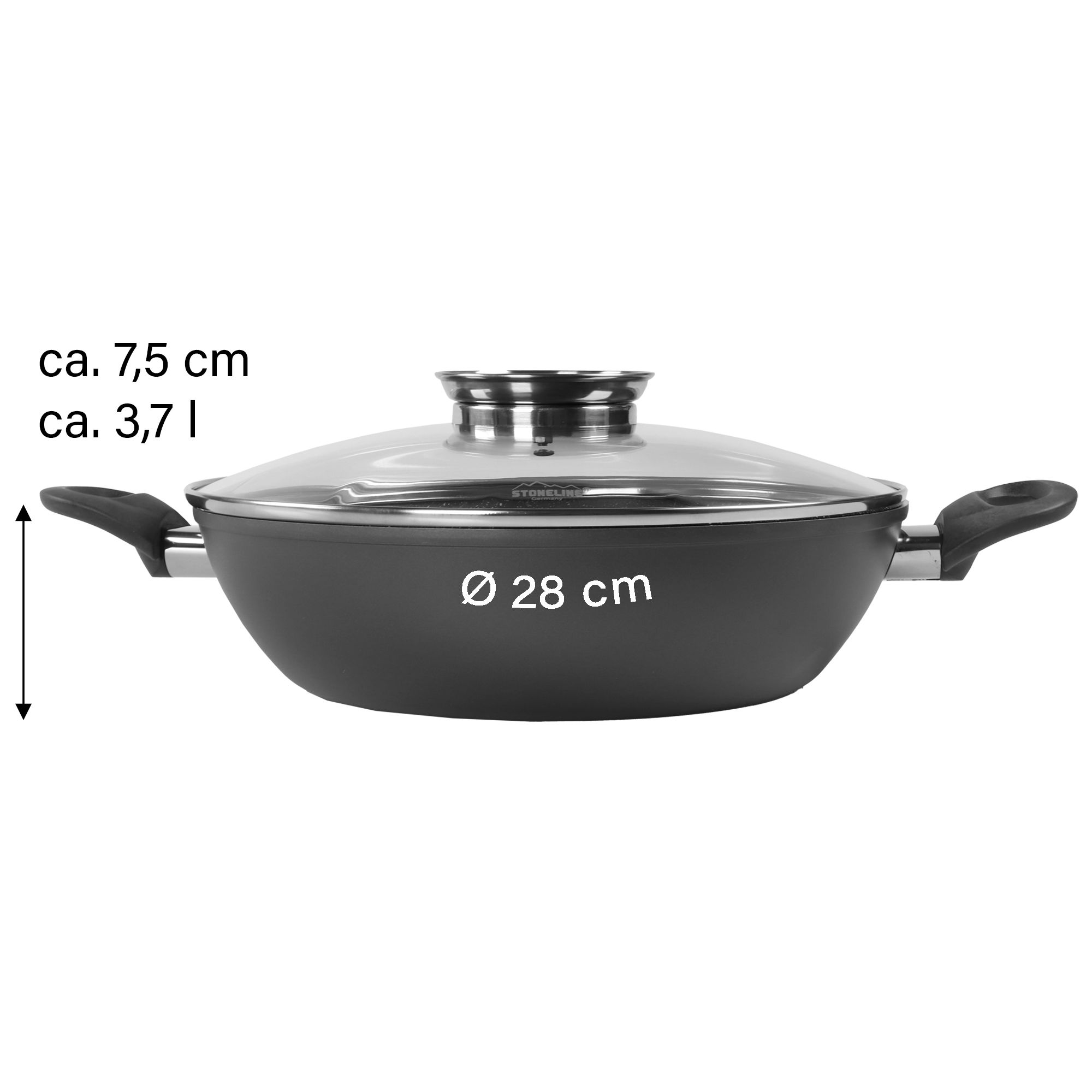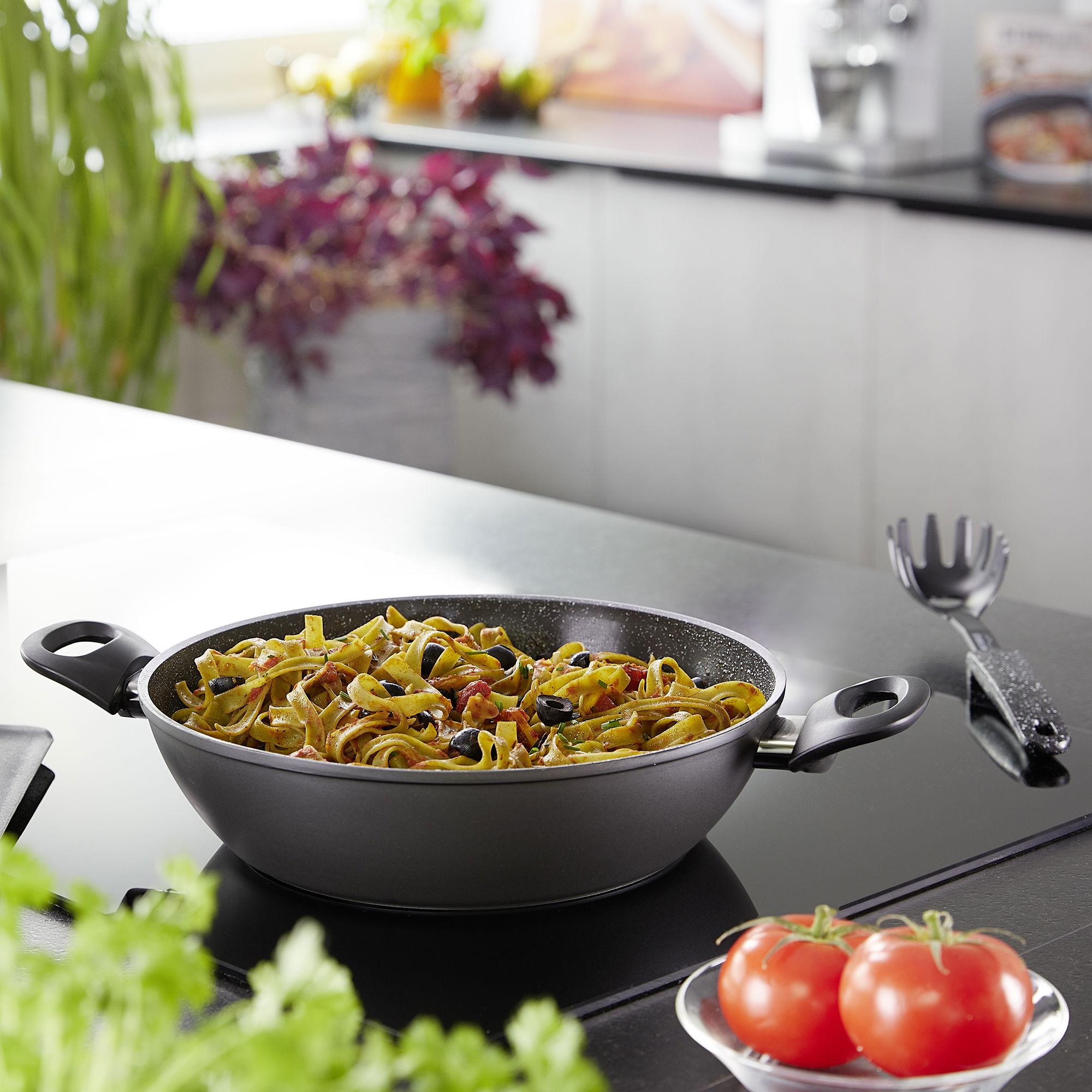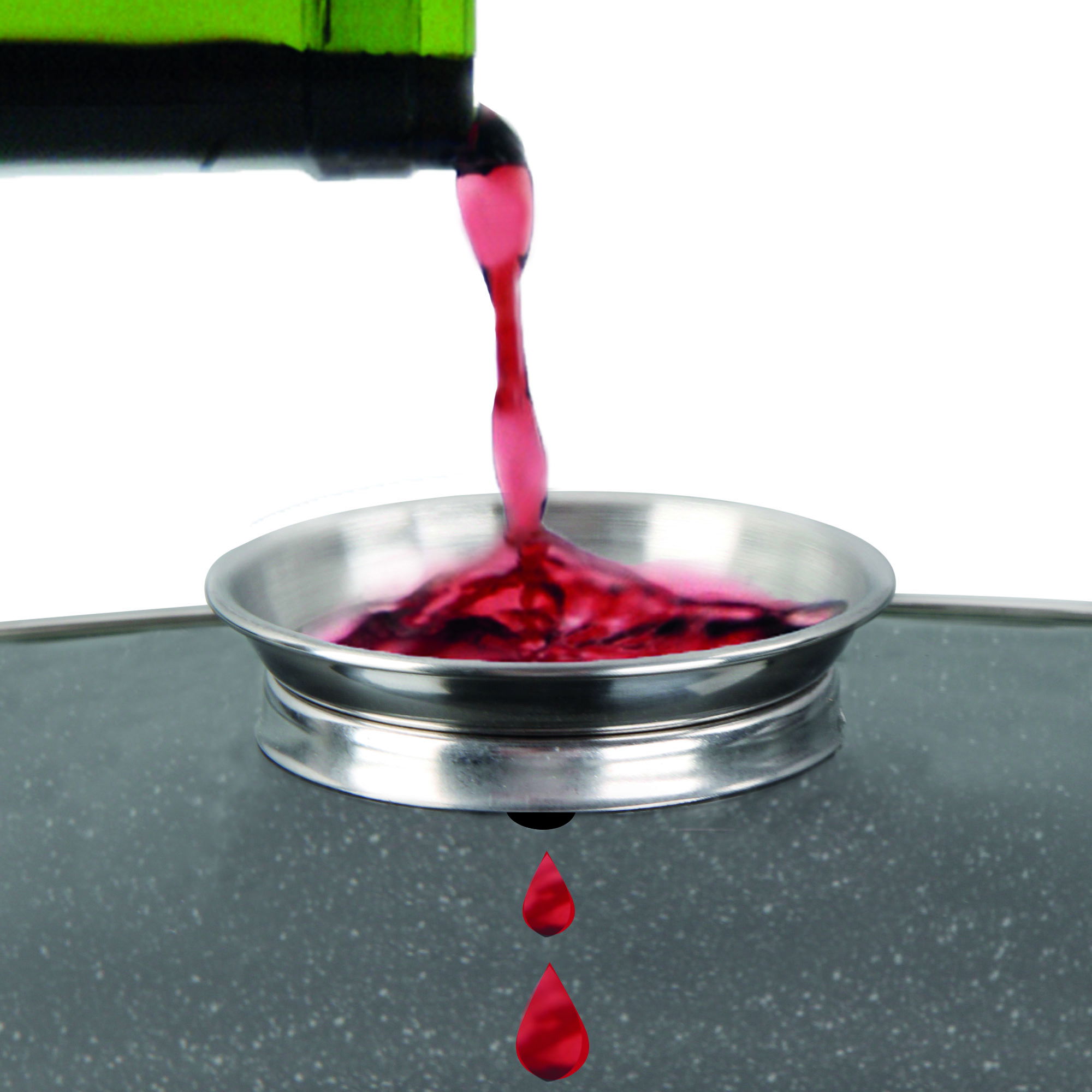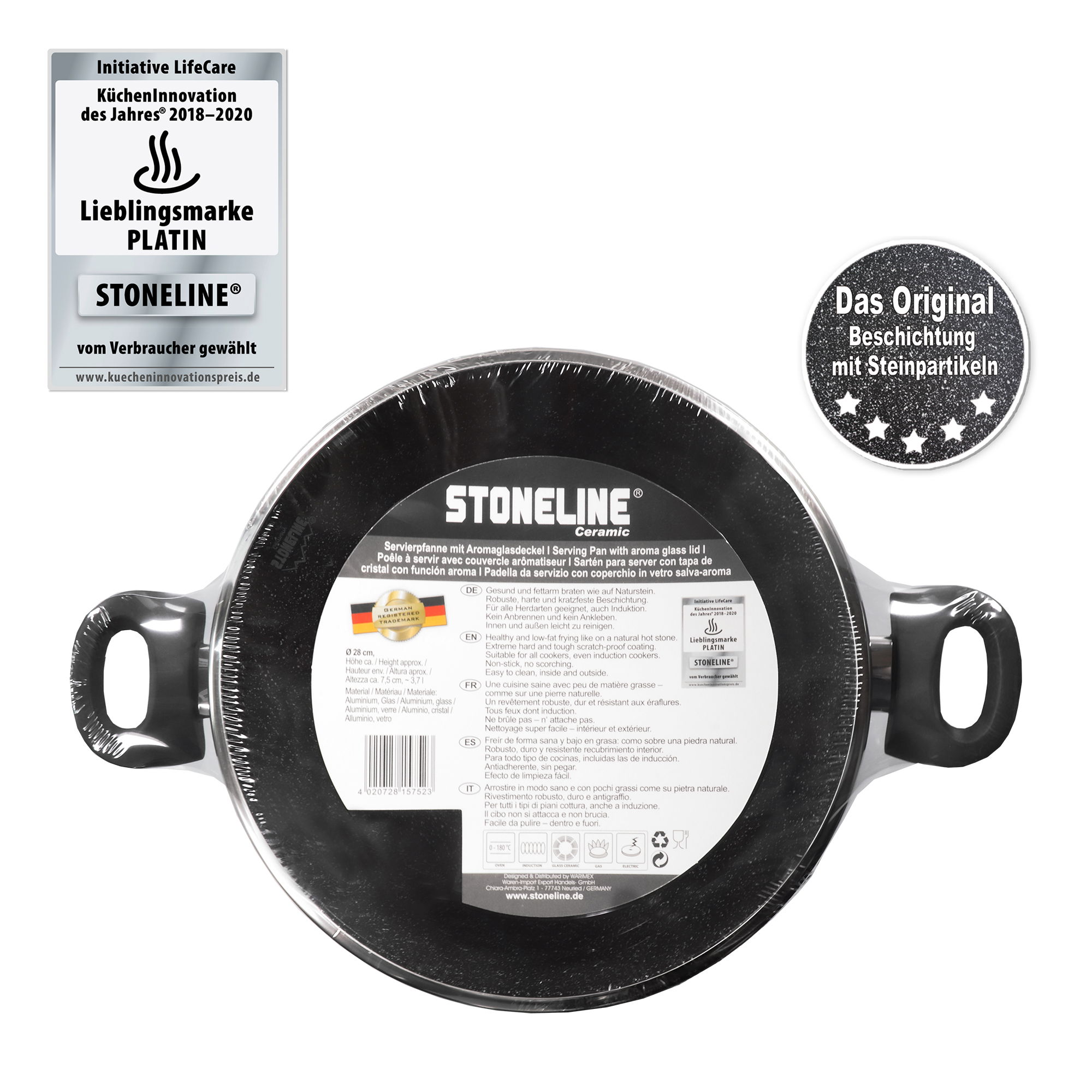 STONELINE® CERAMIC Serving Pan 28 cm, with Aroma Lid, Non-Stick Pan | CERAMIC Cookware
€34.95*
%
Old price: €99.95*
You save 65,00 €
STONELINE® - The original!
Now also available in ceramics– STONELINE® CERAMIC
This serving pan is suitable for preparing any meal that you want to serve directly from the cooktop onto the table!
It replaces the common serving bowl: Serve your food directly on the table and keep it warm longer thanks to its fabulous heat storage properties.
In addition, your food will look extra-decorative and appetizing in this pan.
If you also pay attention to lowfat cooking, this cookware is perfect for you!
A big advantage of this serving pan is its glass lid with aroma knob and venting hole. For dropwise adding liquids like wie, broth or water, without having to remove the lid - The entire aroma remains in the pan!
1 serving pan, diam. approx. 28 cm, height: approx. 6.4 cm, approx. 3.1 l
1 aroma glass lid, ø approx. 28 cm
The most important advantages of STONELINE® CERAMIC cookware at a glance:
Environmentally friendly ceramics coating
Scratchproof STONELINE® coating
Lowfat cooking and frying
Nurtrient and vitamin preserving
For perfect results and crispy meat
Fantastic nonstick properties
No sticking no burning
Pearling effect
Easy cleaning
Extremely heat-resistant - even suitable to flambé
Oven-proof until 180 °C
Suitable for all cookers including induction cookers
Extra stong, non-distorting heat distribution base
PFAS free


Tips for cleaning and care

We recommend cleaning your cookware thoroughly with water and a mild detergent before the first use.
Apply a few drops of cooking oil with a kitchen towel onto the coating.
No fat or oil is needed for further use!
Thanks to the Easy-Clean effect we recommend cleaning the cookware by hand. Wipe clean with hot water, a mild detergent and a soft sponge.
Coating:

ceramic

Content:

from 2 l to 3 l

, from 3 l to 4 l

Diameter:

24 cm

, 28 cm

Handle:

Fixed

Height:

5 to 10 cm

Lid:

Yes

Oven suitable until:

150 °C

, 180 °C

Series:

Ceramic

Type:

Square- and serving pans
---
mir fehlen die Worte...Stondine oder Stonline?
Marke Stoneline -Fettarm kochen, kenne ich schon einige Jahre...Stonedine ist nicht nur Kochen auf Stein, sondern mit einer zusätzlichen Keramikbeschichtung & Deckel ausgestattet, der Tropfenweise Öl, Wein der Garspeise zu tropft, einfach genial... in Handhabung wie Reinigung. Gr.24 reicht für eine 3 Köpfige Familie voll aus!
Verwandte Produkte zu diesem Artikel