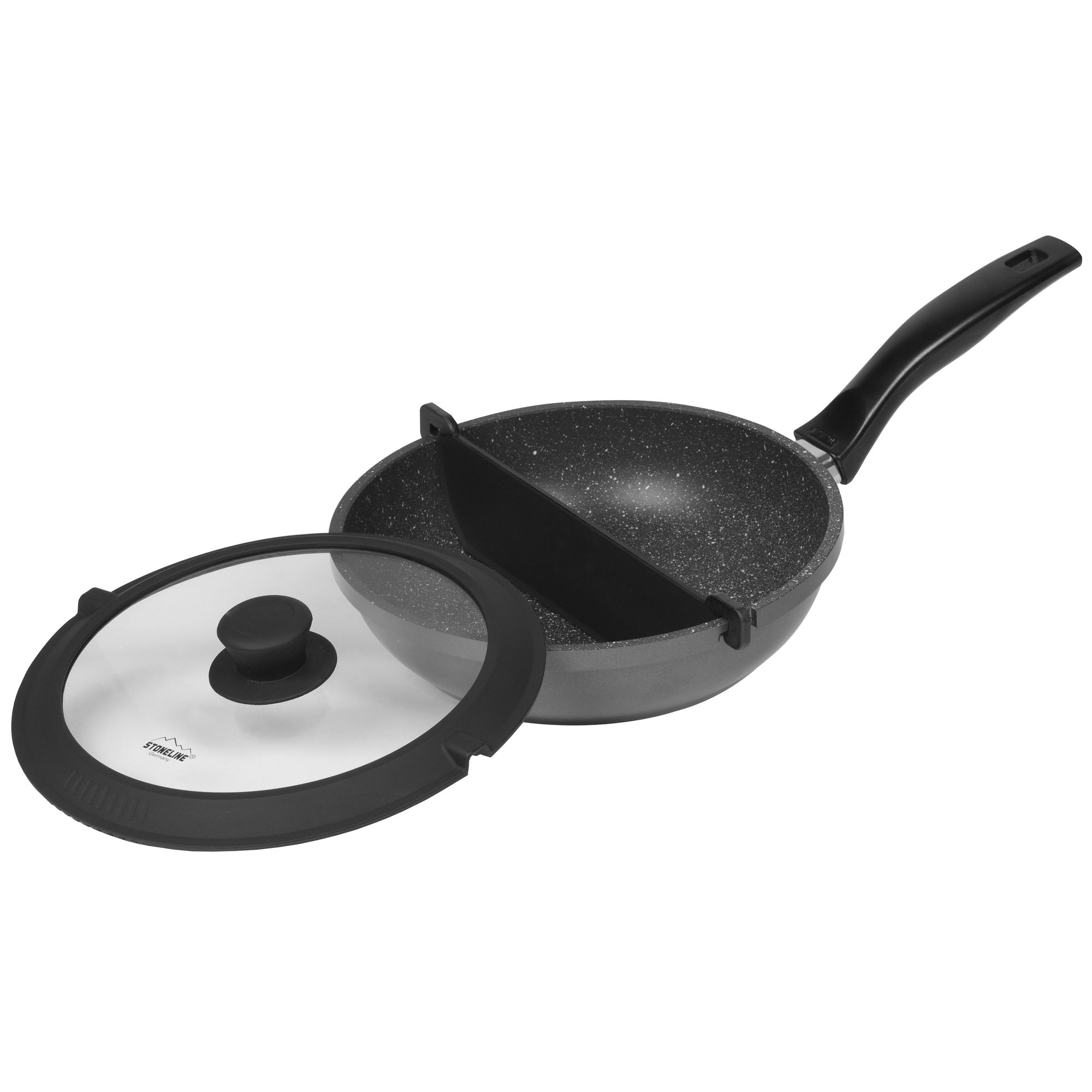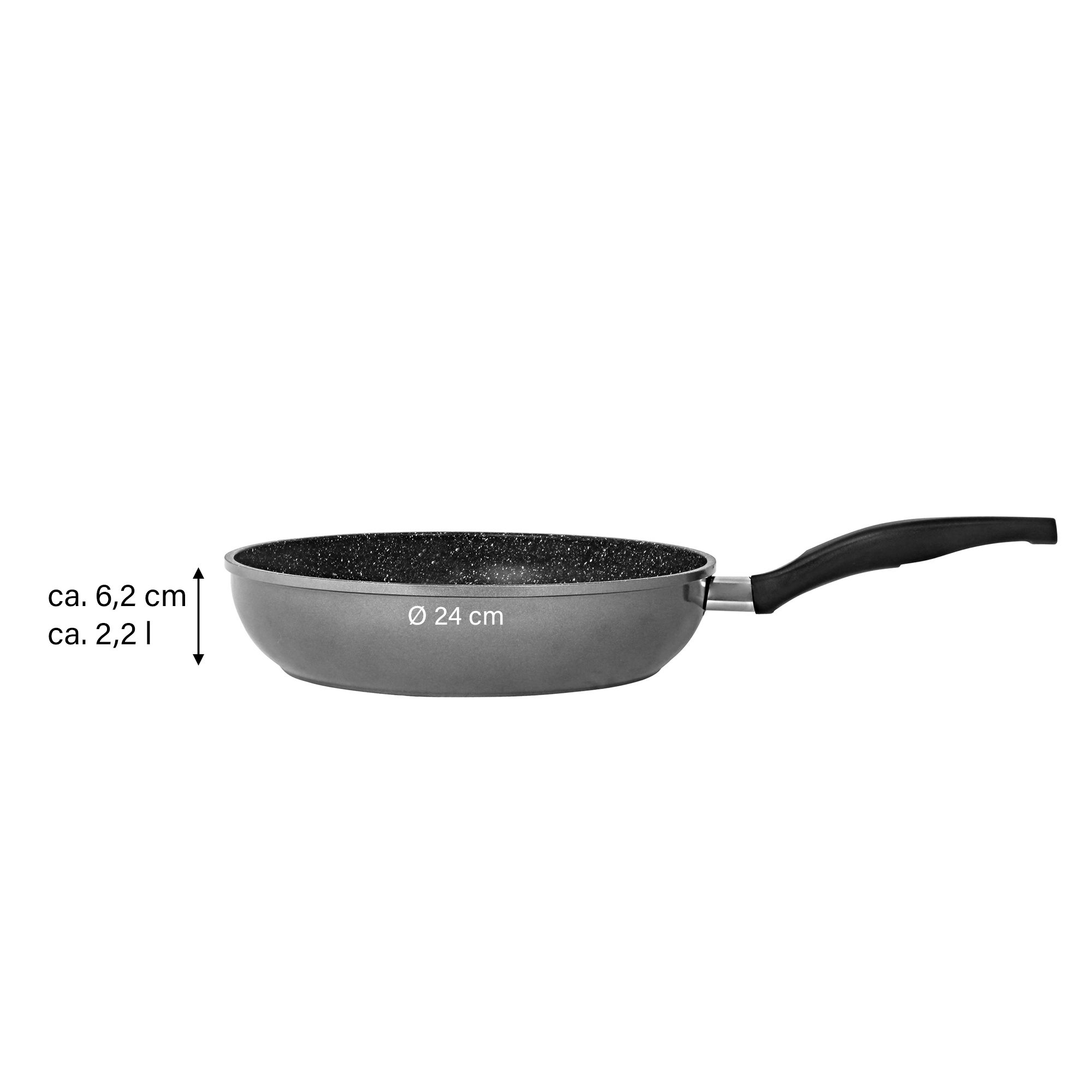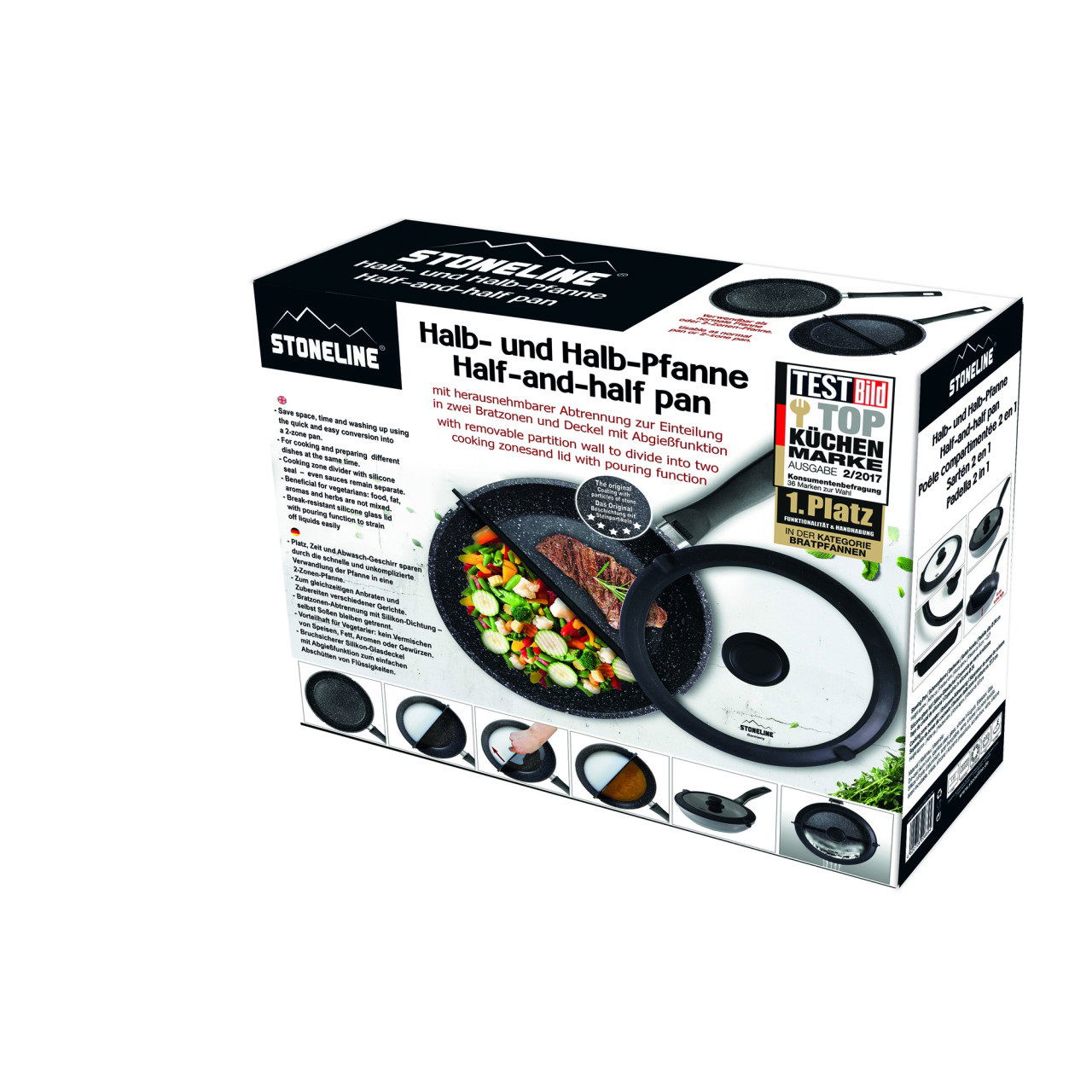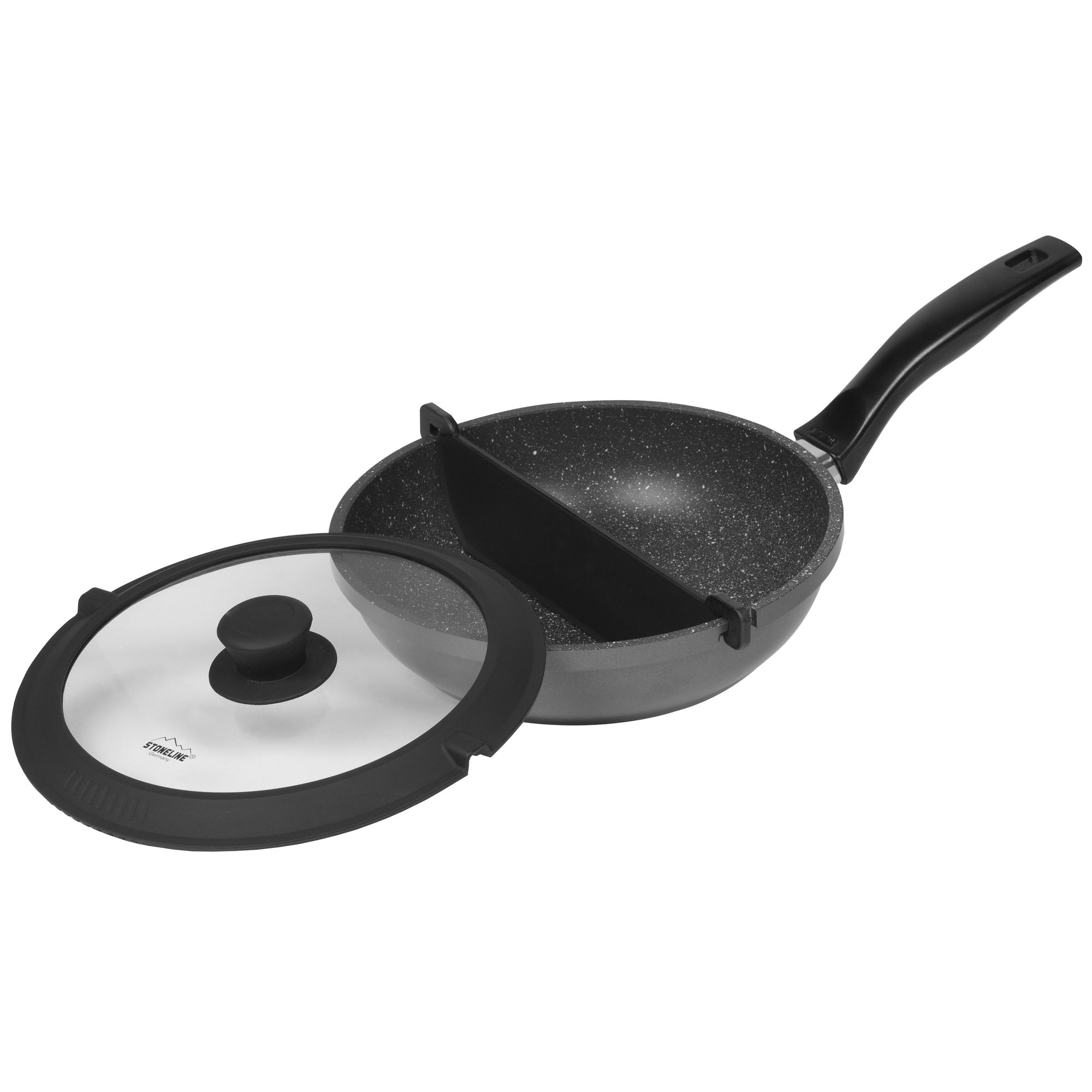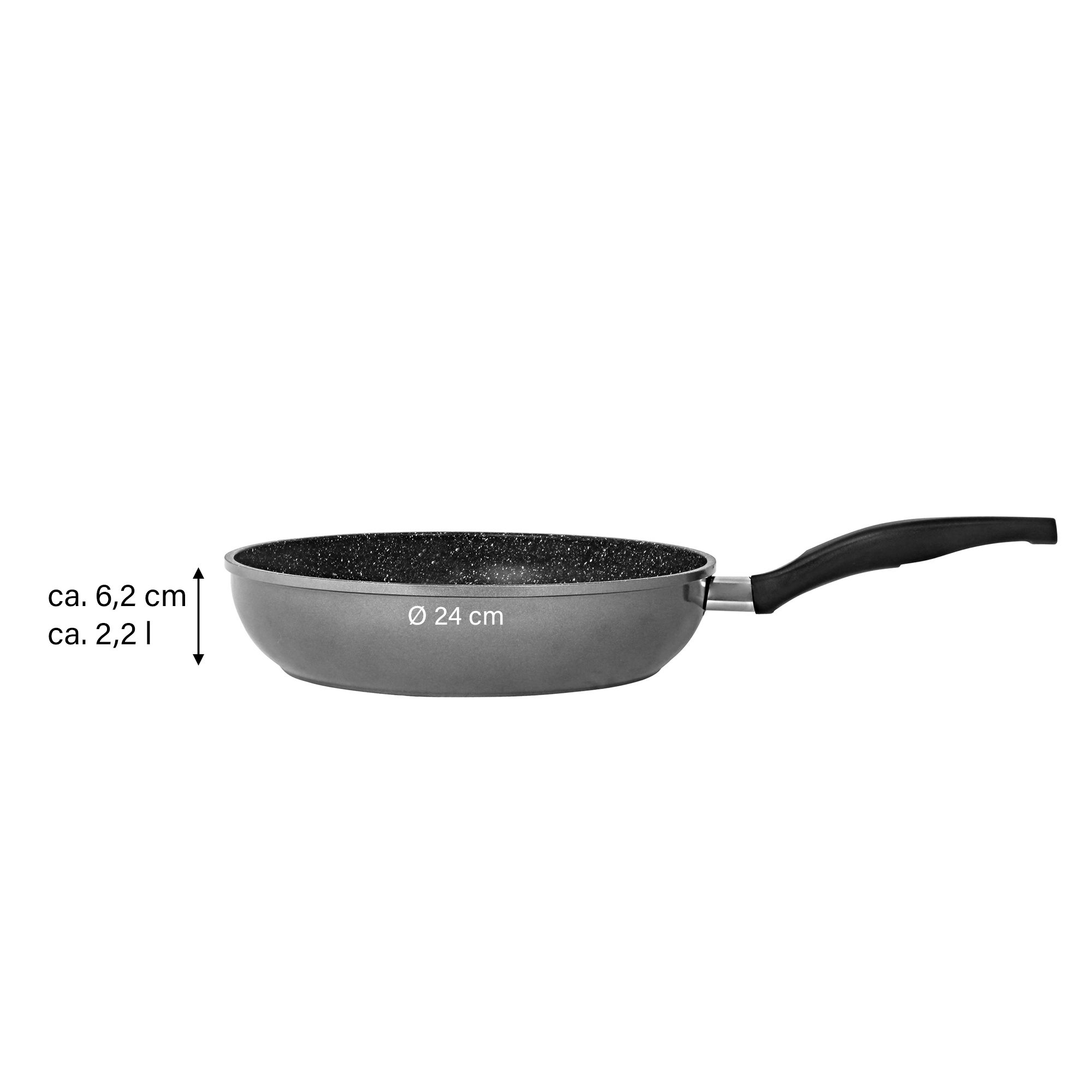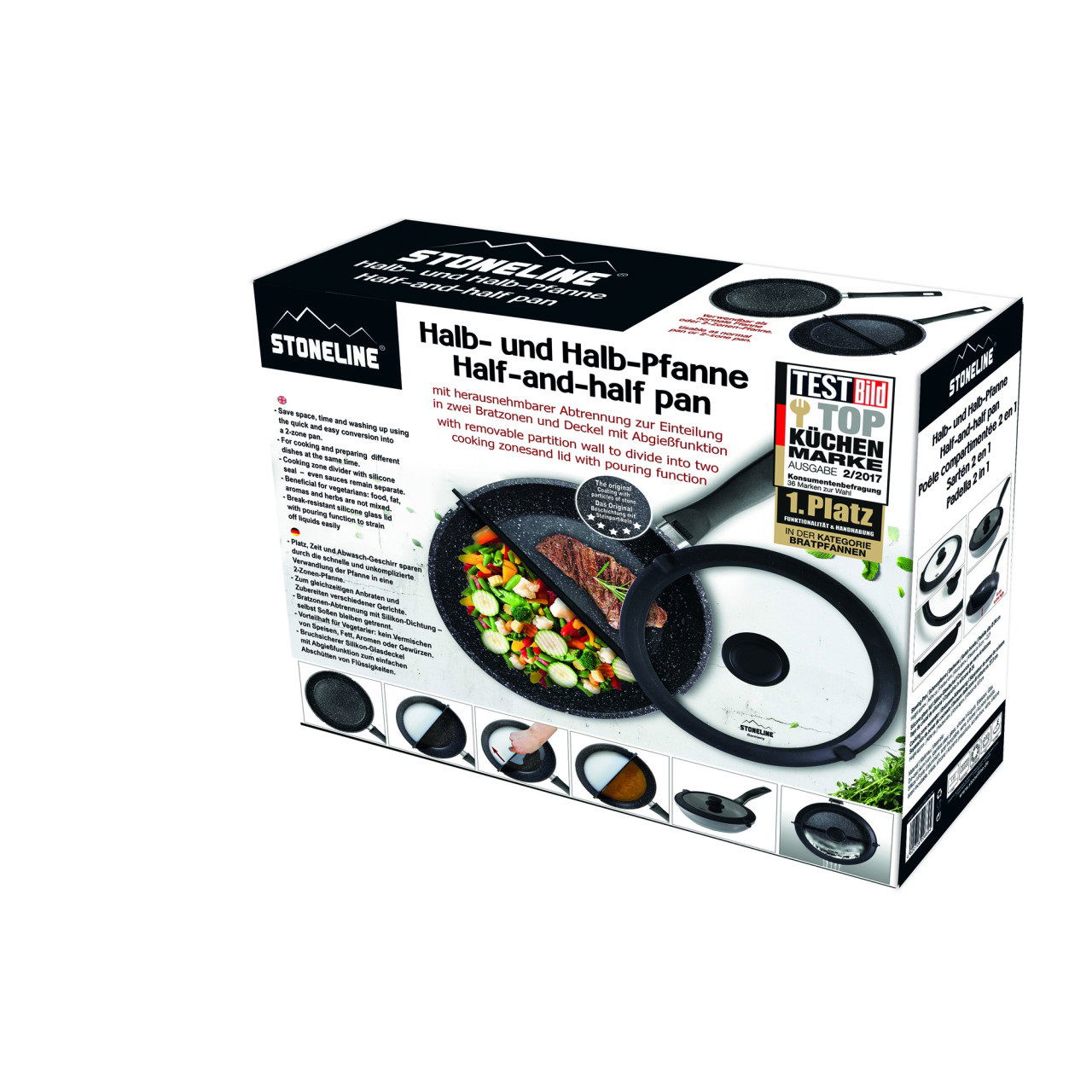 STONELINE® Frying Pan 24 cm with Removable Divider Separator, with Lid
€69.95*
%
Old price: €99.95*
You save 30,00 €
Available immediately, in 1-3 days at your home
STONELINE® – The Original!
Healthy frying and baking without fat!
With this unique pan, you can save space, time and washing up! Easily convert our extra-tall comfort pan into a 2-zone pan with just one action.
The STONELINE® half-and-half pan in cast aluminium features a silicon-reinforced cooking zone divider that can be activated easily and removed again with just one movement.
You can easily prepare two dishes simultaneously and, thanks to the completely leak-proof, silicon-reinforced cooking zone divider, you can even prepare two different sauces at the same time. And all this in one and the same pan!
It makes no difference whether you are cooking on a ceramic, induction, electric or gas hob.
Cookware with the original STONELINE® coating featuring real, finely-ground stone particles prevents stubborn food residue from sticking and the easy washing by hand saves you time and effort.
It also allows healthy and fat-free cooking. Cook meat, vegetables or fish without your dishes sticking to the base of the pan. The Easy-Clean effect means that the pan is simplicity itself to clean after cooking.
Special glass lid with whisper-quiet silicon rim
The elastic silicon rim on the glass lid developed especially for the half-and-half pan protects the surface of the pan and also makes the glass lid shatter-proof. The ergonomic handle protects against heat and burns. The glass insert in the lid allows you to easily keep an eye on the cooking process.
Integrated pourer function in the special glass lid
The integrated pourer function in the lid means you can separate liquids easily from the cooking food.
Patent registered.
Comprising:
1 STONELINE® half-and-half pan in cast aluminium, diam. approx. 24 cm, height: approx. 6.2 cm, approx. 2.2 l
1 special glass lid with whisper-quiet silicon rim and integrated pourer function
1 cooking zone divider, silicon-reinforced, leak-resistant
Can be used as a high comfort pan or 2-zone pan
For cooking and preparing different dishes at the same time.
Cooking zone separator with silicon seal - even sauces remain separate.
Great for vegetarians: food, fat, aromas and spices are not mixed.
Break-resistant silicon glass lid with pourer function to easily remove liquids.
Glass lid rim and handle made from silicon: protects the pan's surface from scratches and prevents burns.
Simple insertion and removal of the cooking zone separator with just one hand movement.
The key advantages of STONELINE® cookware at a glance:
Scratch-resistant, STONELINE® anti-stick coating
Vitamin-preserving cooking and frying without fat or oil
A perfect fry and crispy cooked meat
Also suitable for VEGETARIANS: vegetables stay crunchy and juicy
No burning and no sticking
Superbly easy to clean
Extra-strong, warp-free base
Base thickness: approx. 5.5 mm
Suitable for all hobs, including induction
Oven-safe up to 180 °C
Materials: Cast aluminium, stainless steel, glass, silicon
Cleaning and care tips:
Before using it for the first time, we recommend washing your cookware thoroughly with a little water and gentle detergent.
Then use a paper towel to spread a few drops of cooking oil over the coating.
With further use, you can stop using fat or oil!
We recommend cleaning by hand thanks to the Easy-Clean effect. Simply wipe out with hot water, washing-up liquid and a soft sponge.
| | |
| --- | --- |
| Content: | from 1 l to 2 l |
| Diameter: | 24 cm |
| Handle: | Fixed |
| Lid: | Yes |
| Oven suitable until: | 180 °C |
| Series: | Classic |
| Type: | Frying Pans |