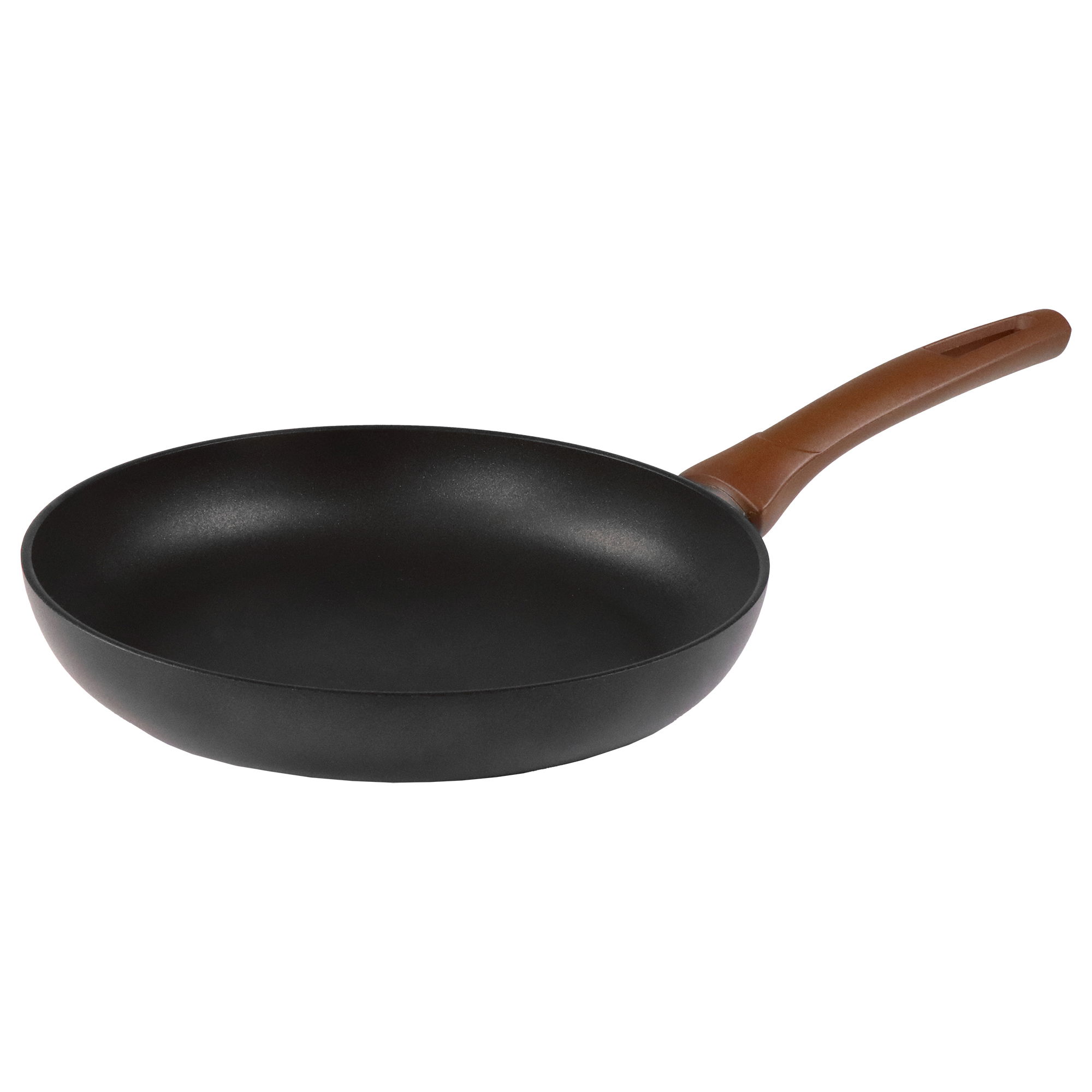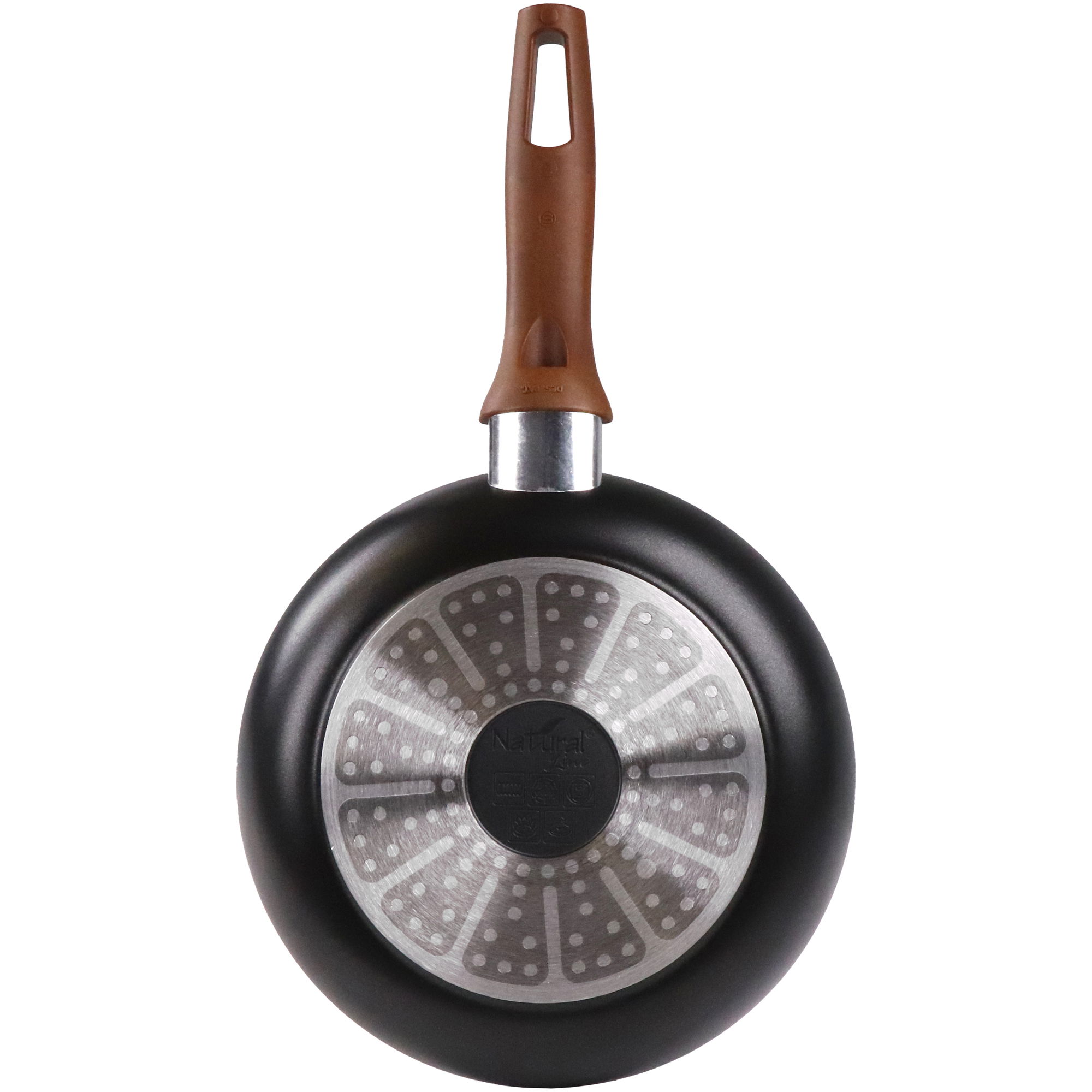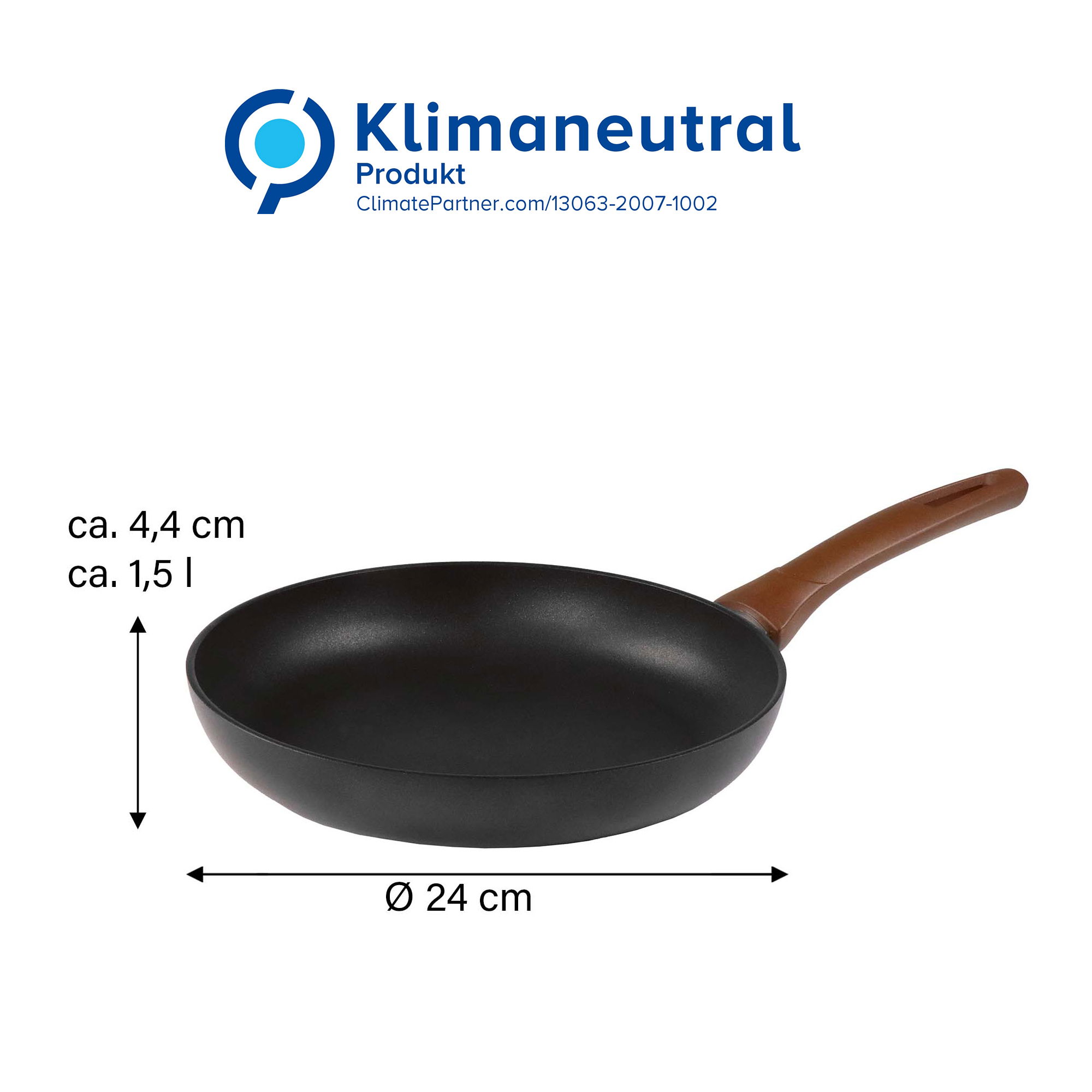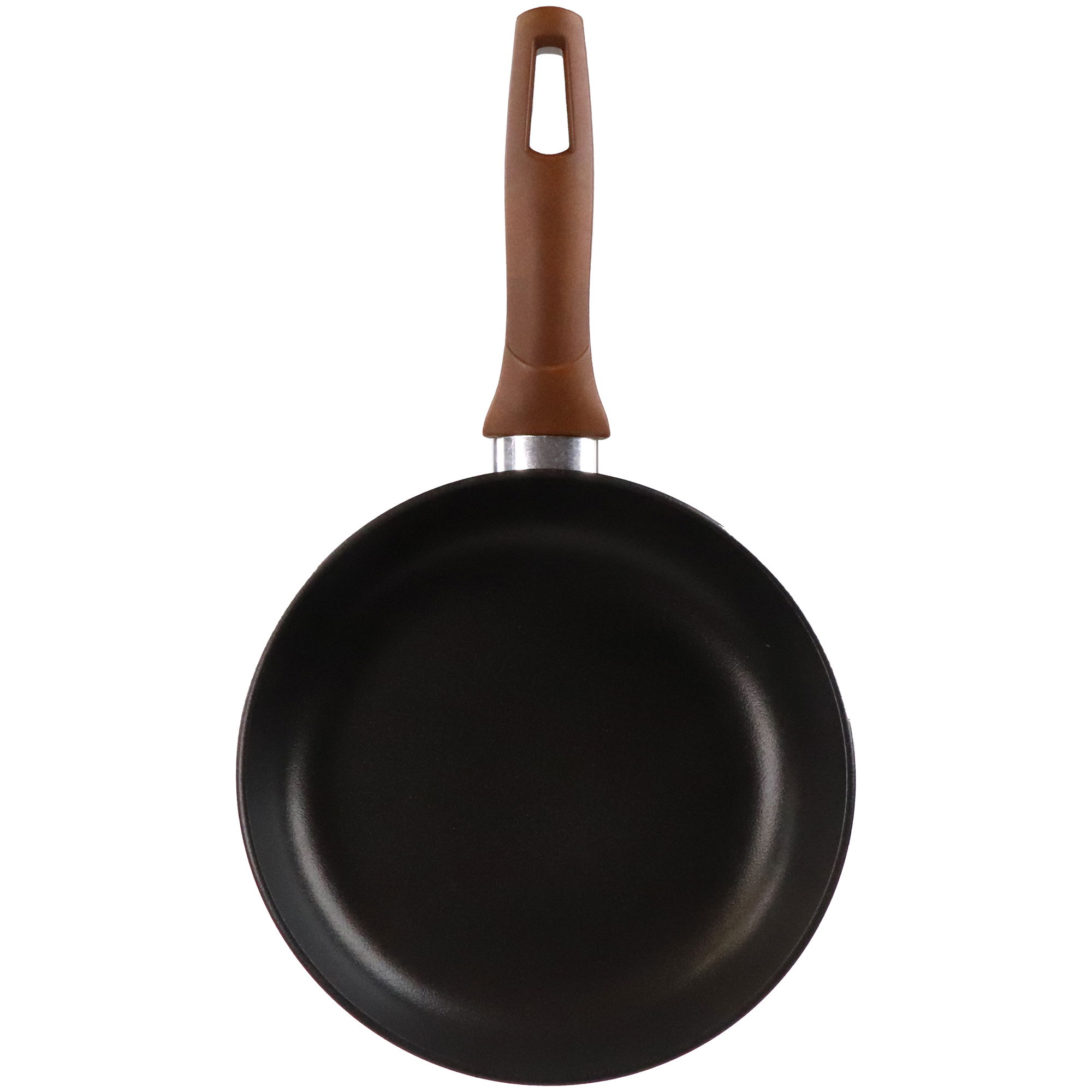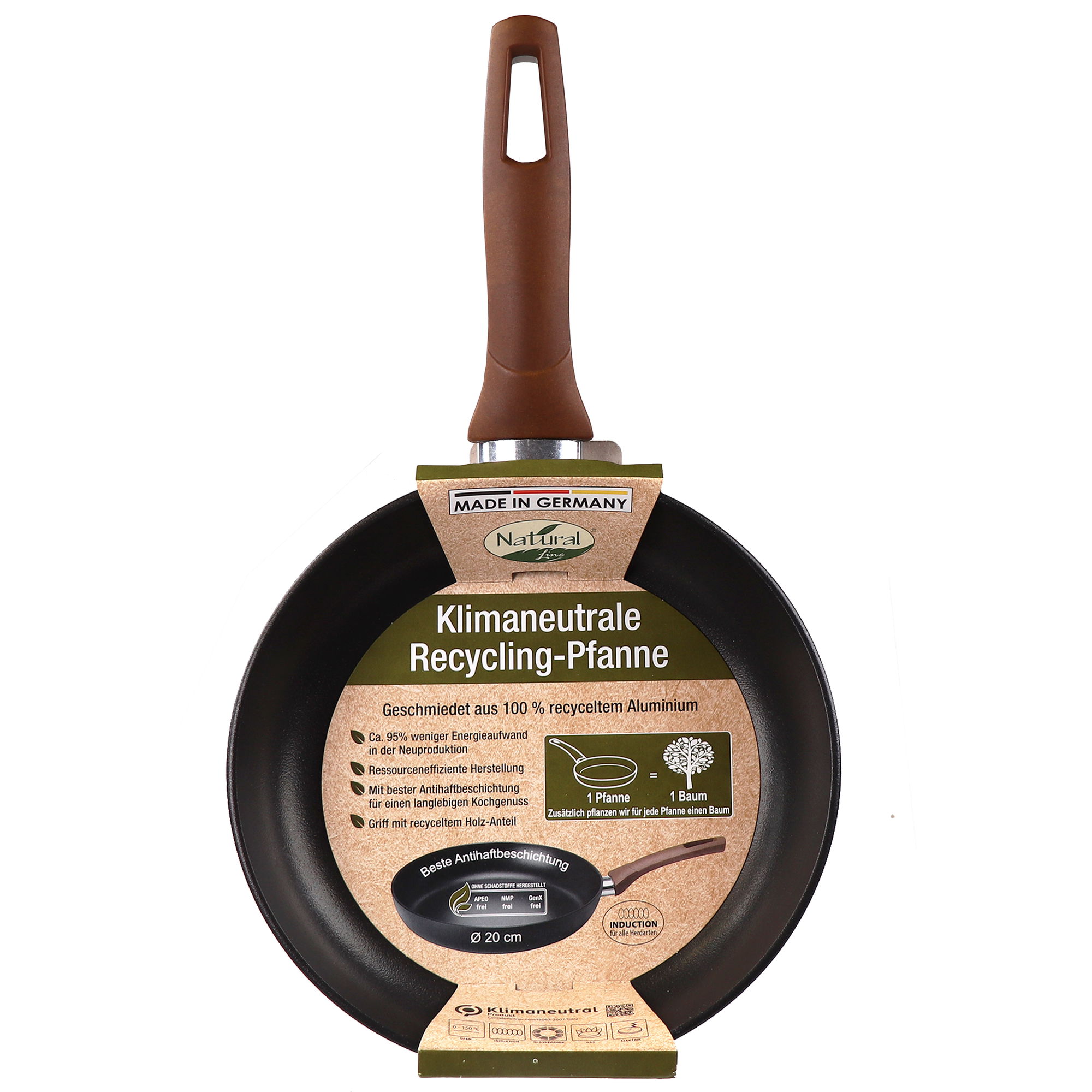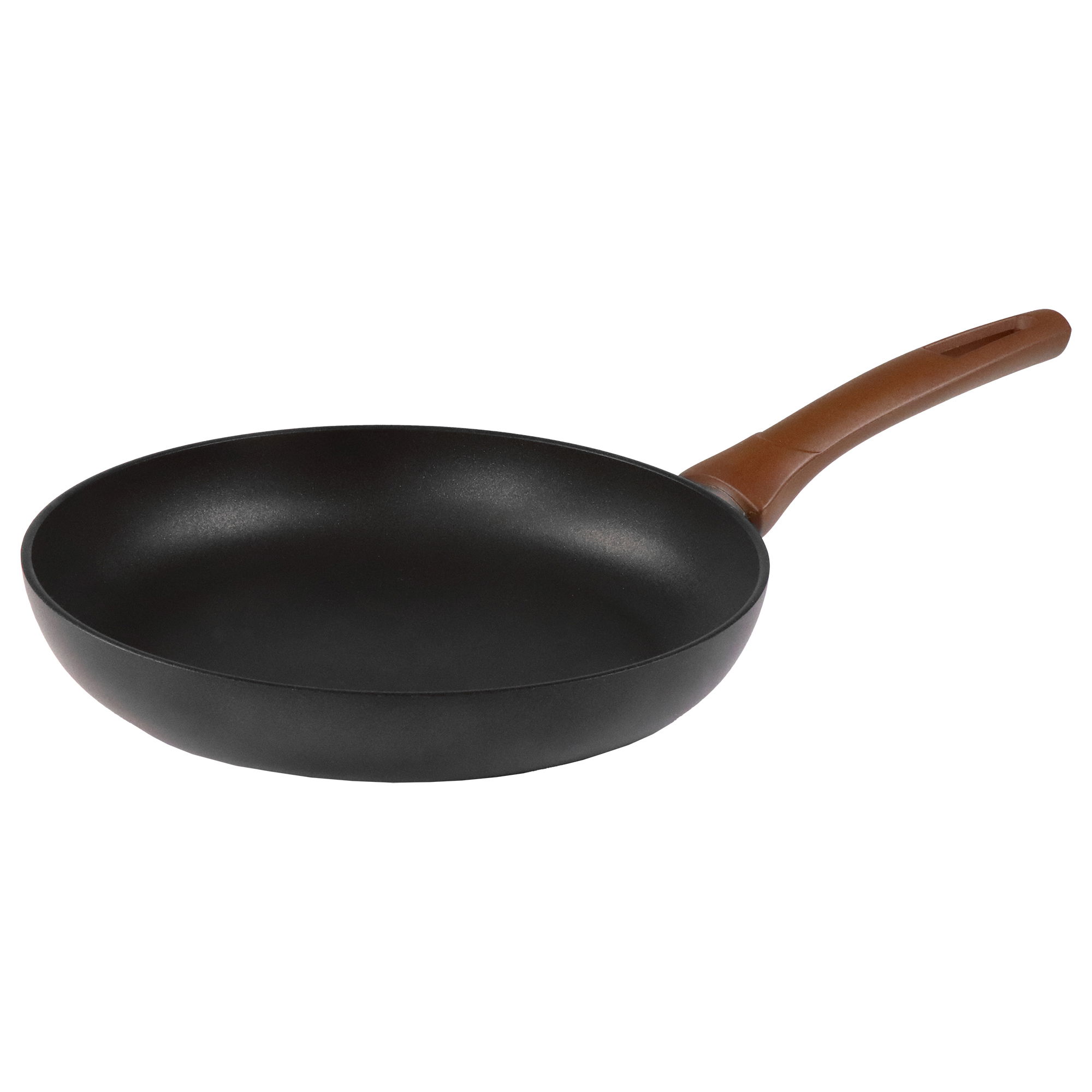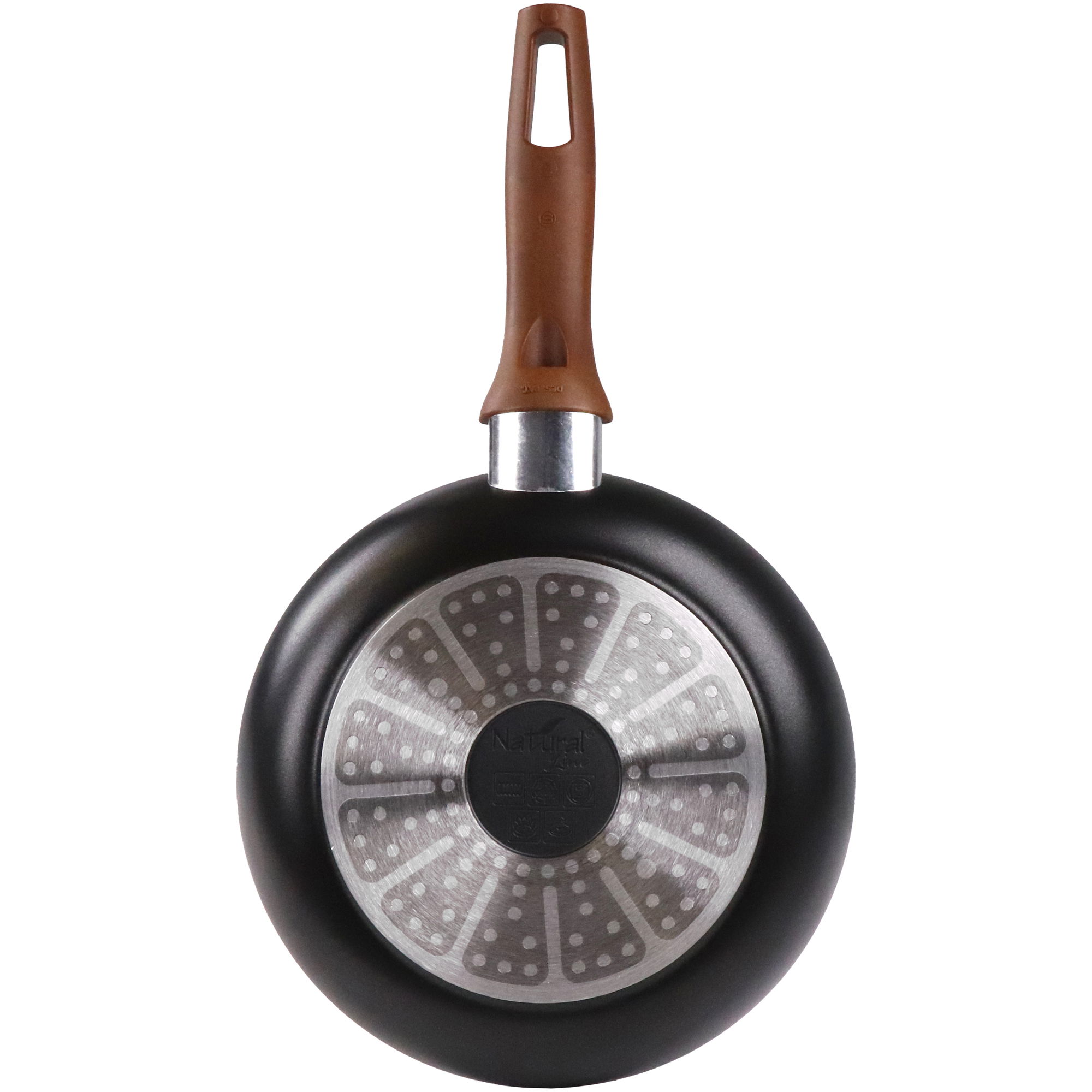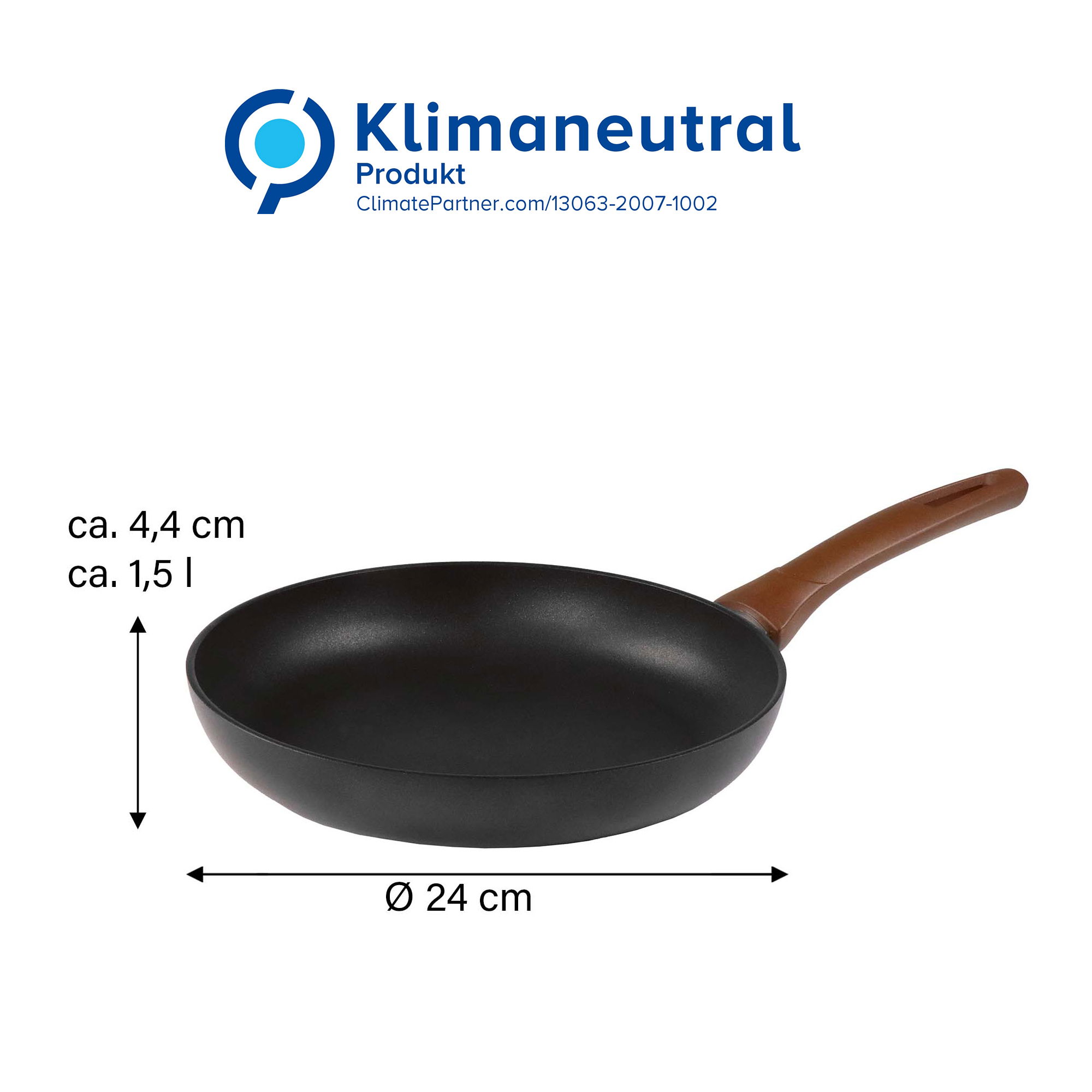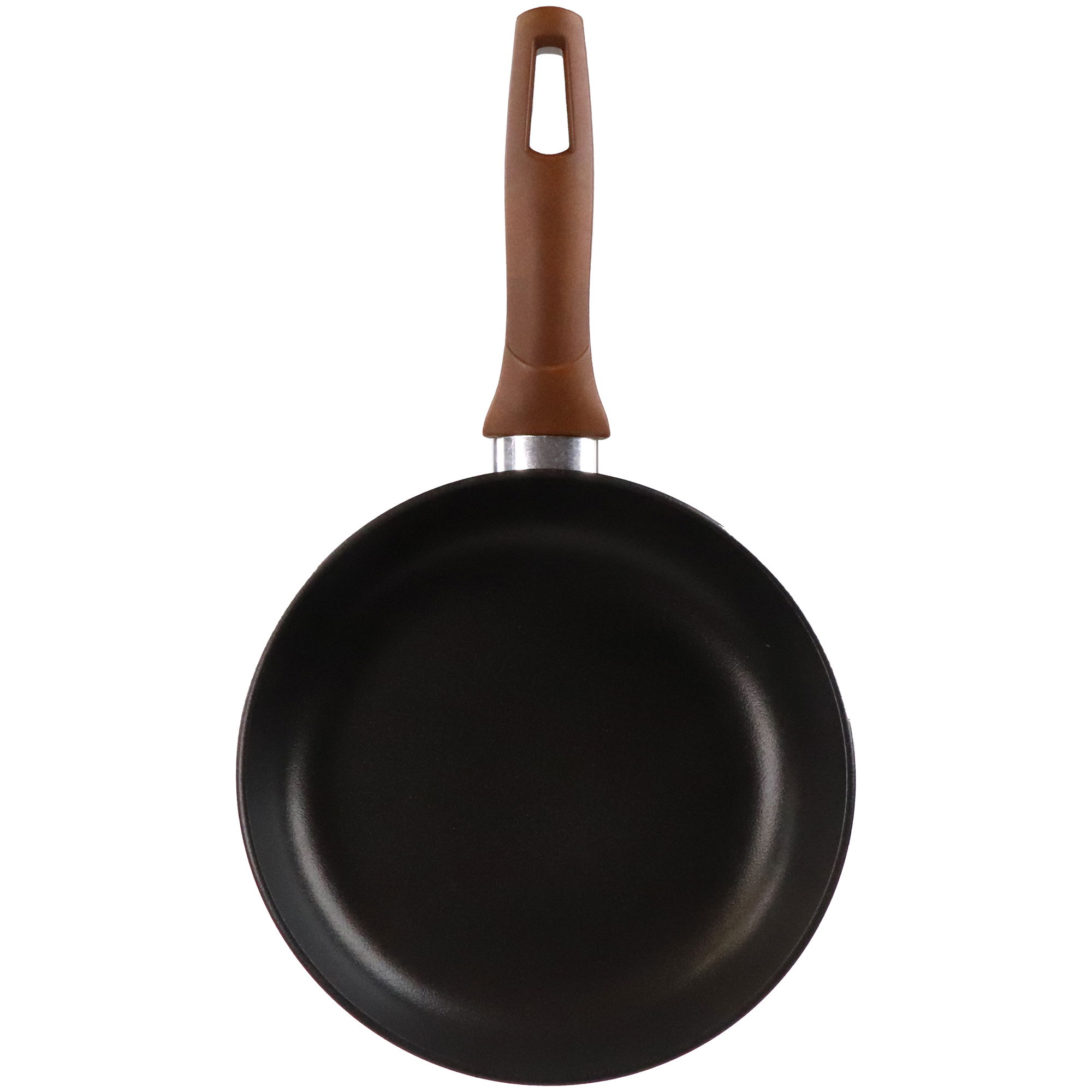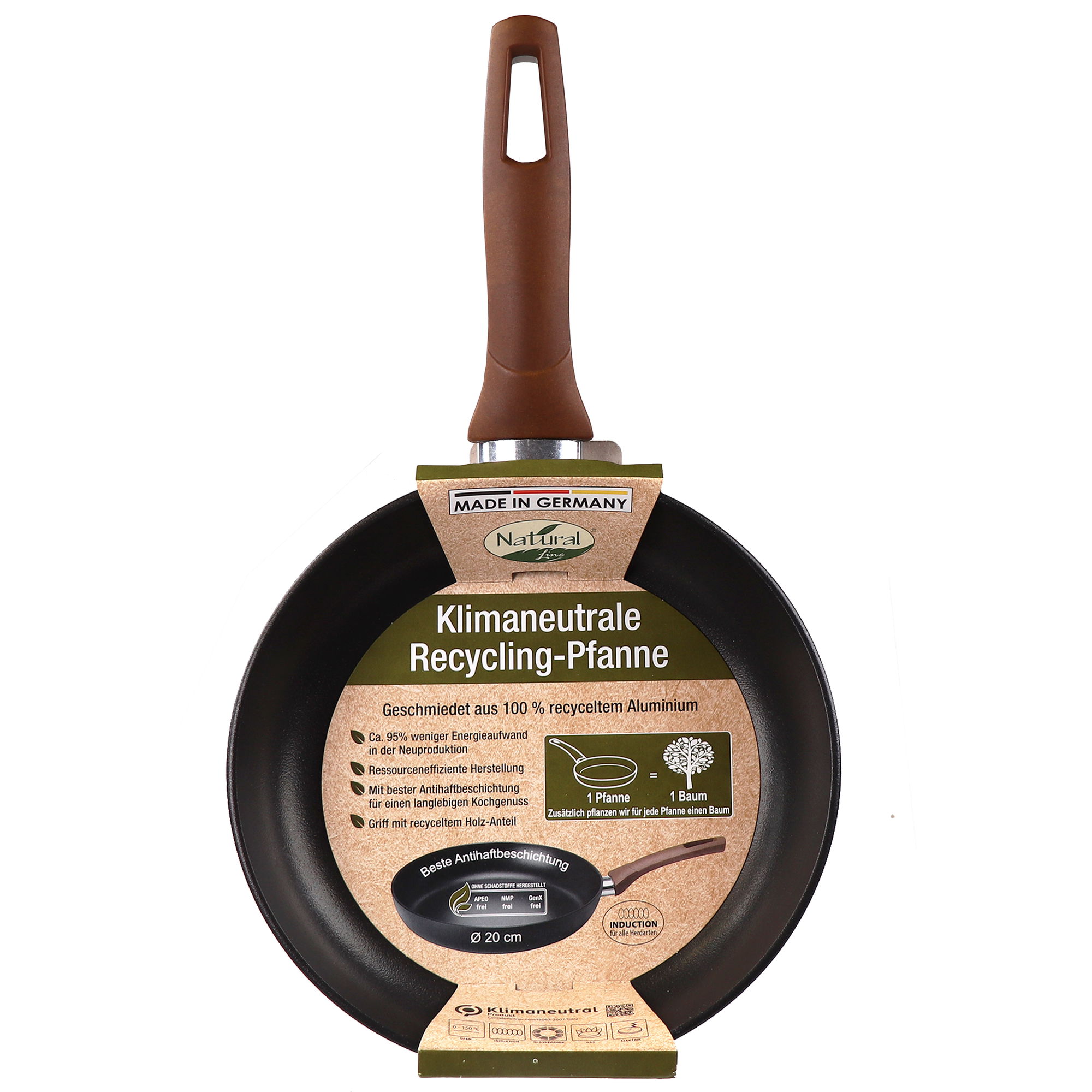 Natural Line® frying pan 24 cm, recycled pan, non-stick and suitable for induction
€44.95*
%
Old price: €99.95*
You save 55,00 €
Available immediately, in 1-3 days at your home
Natural Line®
Climate-neutral recyling pan. From nature-for nature!
With a diameter of 24 cm, this frying pan is the standard size and is an essential item for every kitchen.

The Hybrid® coating features superb non-stick properties.
Cook meat, vegetables or fish without your dishes sticking to the base of the pan.
It makes no difference whether you are cooking on a ceramic, induction, electric or gas hob.

After cooking, the pan is incredibly easy to clean thanks to the easy-clean effect.

This pan is manufactured in a resource-efficient way: approx. 95% less energy is required for the production of new pans.
The pan body is also made from 100% recycled aluminium and the handle with recycled wood content.
Recycled materials are also used for the packaging.

Another advantage of the recycling pan:

With the Natural Line® recycling pan you not only enrich your home, you are also doing something good: the frying pan is a climate-neutral product.
In cooperation with ClimatePartner, WARIMEX calculates all CO2 emissions caused by the article's production, transport and packaging.
Warimex offsets the emissions produced in this process through an internationally recognised climate protection project.
In this case, the company supports forest protection in Portel, Brazil.
Here, large amounts of rainforest are cleared every year and used by farms, for example to grow soy plantations. As a result, one of the most important CO2 reservoirs on earth is becoming smaller and smaller, and animals as well as the residents of the Amazon are losing their habitat. The project ensures that the forest is preserved in the long term and, together with the local population, protects the area from negative impacts.

1 frying pan, diam. approx. 24 cm, height: approx. 4.4 cm, approx. 1,4 l, induction base: diam. approx. 16 cm

The key advantages of the Natural Line® frying pan at a glance:
Sustainable Hybrid® non-stick coating for long-lasting cooking enjoyment
Healthy and vitamin-preserving frying with little fat or oil
Approximately 95% less energy required for new production
Pan body made from 100% recycled aluminium
Handle with recycled wood content
Even heat distribution
Free from harmful substances
Resource-efficient production
Made in Germany
Extremely high scratch resistance
Very easy to clean thanks to the easy-clean effect
Suitable for all hobs, including induction
Extra-strong, warp-free base
Heat-resistant up to 150 °C
Cleaning and care tips:

Before using it for the first time, we recommend washing your cookware thoroughly with a little water and gentle detergent.
Then use a paper towel to spread a few drops of cooking oil over the coating. We recommend cleaning by hand thanks to the easy-clean effect. Simply wipe out with hot water, washing-up liquid and a soft sponge.
Coating:

Non-stick coating

Content:

from 1 l to 2 l

Diameter:

20 cm

, 24 cm

, 28 cm

Handle:

Fixed

Height:

2 to 5 cm

Lid:

No

Oven suitable until:

150 °C

Series:

Natural Line

Type:

Frying Pans