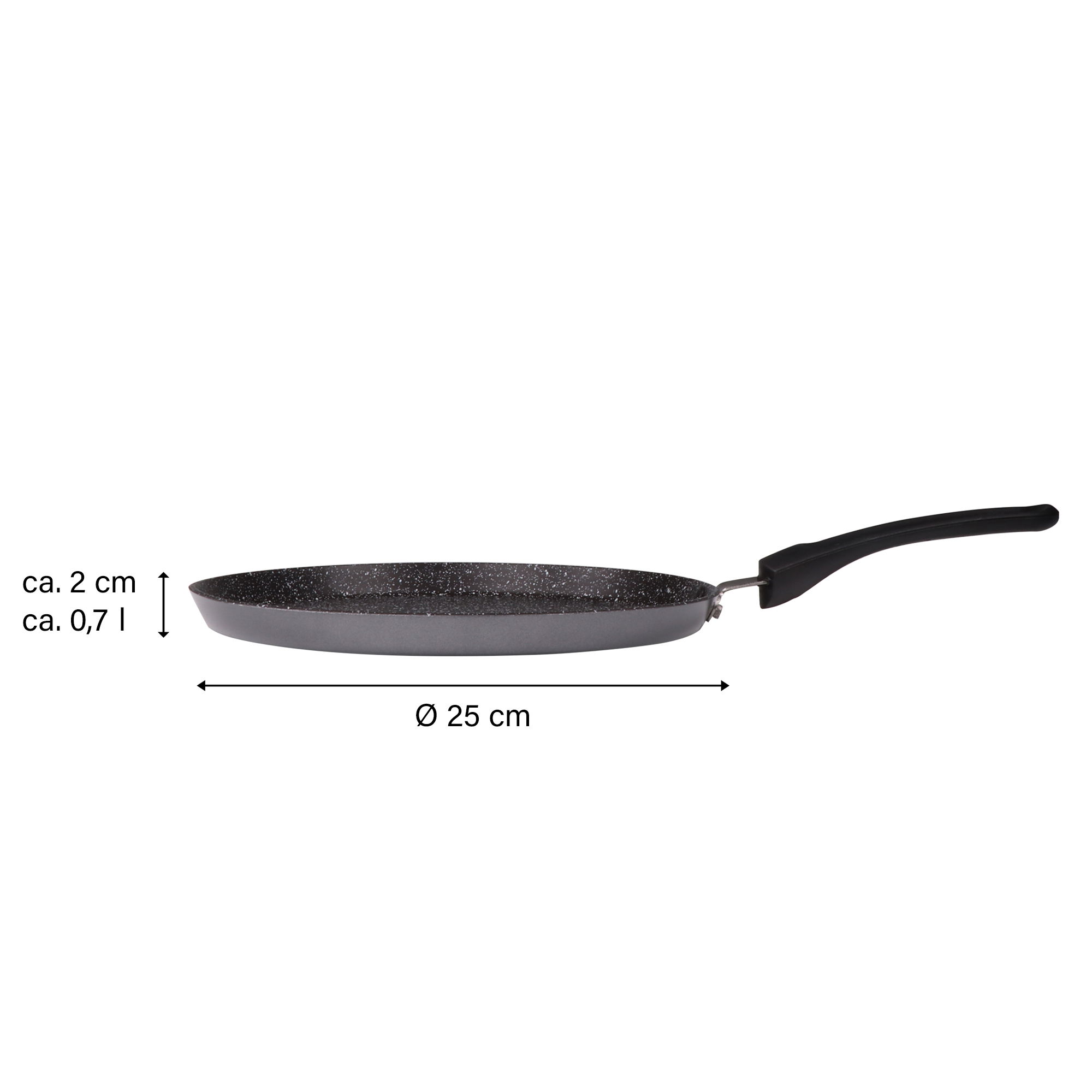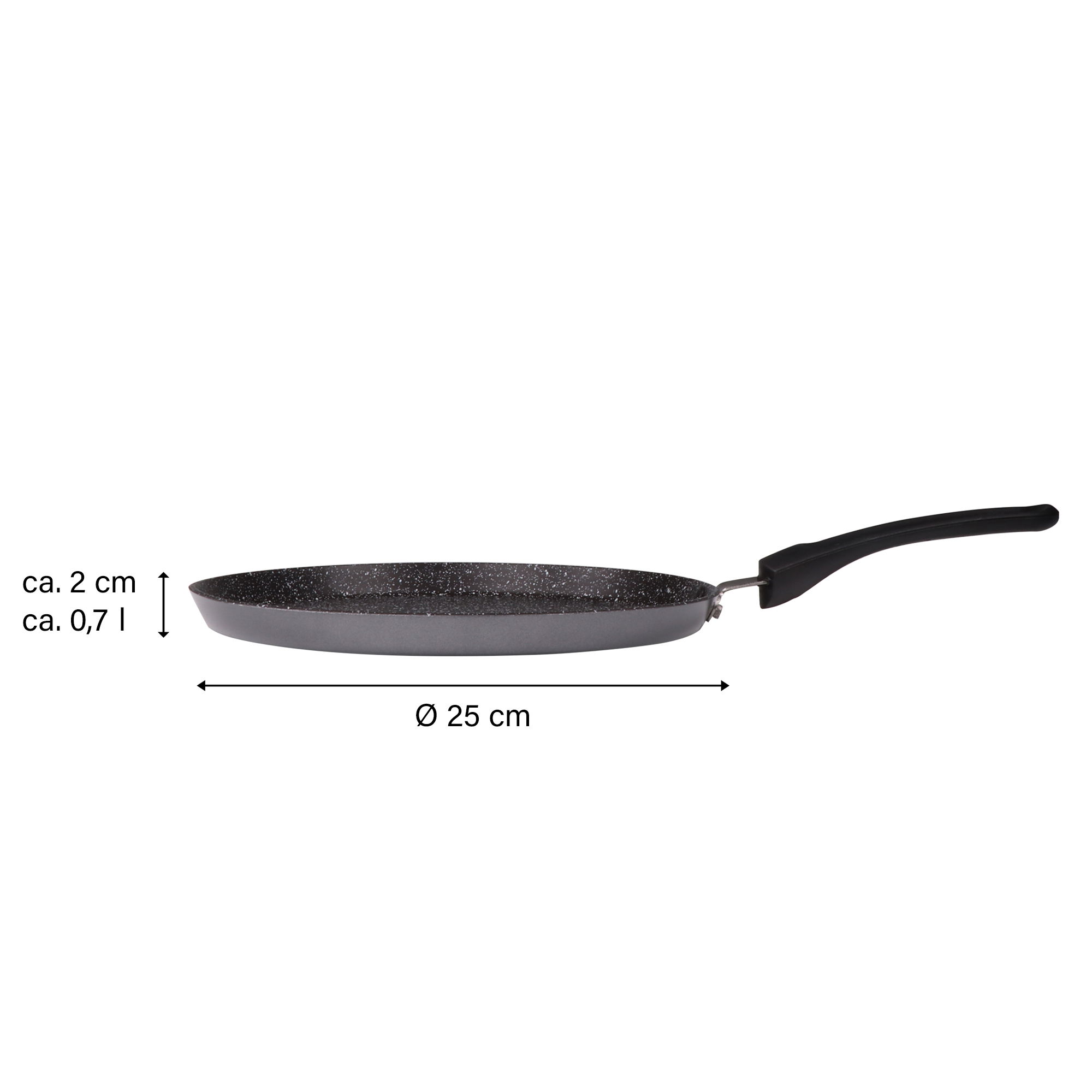 STONELINE® Crepe Pan 25 cm, with Batter Spreader, Flat Non-Stick Pan
€19.95*
%
Old price: €59.95*
You save 40,00 €
Available immediately, in 1-3 days at your home
STONELINE® – The original!
Healthy nonfat cooking and frying!
Bring a piece of France to your kitchen with this crepe pan! Thanks to the even heat distribution you can easily create super thin crepes.
Evenly spread your batter with the crepe roller included in the set.
Thanks to the STONELINE® nonstick coating you can even create your crepes without having to add fat or oil. Enjoy many crepes without feeling guilty!
1 crepe pan, ø approx. 24 cm, height: approx. 2 cm, approx. 0.7 l
1 wooden batter spreader
The most important advantages of STONELINE® cookware at a glance:
Scratch-proof non-stick STONELINE® coating
Vitamin-friendly cooking and frying without fat and oil
Perfect results and crispy meat
Also suitable for vegetarians: Vegetables stay crunchy and juicy
No burning and no sticking
Super easy to clean
Extra strong, non-distorting base
Base thickness: 3 mm
Suitable for all cookers including induction cookers
Oven-proof up to 180 °C
Material: aluminium
Tips for cleaning and care:
We recommend cleaning your cookware thoroughly with water and a mild detergent before the first use.
Apply a few drops of cooking oil with a kitchen towel onto the coating.
No fat or oil is needed for further use!
Thanks to the Easy-Clean effect we recommend cleaning the cookware by hand. Wipe clean with hot water, a mild detergent and a soft sponge.
Coating:

Non-stick coating

Content:

up to 1 l

Diameter:

25 cm

Handle:

Fixed

Oven suitable until:

150 °C

, 180 °C

Series:

Classic

Type:

Crepe Pans
---
Palatschinken werden sehr gut, aber ohne Fett/Öl geht es nicht, da werden die Crepe/Palatschinken trocken und schauen auch nach nichts aus. TIPP: Küchenrolle zusammenfalten, wenig Öl drauf geben, Pfanne nach jeder Crepe mit der Öl-benetzten Küchenrolle schnell ausstreichen und die nächste Crepe machen. TIPP 2: 2 Pfannen kaufen, sonst steht man ewig für 6 Portionen Palatschinken in der Küche. Die Zeitersparnis ist enorm, und Palatschinken halten gute 3-4 Tage im Kühlschrank. Also lieber einmal mehr machen als jeden Tag (wir essen sie zum Frühstück) den Herd anschmeißen.
Kann man nur weiterempfehlen
Diese Pfanne ist wunderbar. Al...
Diese Pfanne ist wunderbar. Allerdings nehme ich ein klein wenig Fett zum Backen. Schmeckt meinem Mann besser. Für mich wäre es ohne Fett o.k., genießen ohne schlechtes Gewissen!!!!!!
Bin seit längerem im Besitz di...
Bin seit längerem im Besitz dieser Pfanne. Die Crepes werden einfach einmalig und superdünn. Außerdem noch sehr leicht zu reinigen. Habe sie auch schon verschenkt, ist super angekommen. Ilona
top ware wie alles andere auch...
top ware wie alles andere auch stoneline forever! wer wo anders kauft ist selber schuld!
Diese Crepes-Pfanne ist einmal...
Diese Crepes-Pfanne ist einmalig. Nicht nur Crepes, sondern alle Eiergerichte gelingen mühelos. Auch als Geschenk ist die Pfanne sehr begehrt. Mia
Meine Crepes werden super. Die...
Meine Crepes werden super. Diese Pfanne hat mich total überzeugt. Auch das Reinigen funtioniert sehr einfach! Ich kann diese Pfanne nur bestens empfehlen. Beate
Super Pfanne.... Diese Pfanne ...
Super Pfanne.... Diese Pfanne hat mich sehr überzeugt. Die crepes schmecken super und das reinigen ist wie bei allen anderen Pfannen auch super leicht.
Eine super tolle Crepes-Pfanne...
Eine super tolle Crepes-Pfanne. Die Crepes gelingen super und schmecken einfach toll. Und die Reinigung der Pfanne ist ruck zuck erledigt. Kann ich nur empfehlen.