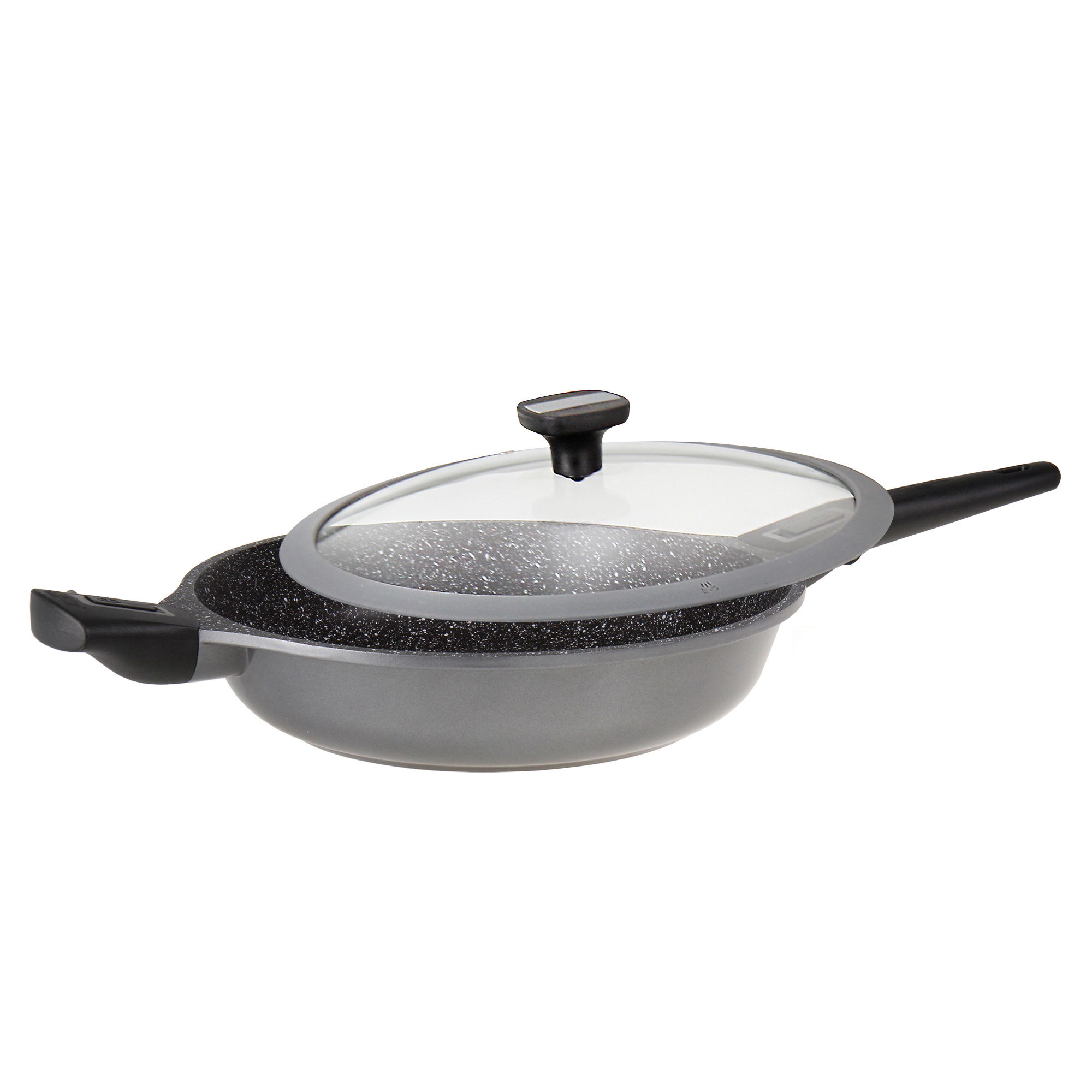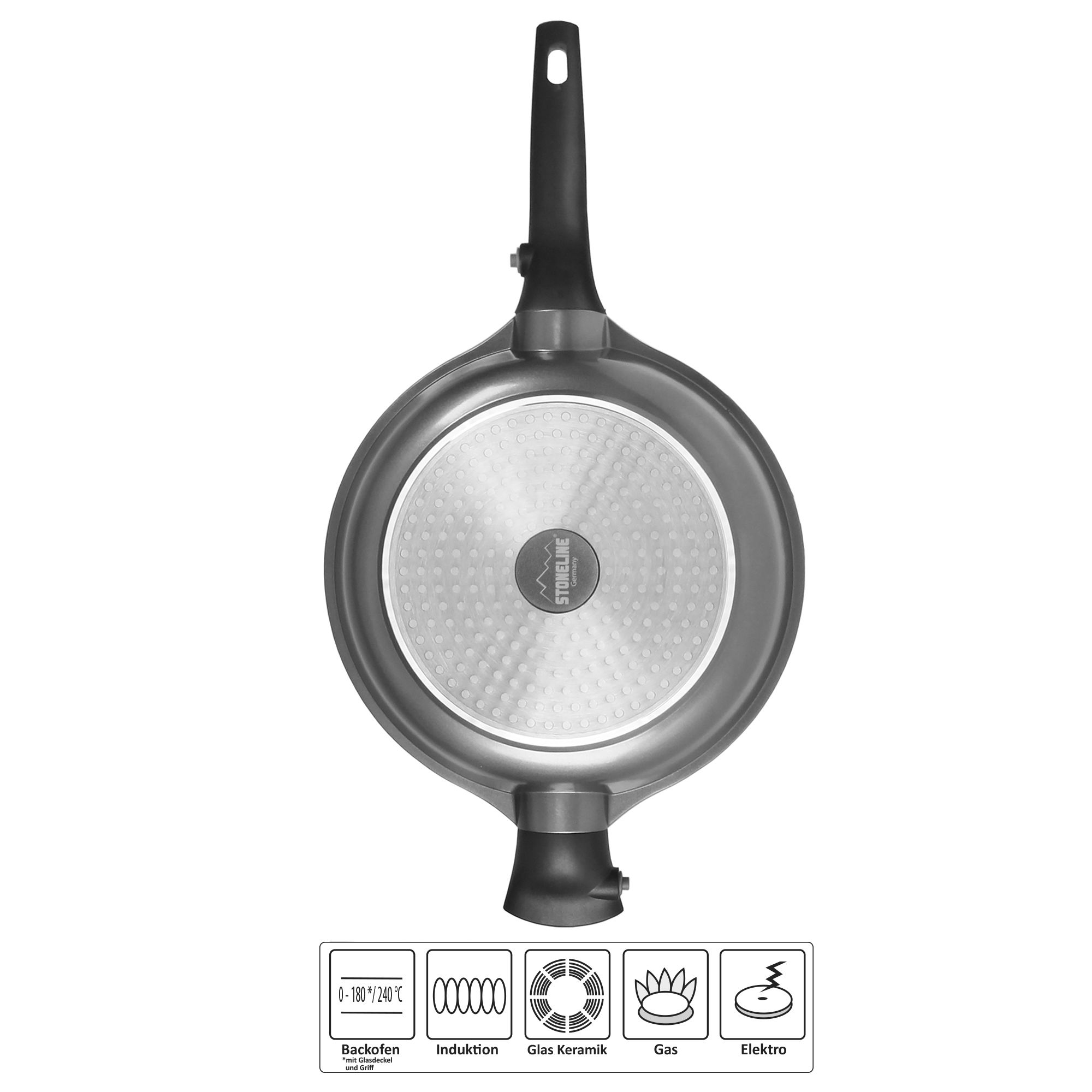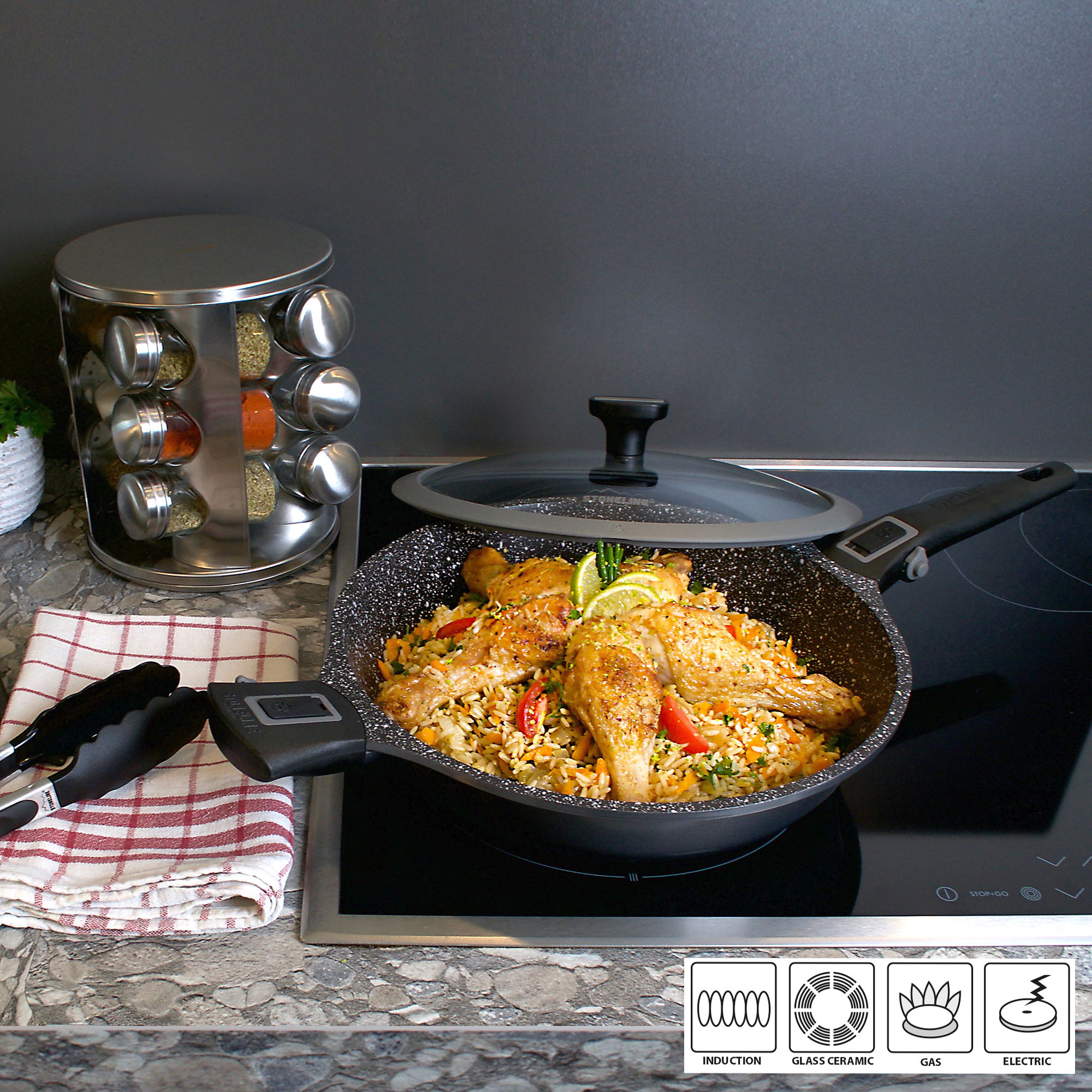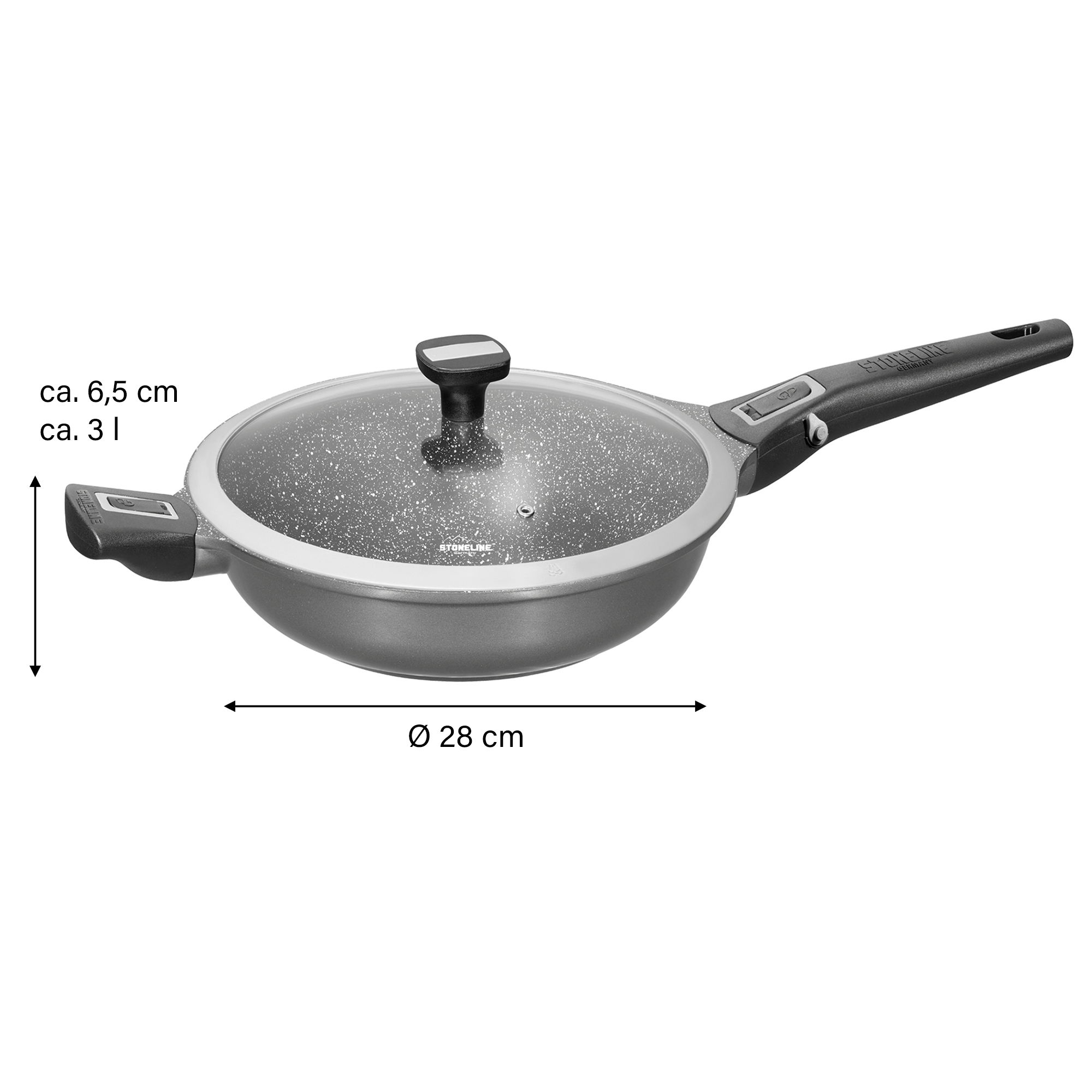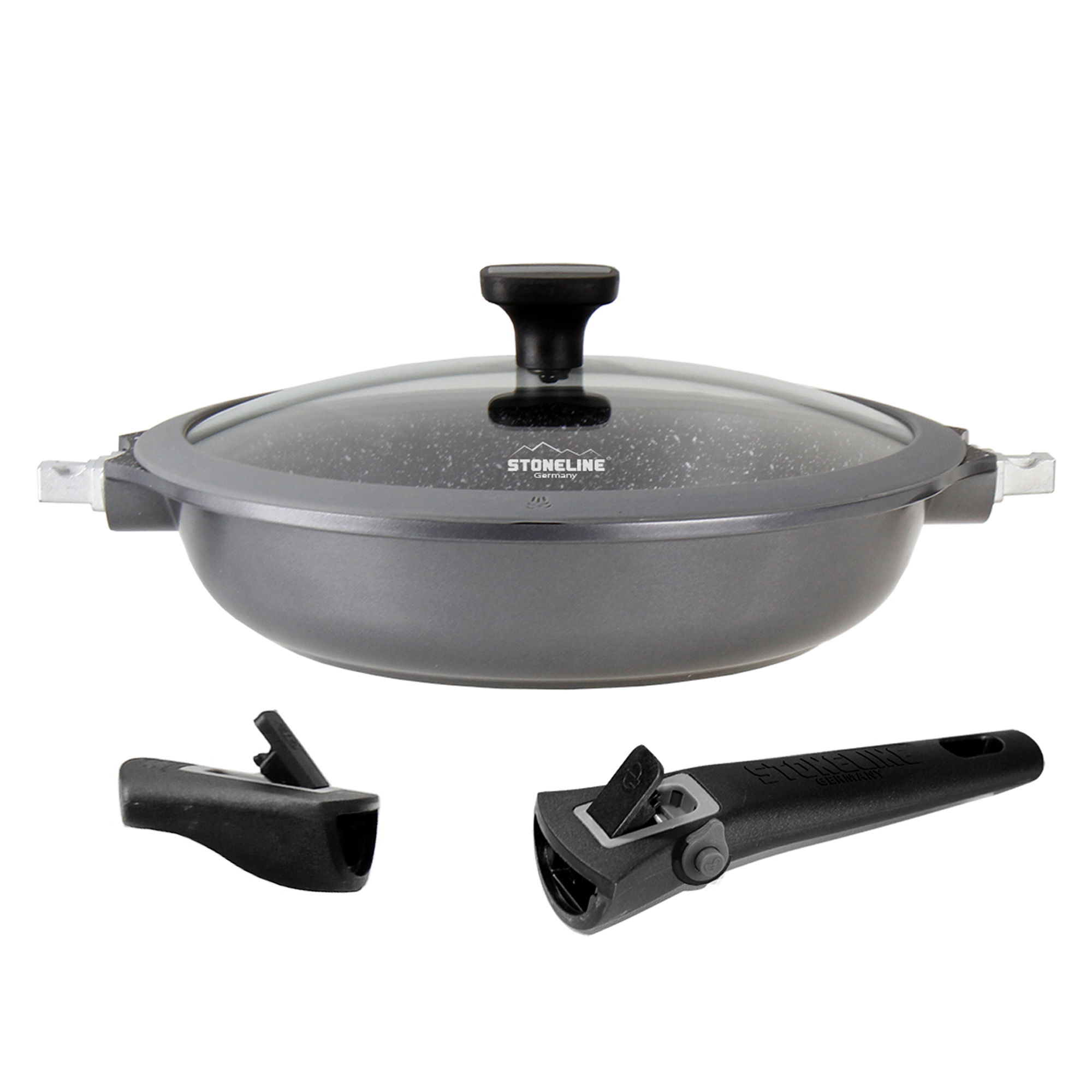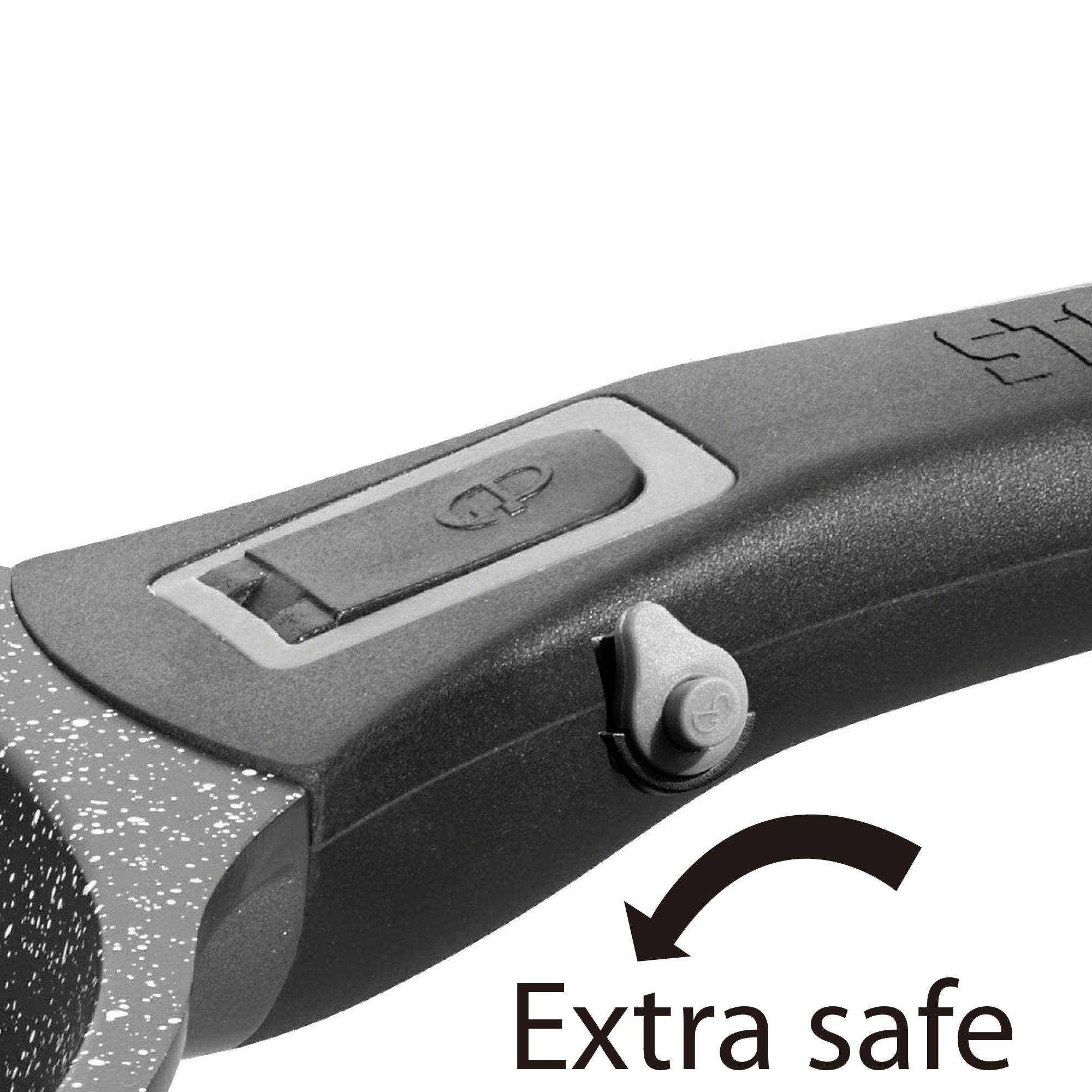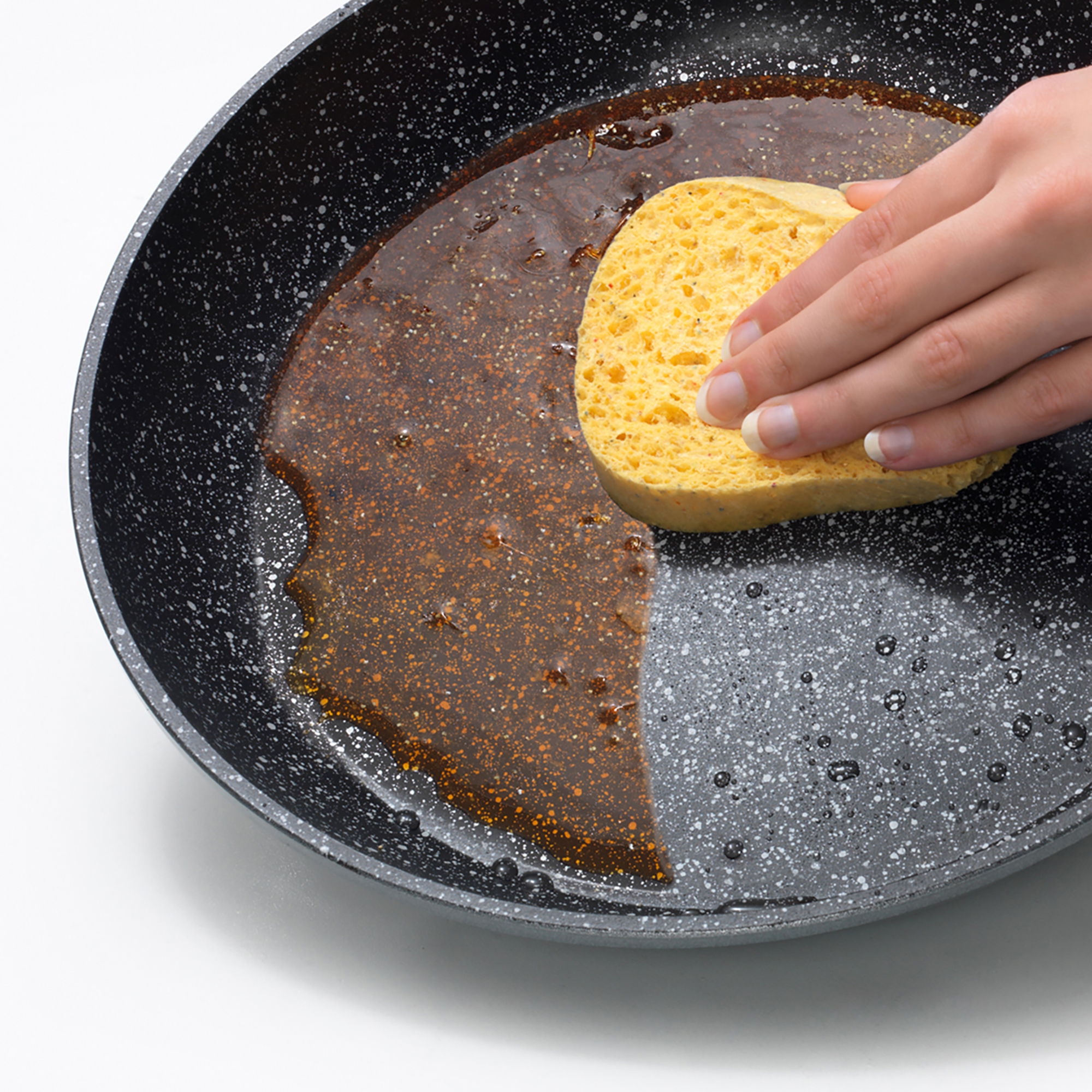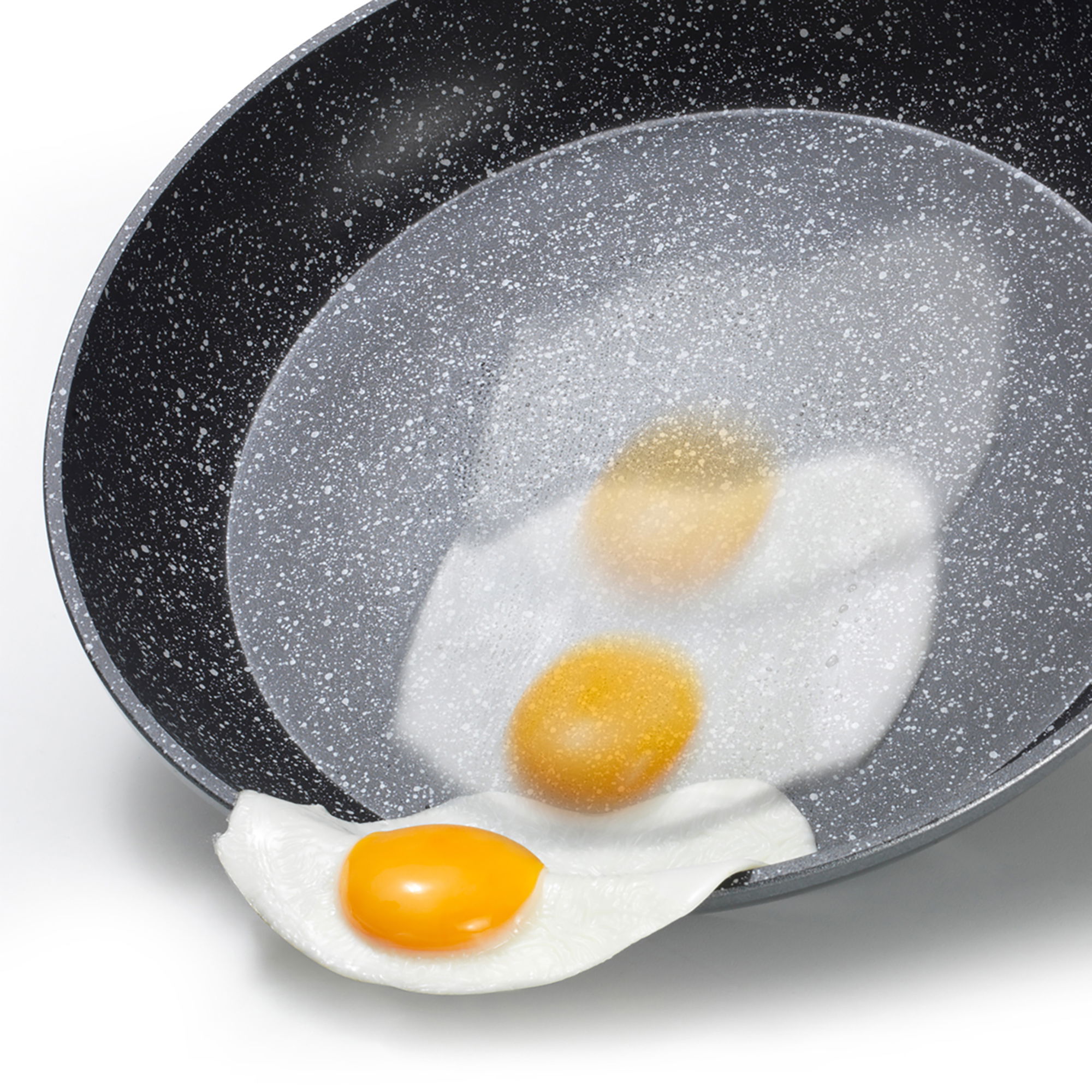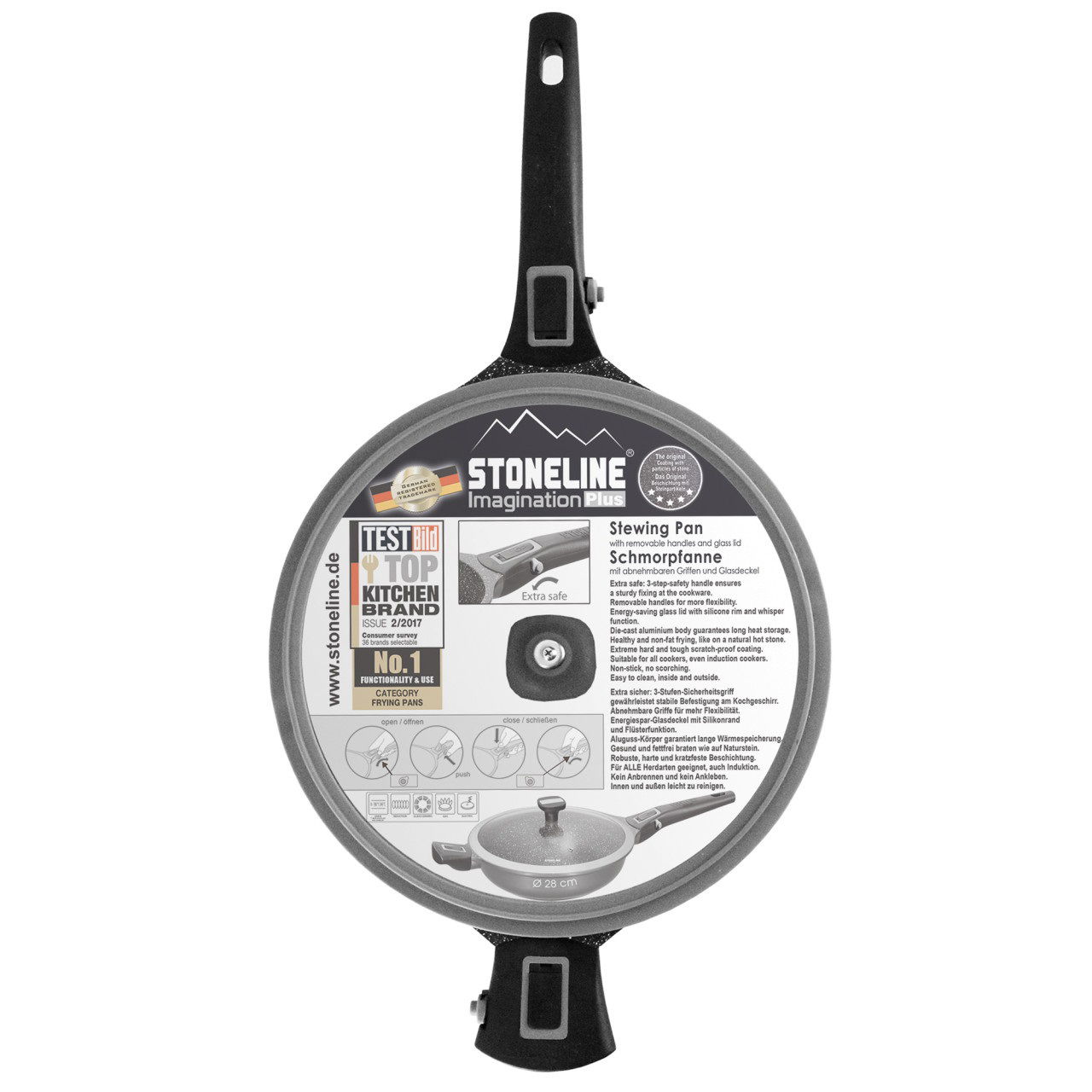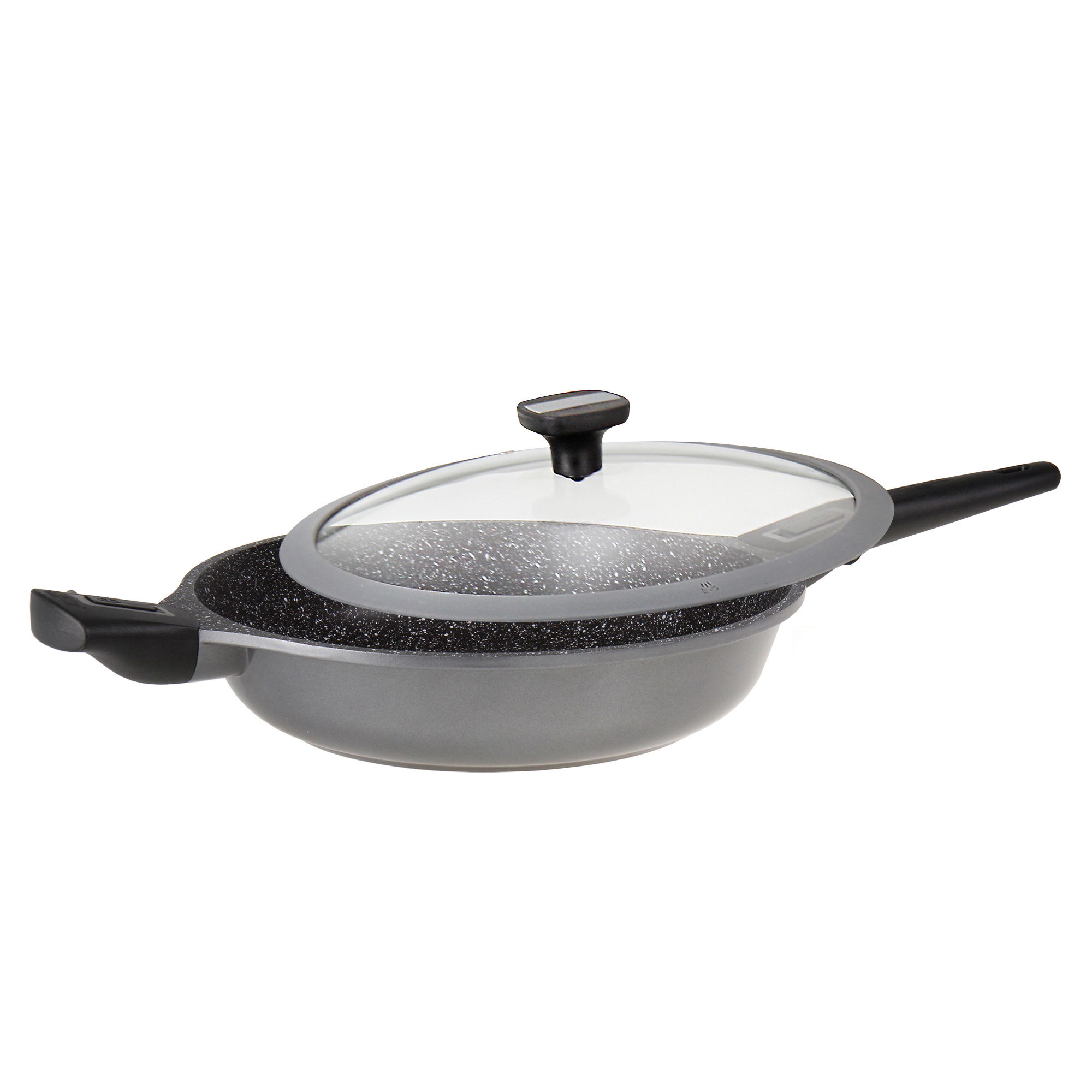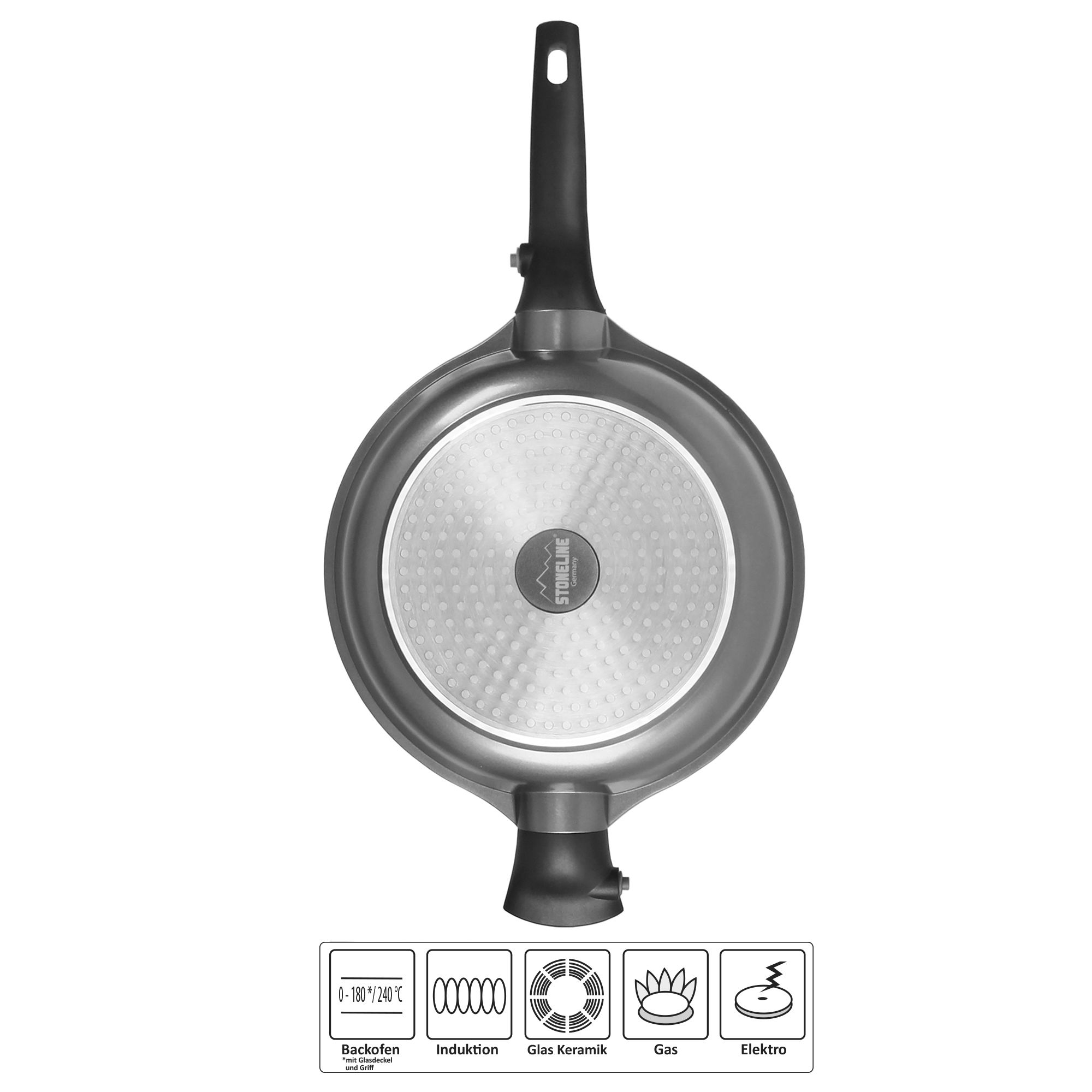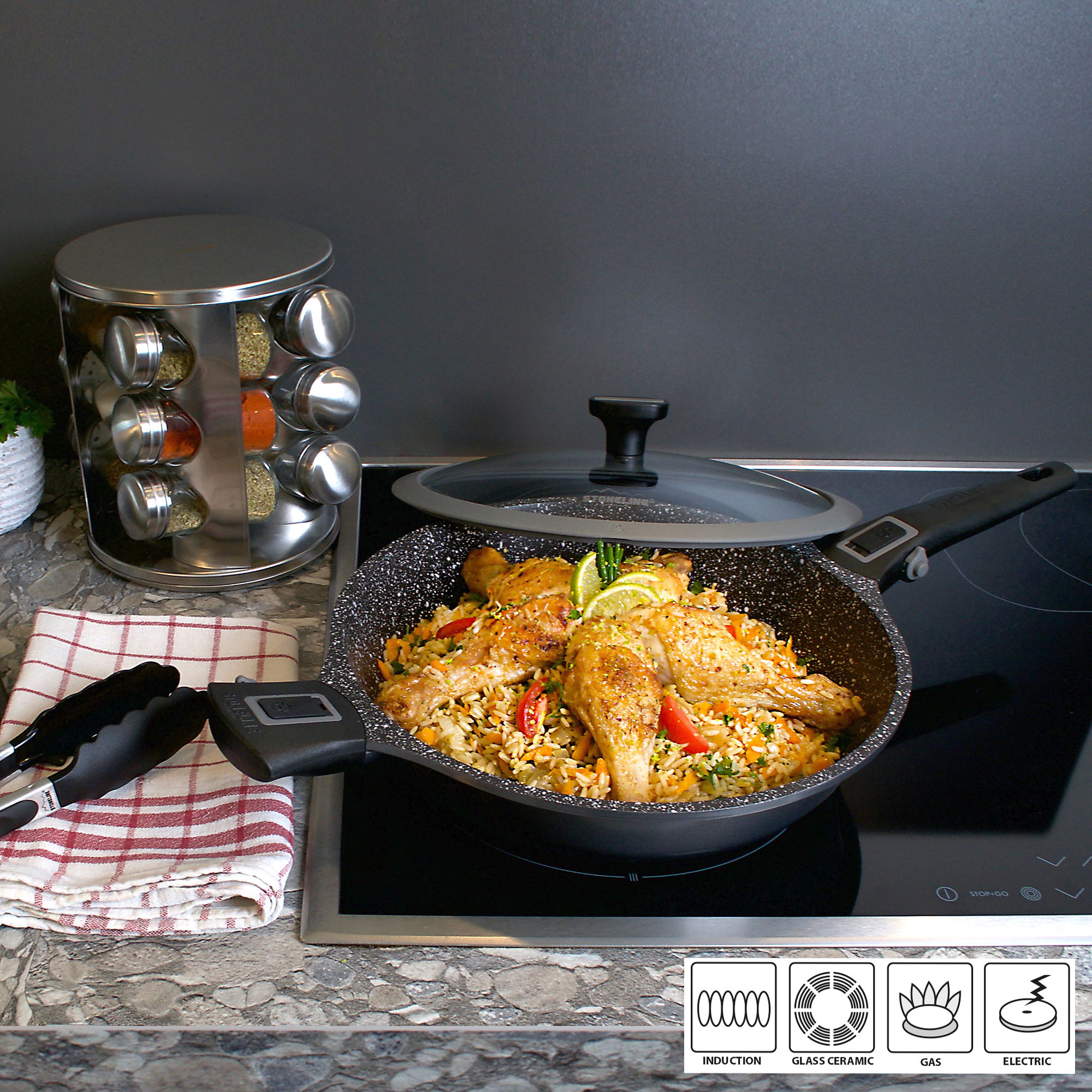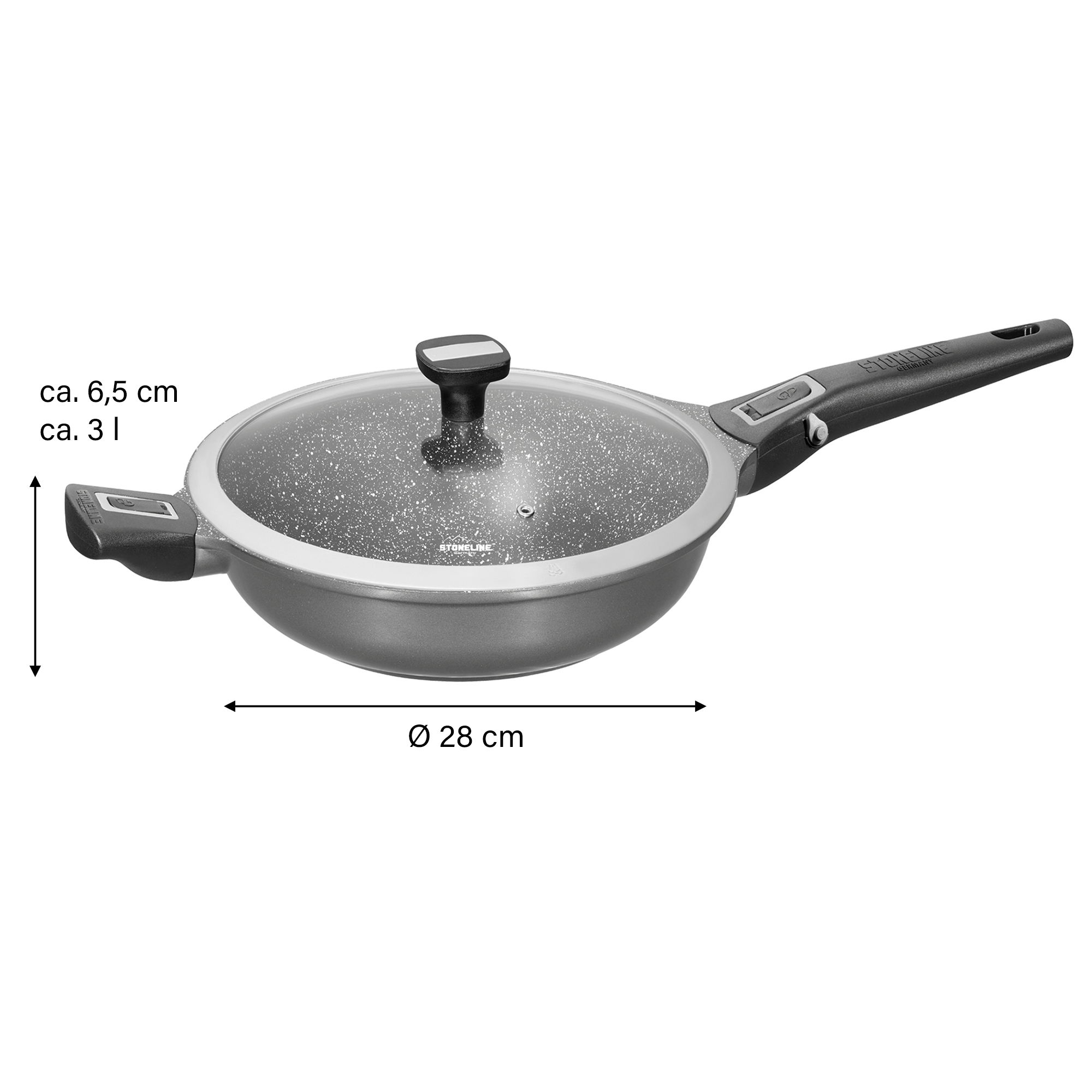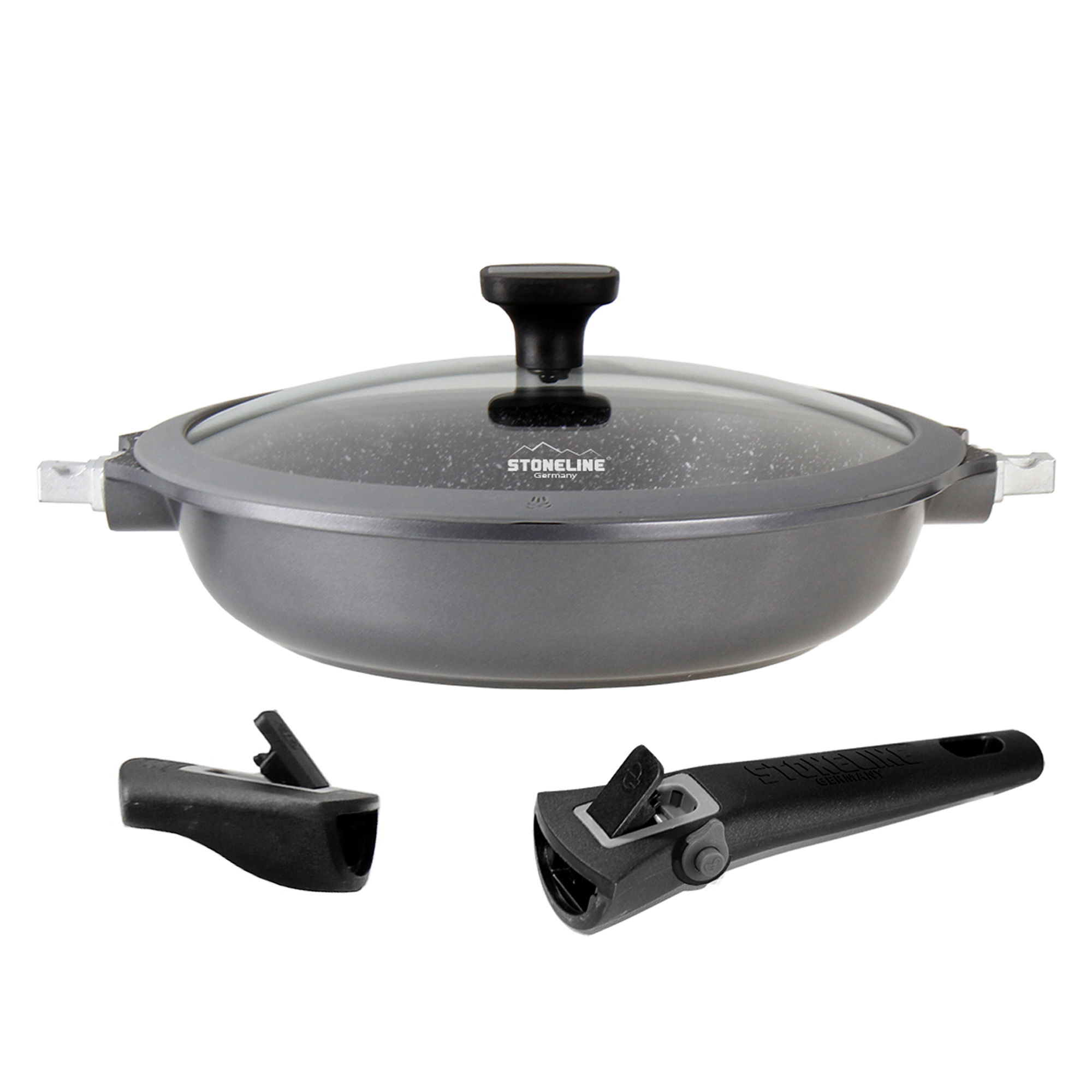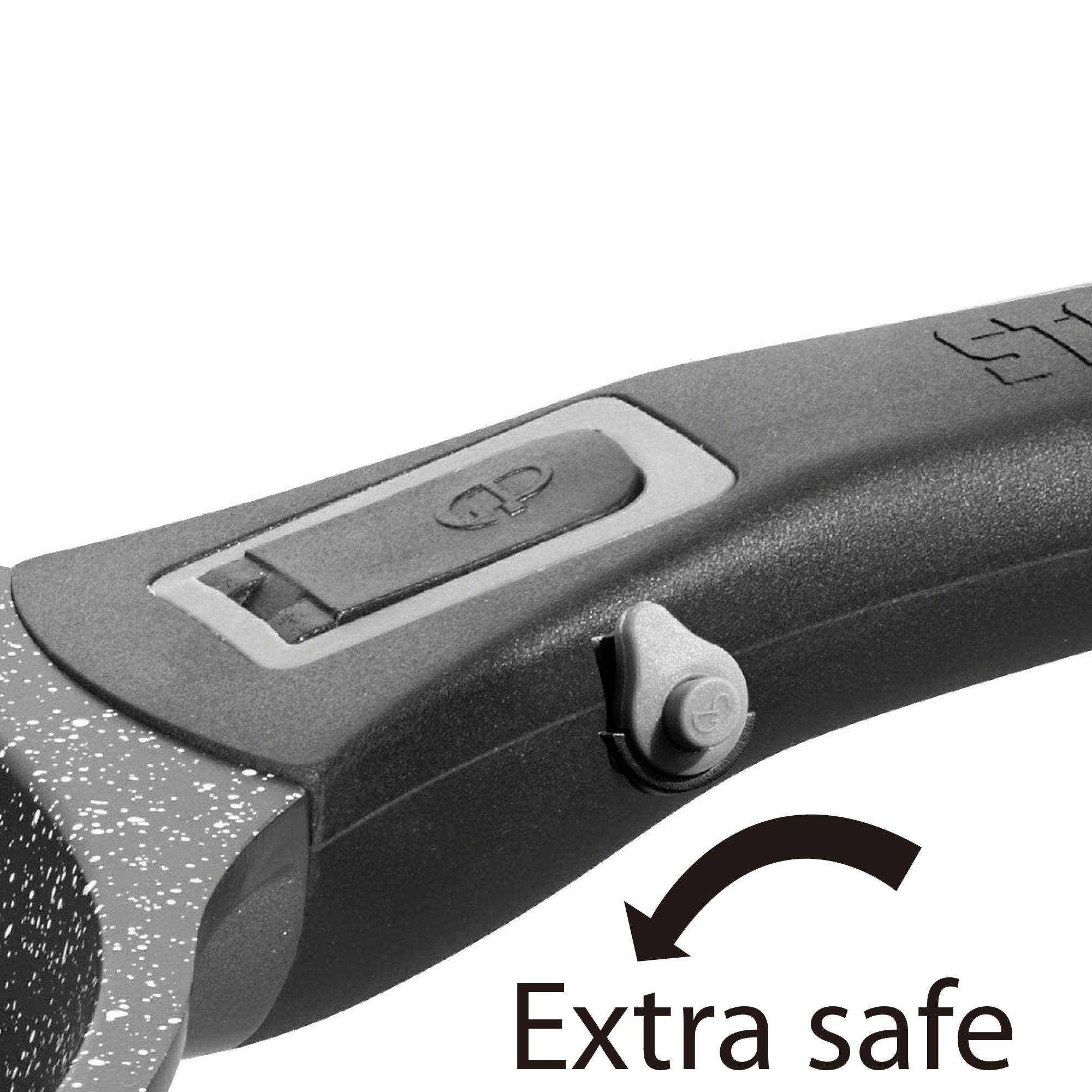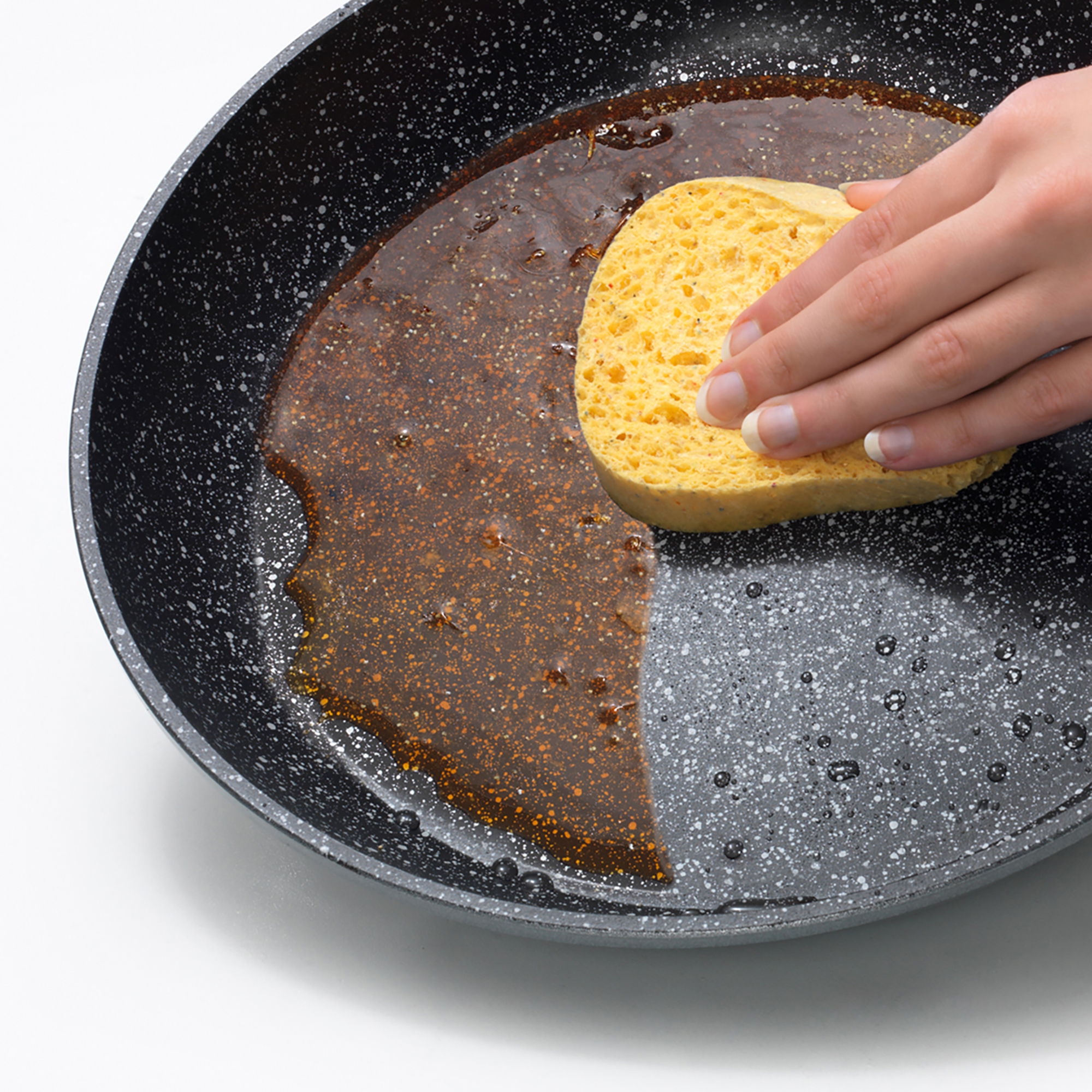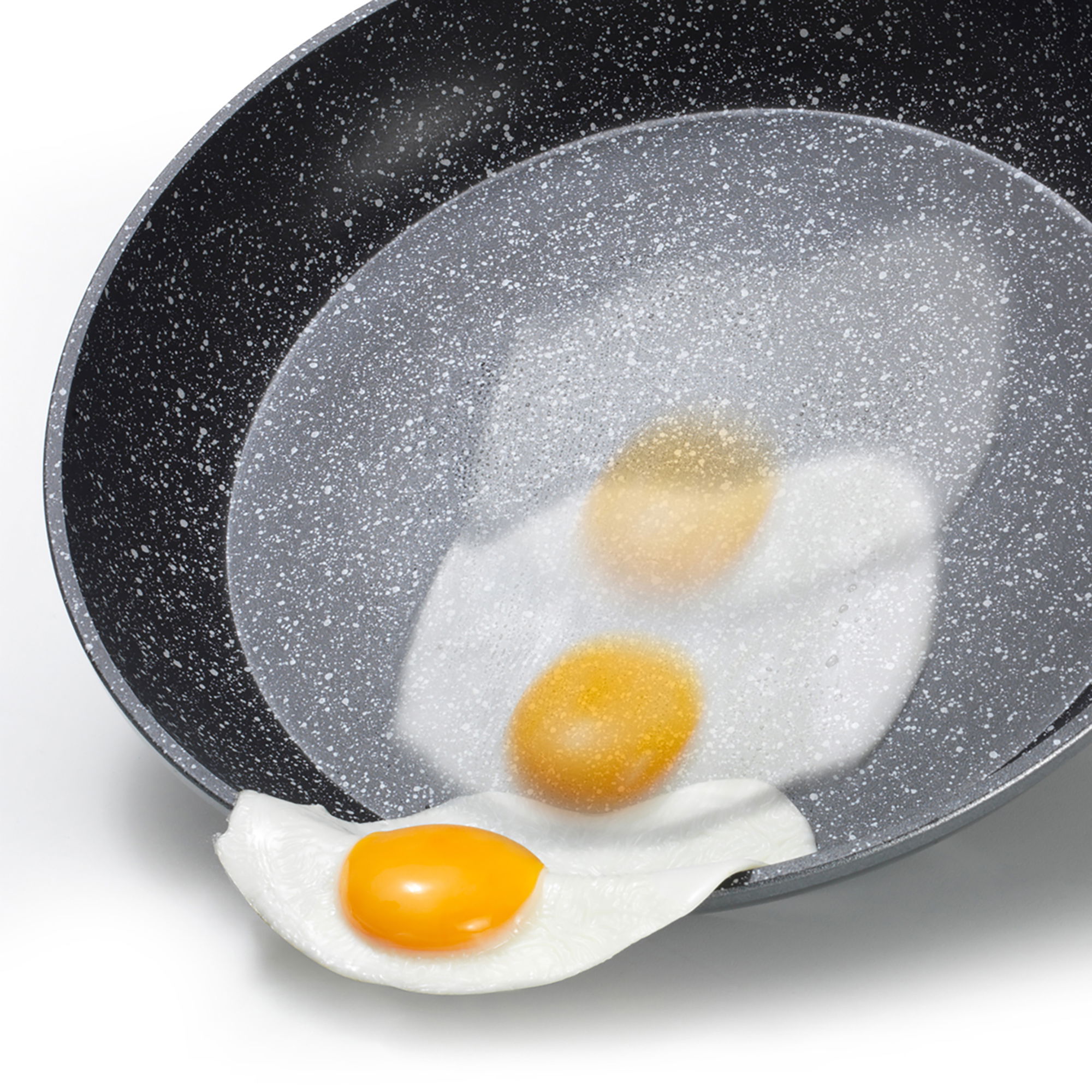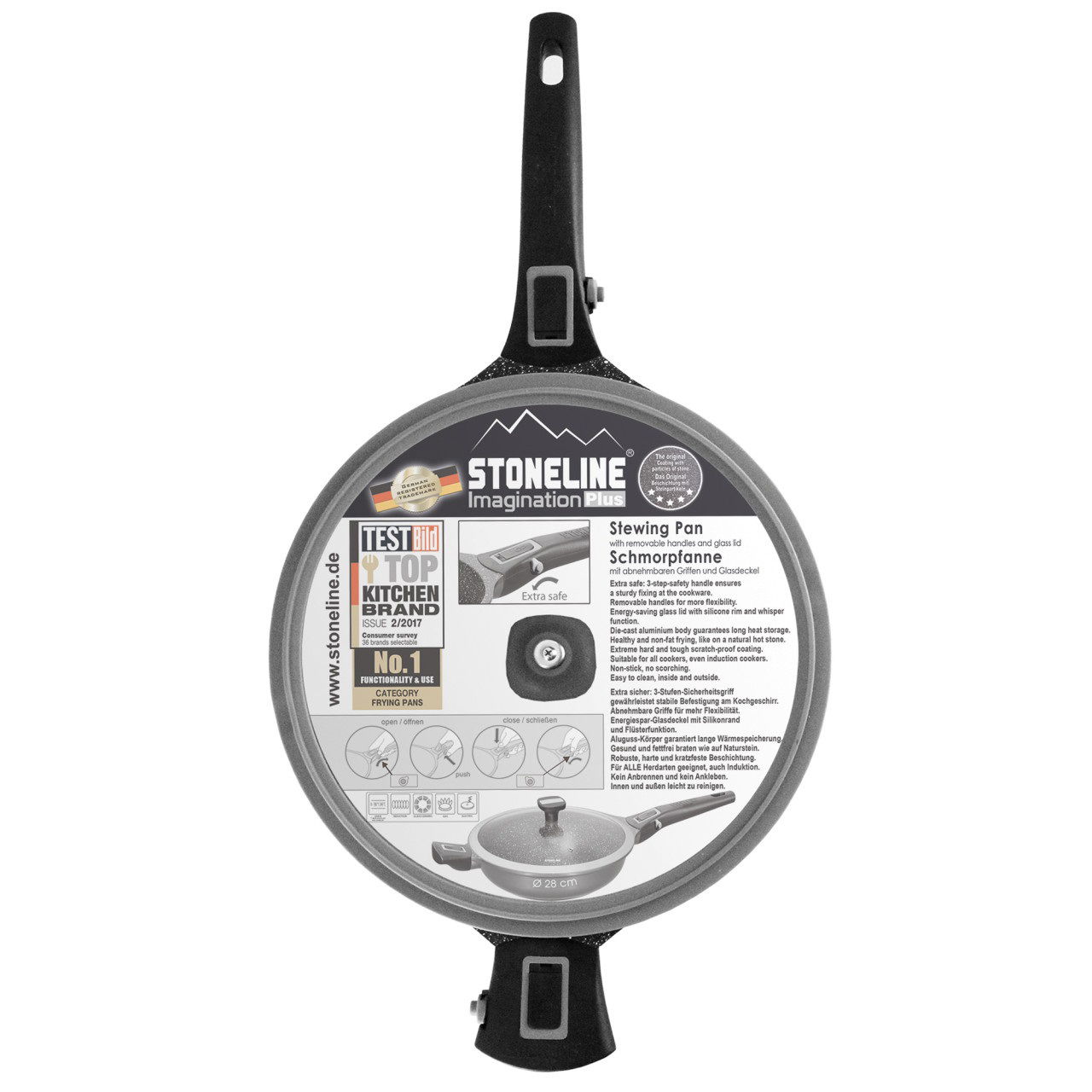 STONELINE® Deep Frying Pan 28 cm, Removable Handle, Lid, Non-Stick | Imagination PLUS
€49.95*
%
Old price: €129.95*
You save 80,00 €
Available immediately, in 1-3 days at your home
STONELINE® – The original!
Healthy nonfat cooking and frying!
The STONELINE® Imagination PLUS cookware convinces with its extra plus in safety and several additional features that give it a real additional value.
The extra plus in safety
The 3-step-safety handle ensures a sturdy fixing at the cookware and guarantees a unique child safety!
Removable handles for more flexibility
The handles can be removed freely according to the application. Turn your pan into a casserole dish for making au gratins or for keeping food warm in the oven. Even on the stove several pans can be placed spacesaving next to each other thanks to the removable handles.
Whisper function: glass lid with silicone rim
The glass lid with its silicone lip sits flush with the rim of the cookware. Ensuring energy saving and no clinking noises during cooking. The silicone lip protects the surface of the pots and pans and makes them more break-proof. The lid knob does not heat and protects your fingers from burns.
Material
Handmade die-cast aluminium ensures the premium quality of the cookware. The extra-thick induction base guarantees an optimal heat storage and ensures energy-efficient cooking.
Coating
Thanks to the STONELINE® non-stick coating you can prepare your meals with or without fat and oil and remove them easily from the cookware.
Whether you are cooking on glass ceramics, induction, electric or gas, in cookware with the original STONELINE® coating, no stubborn residues stick and the easy manual cleaning saves you time and effort.
This stewing pan has an extra high rim of 6.5 cm and is perfect for all roasting and slowcooking dishes! With 3 litres capacity, this pan is great for preparing meals that require a bit more space.
The two convenient, short counter-handle ensures a safe grip even if the pan is filled with food.
1 stewing pan, ø approx. 28 cm, height: approx. 6.5 cm, approx. 3.0 l
1 glass lid, ø approx. 28 cm
1 long removable handles
1 short removable handle

The most important advantages of STONELINE® Imagination PLUS cookware at a glance:
Extra plus in safety: 3-step-safety handle – unique child safety
Removeable handles for more flexibility
Glass lid with whisper function and finger heat protection
Scratch-proof non-stick STONELINE® coating
Vitamin-friendly cooking and frying without fat and oil
Perfect results and crispy meat
Also suitable for vegetarians: Vegetables stay crunchy and juicy
No burning and no sticking
Super easy to clean
Extra strong, non-distorting base
Base thickness: 5 mm
Suitable for all cookers including induction cookers
Oven-proof up to 240 °C (without handles, without lid) / 180 °C (with handles, with lid)
Material: die-cast aluminium
Tips for cleaning and care:
We recommend cleaning your cookware thoroughly with water and a mild detergent before the first use.
Apply a few drops of cooking oil with a kitchen towel onto the coating.
No fat or oil is needed for further use!
Thanks to the Easy-Clean effect we recommend cleaning the cookware by hand. Wipe clean with hot water, a mild detergent and a soft sponge.
Coating:

Non-stick coating

Content:

from 2 l to 3 l

, from 3 l to 4 l

Diameter:

28 cm

Handle:

Removable

Height:

5 to 10 cm

Lid:

Yes

Oven suitable until:

150 °C

, 180 °C

, 200 °C

, 220 °C

, 230 °C

, 240 °C

Series:

Imagination Plus

Type:

Braising Pans
---
Beste Pfanne, die ich je hatte.
In meinen 57 Jahren Ehe, ist das die beste Pfanne, die ich jemals gekauft habe. Sie funktioniert genauso wie von Hersteller beschrieben, sehr leicht zu reinigen und ganz wenig Fett zum braten.
Sehr praktische und pflegeleichte Pfanne
Wir benutzen diese Pfanne jetzt seit ca. 4 Monaten in einem Haushalt zu dritt. Sie ist eigentlich täglich im Einsatz und sieht immer noch aus wie neu. Die Beschichtung ist sehr einfach zu reinigen. Die abnehmbaren Griffe sind ein netter Gimmick, aber meist lasse ich sie dran, da ich sie gut mit Griffen lagern kann. Ich bin sehr zufrieden mit dieser Schmorpfanne, da ich auch in der Vergangenheit mit anderen Anbietern schlechte Erfahrungen mit beschichteten Pfannen gemacht habe.
gefällt mir gut nur für mich alleine ist sie etwas zu groß