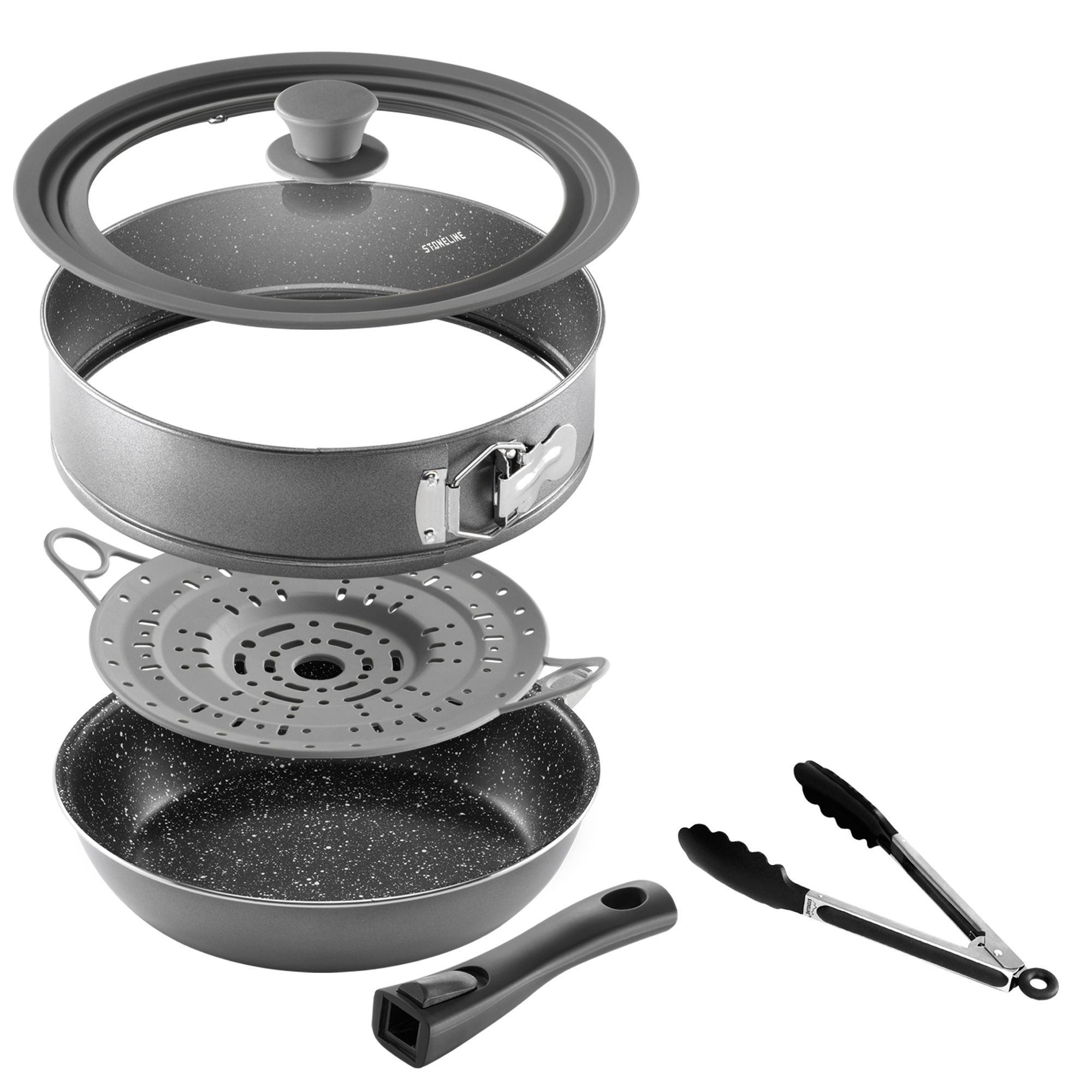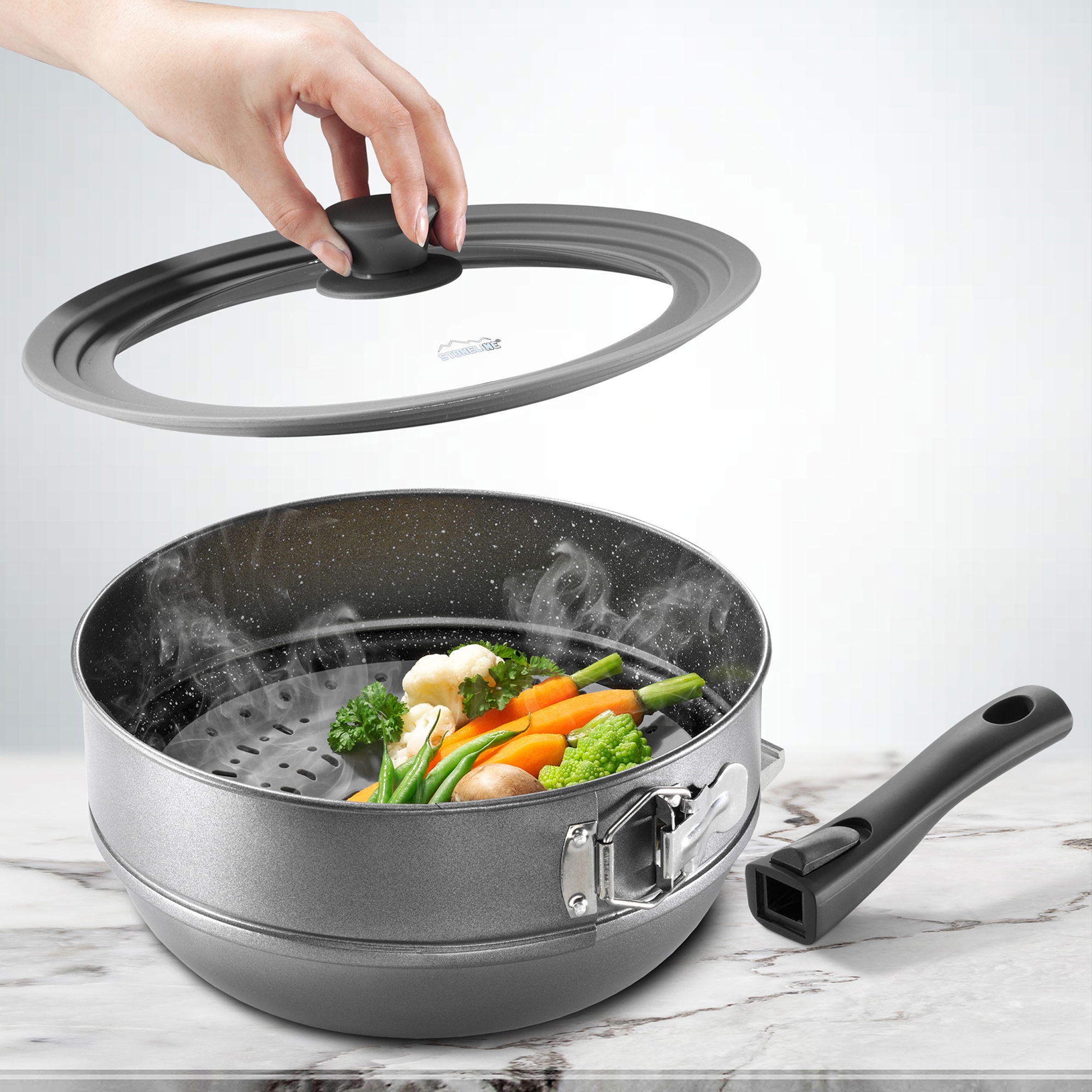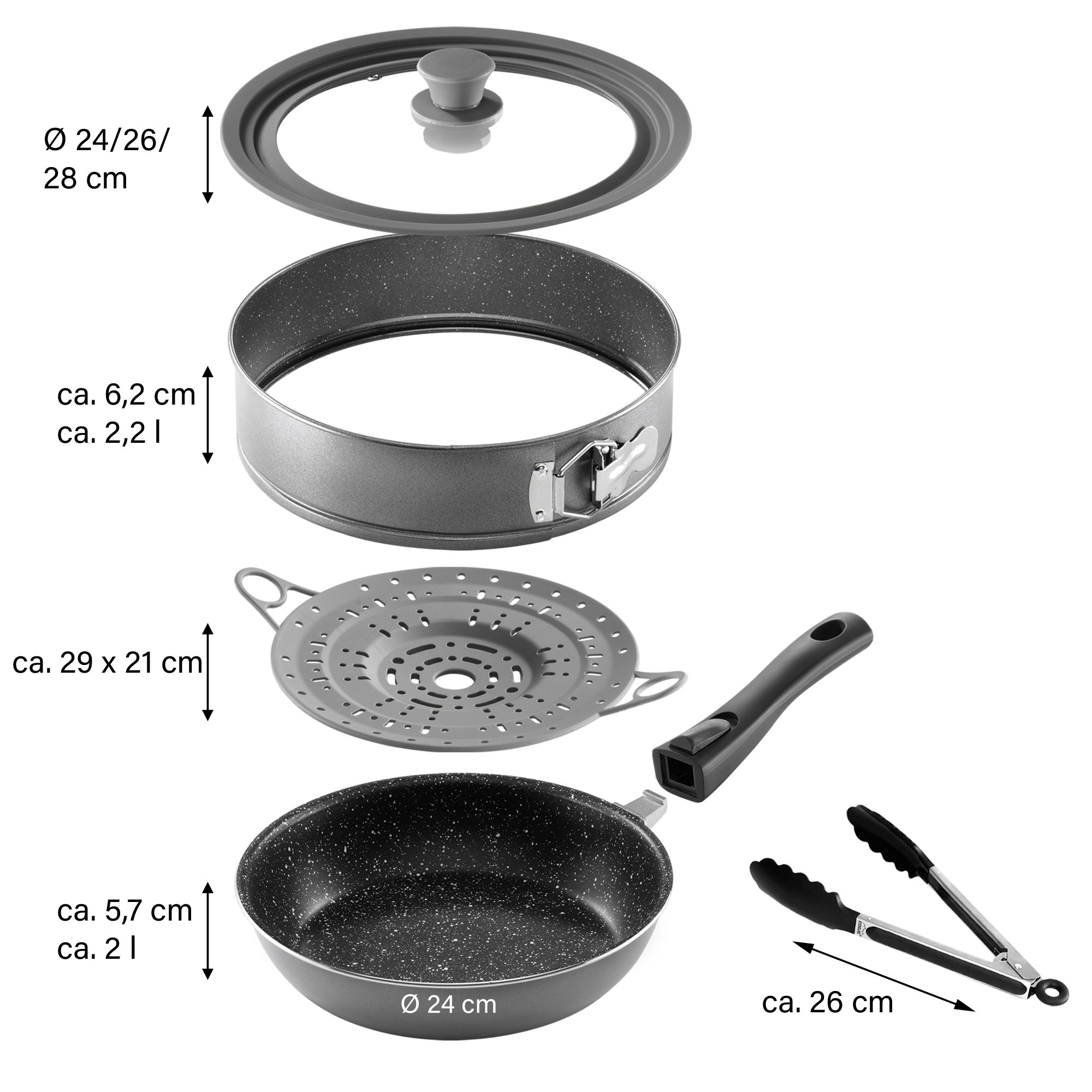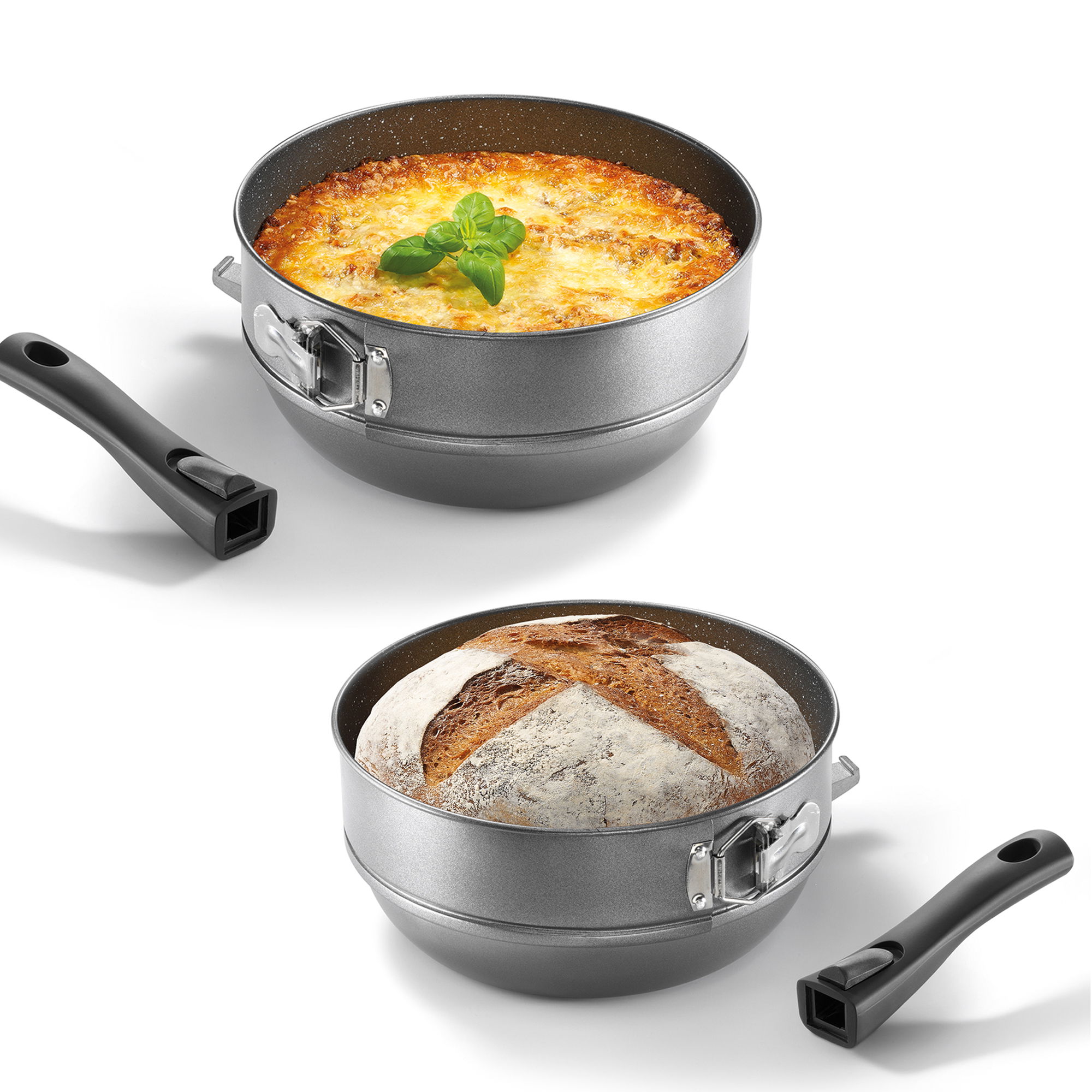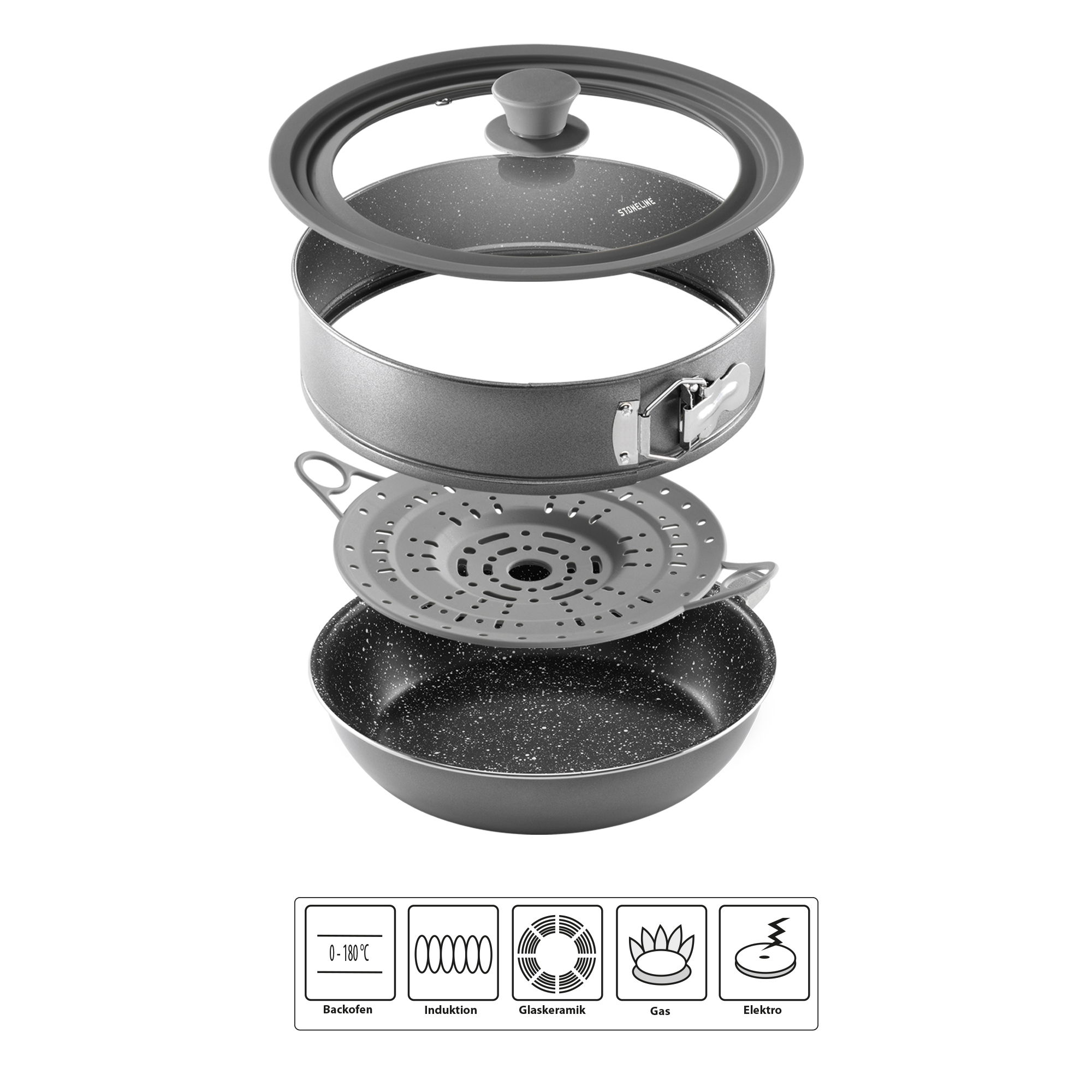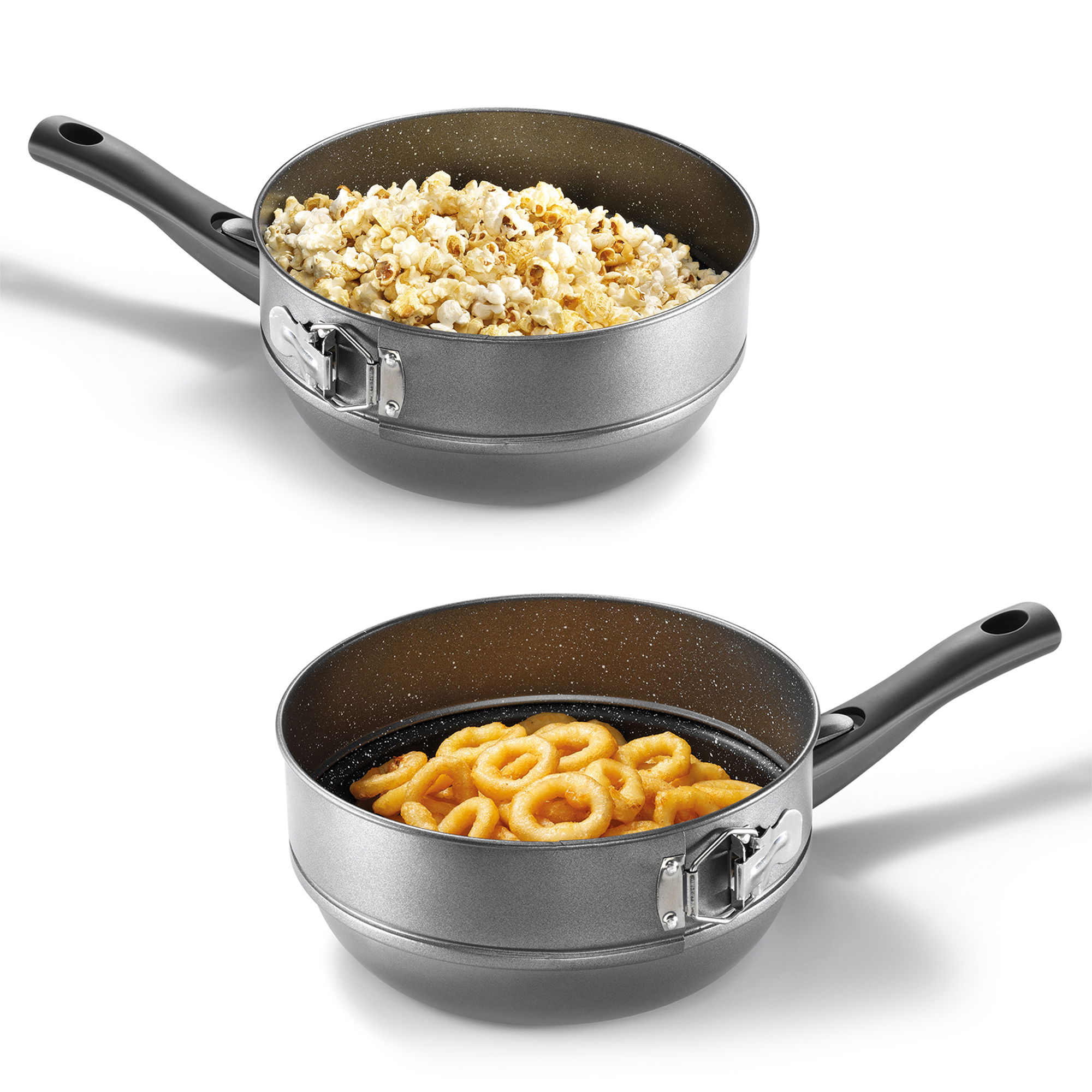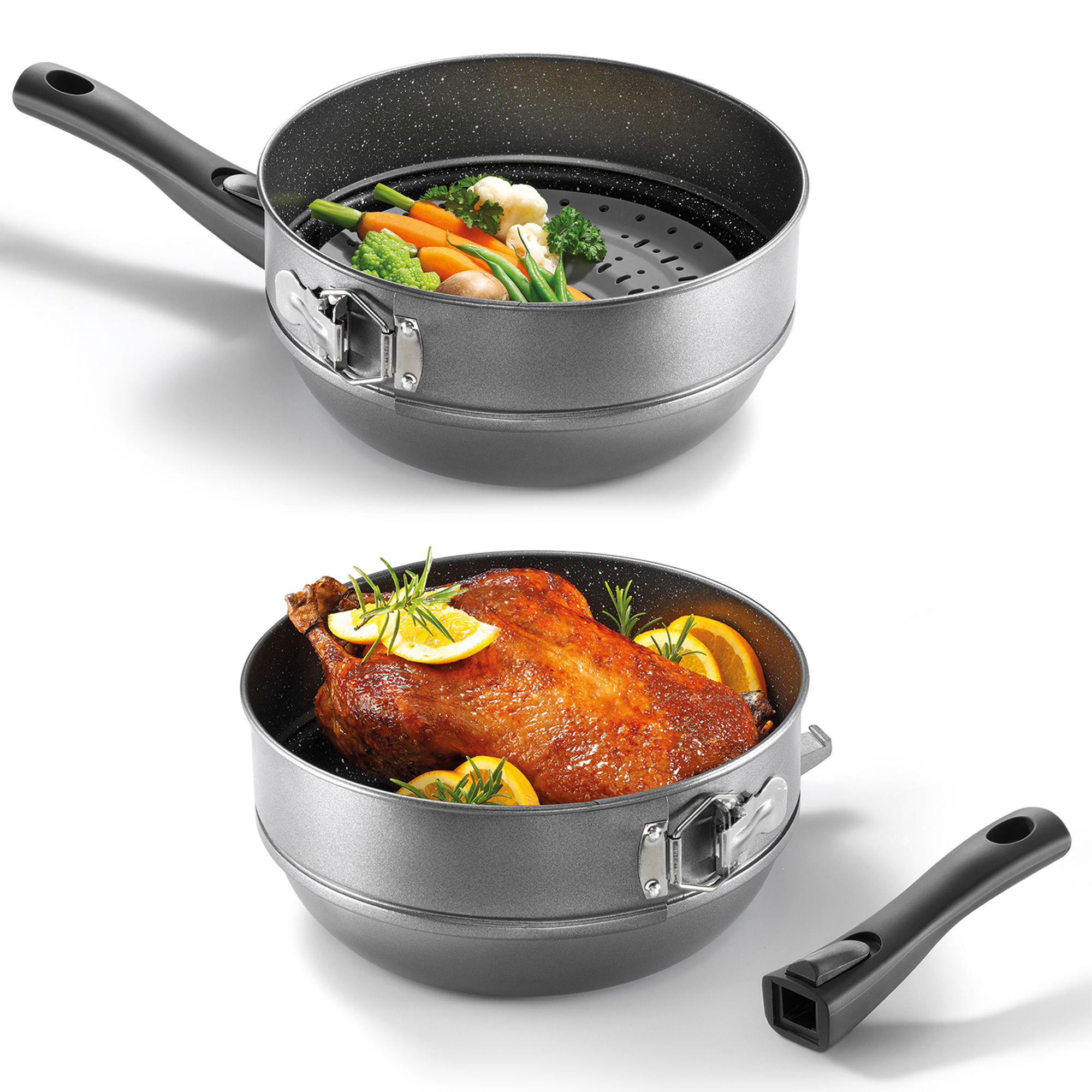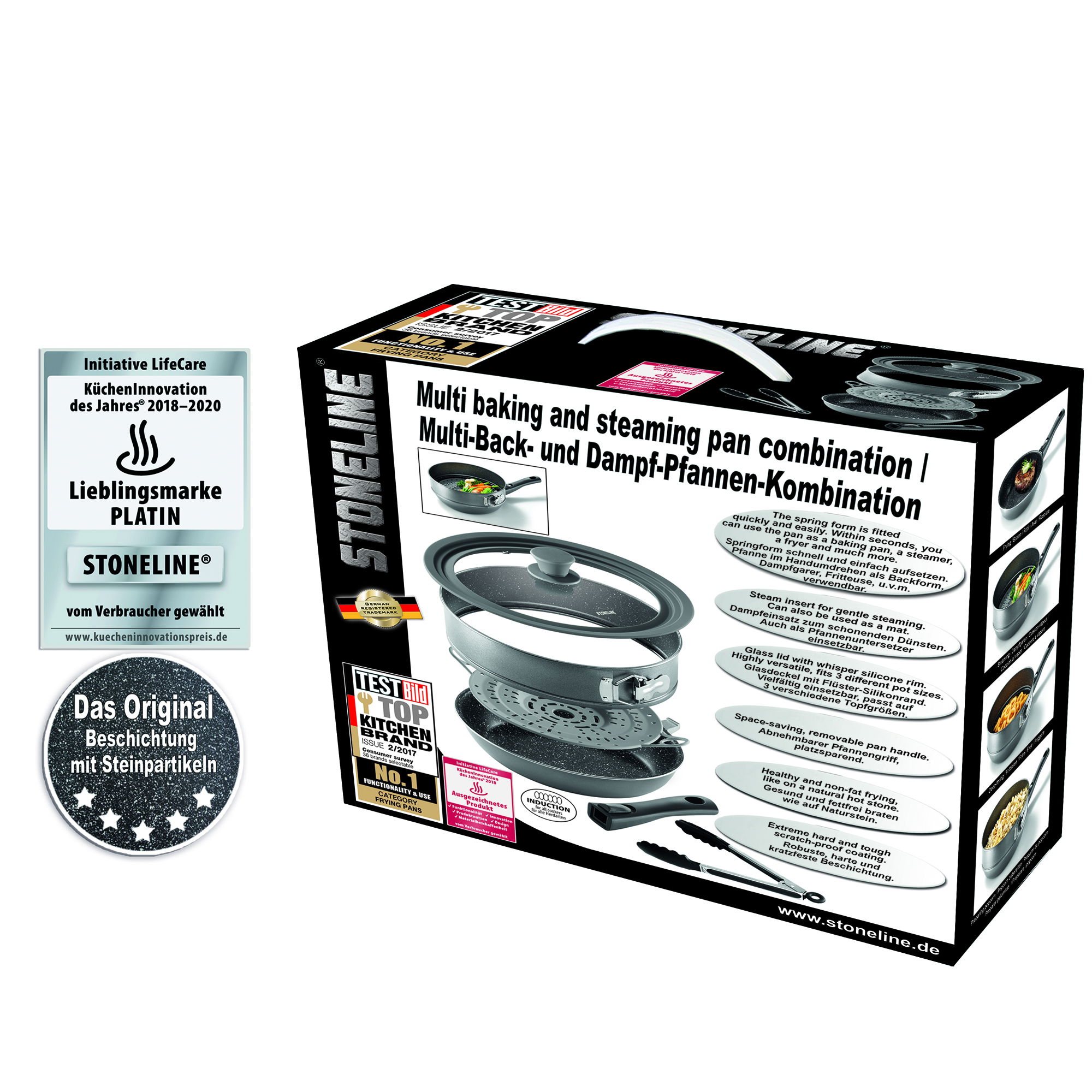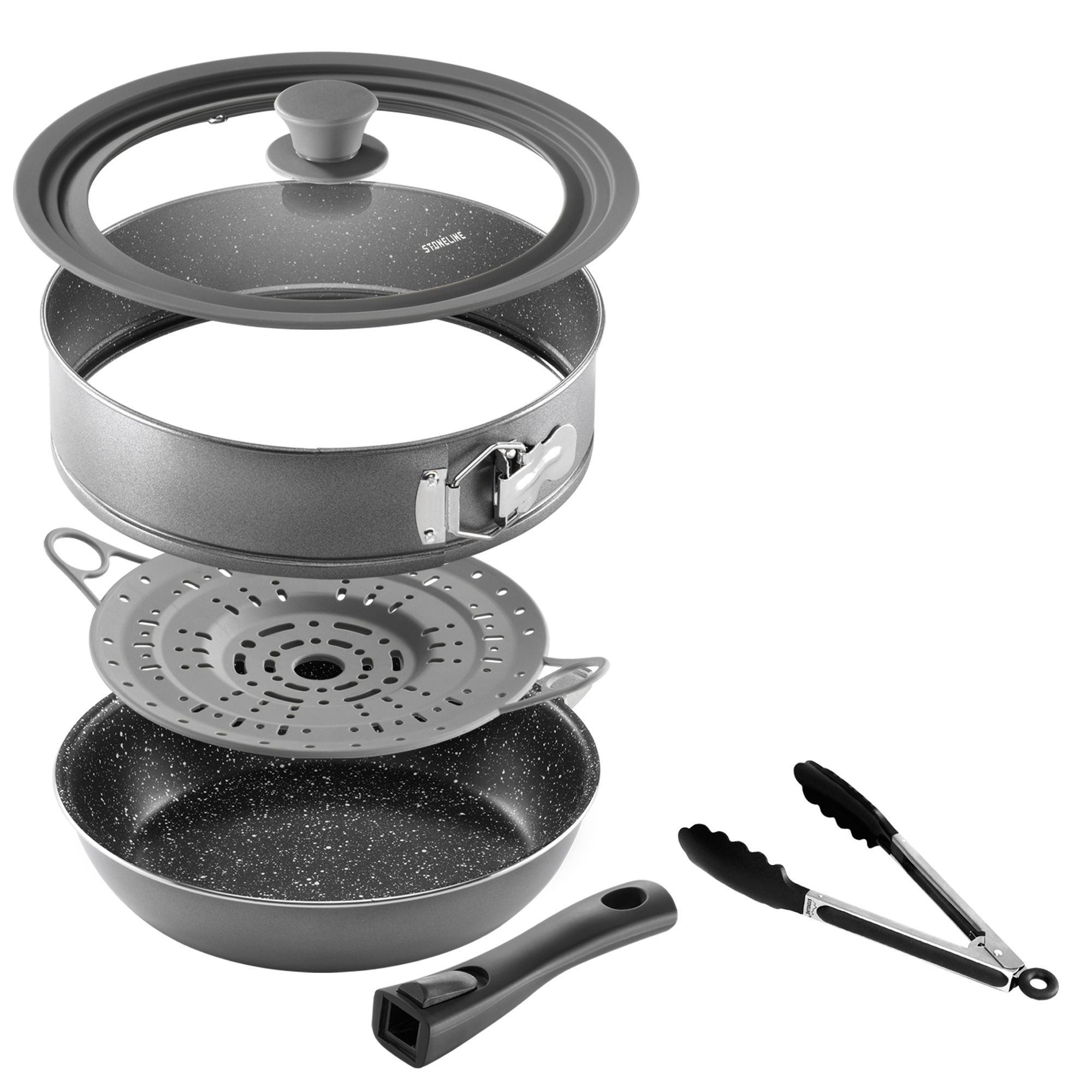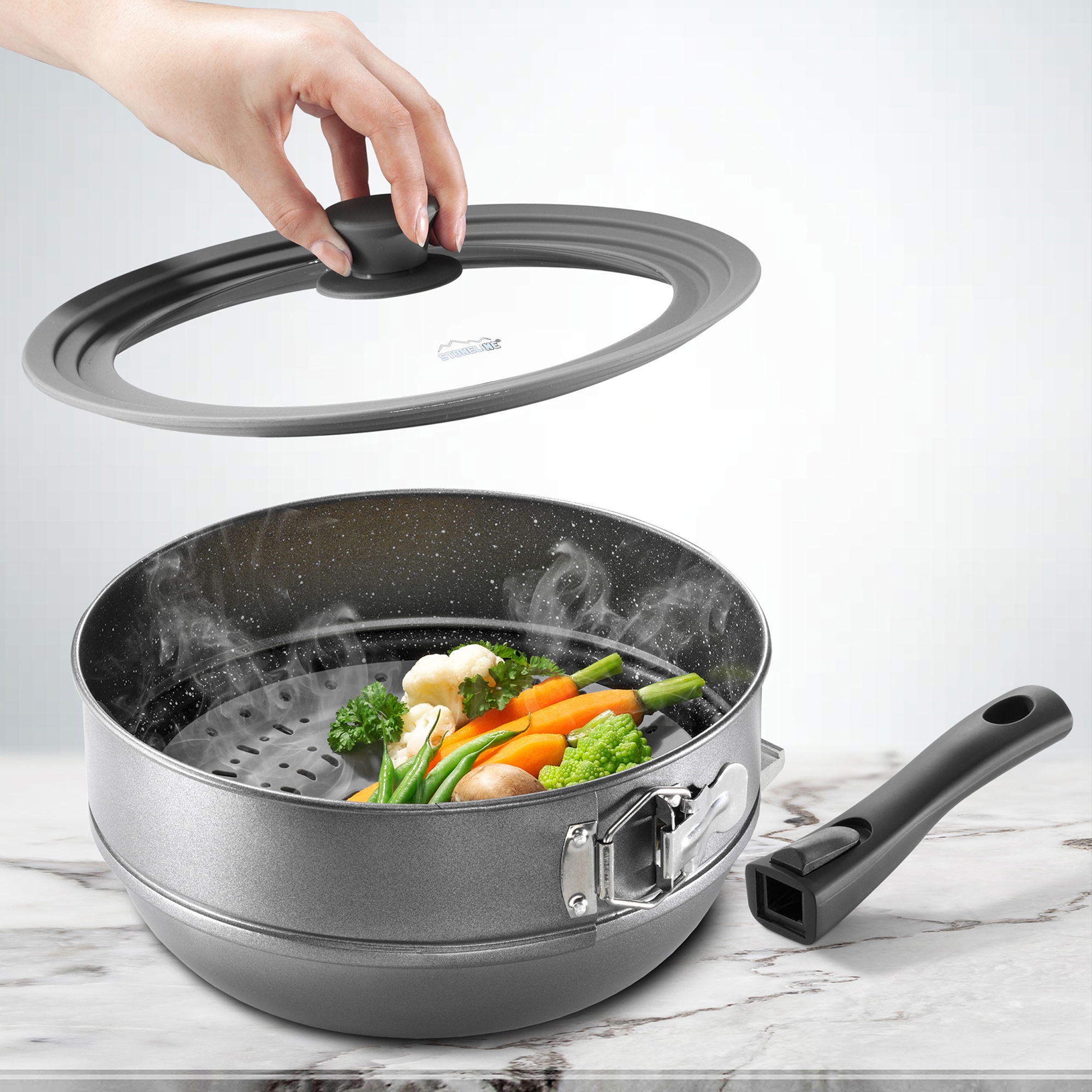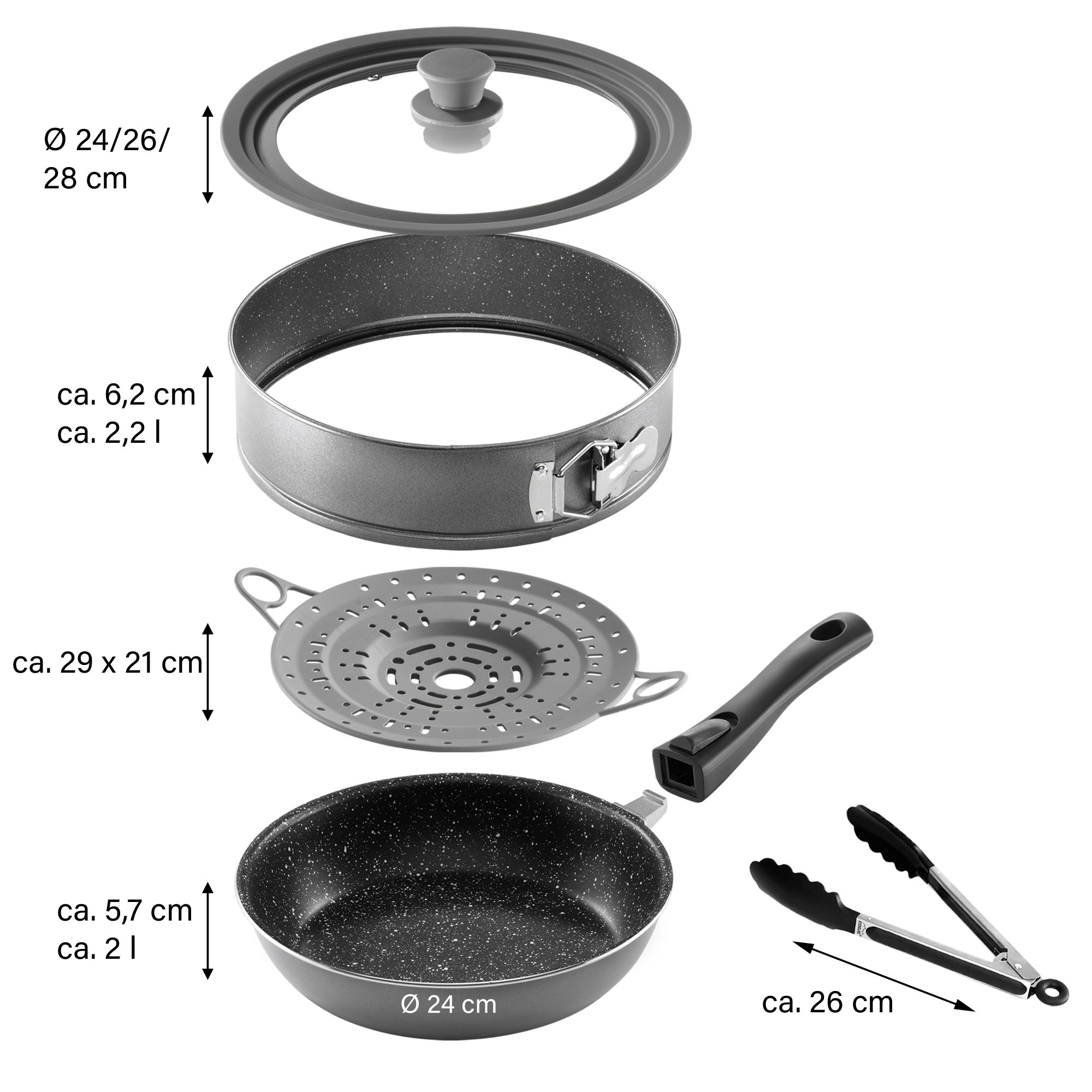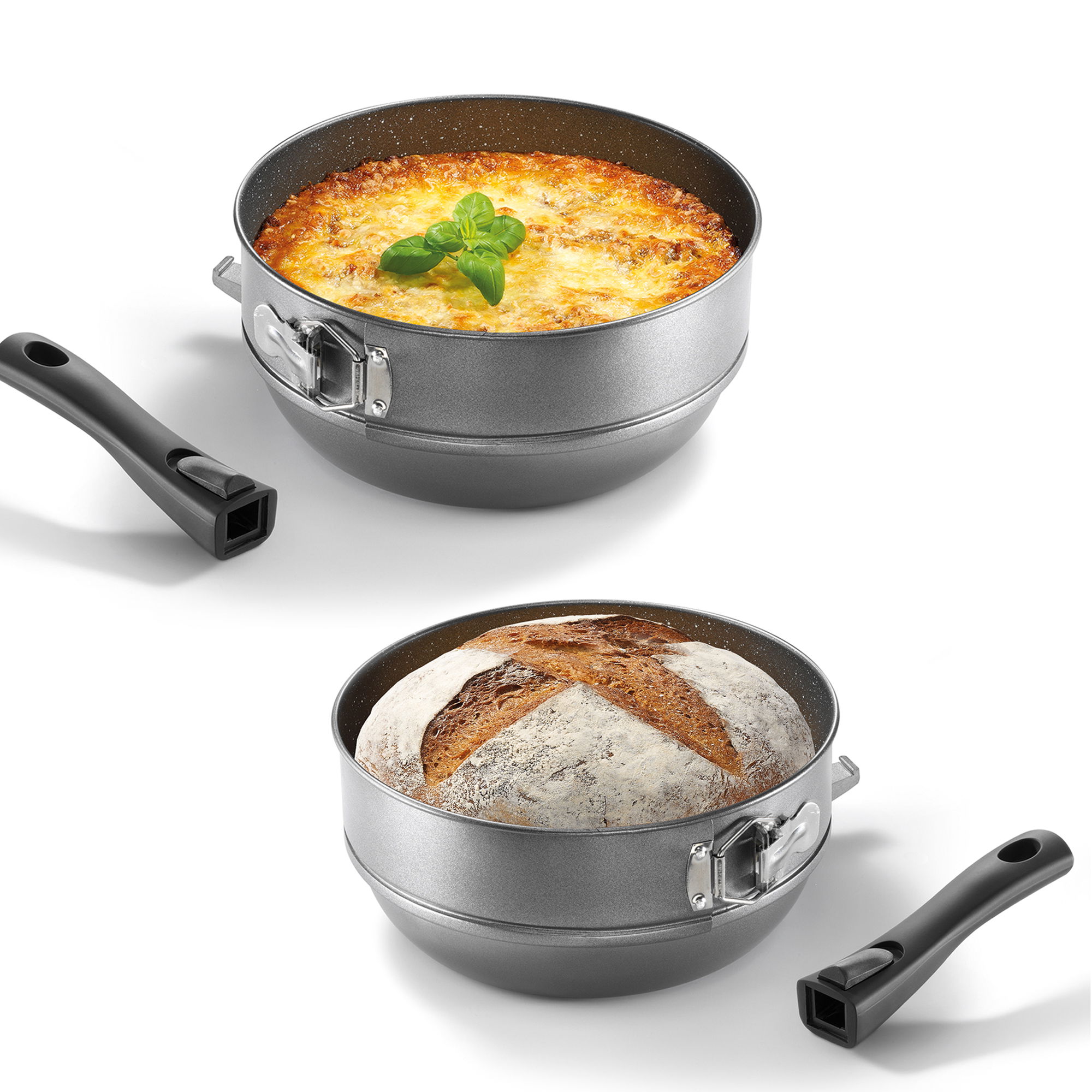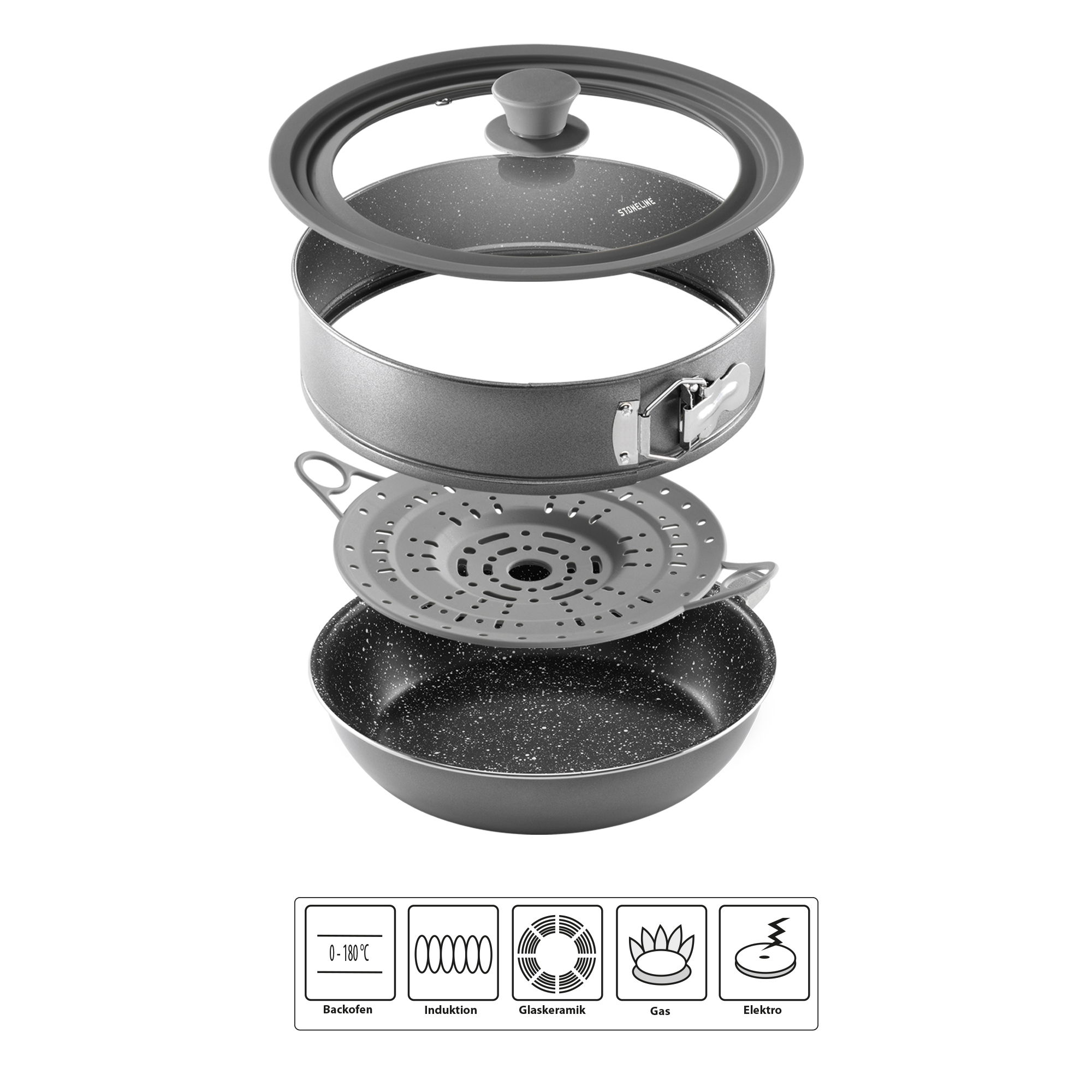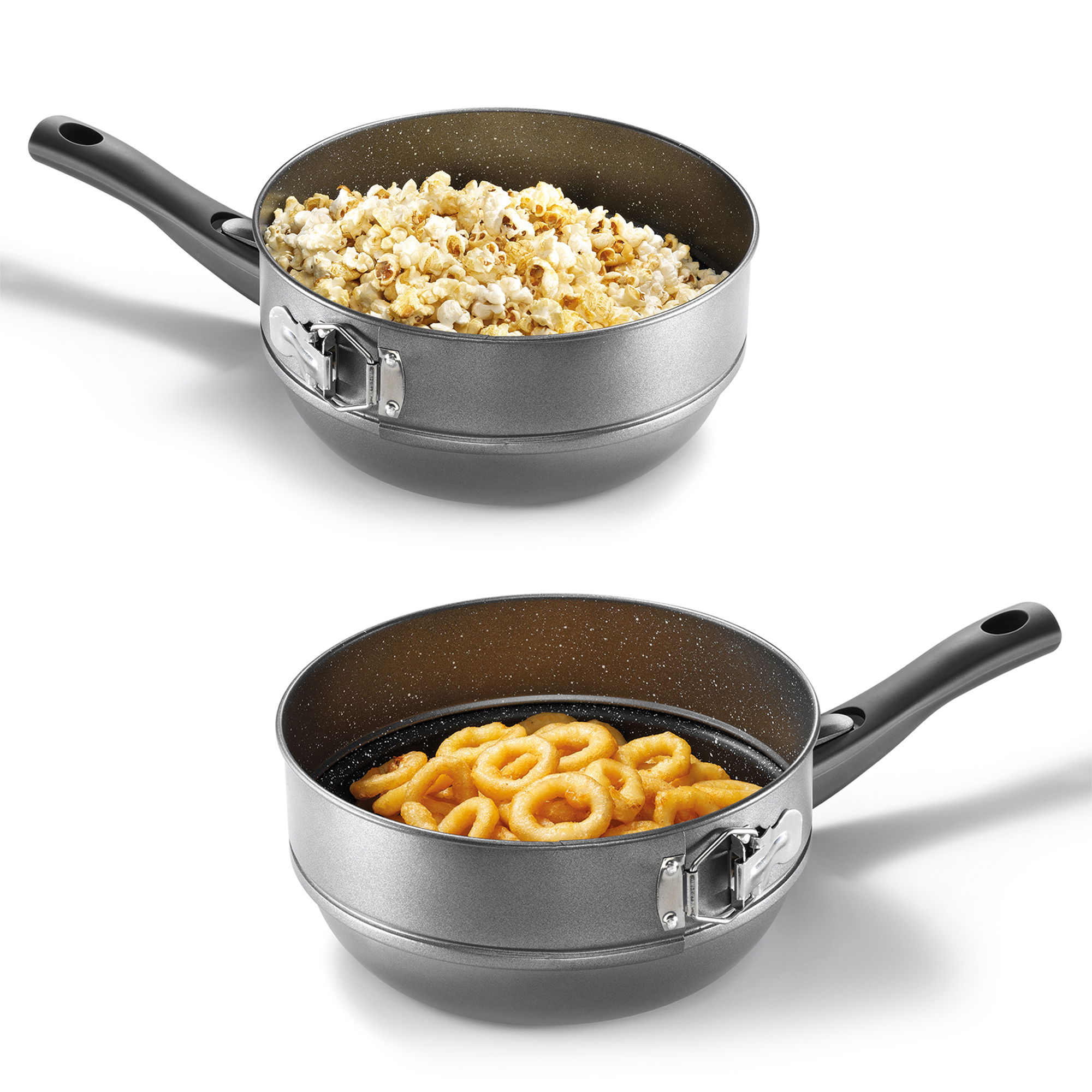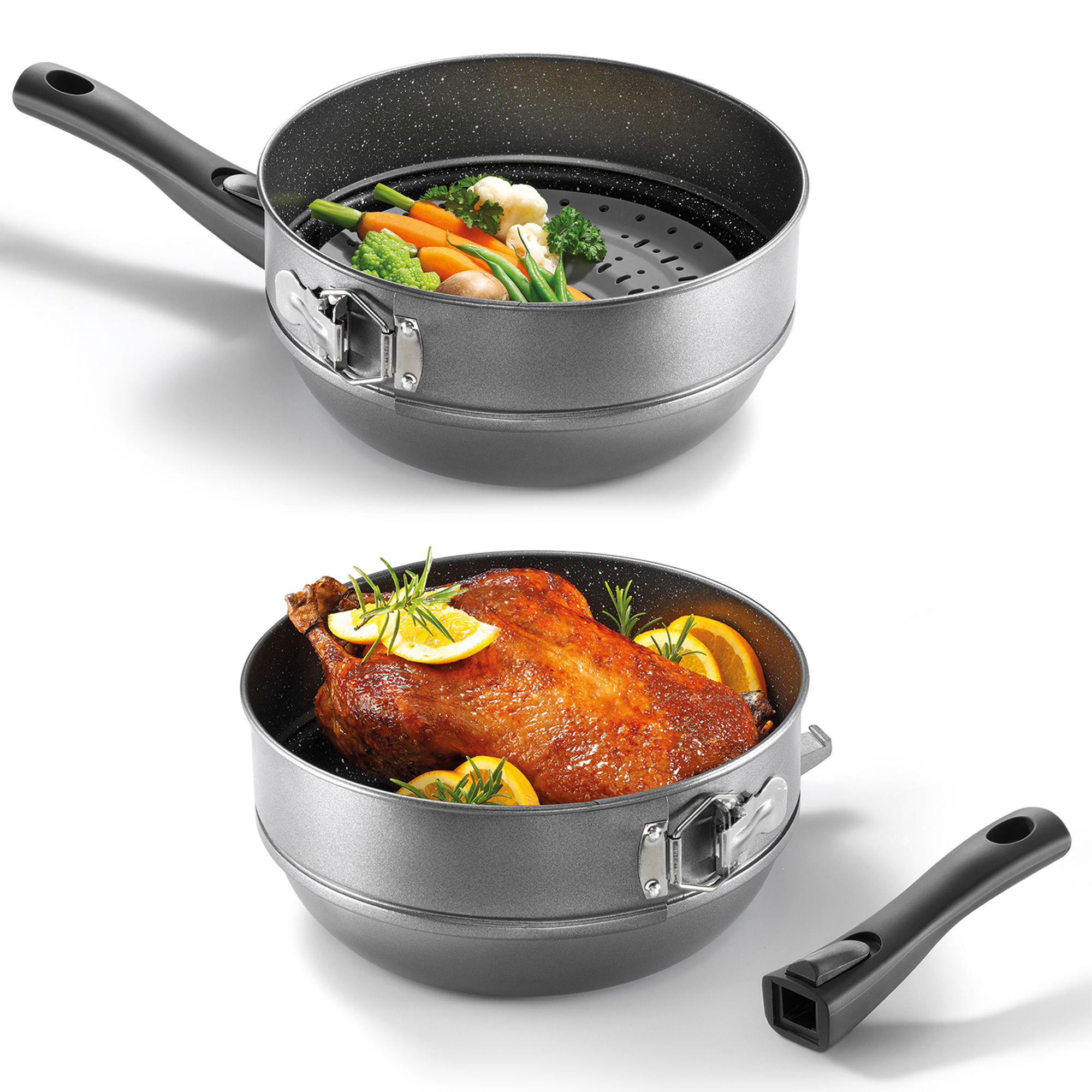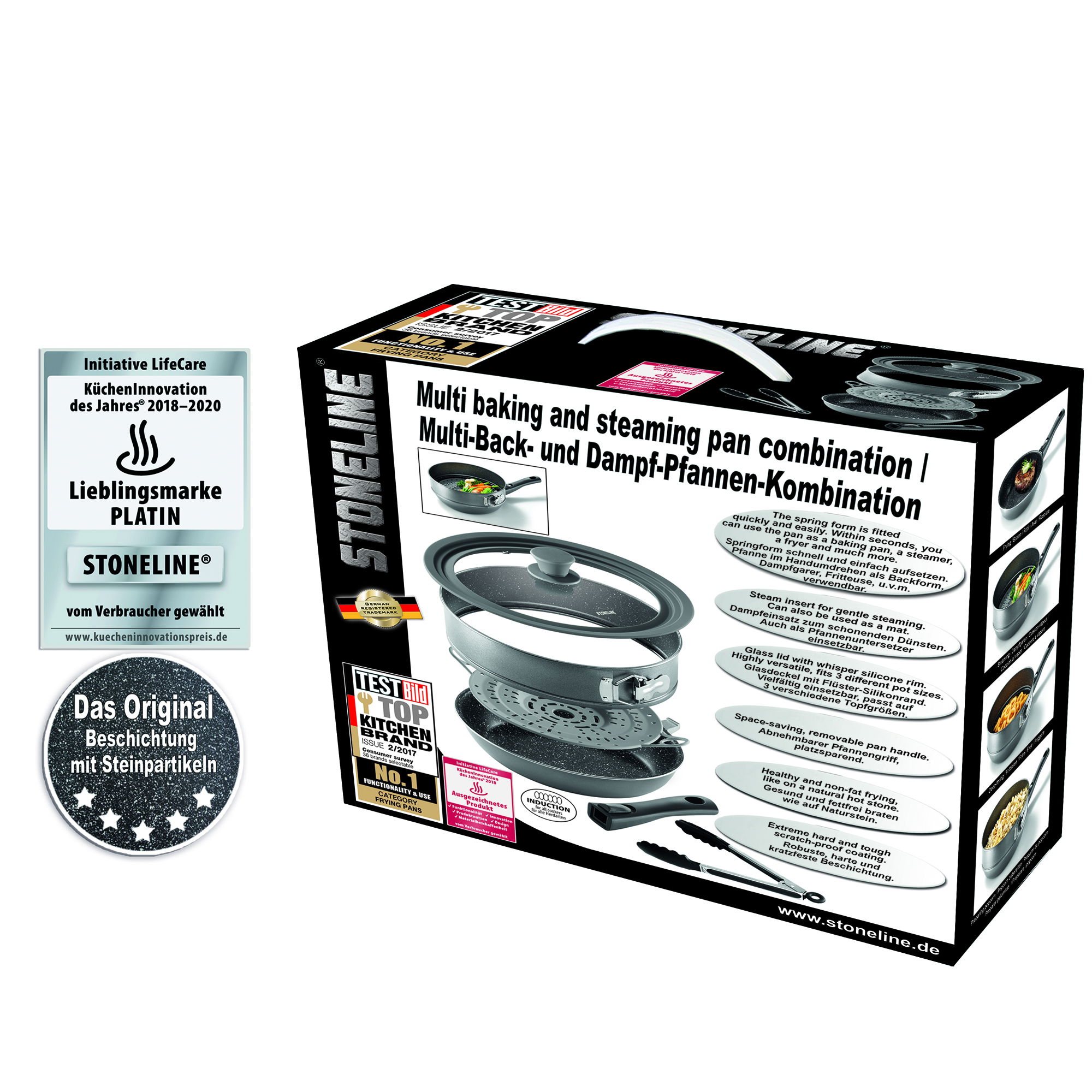 STONELINE® 5 pc Multifunctional Frying Baking Pan Set, Non-Stick | Steamer Baking Tin
€59.95*
%
Old price: €109.95*
You save 50,00 €
Available immediately, in 1-3 days at your home
STONELINE® – The original!
Healthy nonfat cooking and frying!
With this world first, you gain a real all-rounder!
You can not only fry with this set, but using it for every other cooking purpose.
Cooking, roasting (also vegan) as on a hot stone
This all-rounder is equipped with the specially developed, high-quality STONELINE® coating with real, finely ground rock particles. This coating stands for outer robustness, excellent anti-adhesive properties, healthy nonfat cooking and easy cleaning. Fry meat, vegetables or fish, without your food sticking to the bottom of the pan. After cooking, the pan can be easily cleaned due to the easy-clean effect.
Spring form
This special spring form is designed so that you can quickly and easily fix it on the rim of the pan. This means you can turn your pan within seconds into a baking pan, a steamer, a deep fryer and much more.
Steam insert & heat protection mat
With this steam insert you can prepare your food in a very gentle way in a normal cooking pot as well as in a pan. Whether you are cooking vegetables, fish, meat, or sweet dishes such as yeast dumplings – when using this steam insert your dishes are sure to become a success. Thanks to the numerous air holes in the steam insert, the hot steam can diffuse freely around your food and can cook it evenly. This preserves the nutrients and flavours to a large extent. Can also be used as a table protector or mat.
Space saver – due to removable pan handle
Thanks tot he removable handle the frying pan comfortably fits into every fridge or for storage in every cupboard.
Glass lid with whisper silicone rim
The elastic silicone rim protects the surface of your cookware and makes the glass lid more break-proof. The silicone knob protects you from heat and burns. The glass insert allows perfect full-view cooking. In addition, this glass lid fits on 3 different pan sizes and can also be used for other cookware.
Registered for patent.
This set consists of:
1 frying pan with removable handle, ø approx. 24 cm, height: approx. 5,7 cm, approx. 2,0 l
1 universal glass lid with silicone rim, suitable for cooking pot / pan sizes 24/26/28 cm
1 spring form, ø approx. 24 cm
1 silicone steam insert, approx. 29 cm x 21,5 cm
1 cooking tong, approx. 26 cm
The most important advantages of STONELINE® cookware at a glance:
Scratch-proof non-stick STONELINE® coating
Vitamin-friendly cooking and frying without fat and oil
Perfect results and crispy meat
Also suitable for VEGETATRIANS: Vegetables stay crunchy and juicy
No burning and no sticking
Super easy to clean
Extra strong, non-distorting base
Base thickness: 3 mm
Suitable for all cookers including induction cookers
Oven-proof up to 200 °C (without handle, without lid) / 180 °C (with lid) / 150 °C (with handle)
Material: Aluminium
Tips for cleaning and care:
We recommend cleaning your cookware thoroughly with water and a mild detergent before the first use.
Apply a few drops of cooking oil with a kitchen towel onto the coating.
No fat or oil is needed for further use!
Thanks to the Easy-Clean effect we recommend cleaning the cookware by hand. Wipe clean with hot water, a mild detergent and a soft sponge.
Form:

round

Number of parts:

6 parts

Oven suitable until:

150 °C

, 180 °C

, 200 °C

Type:

Baking Sets
---
Sehr interessantes Set und auch gut durchdacht. Meiner Meinung nach aber etwas zu teuer. Dennoch ein sehr gutes produkt mit vielen verschiedenen Einsatzmöglichkeiten
Sehr innovatives Produkt. Gefällt mir sehr. Alles gut. Gerne wieder.