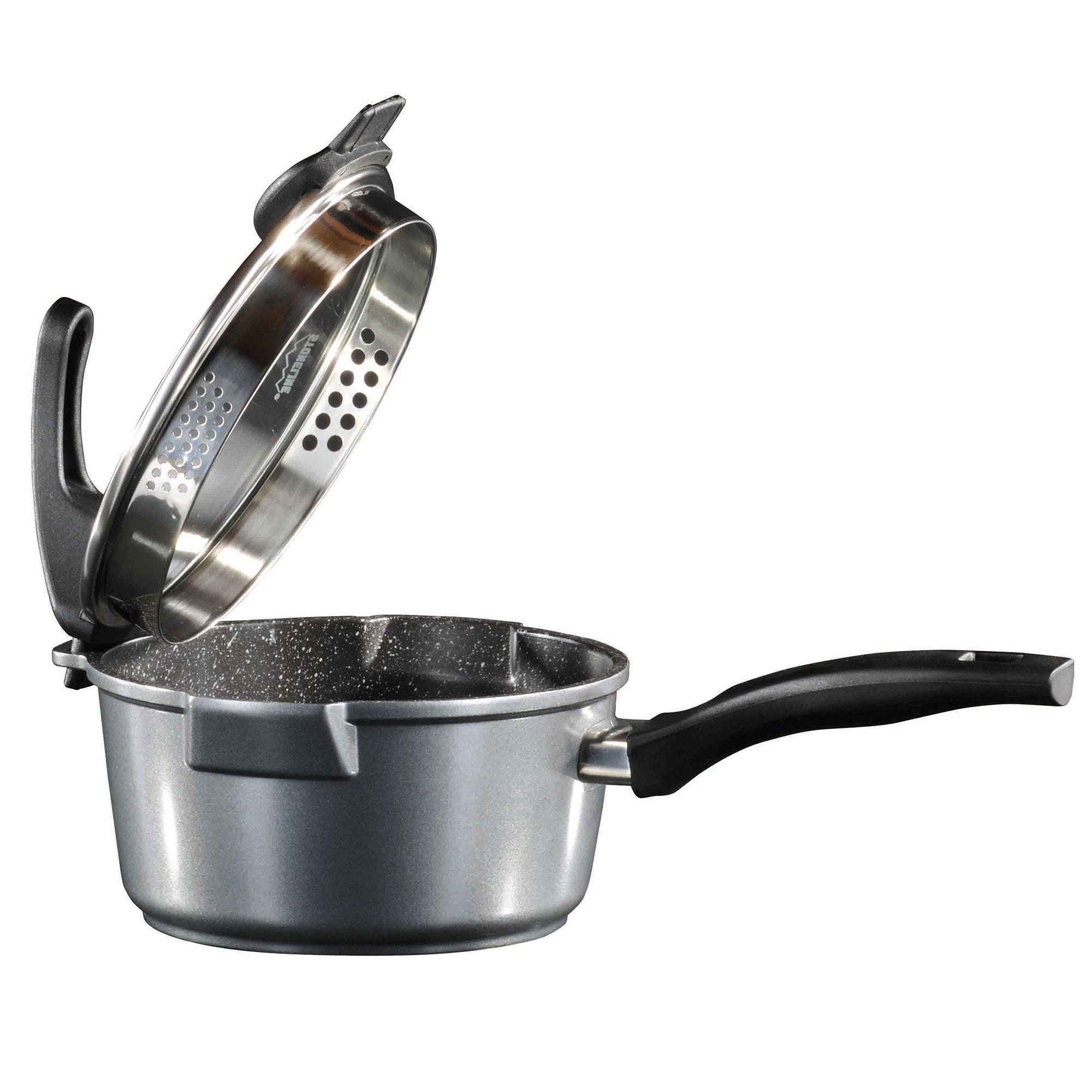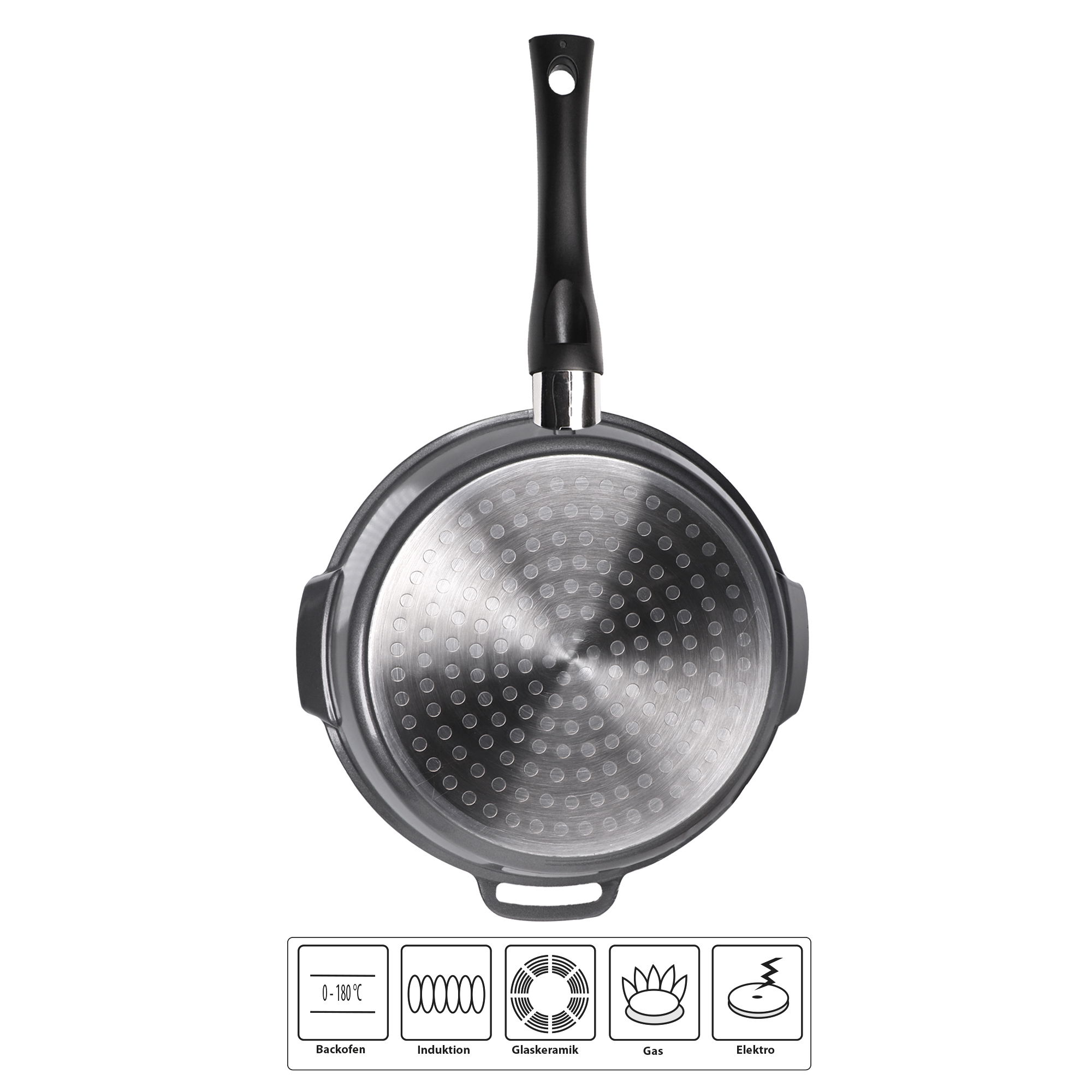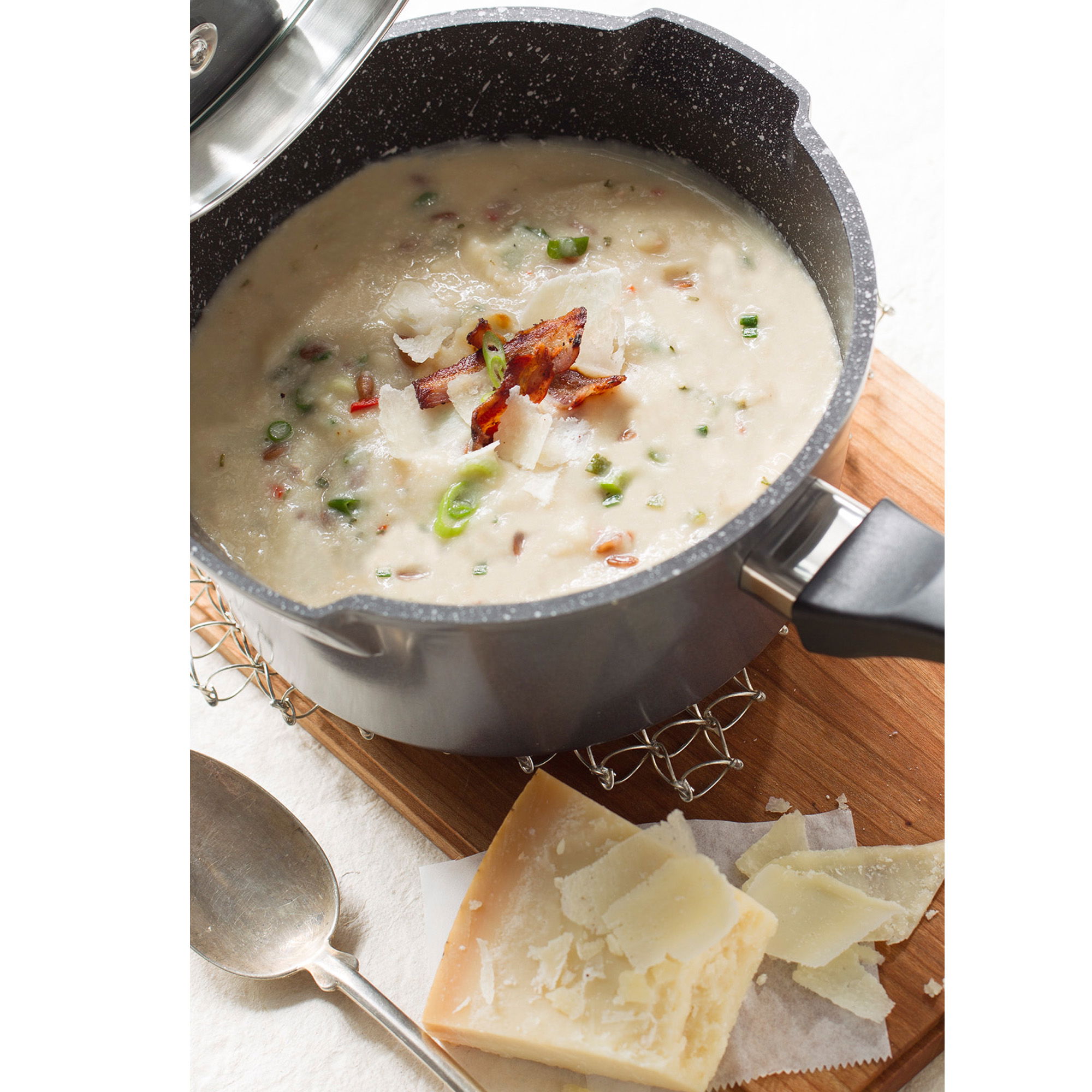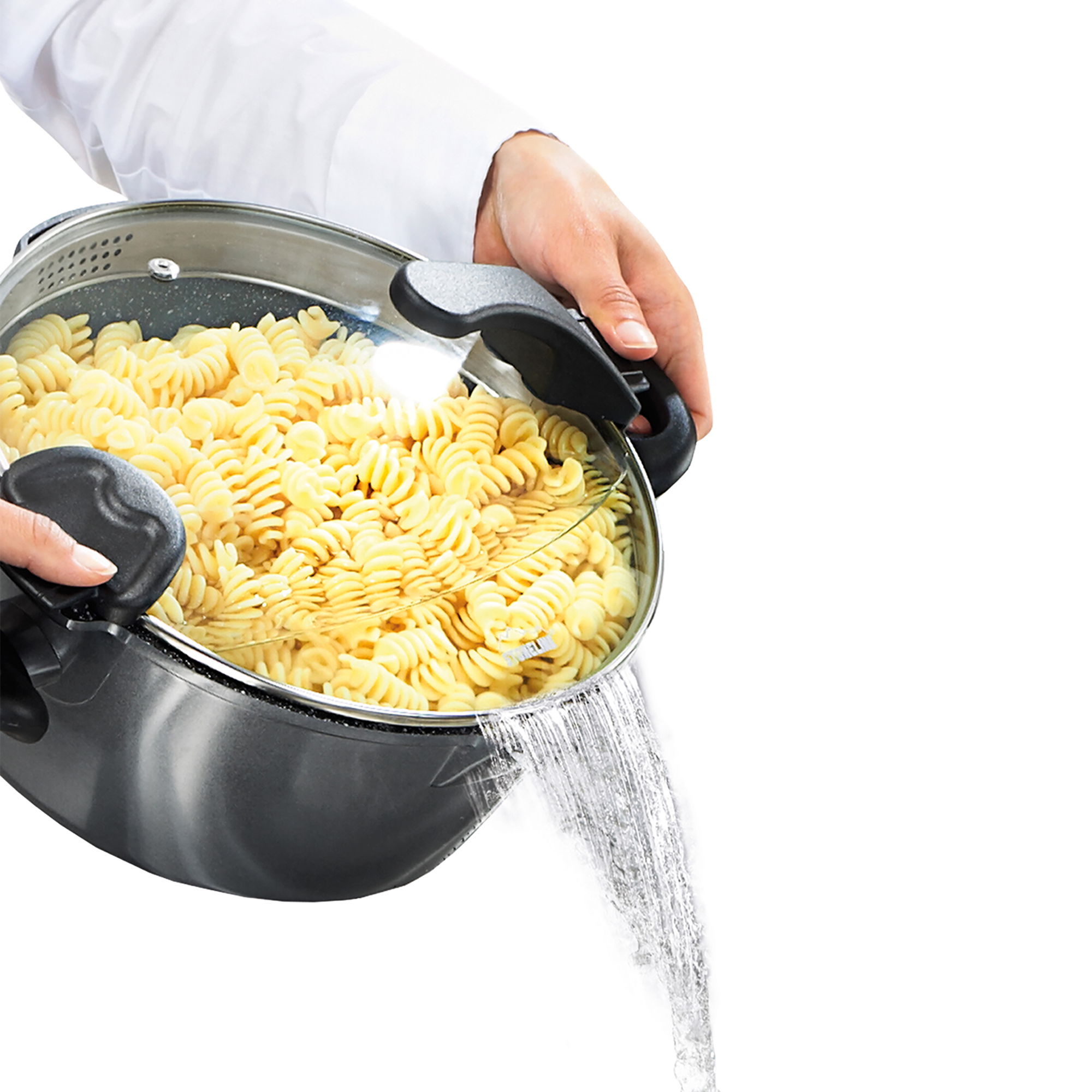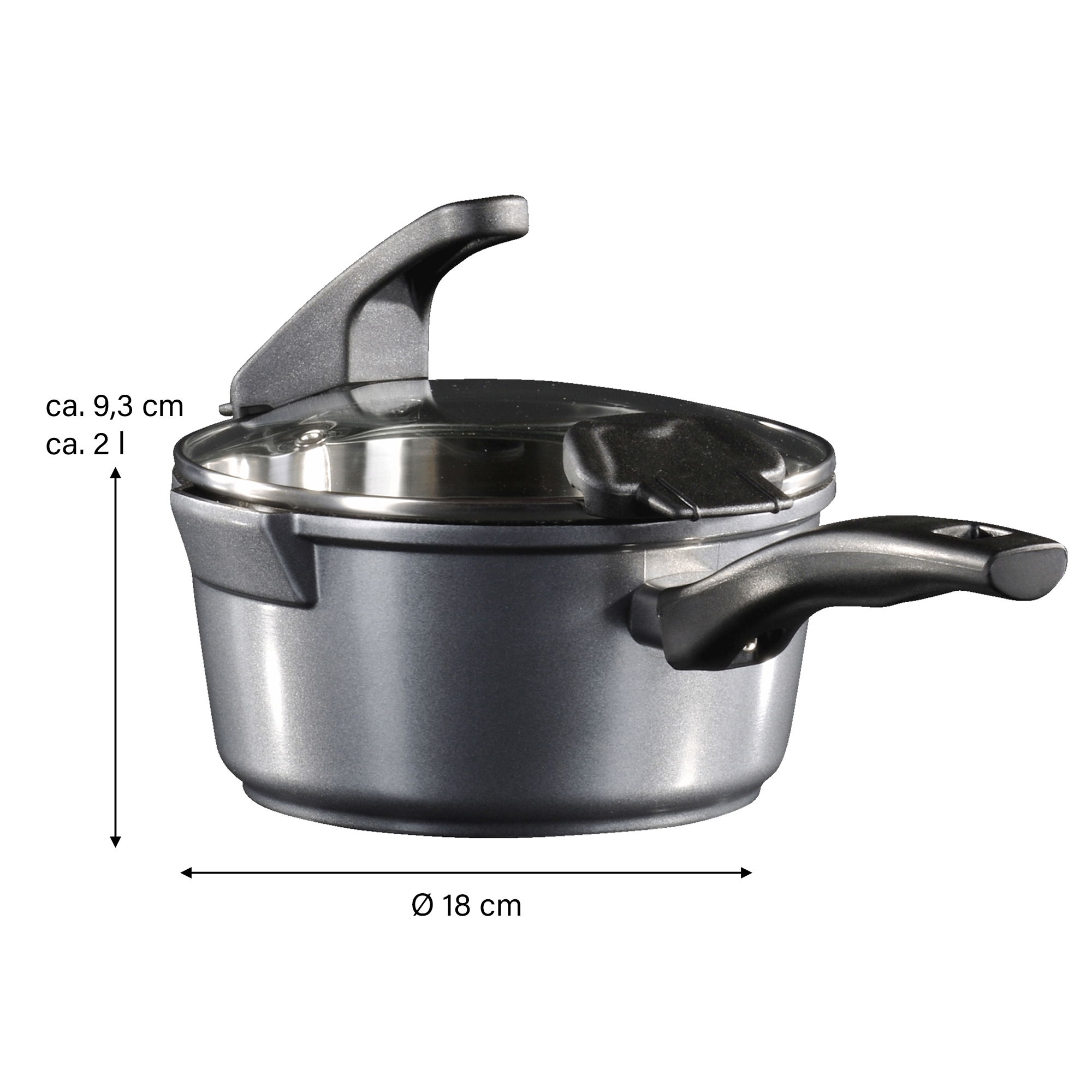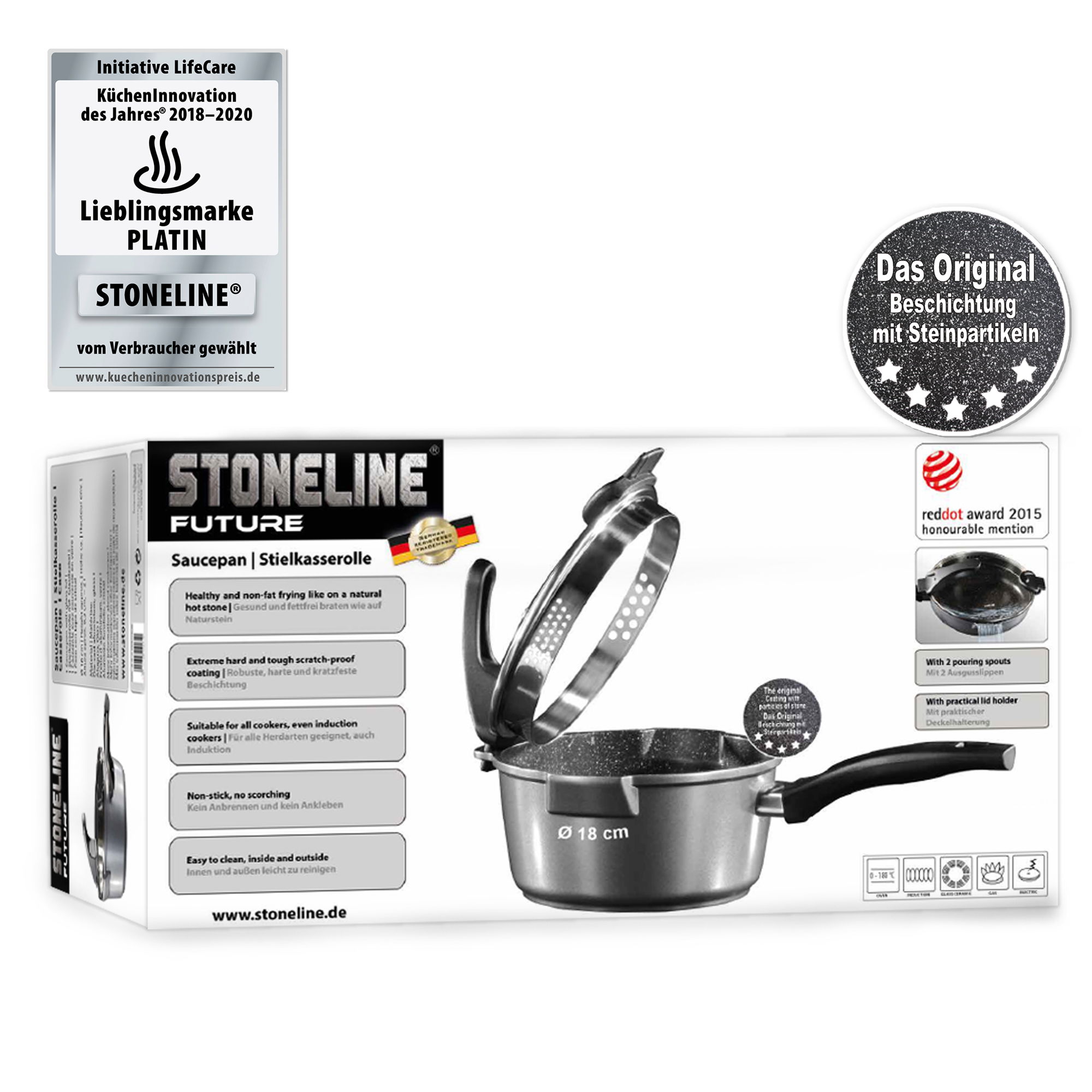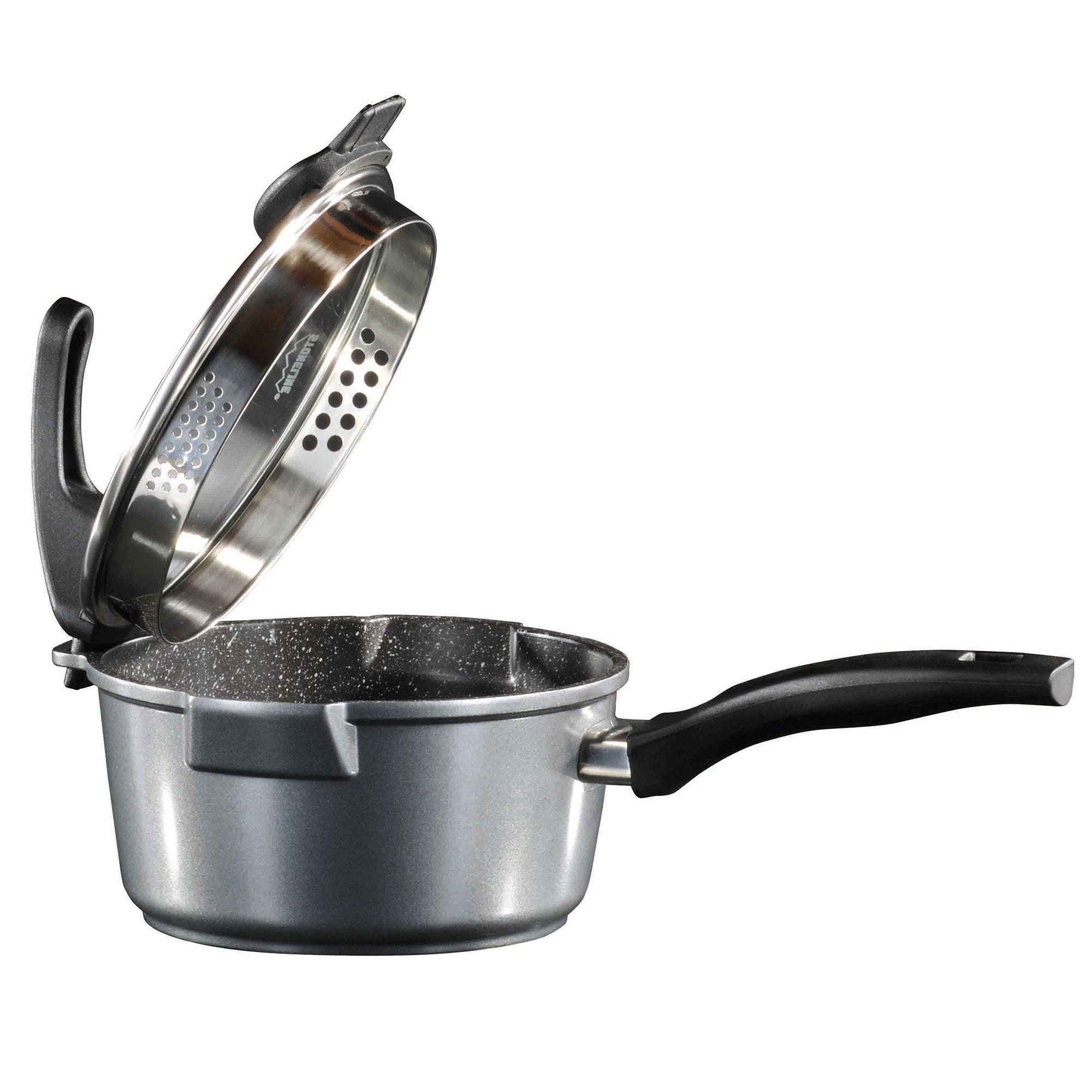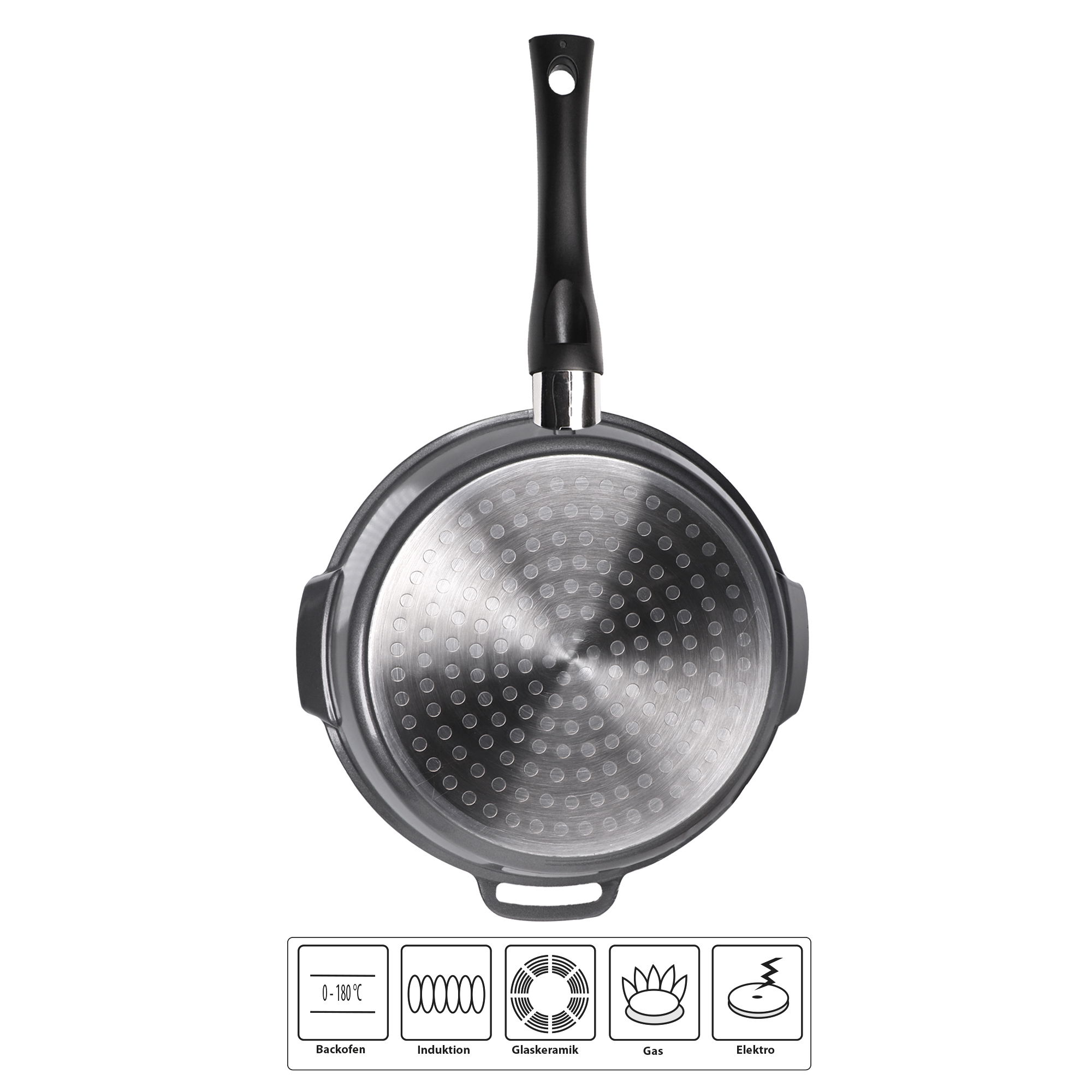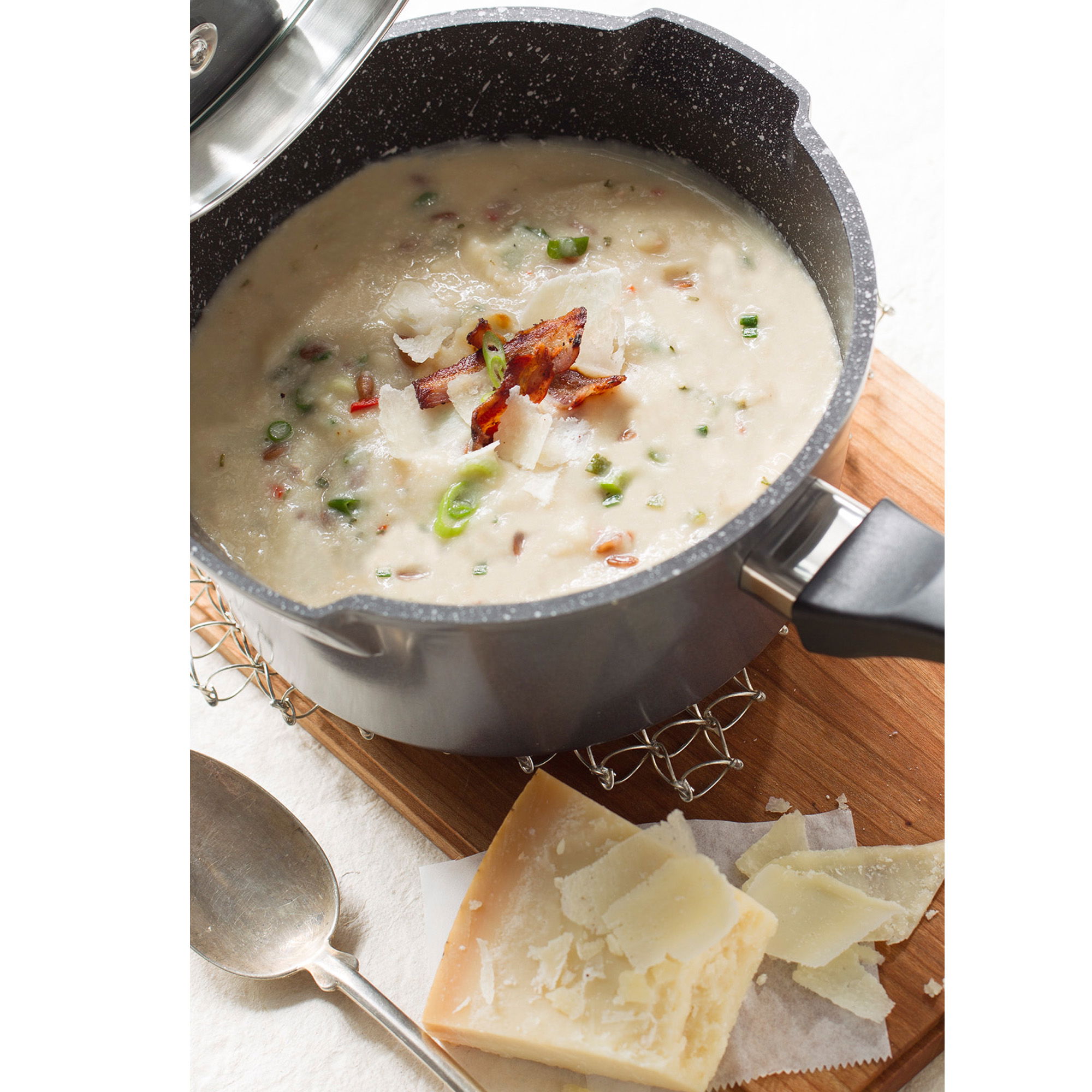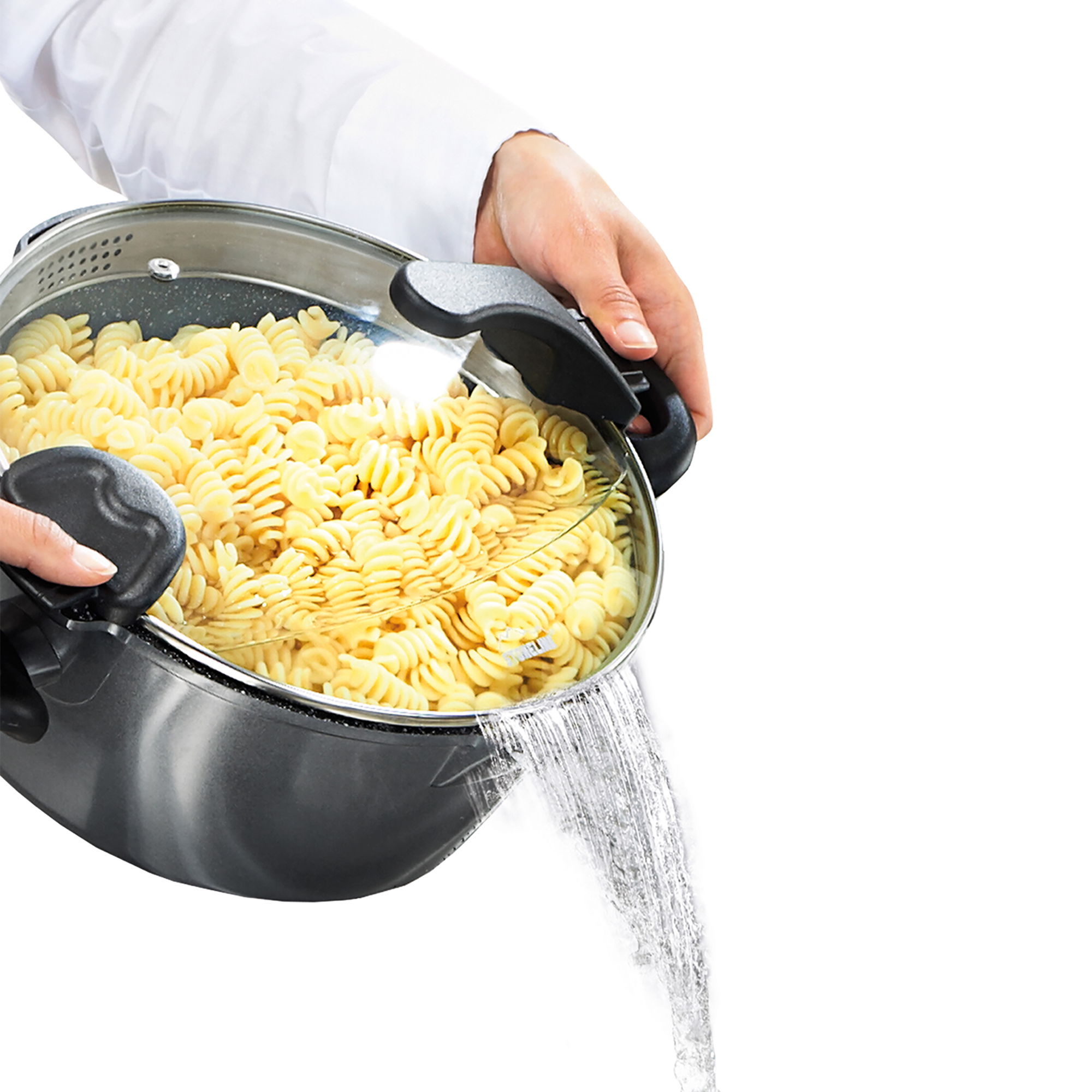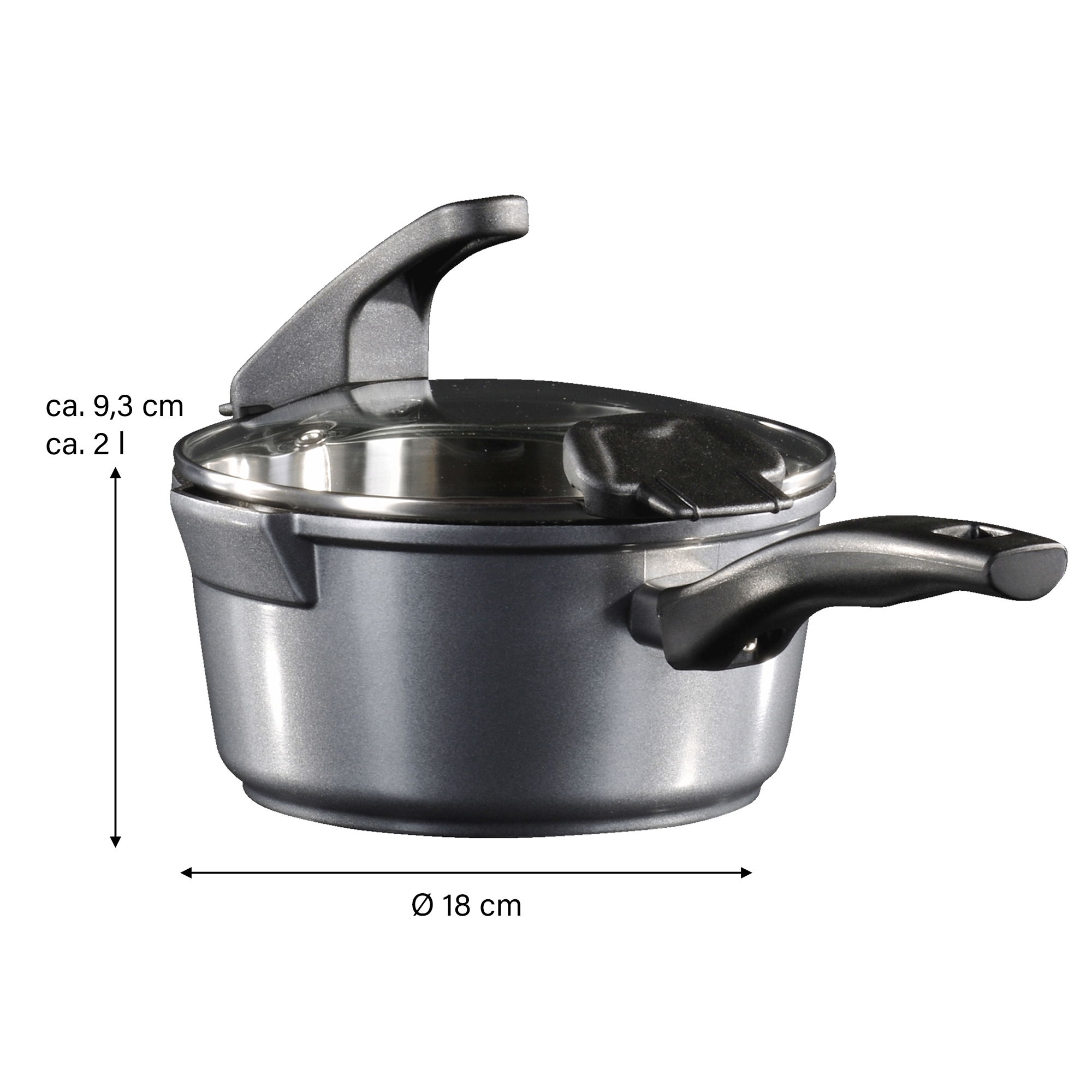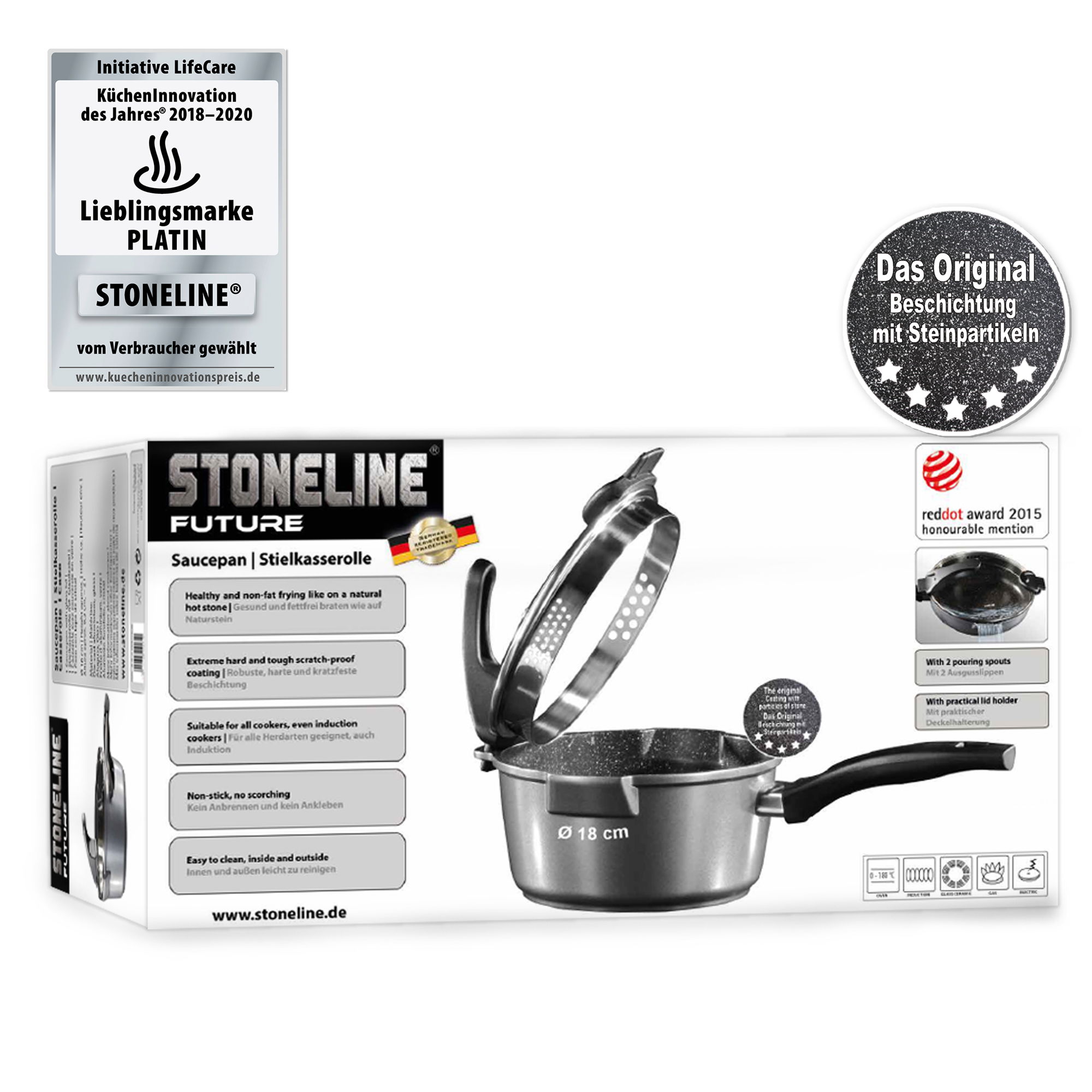 STONELINE® FUTURE Saucepan 18 cm, with sieve glass lid
€49.95*
%
Old price: €84.95*
You save 35,00 €
Available immediately, in 1-3 days at your home
STONELINE® - The Original!
Healthy nonfat cooking and frying!
The STONELINE® FUTURE series is suitable for both right-handed and left-handed individuals!
Two practical spouts on pots and pans make it easy to pour and transfer liquids cleanly - without dirtying your cookware and stovetop!
Another advantage of the STONELINE® FUTURE series is the integrated fine and coarse straining function in the lids.
This means you no longer need a separate strainer and bowl, as you can quickly and easily serve pasta, for example, directly from the pot.
The lid can be conveniently placed in the practical lid holder on the edge of the cookware in this series. This allows excess liquid to flow back into the cookware, avoiding unnecessary sauce or water drips on your countertop when removing the lid.
The specially designed lid knob offers ample space for a comfortable grip without the risk of burns!
This saucepan is particularly suitable for frying small pieces of meat, slowly heating dishes, or preparing sauces.
Handiness and flexibility are essential features of this saucepan.
1 saucepan, approx. 18 cm in diameter, height: approx. 9.3 cm, approx. 2.0 liters, induction base: approx. 14 cm in diameter
1 sieve glass lid, approx. 18 cm in diameter
The key advantages of STONELINE® cookware at a glance:
World's only non-stick coating with real stone particles
Scratch-resistant STONELINE® non-stick coating
Cook and fry without fat and oil, preserving vitamins
Optimal frying results and crispy meat
Also suitable for vegetarians: vegetables stay crisp and juicy
No burning or sticking
Super easy to clean
Extra-strong, warp-resistant base
Base thickness: 4.5 mm
Suitable for all types of stovetops, including induction
Oven-safe up to 180°C (356°F)
Material: Cast aluminum
Cleaning and Care Tips:
Before first use, we recommend thoroughly washing your cookware or bakeware with some water and a mild detergent.
Then, spread a few drops of cooking oil on the coating using a paper kitchen towel.
For subsequent use, you can omit the use of oil or fat!
Thanks to the Easy-Clean effect, hand cleaning is recommended. Simply wipe with hot water, dish soap, and a soft sponge.
| | |
| --- | --- |
| Brand: | STONELINE |
| Content: | up to 1 l |
| Diameter: | 18 cm |
| Handle: | Fixed |
| Height: | 5 to 10 cm |
| Lid: | Yes |
| Material: | Aluminium |
| Series: | Future |
| Suitable Induction: | Yes |
---
...schon war es da. Super!
Spitzenmäßig,preisgünstig und schnelle Lieferung.Gute Verpackung:was will man mehr.
Das Future Programm ist absolut inovativ !
Kenne kein besseres Kochgeschirr.
Absolut gutes Produkt, erfüllt die Beschreibung komplett. Schön wäre jedoch auch hier ein abnehmbarer Griff.